PRISONERS OF THE CASTLE
By Ben Macintyre
AN EPIC STORY OF SURVIVAL AND ESCAPE FROM COLDITZ, THE NAZIS' FORTRESS PRISON
NEW YORK TIMES BESTSELLER • The "entertaining yet objective and often-moving account" (The Wall Street Journal) of one of history's most notorious prisons—and the remarkable cast of POWs who tried relentlessly to escape their captors, from the author of The Spy and the Traitor.
In this gripping narrative, Ben Macintyre tackles one of the most famous prison stories in history and makes it utterly his own. During World War II, the German army used the towering Colditz Castle to hold the most defiant Allied prisoners. For four years, these prisoners of the castle tested its walls and its guards with ingenious escape attempts that would become legend. But as Macintyre shows, the story of Colditz was about much more than escape. Its population represented a society in miniature, full of heroes and traitors, class conflicts and secret alliances, and the full range of human joy and despair. In Macintyre's telling, Colditz's most famous names—like the indomitable Pat Reid—share glory with lesser known but equally remarkable characters like Indian doctor Birendranath Mazumdar whose ill treatment, hunger strike, and eventual escape read like fiction; Florimond Duke, America's oldest paratrooper and least successful secret agent; and Christopher Clayton Hutton, the brilliant inventor employed by British intelligence to manufacture covert escape aids for POWs. Prisoners of the Castle traces the war's arc from within Colditz's stone walls, where the stakes rose as Hitler's war machine faltered and the men feared that liberation would not come soon enough to spare them a grisly fate at the hands of the Nazis. Bringing together the wartime intrigue of his acclaimed Operation Mincemeat and keen psychological portraits of his bestselling true-life spy stories, Macintyre has breathed new life into one of the greatest war stories ever told.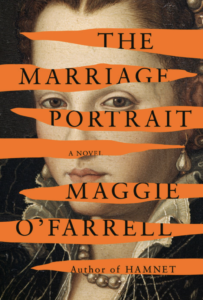 THE MARRIAGE PORTRAIT
By Maggie O'Farrell
A NOVEL
NEW YORK TIMES BEST SELLER • The author of Hamnet—New York Times best seller and National Book Critics Circle Award winner—brings the world of Renaissance Italy to jewel-bright life in this unforgettable fictional portrait of the captivating young duchess Lucrezia de' Medici as she makes her way in a troubled court.
"O'Farrell pulls out little threads of historical detail to weave this story of a precocious girl sensitive to the contradictions of her station … You may know the history, and you may think you know what's coming, but don't be so sure." —The Washington Post
Florence, the 1550s. Lucrezia, third daughter of the grand duke, is comfortable with her obscure place in the palazzo: free to wonder at its treasures, observe its clandestine workings, and devote herself to her own artistic pursuits. But when her older sister dies on the eve of her wedding to the ruler of Ferrara, Modena and Reggio, Lucrezia is thrust unwittingly into the limelight: the duke is quick to request her hand in marriage, and her father just as quick to accept on her behalf. Having barely left girlhood behind, Lucrezia must now enter an unfamiliar court whose customs are opaque and where her arrival is not universally welcomed. Perhaps most mystifying of all is her new husband himself, Alfonso. Is he the playful sophisticate he appeared to be before their wedding, the aesthete happiest in the company of artists and musicians, or the ruthless politician before whom even his formidable sisters seem to tremble? As Lucrezia sits in constricting finery for a painting intended to preserve her image for centuries to come, one thing becomes worryingly clear. In the court's eyes, she has one duty: to provide the heir who will shore up the future of the Ferranese dynasty. Until then, for all of her rank and nobility, the new duchess's future hangs entirely in the balance. Full of the beauty and emotion with which she illuminated the Shakespearean canvas of Hamnet, Maggie O'Farrell turns her talents to Renaissance Italy in an extraordinary portrait of a resilient young woman's battle for her very survival.

SURRENDER
By Bono
40 SONGS, ONE STORY
Bono—artist, activist, and the lead singer of Irish rock band U2—has written a memoir: honest and irreverent, intimate and profound, Surrender is the story of the remarkable life he's lived, the challenges he's faced, and the friends and family who have shaped and sustained him.
"When I started to write this book, I was hoping to draw in detail what I'd previously only sketched in songs. The people, places, and possibilities in my life. Surrender is a word freighted with meaning for me. Growing up in Ireland in the seventies with my fists up (musically speaking), it was not a natural concept. A word I only circled until I gathered my thoughts for the book. I am still grappling with this most humbling of commands. In the band, in my marriage, in my faith, in my life as an activist. Surrender is the story of one pilgrim's lack of progress … With a fair amount of fun along the way." —Bono As one of the music world's most iconic artists and the cofounder of the organizations ONE and (RED), Bono's career has been written about extensively. But in Surrender, it's Bono who picks up the pen, writing for the first time about his remarkable life and those he has shared it with. In his unique voice, Bono takes us from his early days growing up in Dublin, including the sudden loss of his mother when he was fourteen, to U2's unlikely journey to become one of the world's most influential rock bands, to his more than twenty years of activism dedicated to the fight against AIDS and extreme poverty. Writing with candor, self-reflection, and humor, Bono opens the aperture on his life—and the family, friends, and faith that have sustained, challenged, and shaped him. Surrender's subtitle, 40 Songs, One Story, is a nod to the book's forty chapters, which are each named after a U2 song. Bono has also created forty original drawings for Surrender, which appear throughout the book.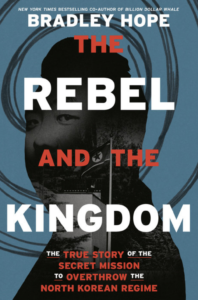 THE REBEL AND THE KINGDOM
By Bradley Hope
THE TRUE STORY OF THE SECRET MISSION TO OVERTHROW THE NORTH KOREAN REGIME
How did an Ivy League activist become a global fugitive? The New York Times bestselling co-author of Billion Dollar Whale and Blood and Oil chronicles the heart-pounding tale of a self-taught operative his high-stakes attempt subvert the North Korean regime. "Propulsive . . . Hope's account is both deeply reported and novelistic."—Ed Caesar, contributing staff writer for The New Yorker, author of The Moth and the Mountain.
When Pope Pius XII died in 1958, his papers were sealed in the Vatican Secret Archives, leaving unanswered questions about what he knew and did during World War II. Those questions have only grown and festered, making Pius XII one of the most controversial popes in Church history, especially now as the Vatican prepares to canonize him. In 2020, Pius XII's archives were finally opened, and David I. Kertzer—widely recognized as one of the world's leading Vatican scholars—has been mining this new material ever since, revealing how the pope came to set aside moral leadership in order to preserve his church's power. Based on thousands of never-before-seen documents not only from the Vatican, but from archives in Italy, Germany, France, Britain, and the United States, The Pope at War paints a new, dramatic portrait of what the pope did and did not do as war enveloped the continent and as the Nazis began their systematic mass murder of Europe's Jews. The book clears away the myths and sheer falsehoods surrounding the pope's actions from 1939 to 1945, showing why the pope repeatedly bent to the wills of Hitler and Mussolini. Just as Kertzer's Pulitzer Prize–winning The Pope and Mussolini became the definitive book on Pope Pius XI and the Fascist regime, The Pope at War is destined to become the most influential account of his successor, Pius XII, and his relations with Mussolini and Hitler. Kertzer shows why no full understanding of the course of World War II is complete without knowledge of the dramatic, behind-the-scenes role played by the pope. "This remarkably researched book is replete with revelations that deserve the adjective 'explosive,'" says Kevin Madigan, Winn Professor of Ecclesiastical History at Harvard University. "The Pope at War is a masterpiece."