PUTIN'S PEOPLE
By Catherine Belton
HOW THE KGB TOOK BACK RUSSIA AND THEN TOOK ON THE WEST
A Sunday Times bestseller | A New York Times Book Review Editors' Choice
Named a best book of the year by The Economist | Financial Times | New Statesman | The Telegraph
"[Putin's People] will surely now become the definitive account of the rise of Putin and Putinism." —Anne Applebaum, The Atlantic
"This riveting, immaculately researched book is arguably the best single volume written about Putin, the people around him and perhaps even about contemporary Russia itself in the past three decades." —Peter Frankopan, Financial Times
Interference in American elections. The sponsorship of extremist politics in Europe. War in Ukraine. In recent years, Vladimir Putin's Russia has waged a concerted campaign to expand its influence and undermine Western institutions. But how and why did all this come about, and who has orchestrated it?
In Putin's People, the investigative journalist and former Moscow correspondent Catherine Belton reveals the untold story of how Vladimir Putin and the small group of KGB men surrounding him rose to power and looted their country. Delving deep into the workings of Putin's Kremlin, Belton accesses key inside players to reveal how Putin replaced the freewheeling tycoons of the Yeltsin era with a new generation of loyal oligarchs, who in turn subverted Russia's economy and legal system and extended the Kremlin's reach into the United States and Europe. The result is a chilling and revelatory exposé of the KGB's revanche—a story that begins in the murk of the Soviet collapse, when networks of operatives were able to siphon billions of dollars out of state enterprises and move their spoils into the West. Putin and his allies subsequently completed the agenda, reasserting Russian power while taking control of the economy for themselves, suppressing independent voices, and launching covert influence operations abroad.
Ranging from Moscow and London to Switzerland and Brooklyn's Brighton Beach—and assembling a colorful cast of characters to match—Putin's People is the definitive account of how hopes for the new Russia went astray, with stark consequences for its inhabitants and, increasingly, the world.
THE BLACK COUNT
By Tom Reiss
GLORY, REVOLUTION, BETRAYAL, AND THE REAL COUNT OF MONTE CRISTO (PULITZER PRIZE FOR BIOGRAPHY)
General Alex Dumas is a man almost unknown today, yet his story is strikingly familiar—because his son, the novelist Alexandre Dumas, used his larger-than-life feats as inspiration for such classics as The Count of Monte Cristo and The Three Musketeers.
But, hidden behind General Dumas's swashbuckling adventures was an even more incredible secret: he was the son of a black slave—who rose higher in the white world than any man of his race would before our own time. Born in Saint-Domingue (now Haiti), Alex Dumas made his way to Paris, where he rose to command armies at the height of the Revolution—until he met an implacable enemy he could not defeat.
The Black Count is simultaneously a riveting adventure story, a lushly textured evocation of 18th-century France, and a window into the modern world's first multi-racial society. TIME magazine called The Black Count "one of those quintessentially human stories of strength and courage that sheds light on the historical moment that made it possible." But it is also a heartbreaking story of the enduring bonds of love between a father and son.

THE LAST GIRL
By Nadia Murad Foreword by Amal Clooney
MY STORY OF CAPTIVITY, AND MY FIGHT AGAINST THE ISLAMIC STATE
WINNER OF THE NOBEL PEACE PRIZE • In this "courageous" (The Washington Post) memoir of survival, a former captive of the Islamic State tells her harrowing and ultimately inspiring story.
 
Nadia Murad was born and raised in Kocho, a small village of farmers and shepherds in northern Iraq. A member of the Yazidi community, she and her brothers and sisters lived a quiet life. Nadia had dreams of becoming a history teacher or opening her own beauty salon.
On August 15th, 2014, when Nadia was just twenty-one years old, this life ended. Islamic State militants massacred the people of her village, executing men who refused to convert to Islam and women too old to become sex slaves. Six of Nadia's brothers were killed, and her mother soon after, their bodies swept into mass graves. Nadia was taken to Mosul and forced, along with thousands of other Yazidi girls, into the ISIS slave trade.
Nadia would be held captive by several militants and repeatedly raped and beaten. Finally, she managed a narrow escape through the streets of Mosul, finding shelter in the home of a Sunni Muslim family whose eldest son risked his life to smuggle her to safety.
Today, Nadia's story—as a witness to the Islamic State's brutality, a survivor of rape, a refugee, a Yazidi—has forced the world to pay attention to an ongoing genocide. It is a call to action, a testament to the human will to survive, and a love letter to a lost country, a fragile community, and a family torn apart by war.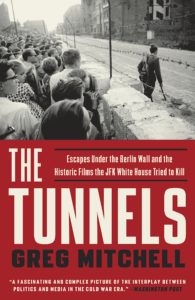 THE TUNNELS
By Greg Mitchell
ESCAPES UNDER THE BERLIN WALL AND THE HISTORIC FILMS THE JFK WHITE HOUSE TRIED TO KILL
A thrilling Cold War narrative of superpower showdowns, media suppression, and two escape tunnels beneath the Berlin Wall.
 
In the summer of 1962, the year after the rise of the Berlin Wall, a group of young West Germans risked prison, Stasi torture, and even death to liberate friends, lovers, and strangers in East Berlin by digging tunnels under the Wall. Then two U.S. television networks heard about the secret projects and raced to be first to document them from the inside. NBC and CBS funded two separate tunnels in return for the right to film the escapes, planning spectacular prime-time specials. President John F. Kennedy, however, was wary of anything that might spark a confrontation with the Soviets, having said, "A wall is better than a war," and even confessing to Secretary of State Dean Rusk, "We don't care about East Berlin." JFK approved unprecedented maneuvers to quash both documentaries, testing the limits of a free press in an era of escalating nuclear tensions.
As Greg Mitchell's riveting narrative unfolds, we meet extraordinary characters: the legendary cyclist who became East Germany's top target for arrest; the Stasi informer who betrays the "CBS tunnel"; the American student who aided the escapes; an engineer who would later help build the tunnel under the English channel; and the young East Berliner who fled with her baby, then married one of the tunnelers. The Tunnels captures the chilling reach of the Stasi secret police as U.S. networks prepared to "pay for play" but were willing to cave to official pressure, the White House was eager to suppress historic coverage, and ordinary people in dire circumstances became subversive. The Tunnels is breaking history, a propulsive read whose themes still reverberate.