A NEW LUXURY HOTEL COMPLEX CLOSE TO MONACO IN THE MUNICIPALITY OF CAP D'AIL : THE KEMPINSKI
Designed by architects Massimiliano and Doriana Fuksas, the designers of the grandiose Shenzhen Bao'An International Airport, the complex will cover 12,000 m of land and offer 130 rooms and suites with a large terrace overlooking the Mediterranean.

"The project "La Voile Blanche" aims at creating an architecture respectful of the territory's morphology, which will be completely integrated into the surrounding landscape by emphasizing it without altering its characteristics".
Massimiliano and Doriana Fuksas
The project site is located in a small inlet along the old SNCF railway line, on the coast that from Cap d'Ail leads to the Principality of Monaco.
The new building will be articulated in organic surfaces arised from the insertion of the six project levels into the natural slope of the site. The level curves define the surface of each corresponding floor along which the various functions and spaces of the hotel are distributed: i.e. a large SPA, a starred restaurant and a congress centre.
The principal facade is made up of wooden sunshade slats that ideally reconstruct the profile of the slope.
In order to fully optimizing the lot shape, facing east, a large interior space illuminated from above by natural light was designed: a canyon characterised by a green rock wall with falling water is developed at full height up to the roof level. Here, all the overlooking floors are located, connected by suspended transparent walkways which design the space.
The Infinity Pool, on the fourth floor, dominates a vast horizon towards the sea and the city of Montecarlo. Glass volumes overlook the pool and host the restaurant, the event area, the sun terrace and the roof garden with typical greenery.
The new building, planned to have zero impact, will be eco-sustainable. An innovative project that respects the landscape and consider climate conditions and energy resources.
Colours and materials generate a permanent dialogue with nature, respecting and enhancing its morphology: an inhabited sculpture.
DENMARK HAS A NEW AEROSPACE AND DEFENSE CLUSTER
Center for Defense, Space & Security * was recently awarded the title as Denmark's new national aerospace and defense cluster. Dustin Paul Wilden, who is an active part of Censec's board, has played a partial role in the new national cluster,creating a particular political focus on the aerospace and defence industry in Denmark.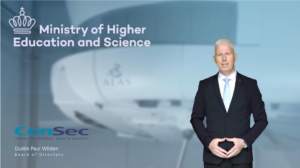 ."I'm honored to be a part of ou rnational defense cluster. The Ministry of Higher Education and Science has recognized Censec as the new national defense cluster, which includes a stronger connection to the outside world and the global eco-system related to innovation and science. This means, from a national perspective, a higher focus on aerospace and defense related subjects which will benefit our nation in so many ways, including our multilateral connections. It has been an absolute pleasure being onboard this unique project and I'm looking forward to the road ahead." said Dustin Paul Wilden, Board of Directorsat Censecin a recent interview.
* CenSec is the prime Danish cluster organization for companies specializing in high tech industries like defence, homeland security, space, aerospace and cyber security.CenSec currently has 151 member companies with leading edge skills in advanced manufacturing and production, electronic- and software development and other related industry niches.
GREECE: STRICTER MEASURES NEEDED TO FIGHT CORRUPTION, SAYS COUNCIL OF EUROPE EXPERT GROUP
The Council of Europe's Group of States against Corruption (GRECO) urges Greece to strengthen criminal legislation to more effectively fight corruption, as none of four relevant GRECO recommendations has been implemented.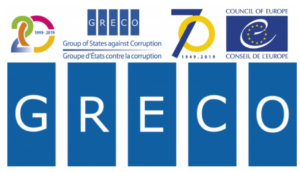 GRECO criticizes for example how aggravating circumstances relating to bribery are not fully covered by the law, when the gravity and sanctions of such offences are decided and that prosecutors may abstain from prosecution in bribery offences.
It calls on Greece as well to fully criminalize passive bribery of foreign public officials, including judges, members of assemblies, jurors and arbitrators, in accordance with the Criminal Law Convention on Corruption.
The main reason for GRECO's report that triggered a "Rule 34 Ad hoc procedure" was the amendment of Article 236 CC, when Greece downgraded the criminal offence of bribery of public officials from a "felony" (major crime) to a "misdemeanour" (petty crime) in June last year. Following a joint mission between GRECO and the OECD Working Group on Bribery (WGB), including discussions with the Greek authorities, Greece restored the offence of bribery of public officials as a felony, and sanctions were strengthened accordingly.While this legal amendment (November 2019) was welcomed, other consequences remained. For example, aggravating circumstances should be more decisive for the sanctions of bribery, and for bribery offences committed before the amendment in November 2019, the softer legislation (misdemeanours) and sanctions will apply.Furthermore, GRECO recommended that the scope of corruption offences that can be subject to abstention of prosecution under Article 48 of the Criminal Procedure Code be strictly limited, and that this Article be applied only in exceptional, minor cases of corruption offences.As this recommendation is still not implemented, GRECO notes that there is a considerable risk that this provision, if not remedied, could further weaken Greece's possibilities to effectively fight this form of corruption and possibly other related crimes, such as money laundering.The Greek authorities have not dealt with any of the above issues so far, GRECO concludes in its follow up report. Having established an expert committee to deal with these matters, Greece is to report again to GRECO by 31 October 2021.
A ROBOT DOG TO HELP CHERNOBYL'S DECOMMISSIONING
Recently, Chornobyl NPP was visited by engineers of the University of Bristol. Their task was to test the remotely controlled robots under the Exclusion Zone conditions, and one of such robots was a world famous Spot, a robot-dog, developed by the Boston Dynamics.Unique features of Spot are that it can move in complex terrain (such as stones or debris), get over obstacles, walk up sloping surfaces and stairs, as well as get on its feet after turning over onto its back. Availability on its "back" of a special platform for installing the equipment potentially allows using the robot for remote radiation survey.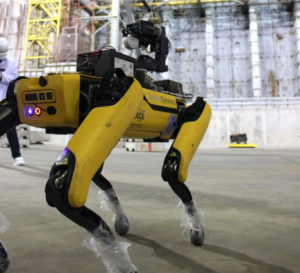 The visit to the ChNPP is commented by David Megson-Smith, a Senior Post-doctoral Resarcher at the University of Bristol involved in the development of novel and new sensors for deployment of robotic platforms, which can be used in the nuclear industry: "We came to the Chornobyl Exclusion Zone to use the robotic platforms for mapping the distribution of radiation, test our robotic platforms and build new networks of people. We've worked a lot with the nuclear organizations in the United Kingdom but we haven't ever worked in an environment as difficult as here at the ChNPP. To work here within the nuclear power plant is an exciting opportunity for us. And we have an ability to demonstrate to your personnel what we can do and how we might be of help. Hopefully, everything we have seen here will make us better understand your problems. And we can develop our technology to adjust it exactly to the problems that your engineers need to address on a daily basis". Dr. Peter Martin, a coordinator of the visit of the engineers of the University of Bristol to ChNPP, assured that the University is interested in further cooperation and it plans re-visiting the Chornobyl NPP in 2021 for testing other dosimetry technologies and presenting to the ChNPP the technologies that may be used during the radioactive waste management and dismantling activities.
Spot is an agile mobile robot that navigates terrain with unprecedented mobility, allowing you to automate routine inspection tasks and data capture safely, accurately, and frequently.
A HOME RAPID TEST KIT FOR COVID
The U.S. Food and Drug Administration has recently issued an emergency use authorization (EUA) for the first COVID-19 diagnostic test for self-testing at home and that provides rapid results. The Lucira COVID-19 All-In-One Test Kit is a molecular (real-time loop mediated amplification reaction) single use test that is intended to detect the novel coronavirus SARS-CoV-2 that causes COVID-19.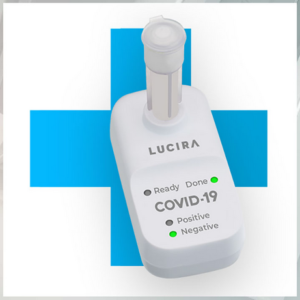 Lucira 30-minute at home rapid-test kit for COVID-19 © Lucira Health
"The FDA continues to demonstrate its unprecedented speed in response to the pandemic. While COVID-19 diagnostic tests have been authorized for at-home collection, this is the first that can be fully self-administered and provide results at home. This new testing option is an important diagnostic advancement to address the pandemic and reduce the public burden of disease transmission," said FDA Commissioner Stephen M. Hahn, M.D. "Today's action underscores the FDA's ongoing commitment to expand access to COVID-19 testing."
The Lucira COVID-19 All-In-One Test Kit test has been authorized for home use with self-collected nasal swab samples in individuals age 14 and older who are suspected of COVID-19 by their health care provider. It is also authorized for use in point-of-care (POC) settings (e.g., doctor's offices, hospitals, urgent care centers and emergency rooms) for all ages but samples must be collected by a healthcare provider when the test is used at the POC to test individuals younger than 14 years old. The test is currently authorized for prescription use only.
The test works by swirling the self-collected sample swab in a vial that is then placed in the test unit. In 30 minutes or less, the results can be read directly from the test unit's light-up display that shows whether a person is positive or negative for the SARS-CoV-2 virus. Positive results indicate the presence of SARS-CoV-2. Individuals with positive results should self-isolate and seek additional care from their health care provider. Individuals who test negative and experience COVID-like symptoms should follow up with their health care provider as negative results do not preclude an individual from SARS-CoV-2 infection.
"Today's authorization for a complete at-home test is a significant step toward FDA's nationwide response to COVID-19. A test that can be fully administered entirely outside of a lab or healthcare setting has always been a major priority for the FDA to address the pandemic. Now, more Americans who may have COVID-19 will be able to take immediate action, based on their results, to protect themselves and those around them," said Jeff Shuren, M.D., J.D., director of FDA's Center for Devices and Radiological Health. "We look forward to proactively working with test developers to support the availability of more at-home test options."
An important component to successful at-home testing is the ability to efficiently track and monitor results. As noted in this EUA, prescribing health care providers are required to report all test results they receive from individuals who use the test to their relevant public health authorities in accordance with local, state and federal requirements. Lucira Health, the test manufacturer, has also developed box labeling, quick reference instructions and health care provider instructions to assist with reporting.
Diagnostic testing remains one of the pillars of our nation's response to COVID-19. The FDA continues its public health commitment to pursue new approaches that help make critical tests available to more Americans through EUA authority.
The FDA, an agency within the U.S. Department of Health and Human Services, protects the public health by assuring the safety, effectiveness, and security of human and veterinary drugs, vaccines and other biological products for human use, and medical devices. The agency also is responsible for the safety and security of our nation's food supply, cosmetics, dietary supplements, products that give off electronic radiation, and for regulating tobacco products.
THALES ALENIA SPACE TO BUILD COPERNICUS CIMR SATELLITES
Thales Alenia Space, Joint Venture between Thales (67 %) and Leonardo (33 %) has signed a 93 Meuro, first tranche of the 495 Meuro global contract, with the European Space Agency (ESA) to build the Copernicus Imaging Microwave Radiometer (CIMR) environmental monitoring satellites. The CIMR mission is part of the expansion of the Copernicus Space Component programme of the European Space Agency, ESA, in partnership with the European Commission. The European Copernicus flagship programme provides Earth observation and in situ data and a broad range of services for environmental monitoring and protection, climate monitoring, natural disaster assessment to improve the quality of life of European citizens.
Thales Alenia Space will serve as mission prime with main partners OHB Italia for the instrument and HPS (High Performance Space Structure System GmbH) for the Antenna Reflector. This mission is dedicated to provide observations of Sea-Surface Temperature (SST), Sea-Ice Concentration (SIC) and Sea-Surface Salinity (SSS). Uniquely, it would also observe a wide range of other sea-ice parameters as Sea Ice Thickness (SIT), Sea Ice Drift (SID), Ice Type/Stage, Snow Depth on Sea Ice or Ice Surface Temperature (IST). CIMR  responds to high-priority requirements from key Arctic user communities and will improve continuity of missions monitoring the Polar Regions, notably in terms of spatial resolution (~5 km) temporal resolution (sub-daily) and geophysical accuracy. CIMR measurement performances are at worldwide state of art.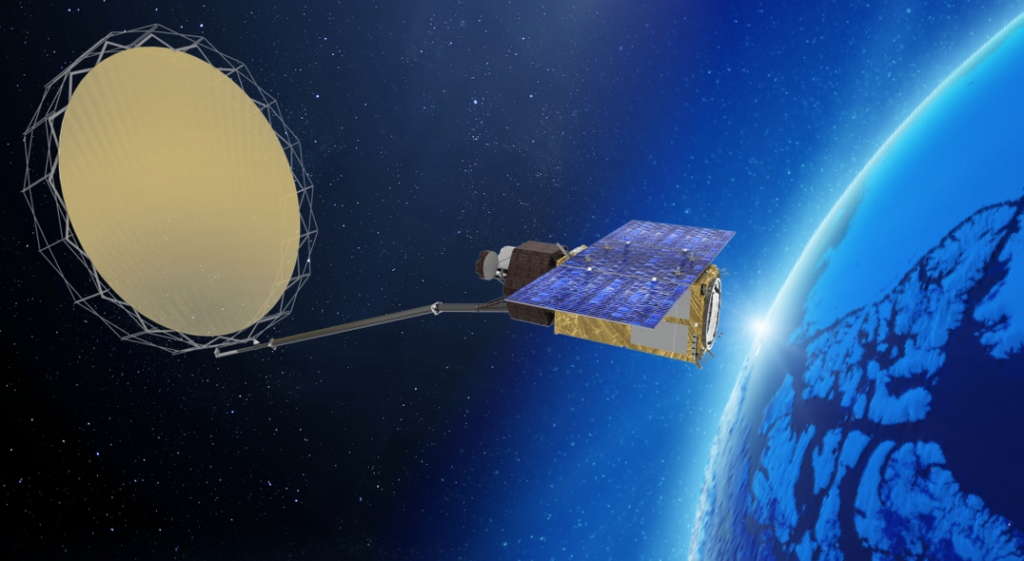 "Our strong expertise and heritage on both Copernicus programs and radar technologies will serve this mission which is considered essential to the successful  implementation of the integrated EU Artic Policy", declared Hervé Derrey, CEO of Thales Alenia Space.
The CIMR system consists of up to 3 Satellites dedicated to day-and-night monitoring of land, ice and oceans flying in loose convoy with METOP SG satellite B. CIMR orbit is quasi-polar, near circular and sun-synchronous. In order to acquire measurements on a wide swath, the instrument rotates continuously about an axis parallel to the local spacecraft vertical. The antenna system view the Earth scene with a nearly constant incidence angle of about 55.5 deg.
The CIMR satellites embark each a wide-swath conically-scanning multi-frequency microwave radiometer provided by OHB Italia and operating from L to ka band enabling radiometric measurements with unprecedented levels of accuracy. CIMR will be designed for a 7 years nominal lifetime with a sub-daily Artic and Antarctic area coverage, it will be compatible with Vega-C and Ariane 6-2 launchers and will be fitted by a controlled re-entry system.
Massimo Comparini, Senior Executive Vice President Observation, Exploration and Navigation at Thales Alenia Space commented:"We are proud to lead this crucial mission for Europe and for arctic communities,  as CIMR will provide operational sea-ice services and continuously monitoring of Arctic environment".
This program will take both advantage of Thales Alenia Space proven heritage in Copernicus missions, Earth observation satellites as well as the OHB Italia experience on rotating microwave imager, the platform is based on the new Thales Alenia Space Multi-Mission Platform product line (MILA),and the Large Deployable Reflector (LDRS) will be provided by the German company HPS.
More about industrial contributions
Thales Alenia Space in Belgium will provide the Power Control-Distribution Unit and the Solar Array Photovoltaic Assembly (PVA), Thales Alenia Space in Switzreland the monitoring camera, Thales Alenia Space in Spain, the Receivers  and Calibration Assembly (RCA) , the Instrument Control Unit (ICU), the Local Control Unit (LCU) and the Remote Interface Unit (RIU)  and Leonardo the Star Trackers.
About the integrated EU Arctic Policy
The strategic, environmental and socio-economic importance of the Arctic region, including the Arctic Ocean and adjacent seas is now recognized. The Arctic's fragile environment is also a direct and key indicator of the climate change, which requires specific mitigation and adaptation actions, as agreed at the COP -21 held in Paris in December 2015.
To this end, the "Integrated EU Arctic policy" has identified and is addressing three priority areas
1.Climate Change and Safeguarding the Arctic Environment (livelihoods of indigenous peoples, Arctic environment).
2.Sustainable Development in and around the Arctic (exploitation of natural resources e.g. fish, minerals, oil and gas), "Blue economy", safe and reliable navigation (e.g. the Arctic Northern Sea Route).
3.International Cooperation on Arctic Issues (scientific research, EU and bilateral cooperation projects, fisheries management/ecosystems protection, commercial fishing).
Continuously monitoring the vast and harsh Arctic environment in such a changing world with Earth observation, navigation and communication satellites (considering the sparse population and the lack of transport links) is considered essential to the successful implementation and effective management of the Integrated EU Arctic Policy.
About CIRM measured parameters
Sea-Surface Temperature parameter is required for climate modelling, mesoscale analysis, oceanic predictions and as climate change indicator
Sea-Ice Concentration is the most important parameter for operational navigation in sea-ice infested waters and for climate services
Sea-Surface Salinity is an essential climate variable that plays a fundamental role in the density-driven global ocean circulation, the water cycle, and climate
Sea Ice Thickness is a parameter already measured by satellite altimeters but a high spatial resolution thin sea ice thickness product for navigation purposes does not exist for the Arctic Ocean and will be crucial for operational applications
Sea Ice Drift parameters are not only important for the navigation but ice cover and motion have major effect on heat fluxes between ocean and atmosphere, as well as impact the fresh water flux which plays an important role in the thermohaline circulation
Ice Type/Stage is also a key parameter to operational services (navigation, marine operations) as well as to climate modelling Snow Depth on Sea Ice are needed for an accurate determination of the sea ice freeboard
Ice Surface Temperature parameter is potentially as important than SST in terms of assimilation of vertical heat diffusion
ABOUT THALES ALENIA SPACE
Drawing on over 40 years of experience and a unique combination of skills, expertise and cultures, Thales Alenia Space delivers cost-effective solutions for telecommunications, navigation, Earth observation, environmental management, exploration, science and orbital infrastructures. Governments and private industry alike count on Thales Alenia Space to design satellite-based systems that provide anytime, anywhere connections and positioning, monitor our planet, enhance management of its resources, and explore our Solar System and beyond. Thales Alenia Space sees space as a new horizon, helping to build a better, more sustainable life on Earth. A joint venture between Thales (67%) and Leonardo (33%), Thales Alenia Space also teams up with Telespazio to form the parent companies' Space Alliance, which offers a complete range of services. Thales Alenia Space posted consolidated revenues of approximately 2.15 billion euros in 2019 and has around 7,700 employees in nine countries.