HOUR OF THE WITCH
By Chris Bohjalian
A NOVEL
A young Puritan woman—faithful, resourceful, but afraid of the demons that dog her soul–plots her escape from a violent marriage in this riveting and propulsive novel of historical suspense from the #1 New York Times bestselling author of The Flight Attendant.
Boston, 1662. Mary Deerfield is twenty-four-years-old. Her skin is porcelain, her eyes delft blue, and in England she might have had many suitors. But here in the New World, amid this community of saints, Mary is the second wife of Thomas Deerfield, a man as cruel as he is powerful. When Thomas, prone to drunken rage, drives a three-tined fork into the back of Mary's hand, she resolves that she must divorce him to save her life.
But in a world where every neighbor is watching for signs of the devil, a woman like Mary—a woman who harbors secret desires and finds it difficult to tolerate the brazen hypocrisy of so many men in the colony—soon becomes herself the object of suspicion and rumor. When tainted objects are discovered buried in Mary's garden, when a boy she has treated with herbs and simples dies, and when their servant girl runs screaming in fright from her home, Mary must fight to not only escape her marriage, but also the gallows.
A twisting, tightly plotted novel of historical suspense from one of our greatest storytellers, Hour of the Witch is a timely and terrifying story of socially sanctioned brutality and the original American witch hunt.
THE TEN-YEAR SEARCH FOR BIN LADEN FROM 9/11 TO ABBOTTABAD
By Peter L. Bergen
NOW AN HBO DOCUMENTARY
In Manhunt, Peter Bergen delivers a taut yet panoramic account of the pursuit and killing of Osama bin Laden. Here are riveting new details of bin Laden's flight after the crushing defeat of the Taliban to Tora Bora, where American forces came startlingly close to capturing him, and of the fugitive leader's attempts to find a secure hiding place. As the only journalist to gain access to bin Laden's Abbottabad compound before the Pakistani government demolished it, Bergen paints a vivid picture of bin Laden's grim, Spartan life in hiding and his struggle to maintain control of al-Qaeda.
Half a world away, Bergen takes us inside the Situation Room, where President Obama considers the courses of action presented by his war council and receives conflicting advice from his top advisors before deciding to risk the raid that would change history–and then inside the Joint Special Ops Command, whose "secret warriors," the SEALs, would execute Operation Neptune Spear. From the moment two Black Hawks take off from Afghanistan until bin Laden utters his last words, Manhunt reads like a thriller.

REIGN OF TERROR
By Spencer Ackermann
HOW THE 9/11 ERA DESTABILIZED AMERICA AND PRODUCED TRUMP
An examination of the profound impact that the War on Terror had in pushing American politics and society in an authoritarian direction
For an entire generation, at home and abroad, the United States has waged an endless conflict known as the War on Terror. In addition to multiple ground wars, it has pioneered drone strikes and industrial-scale digital surveillance, as well as detaining people indefinitely and torturing them. These conflicts have yielded neither peace nor victory, but they have transformed America. What began as the persecution of Muslims and immigrants has become a normalized, paranoid feature of American politics and security, expanding the possibilities for applying similar or worse measures against other targets at home. A politically divided country turned the War on Terror into a cultural and then tribal struggle, first on the ideological fringes and ultimately expanding to conquer the Republican Party, often with the timid acquiescence of the Democratic Party. Today's nativist resurgence walked through a door opened by the 9/11 era.
Reign of Terror will show how these policies created a foundation for American authoritarianism and, though it is not a book about Donald Trump, it will provide a critical explanation of his rise to power and the sources of his political strength. It will show that Barack Obama squandered an opportunity to dismantle the War on Terror after killing Osama bin Laden. That mistake turns out to have been portentous. By the end of his tenure, the war metastasized into a broader and bitter culture struggle in search of a demagogue like Trump to lead it.
A union of journalism and intellectual history, Reign of Terror will be a pathbreaking and definitive book with the power to transform how America understands its national security policies and their catastrophic impact on its civic life.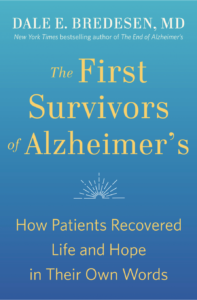 THE FIRST SURVIVORS OF ALZHEIMER'S
By Dale Bredesen
HOW PATIENTS RECOVERED LIFE AND HOPE IN THEIR OWN WORDS
First person stories of patients who recovered from Alzheimer's Disease–and how they did it.
It has been said that everyone knows a cancer survivor, but no one has met an Alzheimer's survivor – until now. In his first two books, Dr. Dale Bredesen outlined the revolutionary treatments that are changing what had previously seemed like the inevitable outcome of cognitive decline and dementia.  And in these moving narratives, you can hear directly from the first survivors of Alzheimer's themselves–their own amazing stories of hope told in their own words.
These first person accounts honestly detail the fear, struggle, and ultimate victory of each patient's journey. They vividly describe what it is like to have Alzheimer's. They also drill down on how each of these patients made the program work for them–the challenges, the workarounds, the encouraging results that are so motivating. Dr. Bredesen includes commentary following each story to help point readers to the tips and tricks that might help them as well.
Dr. Bredesen's patients have not just survived; they have thrived to rediscover fulfilling lives, rewarding relationships, and meaningful work. This book will give unprecedented hope to patients and their families.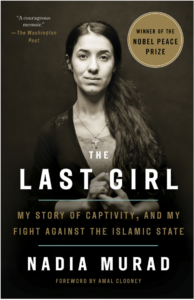 THE LAST GIRL
By Nadia Murad – Foreword by Amal Clooney
MY STORY OF CAPTIVITY, AND MY FIGHT AGAINST THE ISLAMIC STATE
WINNER OF THE NOBEL PEACE PRIZE • In this "courageous" (The Washington Post) memoir of survival, a former captive of the Islamic State tells her harrowing and ultimately inspiring story.
 
Nadia Murad was born and raised in Kocho, a small village of farmers and shepherds in northern Iraq. A member of the Yazidi community, she and her brothers and sisters lived a quiet life. Nadia had dreams of becoming a history teacher or opening her own beauty salon.
On August 15th, 2014, when Nadia was just twenty-one years old, this life ended. Islamic State militants massacred the people of her village, executing men who refused to convert to Islam and women too old to become sex slaves. Six of Nadia's brothers were killed, and her mother soon after, their bodies swept into mass graves. Nadia was taken to Mosul and forced, along with thousands of other Yazidi girls, into the ISIS slave trade.
Nadia would be held captive by several militants and repeatedly raped and beaten. Finally, she managed a narrow escape through the streets of Mosul, finding shelter in the home of a Sunni Muslim family whose eldest son risked his life to smuggle her to safety.
Today, Nadia's story—as a witness to the Islamic State's brutality, a survivor of rape, a refugee, a Yazidi—has forced the world to pay attention to an ongoing genocide. It is a call to action, a testament to the human will to survive, and a love letter to a lost country, a fragile community, and a family torn apart by war.