Volodymyr Zelensky could undeniably have made his task so much easier had he accepted US President Joe Biden's offer to be flown out of Kyiv by private jet. His line "I need ammunition, not a ride", as if taken from an action movie, echoed around the world, and in just a few days, the Ukrainian president, symbol of the resistance of an entire nation, won the hearts of people in every corner of the world.
Nearly four million people now follow him on Twitter, while his videos generate millions of views on Facebook and YouTube. Wielding the weapon of communication with great skill, and endowed with a genuine talent for finding the right words, he defends tooth and nail his homeland which is in the grip of war; a war that according to many observers, Ukraine cannot win. Yet his composure in the face of Russia's military might is impressive.
But will he survive the conflict?
Elected with a massive majority in 2019, Volodymyr Zelensky is the embodiment of a progressive ideal for his people. The former comedian who was sucked into the world of politics to become president, had seen his popularity decline, until that fateful 24 February 2022, when he astonished the world with his will to resist the unprovoked, massive and brutal military offensive launched by the Russian army.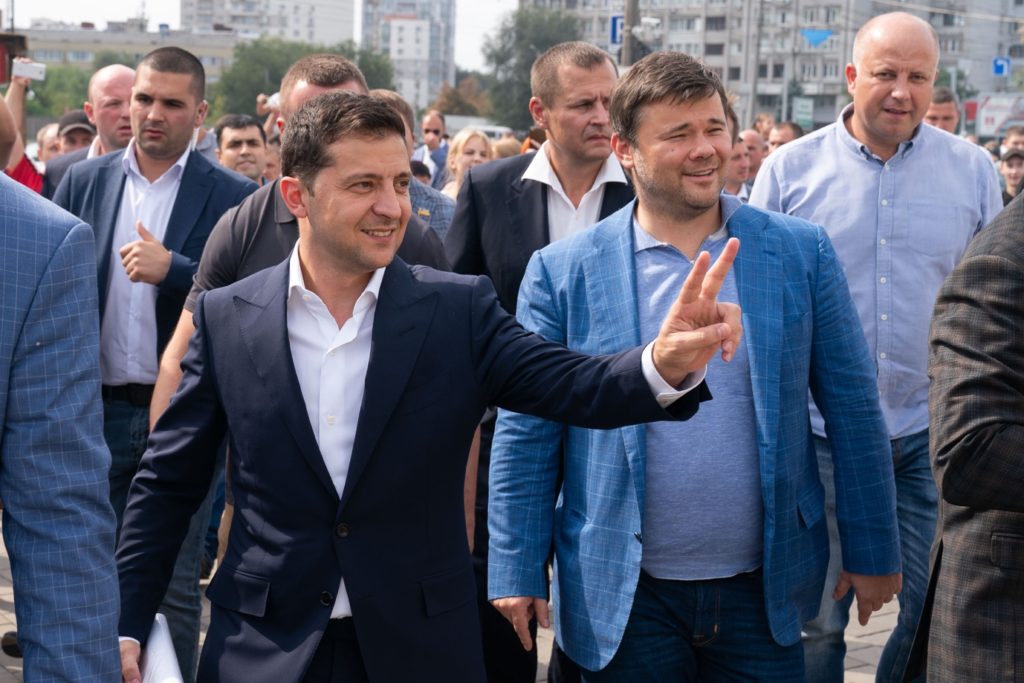 In a few hours, the 44-year-old president became the embodiment of a people refusing to bend under the military assaults of Vladimir Putin. On the evening of February 24, in a first televised address, he appeared dressed in a simple green, military sweatshirt to announce the general mobilisation. He revealed that the enemy had identified him as target number 1, and his family as target number 2. His wife, Olena Zelenska, and their two children, a 17-year-old girl and a 9-year-old boy, were taken to a shelter.
In his new role as a war leader he defiantly declared, "In one breath, we will say the only thing that needs to be said: Get out of our land !"
Western intelligence services had predicted a lightning campaign with a rapid assault on Kyiv. But the resistance put up by the Ukrainian armed forces proved exceptionally determined and fierce. Nevertheless, Russian troops began their advance towards Kyiv, the capital. Cities and towns were bombed, the first deaths were reported and panic seized the population which fled in huge numbers. The United States and France offered to exfiltrate the Ukrainian president. His reply has now become something of a byword for courage and determination.
What surprised many was Zelensky's courage. He was under direct threat of assassination by the Wagner Group, a band of ultra-violent Russian mercenaries deployed in Kyiv. What's more, he had already been the target of several assassination attempts in his place of residence. However, the night Joe Biden offered to exfiltrate him, he refused and told him that this is where the fight was, and that he needed ammunition and not a ride. This was a pivotal moment; millions of Ukrainians realised that Zelensky would not capitulate and that he would not be intimidated by Vladimir Putin.
On Twitter, which he was already using frantically, he continues sending messages in Ukrainian and in English to explain which world leader he had just spoken to and urge Ukrainians not to surrender. On Saturday, 26 March, in a video posted on his Telegram account – an application that is very popular with his fellow citizens – he filmed himself in the streets of the capital without a bulletproof vest, in order to prove that he is not on the run, contrary to rumours, "Don't believe in fakes. I am here." he told his followers.
Volodymyr Zelensky takes on a new role; that of a president at war. He rapidly recognises the convergence of war and the media, and uses weapons that he masters like no other : social networks. It is via Facebook, Twitter and Telegram that he addresses his people and the international community.
Social networks have been instrumentalised long before people became aware of disinformation campaigns and all the things that can be engineered via digital platforms. So, the idea that social media can be a weapon of war is not new. But the way the Ukrainian president is using it to make direct appeals to the rest of the world is pretty unprecedented. No one has used it on this scale before.
Zelensky urges the population to resist and fight Vladimir Putin's army. From Western governments he asks for weapons and harsher sanctions. He also addresses the inhabitants and soldiers of his neighbouring country, in Russian: "Today, I tried to reach the President of Russia. Result: radio silence. That is why I am addressing the Russian citizens today. But not as a president. I am addressing them as a Ukrainian citizen".
It is not clear how many Russians actually heard this address, but he certainly did it in a most convincing fashion.
Since the war broke out, Volodymyr Zelensky has been presenting himself to the world in a khaki green outfit. He gives the image of a freedom fighter who is confronting the Russian dictator, of a hero who has decided to remain in the presidential palace, protected behind sandbags. This is what he had to say to very early on in the conflict : "President Biden and I have exchanged many times. I am grateful to him for helping me, but he did not hear me. I informed the United States that Ukraine will fight for the whole world. But against Russia, you cannot fight alone".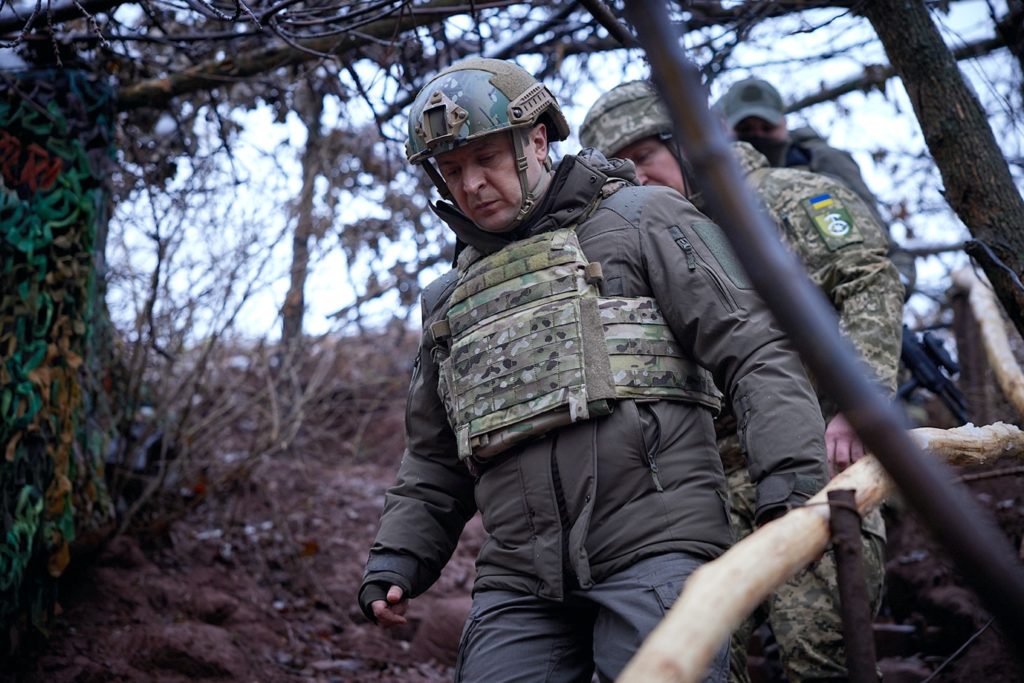 For the first time in history, the whole world is watching a president at war, live. He presents himself as a citizen, a father, a husband…an affected, vulnerable and exhausted man.
BIRTH OF A LEADER
Volodymyr Zelensky was born on 25 January 1978 into a typical middle-class family of Russian-speaking academics from Krivoy Rog, a fairly large city and important industrial centre in the Dnipropetrovsk Oblast of Ukraine. The country was then part of the USSR. During World War II, his grandfather, whose three brothers died in the Holocaust, fought against the Germans in the Red Army.
His father is a computer science professor at the Kryvyi Rih State University and his mother an engineer. When he passed his baccalaureate, Ukraine had already gained its independence. He studied law but never worked in this field, preferring instead to explore the world of the stage and television.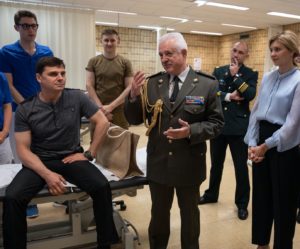 In 1997, Zelensky together with a group of friends created his first project, 'Kvartal 95', a team of authors and actors who specialised in writing and staging comedy sketches for public performances.
Two years later, 'Kvartal 95' was invited to Moscow to participate in the Major League of KVN or 'Club of the Funny and Inventive', which is a Russian (and formerly Soviet) comedy TV show and an international competition where teams, usually composed of students, compete by giving funny answers to questions and performing prepared sketches.
It was at about this time that he fell in love with Olena, a former university classmate. They married in 2003 and that same year, he set up the Kvartal 95 studio, a television production company. Together, they wrote and produced sketches, films and political programmes with provocative and humorous tones. Their shows attracted millions of viewers and Zelensky became a star of the small screen, not only in Ukraine but also in Russia.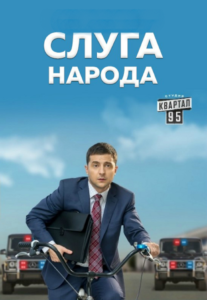 His programmes were broadcast on 1+1 TV, the most-watched channel in Ukraine, owned by one of the most powerful oligarchs in the country : businessman, billionaire and media tycoon, Igor Kolomoisky. He is also one of the most influential oligarchs in Ukraine. Kolomoisky is a somewhat shady character; a man who has made his fortune by means that are borderline legal, if not downright criminal.
So, Kolomoisky and Zelensky were in business, so to speak. Kolomoisky owned one of the main television stations, to which Zelensky's Kvartal 95 Studio sold its productions.
In 2015, Igor Kolomoisky financed a new series written by the Zelensky couple. Entitled 'Servant of the People', this programme would forever change the fate of the actor. The series tells the story of a history teacher who, overnight, finds himself president of Ukraine. This character says out loud what everyone else is thinking, and while he speaks out against corruption in Ukraine, his students film him without his knowledge. Their videos are then shared millions of times on social networks and will have unexpected consequences.
The history teacher that Volodymyr Zelensky embodies is a man of the people, propelled to the uppermost echelon of the state. But reality proved somewhat different from fiction. In 2019, Zelensky took advantage of his notoriety as a star of the small screen, as well as Igor Kolomoisky's vast fortune to stand as a candidate for the presidential election.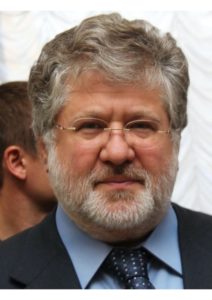 The 'Servant of the People' series was hugely popular and the Ukrainian people indeed yearned for new faces in politics after years of high-level government corruption and mismanagement. These are the two things that, together with Kolomoisky's encouragement may have compelled Zelensky to present himself as a presidential candidate. But the arrival on the scene of this actor who was closely linked to an oligarch of dubious reputation aroused huge skepticism among many Ukrainian and Western observers. The thought that Kolomoisky may be acting as Zelensky's man in the shadows was disturbing to the highest degree.
Volodymyr Zelensky named his political party 'Servant of the People', the same name as the television series that made him famous.
For hosting the debate preceding the second round of the election, the star showman chose Kyiv's Olympic stadium as the venue. He wanted to confront the outgoing president, Petro Poroshenko under the gaze and scrutiny of tens of thousands of spectators. And he did it in a big way; it reminded one of the arenas of Roman times, where all kinds of entertainment were offered to the population.
The incumbent tried with all his might to portray Zelensky as an inexperienced novice who lacked the courage and character to confront Russian president Vladimir Putin, but utterly failed to scathe his opponent in any significant manner.
However, many didn't appreciate this style of theatrical staging, because it turned politics into entertainment, and a serious debate between candidates into an acting performance. However, it must be said that this is precisely where Zelensky's strength lies.
And in the centre of the stadium, Volodymyr Zelensky was indeed the star. The fictional president in the hit television series, crystallised the deep desire of Ukrainians to have a sincere president, a man of the people, entirely committed to them. Ukrainians were so in need of change that they voted for an empty shell, as it were. Just because he was a new face, someone who was against the system and who didn't look like the average politician. Someone who promised to do things differently. In fact, he didn't promise anything concrete and he didn't position himself either. He was a kind of blank sheet of paper onto which people could project all their hopes and dreams.
On April 21, 2019, Volodymyr Zelensky won the second round of voting by a landslide majority; he obtained 73% of the votes, and thus became the 6th president of Ukraine.
During his first months at the head of the country, Ukrainians speculated on what kind of president he would turn out to be. People knew what kind of actor he was, but nobody knew what kind of statesman he would be. He had no experience in governance and had never held political office, even at a local or regional level.
But in April 2019, in a different part of the world, another reality TV personality and businessman had been the head of another nation since 2017 : Donald Trump, 45th President of the United States. So it was not so shocking that an actor became president; Ronald Reagan was also a movie actor before he became president of the USA in 1981.
Many Ukrainian citizens already believed in Zelensky because they deeply wanted some kind of change, and saw in him the long-awaited miracle. In other words, they saw him as the one who would solve the problems that had accumulated for so many years.
FACING A FORMIDABLE ADVERSARY
However, the biggest challenge facing the new head of state lay outside the borders of Ukraine. It was Vladimir Putin, the president of Ukraine's powerful neighbour, Russia. As far as Putin was concerned, Ukraine in itself constituted a provocation, and anyone who took control of it, unless placed there with Putin's approval, would represent a challenge.
And yet, some observers believe that Putin actually saw in Zelensky the ideal president for Ukraine. In other words, an incompetent, vulnerable and weak-minded person who would be willing to make concessions. In fact, he was convinced that Zelensky would make concessions.
Vladimir Putin has been waging a war against Ukraine for years in the Donbas, a region located in the east of the country. The two self-proclaimed republics that make up the region are dominated by separatists supported by Moscow, whose army, stationed on the other side of the border, was constantly threatening to intervene.
The young Ukrainian president promised to finally put an end to this conflict.
In the Ukrainian parliament he declared : "They have often asked me if I am ready to accept a cease-fire. What a prodigious question! And you, dear Ukrainians, what are you ready to sacrifice in the name of your loved ones' lives? That is the question. I can assure you that in order to ward off the death of our heroes, I am ready to do anything. I am not afraid to make difficult decisions. I am ready to lose my popularity, my ratings and, if necessary, without the slightest hesitation, I am ready to lose my position, if it can lead to peace."
The question then arose as to whether the new president would be able to perform on the international stage.
A few weeks after the elections, Volodymyr Zelensky pulled off a surprising feat: an exchange of prisoners of war. In September 2019, thirty-five Ukrainians made a highly publicised return to the country. One by one, the liberated Ukrainians got off an official plane, under the bravos of a visibly very emotional crowd. In Moscow, the contrast was striking. The 35 Russians released by Ukraine disembarked discreetly. The airport tarmac was empty and other than journalists, there were no jubilant crowds to greet them.
"I and Vladimir Putin have achieved what we promised," declared Volodymyr Zelensky, who had come to welcome his liberated fellow citizens. Newly elected, he savoured one of his first diplomatic victories, but also the outcome of negotiations that had often taken the form of a Herculean task. The exchange of prisoners, mentioned several times under the presidency of Petro Poroshenko, remained impossible for a long time because of the unfavourable relations between Moscow and Kyiv.
But in reality, Zelensky's debut was indeed difficult. He suddenly found himself at the heart of a political scandal. It broke after the revelation of the content of a telephone conversation in which Donald Trump, then president of the United States, threatened to deprive Ukraine of $400 million in military aid if Zelensky refused to launch an investigation for corruption against the son of Joe Biden, his Democratic rival in the U.S. presidential election.
And in fact, it proved very damaging for Zelensky to be confronted with a case of this magnitude when he was just beginning his term. It takes a lot of self-confidence to respond appropriately in such circumstances.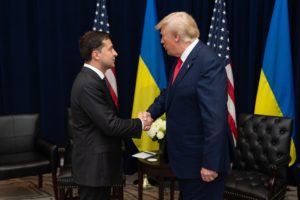 Donald Trump did manage to somewhat tarnish Volodymyr Zelensky's image. As far as Vladimir Putin was concerned, a weakened Ukrainian president was precisely what he needed in order to further his imperialist ambitions in Ukraine and the Donbas.
The Russian president is adept enough to sniff out the weaknesses of foreign heads of state and is very good at exploiting them. Russia is known for not being afraid to take on opposition stronger than itself, and Vladimir Putin excels in this exercise.
But the Ukrainian president did not lose sight of his objective: peace in the Donbas and with Russia. He looked for allies and found them in France and Germany. In Paris, he met Vladimir Putin for the first time at a summit hosted by French President Emmanuel Macron in December 2019. Although Zelensky showed poise and skill, the talks failed.
There was no political will on the part of Moscow to get out of the Donbas, because Russia uses the Donbas as leverage to influence Ukrainian domestic politics. But this summit demonstrated one point that was very important for Zelensky; that Kyiv was ready to do anything as long as it did not compromise the territorial integrity of Ukraine and its sovereignty in reaching an agreement with Putin and its European partners.
STAVING OFF THE SWELLING TIDE OF DIFFICULTIES
The continuing war in the Donbas indeed allows Russia to exert pressure on Ukrainian domestic politics. The conflict has already claimed 14,000 lives. Ukrainians are tired of this war. And Vladimir Putin knows full well that if his counterpart fails to reach a peace agreement, he will have broken his campaign promise.
Two years after entering into the stormy waters of Ukrainian politics, Volodymyr Zelensky was witnessing his brilliance beginning to fade. The Ukrainian economy, one of the weakest in Europe, was practically at a standstill.
The head of state was at his lowest ratings in the polls and his party had suffered a bitter failure in the municipal elections.
But President Zelensky, a master in the art of staging, decided to showcase his greatest strengths. He knows how to spin things to make a story work. In May 2021, he pulled out all the stops and organised a high-profile media event in a huge hangar of the aircraft manufacturer Antonov. It was the second anniversary of his presidency, and he went on to reveal an unprecedented political and social programme for the remaining three years of his tenure.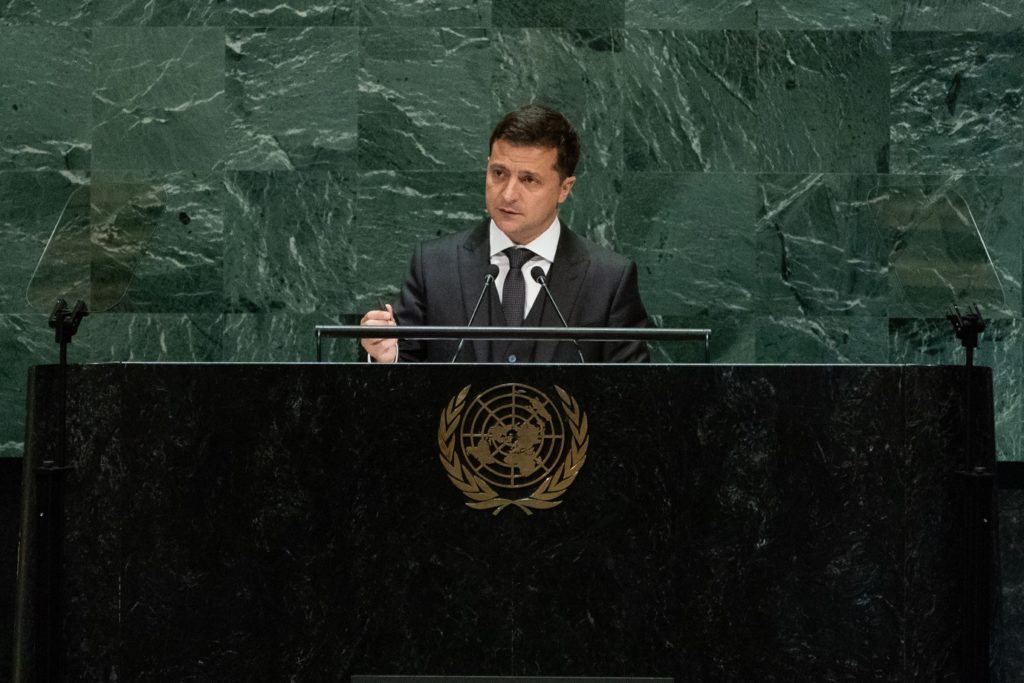 However, he did not manage to completely eradicate corruption in Ukraine; he had a somewhat ambiguous relationship with the oligarchs. Overall, he did not radically change the situation in Ukraine and he did not particularly impress the international community. If one had asked important figures of the American and world political scene before this war, probably nobody would have thought that Zelensky is an important world leader to be reckoned with.
In October 2021, the president faced a political crisis when documents uncovered in the 'Pandora Papers' investigation revealed the network of offshore companies that were created and maintained by Volodymyr Zelensky and his entourage. The president had invested part of the fortune that his television programmes had generated in foreign accounts. In his fight against the oligarchy, under the constraint of the European Union, he had reluctantly attacked his former patron Igor Kolomoisky.
He also closed down the three Russian-language channels of the oligarch Viktor Medvedchuk in order to reduce Russian influence in the country. This caused some concerns about press freedom. But Viktor Medvedchuk who is also the chairman of the pro-Russian political organisation Ukrainian Choice and opposed to membership of the European Union, is Vladimir Putin's best ally in Ukraine.
The Russian president again stepped up the pressure on Kyiv in the spring of 2021 by launching military manoeuvres with more than 100,000 men on the Ukrainian borders to the east; an operation that was widely reported on Russian television. A dangerous escalation and military confrontation was still possible at any moment.
Ukraine is disarmed and is no match for Vladimir Putin. In 1994, the country gave up its nuclear arsenal in exchange for security guarantees from the United States, Great Britain and Russia. Then Ukraine tried the diplomatic channels by ratifying global treaties that were duly signed.
There was The Budapest Memorandum of 1994, consisting of a series of political assurances whereby the signatory states committed to "respect the independence and sovereignty and the existing borders of Ukraine". But the meaning of the security assurances was deliberately left ambiguous and the treaty never worked. And President Zelensky repeatedly recalled that besides that, Ukraine tried to maintain good relations and live in good understanding with Russia, thanks to the mixed families by promoting relations on historical, economic and social levels; the two countries were well and truly united in the Soviet era. But these steps did not succeed either. What more could be done?
THE STORM HITS WITH FULL FORCE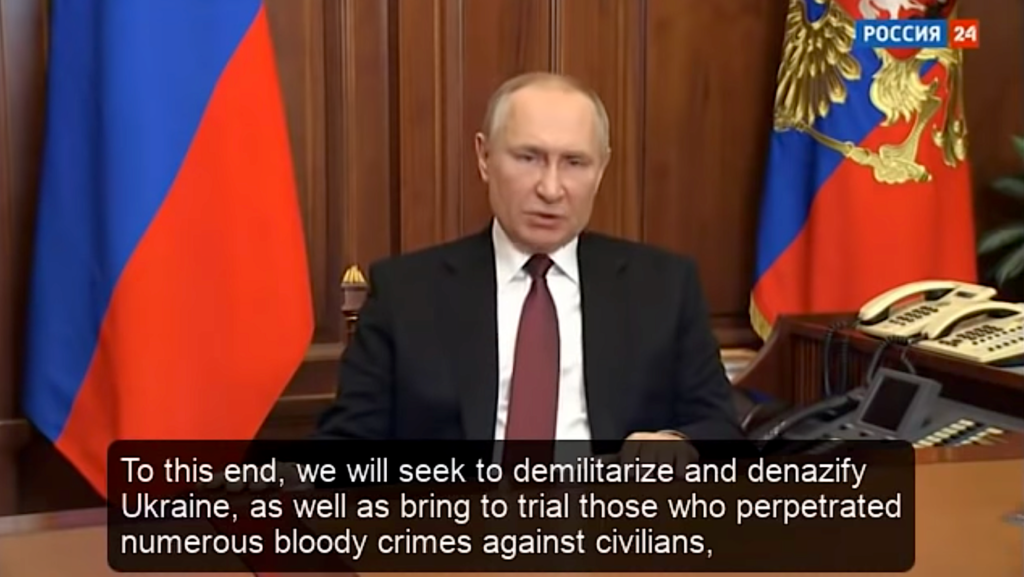 In July 2021, Vladimir Putin published a manifesto. In an essay on the history of Russia and the Soviet Union, he openly challenged Ukraine's right to exist. If the international community had been willing to take a closer look at this, it would have seen what was to come.
Vladimir Putin incessantly repeats Russia's claim to Ukraine, and this was still the case three days before the invasion. "Ukraine for us, is not just a neighbouring land. It is an integral part of our history, culture and spiritual sphere." On February 24, 2022, he went on the offensive on the pretext of fighting against fascism. His stated goal is "to protect those ethnic Russians who have been subjected for 8 years to persecution and genocide organised by the regime in Kyiv. That is why we must fight to demilitarise and denazify Ukraine."
Volodymyr Zelensky reacted immediately. He was resolute and very clear with his fellow Ukrainians : "They tell you that we are Nazis. Tell me how a people could be Nazis when, in order to defeat this same Nazism, they themselves sacrificed 8 million lives? How could I be a Nazi? Tell that to my grandfather who served the whole war in the Soviet army".
He then issued this warning to Russia, "Don't start a war. If you do, you will see our faces. Not our backs, but our faces."
Unfortunately, these words fell on deaf ears. Since the first missile hit Ukraine, the whole nation has rallied behind president Zelensky. There is no more political opposition to the president because everyone has understood that he is doing everything to defend the nation and that they are all in it together.
The Ukrainian president became immediately active on social networks. On Telegram he said : "We have nothing to lose but our freedom, as well as our dignity. This is our most valuable asset."And in another appearance, he said : "We have never been slaves and never will be. For this is our spirit, our destiny. Our Ukrainian armed forces are our infinite pride".
His grave and firm tone of voice expresses his determination. Every day, he addresses his people and gives them courage. He is accessible and has acquired a truly presidential stature. During one of his countless interventions on social networks, where he films himself with his smartphone, he winks mischievously when he announces : "It snowed…it's spring…and what a spring! A warlike spring! It's sad…but it will be okay. We'll defeat them all!"
The official government newsletter on the internet began to be published in several languages, and the whole world started to follow the Ukrainian president. He is playing the biggest role of his life; it is almost an existential necessity. It may be partly the result of his past experience of creating imaginary worlds, but this time, it is for real. And by necessity, the skills and talents he developed in the world of entertainment now seem of great help to him in real life.
He regularly addresses Russian citizens : "I want everyone in Russia to hear me, absolutely everyone. Thousands of dead, hundreds of soldiers who do not understand why they were sent to Ukraine. Sent to Ukraine to die. To kill their fellow man. The sooner you demand that your authorities stop this war, the more lives you will save, on your own side."
In another appearance a few days later, he said : "Dear citizens of Russia, as already said, today began the bombing of our heroic city, Kyiv. It reminds us of the year 1941. To you, all citizens of the Russian Federation who are protesting, I want to say: we see you. This is a sign that you have heard us. It is a sign that you are beginning to believe us. Fight for us. Fight against the war".
Volodymyr Zelensky has become the voice of Ukraine. The iron will of the people to resist surprised many. Experts were convinced that Putin believed Ukraine would self-destruct from within on the first or second day of the invasion. But instead of disintegrating, the whole nation came together.
Following the decree of general mobilisation, men between the ages of 18 and 60 were no longer allowed to leave the country. They had to fight; the stakes were high in what President Zelensky described as a people's war. The whole population began making Molotov cocktails, tank traps and other obstacles in order to prevent the progress of Russian tanks.
A PRESIDENT AT WAR
Ukrainians seem to have won at least one war; they have conquered the hearts and minds of people around the world. This is largely due to the fact that Volodymyr Zelensky has been extraordinarily present in the public eye from the very beginning.
He makes daily speeches and he addresses parliamentarians across Europe via video link. He has conveyed a message to the Israeli parliament, urging lawmakers to abandon Israel's neutrality and help save Ukrainian lives. He has spoken to 300 members of the US Congress via Zoom. He tweets and gives his opinion instantly on everything that's going on.
On public squares throughout Europe and the world, Volodymyr Zelensky mobilises millions of people who constitute his strike force against Vladimir Putin. His message is straightforward : "you are next, you too are threatened, help us !". He ihas become a heroic fighter for freedom.
On the fourth day of the conflict, Volodymyr Zelensky signed an official application for Ukraine to join the European Union. During a video address to members of the European Parliament in Brussels, he said, "With us, Europe will certainly be stronger. Without you, Ukraine will be isolated; we have shown you our strength, we have proven to you that we are at least as strong as you. Prove to us that you are with us! Prove to us that you will not abandon us! Prove to us that you are truly Europeans!"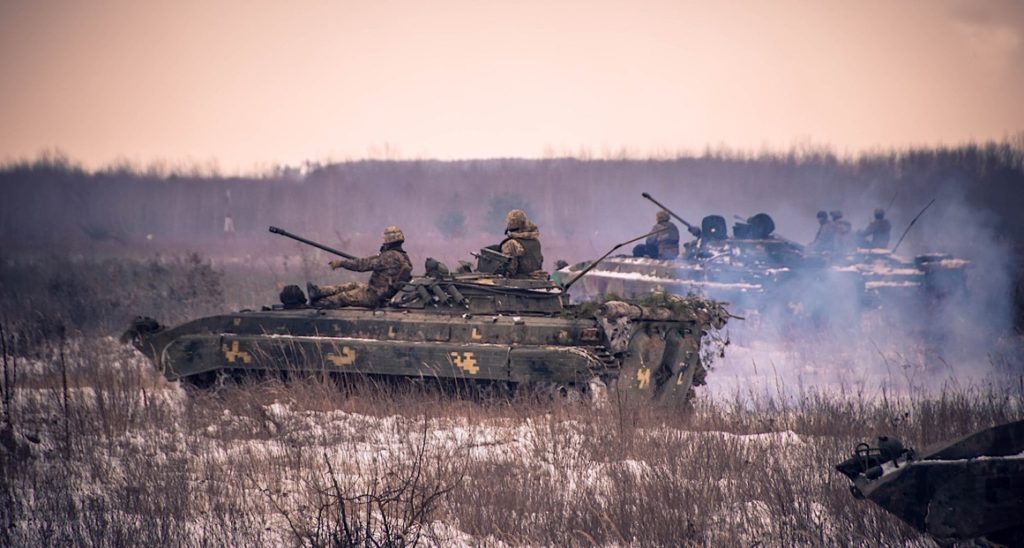 Many were very pleasantly surprised by Volodymyr Zelensky's behaviour at the beginning of the war. He managed to compose his ideas very intelligently and formulate his thoughts brilliantly. He was convincing and concrete in everything he said. When it came to keeping the public informed about events, he proved to be a brilliant politician. He even be among the most powerful politicians in Europe today.
Every one of his videos and publications tells a story and conveys an emotion. Volodymyr Zelensky masters the art of storytelling to perfection.
The director of his victorious election campaign on social networks is now his minister in charge of Digital Affairs. From his bunker in the presidential palace, President Zelensky remains the media pro. The world is witnessing the incredible transformation of a person who has played many roles; very varied roles. We are also seeing the incredible metamorphosis that Volodymyr Zelensky's character has undergone since the events began. He has risen to the occasion in a way that was completely unexpected. He now plays the role of a man who has become an authentic president and a commander-in-chief. Politically, this could represent a huge hope for the future.
The presence of Volodymyr Zelensky and the events in Ukraine have put Eastern Europe back on the world stage and have shown the West how precarious the situation is in this part of the world.
Asked recently by a reporter about the war and how long he thought he could hold out, Zelensky replied : "We don't know, we don't think about it. Your question is a philosophical one…that's not the point. It's not about surviving, it's about fighting. The whole nation is fighting and we will fight until our last breath. We are fighting for peace and freedom, that's all."
The Russian offensive in Ukraine intensified on March 15, with a series of strikes on Kyiv which is under curfew, despite a resumption of talks aimed at reaching a ceasefire, as well as a major concession by the Ukrainian president, who said he was ready to give up membership of Nato.
But the deserted capital nevertheless witnessed the visits by the Prime Ministers of Poland, the Czech Republic and Slovenia, who had left Poland by train on March 15, to meet President Zelensky and Prime Minister Denys Chmygal.
They intended to "reaffirm the unequivocal support of the entire European Union" to Ukraine and present "a broad package of support measures", according to Warsaw. This trip came against the backdrop of the resumption of Russian-Ukrainian talks, after a 24-hour break.
"Negotiations are underway," said on Twitter, Mykhailo Podoliak, the chief negotiator on the Ukrainian side. High on the agenda were in particular, "a ceasefire and the withdrawal of troops" from Ukrainian territory. These negotiations took place by videoconference following three face-to-face sessions in neighbouring Belarus, followed by a meeting on March 17 in Turkey of the Russian and Ukrainian foreign ministers.
The Kremlin has said that any "prediction" was premature, while an adviser to the Ukrainian presidency said a peace agreement was possible by "the end of May.
President Zelensky nevertheless seemed to make an important concession, by acknowledging that his country would not be joining Nato. "We have heard for years that the doors would be open, but we also heard that we could not join. This is the truth and it must be acknowledged," he said during a meeting with Western officials. He had recently said he had "softened his position" on this issue.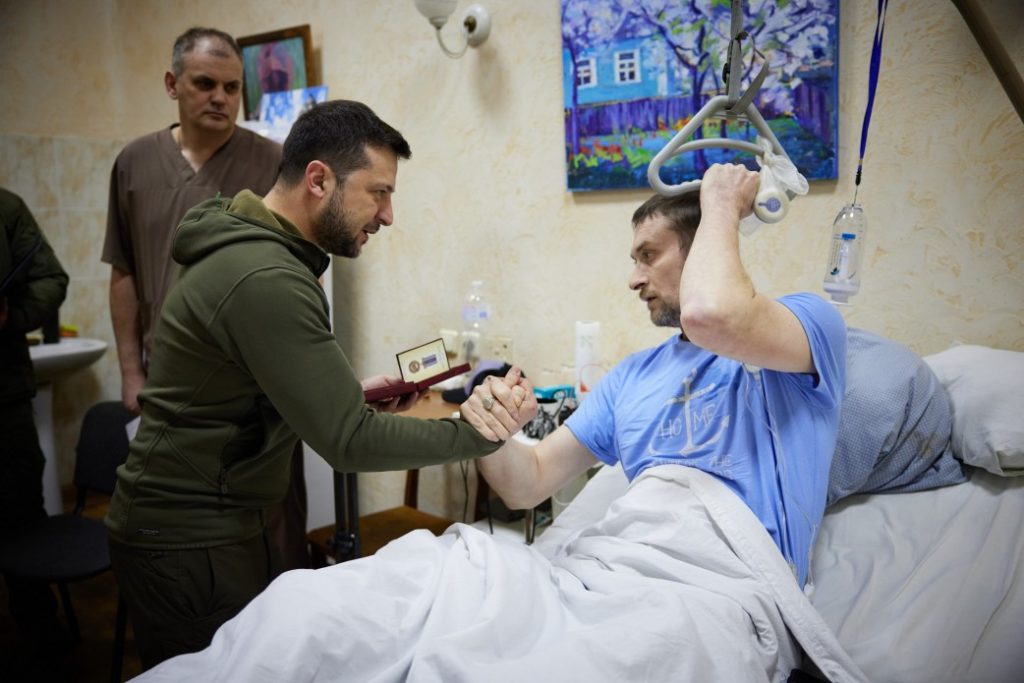 What is certain is that the war in Ukraine has changed Europe. These are new and more dangerous times as thousands have already been killed and maimed, and millions of refugees, mostly women, children and the elderly have fled westward. The scale of the destruction is horrendous. The human drama is unfathomable.
No one knows what the outcome of the war will be or whether Volodymyr Zelensky will remain the hero who is being hailed and celebrated since the brutal invasion of his country.
But whatever happens, the young Ukrainian president has already fulfilled a mission.