I, Robot
By Isaac Asimov
This classic science fiction masterwork by Isaac Asimov weaves stories about robots, humanity, and the deep questions of existence into a novel of shocking intelligence and heart.
"A must-read for science-fiction buffs and literature enjoyers alike."—The Guardian
I, Robot, the first and most widely read book in Asimov's Robot series, forever changed the world's perception of artificial intelligence. Here are stories of robots gone mad, of mind-reading robots, and robots with a sense of humor. Of robot politicians, and robots who secretly run the world—all told with the dramatic blend of science fact and science fiction that has become Asimov's trademark.
The Three Laws of Robotics:
1) A robot may not injure a human being or, through inaction, allow a human being to come to harm.
2) A robot must obey orders given to it by human beings except where such orders would conflict with the First Law.
3) A robot must protect its own existence as long as such protection does not conflict with the First or Second Law.
With these three, simple directives, Isaac Asimov formulated the laws governing robots' behavior. In I, Robot, Asimov chronicles the development of the robot from its primitive origins in the present to its ultimate perfection in the not-so-distant future—a  future in which humanity itself may be rendered obsolete.
"Tremendously exciting and entertaining . . . Asimov dramatizes an interesting question: How can we live with machines that, generation by generation, grow more intelligent than their creators and not eventually clash with our own invention?"—The Chicago Tribune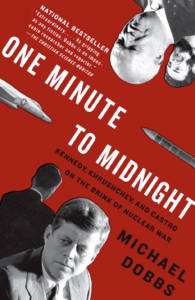 One Minute to Midnight
Kennedy, Khrushchev, and Castro on the Brink of Nuclear War
By Michael Dobbs
In October 1962, at the height of the Cold War, the United States and the Soviet Union came to the brink of nuclear conflict over the placement of Soviet missiles in Cuba. In this hour-by-hour chronicle of those tense days, veteran Washington Post reporter Michael Dobbs reveals just how close we came to Armageddon.
Here, for the first time, are gripping accounts of Khrushchev's plan to destroy the U.S. naval base at Guantánamo; the handling of Soviet nuclear warheads on Cuba; and the extraordinary story of a U-2 spy plane that got lost over Russia at the peak of the crisis.
Written like a thriller, One Minute to Midnight is an exhaustively researched account of what Arthur Schlesinger, Jr. called "the most dangerous moment in human history," and the definitive book on the Cuban missile crisis.
PRAISE
"[Dobbs] succeeds brilliantly, marshaling diverse sources to relate an intensely human story of Americans, Russians and Cubans caught up in what the late historian Arthur M. Schlesinger Jr. termed 'the most dangerous moment in human history' . . . [Filled] with memorable characters in extraordinary circumstances and exotic settings . . . One Minute to Midnight evokes novelists like Alan Furst, John le Carré or Graham Greene."
—James G. Hershberg, The Washington Post Book World

"Dobbs writes it up like a thriller."
—The New York Post

"With new info and angles, this hair-raising analysis traces the trail of mishaps and miscalculations that nearly ended life on earth."
—American History Magazine

Royal Affairs
A Lusty Romp Through the Extramarital Adventures That Rocked the British Monarchy
By Leslie Carroll
A funny, raucous, and delightfully dirty history of 1,000 years of bedroom-hopping secrets and scandals of Britain's royals.
Insatiable kings, lecherous queens, kissing cousins, and wanton consorts-history has never been so much fun.
Royal unions have always been the stuff of scintillating gossip, from the passionate Plantagenets to Henry VIII's alarming head count of wives and mistresses, to the Sapphic crushes of Mary and Anne Stuart right on up through the scandal-blighted coupling of Prince Charles and Princess Diana. Thrown into loveless, arranged marriages for political and economic gain, many royals were driven to indulge their pleasures outside the marital bed, engaging in delicious flirtations, lurid love letters, and rampant sex with voluptuous and willing partners.
This nearly pathological lust made for some of the most titillating scandals in Great Britain's history. Hardly harmless, these affairs have disrupted dynastic alliances, endangered lives, and most of all, fed the salacious curiosity of the public for centuries. Royal Affairs will satiate that curiosity by bringing this arousing history alive.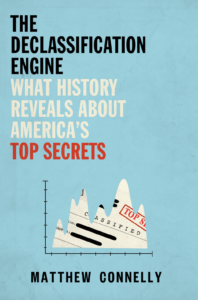 The Declassification Engine
What History Reveals About America's Top Secrets
By Matthew Connelly
Every day, thousands of new secrets are created by the United State government. What is all this secrecy really for? And whom does it benefit?
Before World War II, transparent government was a proud tradition in the United States. In all but the most serious of circumstances, classification, covert operations, and spying were considered deeply un-American. But after the war, the power to decide what could be kept secret proved too tempting to give up. Since then, we have radically departed from that open tradition, allowing intelligence agencies, black sites, and classified laboratories to grow unchecked. Officials insist that only secrecy can keep us safe, but its true costs have gone unacknowledged for too long.
Using the latest techniques in data science, historian Matthew Connelly analyzes a vast trove of state secrets to unearth not only what the government really did not want us to know but also why they didn't want us to know it. Culling this research and carefully examining a series of pivotal moments in recent history, from Pearl Harbor to drone warfare, Connelly sheds light on the drivers of state secrecy— especially incompetence and criminality—and how rampant overclassification makes it impossible to pro – tect truly vital information.
What results is an astonishing study of power: of the greed it enables, of the negligence it protects, and of what we lose as citizens when our leaders cannot be held to account. A crucial examination of the selfdefeating nature of secrecy and the dire state of our nation's archives, The Declassification Engine is a powerful reminder of the importance of preserving the past so that we may secure our future.