The European Council extends until June 2021 the sanctions against President Assad, top politicians, military chiefs and business leaders over the regime's continued crackdown on civilians.

In a recently published 40-page report, Amnesty International says that Syrian government forces, together with their Russian allies have committed a number of humanitarian violations that can be construed as "war crimes".
The report entitled "Nowhere is safe for us" provides detailed descriptions of how the Syrian army and their Russian allies, together with other forces loyal to President Bashar al-Assad carried out what it describes as "a new wave of horrors" against civilians, from December 2019 through March 2020 in northwestern Syria, largely held by opposition-led forces.
In a renewed push to capture the last areas controlled by armed opposition groups, the Syrian government, backed by its main ally Russia, has carried out a wave of attacks causing not only civilian deaths and injuries and wide-scale damage to civilian infrastructure, but also unprecedented mass displacement.
Based on interviews, satellite imagery, aircraft observation logs and intercepted aircraft radio communications, Amnesty International has documented unlawful attacks on hospitals and schools in Idlib and western Aleppo governorates by Syrian and Russian government forces, as well as the resulting humanitarian crisis.
This has been described by the UN as the worst since the conflict started nine years ago.
A wide range of testimonies illustrate the horrors civilians experienced as they fled to poorly equipped displacement camps with limited access to food, water, medicine and other essentials.
Amnesty points out that civilians in north-west Syria are at further risk if a crucial UN mechanism to deliver humanitarian relief from across the border with Turkey is not renewed.
It further adds that the UN Security Council must ensure this mechanism remains intact and that all parties to the conflict must end unlawful attacks and ensure unimpeded access to impartial humanitarian relief.
Nowhere is safe
Regarding the actions of Syrian and Russian government forces, the allegations from the international human rights group are very strong.
It describes how, in an all-too-familiar pattern, attacks from the air and the ground repeatedly struck residential areas and crucial infrastructure.
One of the allegations is that hospitals and medical facilities, especially in the north of the country were targeted deliberately by Syrian and Russian forces as part of a military policy ; a policy to move people out of these areas, the idea being that if there is no support, no infrastructure, no electricity, no water and no medical help at all, then people will go on the move.
And to an extent, that has happened; it has been strongly condemned by the international community.
Amnesty International said it had documented 18 attacks on schools and medical facilities in Idlib, northwestern Hama and western Aleppo provinces, mostly via air strikes carried out by Syrian and Russian fighter planes between May 2019 and February 2020.
Internationally banned cluster bombs and barrel bombs were used in some of these attacks targeting civilians.
Of those 18 instances, Amnesty says the Syrian army carried out three ground attacks and two-barrel bomb attacks. The remaining 13 attacks were air strikes: two by Syrian aircraft, seven by Russian air force fighters, and four by Syrian or Russian government forces.
A doctor who survived one of the documented attacks described how the strikes flattened at least two residential buildings near the hospital, killing 11 civilians including one of his colleagues, and injuring more than 30 others: "I felt so helpless. My friend and colleague dying, children and women screaming outside… We were all paralysed… It took the civil defence two days to remove the bodies from underneath the rubble".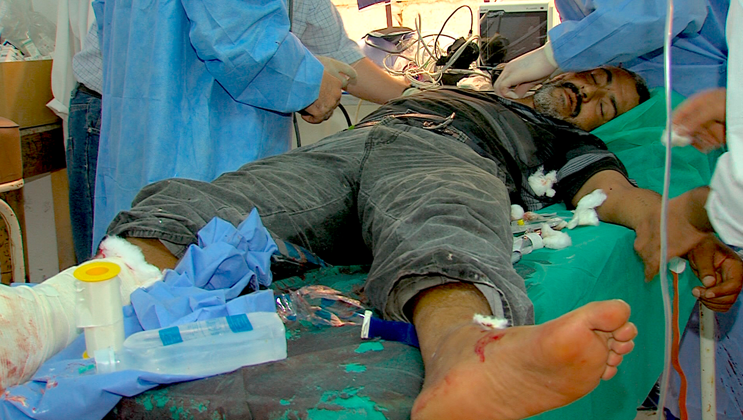 Based on statements by witnesses and other credible information corroborating the various accounts, particularly observations by aircraft spotters, Amnesty International concluded this unlawful attack was carried out by the Russian air force.
On 25 February 2020, there was an attack on a school in Idlib. A teacher who witnessed the attack described how a cluster munition explosion injured her and killed a student before her eyes : "A bomblet exploded close to my feet, blowing the flesh off… The pain was unbearable… Two students were walking in front of me. One died instantly and the other one, miraculously survived…I know the sound of a cluster munition attack very well. You hear a series of small explosions. As if the sky were raining shrapnel instead of water ".
There were three fatalities and five serious injuries following this attack.
Amnesty International identified the remnant of the explosive device as a surface-fired, 220mm 9M27K cargo rocket, manufactured in Russia and transferred to the Syrian army which used it on that occasion. It contained 9N210 or 9N235 cluster munitions, which are prohibited under international law.
In Idlib province and governorates in western Syria, a barrage of attacks has emptied out entire villages and communities under the control of opposition groups.
With nowhere left to go, civilians flooded already overstretched refugee camps and many sought shelter in tents and schools. Others ended up in the open, in freezing conditions.
The resulting displacement and humanitarian emergency were unprecedented.
According to UN estimates, 960,000 people were forced to leave their homes in order to flee bombardments between 1 December 2019 and 29 February 2020; entire areas have been left depopulated.
More than 80% of those displaced are women and children; many of the remaining men are older persons, persons with disabilities and members of other at-risk groups.
Amnesty says that this mass displacement is the direct result of unlawful practices by Syrian and Russian government forces, namely indiscriminate attacks on civilian populations with the express aim of terrorising them.
Based on its investigations, Amnesty said such attacks were not directed at any specific military objective and violated international prohibitions of direct attack of civilians.
"These violations amount to war crimes", Amnesty concluded.
Added threat from a new enemy
The nine years of conflict have practically wiped out Syria's infrastructure and social services, including for health care. This has resulted in massive humanitarian needs and has left the population, including an estimated six million internally displaced people (IDPs) vulnerable to a large scale Covid-19 outbreak.
There are also an estimated 130,000 detainees in regime prisons, and tens of thousands of suspected Islamic State (IS) fighters and their families detained by the Kurdish-dominated Syrian Democratic Forces (SDF) in camps and detention facilities.
Most of these vulnerable groups live in cramped conditions that do not allow for social distancing, they lack access to health services, suffer from catastrophic hygienic conditions, and often do not even have access to clean water. A spread of the virus among IDPs, prisoners, and detainees would be next to impossible to contain and lead to large numbers of fatalities.
According to the World Health Organisation, less than two thirds of the country's hospitals were functioning in late 2019, and 70% of health workers have fled the country.
There is particular concern about the virus spreading in the north-west Idlib province where up to a million people live in overcrowded camps.
It's a perfect breeding ground for the virus and not the only one.
Nima Saeed Abid, the WHO Representative in Syria says : "As the WHO, we consider Syria as a very high-risk country, especially when we consider that we have vulnerable populations, refugee camps and slum areas on the outskirts of large urban centres. All these constitute a high risk for the spread of the corona virus".
The Syrian Civil Defence, better known as the White Helmets have long been providing emergency health care to war victims in Syria's opposition strongholds. These days, they are trying to save lives by sterilising surfaces in schools and hospitals.
In Idlib province, checkpoints have been erected where the White Helmets are taking the temperatures of people who are traveling through.
But if developments in other countries are anything to go by, it won't stop the corona virus from spreading amongst Syria's most vulnerable.
In early March 2020, there were an estimated 325 intensive care units with ventilators available throughout the country. These were distributed very unevenly, with some two-thirds in Damascus and the provinces of Latakia and Tartous, i.e. the regime heartlands, and none in Deir ez-Zor.
Even those hospitals and clinics that are operational lack equipment, trained personnel, and medicine.
But what is also very worrying is that research by Amnesty International shows that humanitarian workers in general, in northwest Syria are not only being hampered by the coronavirus pandemic but are also seeing severe restrictions imposed by the largest group of rebels controlling the area, the Hay'at Tahrir al-Sham, which has been designated a terrorist group by the U.N. Security Council.
Damascus, together with other rebel authorities have also placed restrictions on mobility to contain the pandemic, not to mention the closure of two border crossings at al-Ya'rubiya on the border with Iraq, and al-Ramtha on the border with Jordan, both formerly used for international cross-border aid to circumvent Damascus.
The problem has also been exacerbated by the fact that international bodies such as the WHO must rely on Damascus as their main counterpart in addressing the Covid-19 challenge, thus avoiding dealing with the rebel authorities controlling the north-west and north-east of the country.
The EU response to the crisis
The war in Syria, now in its 10th year is one of the worst humanitarian crises the world has faced since World War II. It continues to have devastating and tragic consequences for its people. It is also having an increasingly destabilising impact on the wider region, through the displacement of people, the exacerbation of political and sectarian differences and the spread of terrorism.
Some 80% of the Syrian population live below the poverty line, making less than $100 a month.
The country is going through a deep economic crisis and its currency has spiraled downward, sending prices of basic commodities soaring. Economic activity has been badly hit by restrictions imposed to combat the coronavirus.
On 19 May 2020, a joint statement by Germany and Belgium who currently serve as co-penholders at the United Nations was released during the Security Council's video teleconferencing (VTC) meeting on Syria.
The statement conveys full support of the necessity of a nationwide ceasefire proposed by the Secretary General as well as by UN Special Envoy to Syria, Geir Pedersen.
It also welcomes the relative calm in the north west of the country where a very fragile ceasefire has been holding.
But of deep concern is the drastically deteriorated humanitarian situation of the 4 million civilians in this region and the removal of al-Yarubiyah as an authorised border crossing for UN cross-border operations.
This has severely impeded the ability to deliver medical equipment and aid to many parts of the region.
It is a recognised fact that the cross-border modality which began in 2014, pursuant to Resolution 2165, constitutes the only aid- channel for people in need in this region.
The joint statement concluded that in the north-west of the country, cross-border authorization for the use of Bab al Salaam and Bab Al Hawa must be renewed for an additional 12 months, and in the north-east, a combination of more cross-border and cross-line access is required to sustain recent levels of, and preferably increase, humanitarian assistance.
The statement ends by encouraging all Council Members to cooperate over the next weeks in order to renew the mandate for cross-border operations, sooner rather than later.
It stresses that Germany and Belgium as co-penholders of the humanitarian resolution on Syria are ready to facilitate the process in an inclusive and transparent manner.
On 28 May 2020, the European Council annouced that sanctions against President Assad, top politicians, military chiefs and business leaders over the regime's continued crackdown on civilians were to be extended until June 2021.
EU foreign policy chief, Josep Borrell said : "The Syrian people have had to draw on extraordinary reserves of resilience," and he added : " the bloc remains committed to use every tool at its disposal to push for a political solution to the conflict that would benefit all Syrians and put an end to the ongoing repression".
In fact, the EU first imposed its sanctions in May 2011 in the wake of the so called Arab Spring and after protests calling for President Assad's removal were violently suppressed by police and the military.
These sanctions include travel bans, asset freezes and measures targeting operations such as oil imports, certain investments, and the trade in equipment that could be used for any crackdown on civilians.
There are presently 273 people on the list, including Assad's family members, close associates and top military officers, as well as some 70 "entities" such as various organisations, corporations and companies.
According to the EU, the measures are designed to avoid hindering the delivery of humanitarian aid without targeting food, medicines or medical equipment.
Conclusion
The evidence examined in Amnesty International's report shows that Syrian and Russian government forces deliberately targeted medical facilities and schools, and terrorised civilian populations with the aim of recapturing territory held by armed opposition groups.
These acts amount to war crimes.
Its latest offensive on Idlib and western Aleppo governorates has been carried out with utter disregard for civilian lives and fundamental rules of international humanitarian law, which has been the hallmark of the Syrian government's military strategy throughout.
This has resulted in new levels of displacement and civilian misery.
Amnesty International ends its damning report on these unlawful military strikes, by issuing a number of recommendations to the Syrian and Russian governments, as well as all other parties involved in the conflict.
Interestingly, other than a list of appropriate preventative actions aimed at the Russian government, Amnesty also calls on it to, among other measures, ensure the Syrian government respects its own obligations under international humanitarian and human rights law and to pressure it to provide unhindered humanitarian access to UN agencies to deliver food, fuel, medicines and medical supplies to civilians in need across Syria.
Russia has always stressed that it is neither Syria's master nor its ally, but its friend and partner.
And President Putin has long ago provided the explanation for Russia's intervention in Syria.
It is quite simple and apparently, straightforward: Russia is involved in the Syrian conflict with the sole aim of defeating ISIS, Al Qaeda and other islamist terrorists financed by Gulf monarchies and to prevent the uncontrolled flow of refugees to Europe.
Be that as it may, as this conflict appears to be reaching its twilight and new confrontations and skirmishes are already destabilising this ravaged region, Russia seems to believe it holds the key to pacifying Syria, but only on its terms.
Hossein Sadre
Click here to read the 2020 July edition of Europe Diplomatic Magazine