Empires have fallen, religions have been replaced, the city itself has changed names. But the dome of the Hagia Sophia (Divine Wisdom) has withstood it all.
Commissioned by the Emperor Justinian in the early 6th century as an expression of might and piety, the Byzantine basilica was the greatest architectural achievement of the early Christian church.
Almost a millenium later, when the Ottomans conquered Constantinople in 1453, instead of demolishing Hagia Sophia, Sultan Mehmed II immediately converted the cathedral into a mosque, adding four minarets around the building's grand central dome as well as a 'mihrab' which is a niche in the wall where the Imam would lead prayer in the direction of Mecca.
But there was no escaping the fact that this conversion was superficial. Islamic elements had merely been bolted onto a church. Somehow, Christianity was always showing through. So, all the mosaics along the walls depicting Christian religious scenes were covered with plaster.
Deesis mosaic (13th-century) in Hagia Sophia (Istanbul, Turkey)
In 1931, the founder of the Byzantine Institute of America, Thomas Whittemeore traveled to Istanbul and obtained the permission of Mustafa Kemal Ataturk, the first president of the Republic of Turkey to oversee the removal of plaster covering the Byzantine mosaics in Hagia Sophia
In 1935, Ataturk utilised the edifice for another act with great symbolic significance ; he officially turned it into a museum, a symbol of the new secular state, inclusive of all religions.
Since then, it has been a meeting point of many faiths, but held by none ; a place where popes, heads of state as well as millions of ordinary citizens and tourists have come from across the world to pay their respects and marvel at the architecture.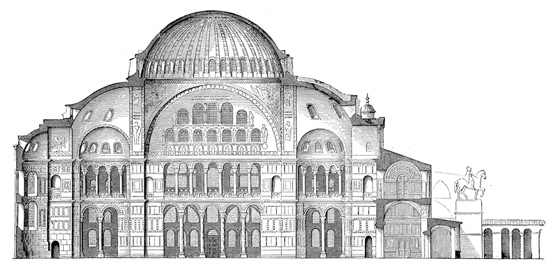 Cross section of Hagia Sophia in 1908 © Wikicommons
It can be argued that Istanbul already has over 2,945 active mosques, including many representative ones. So, the city doesn't really need another mosque.
But of course, this is about something altogether different. The Hagia Sophia is the ultimate symbol of the Muslim Ottoman conquest of Christian Constantinople and President Recep Tayyip Erdogan knows this only too well.
He has consistently used religion as a tool and in his 17 years at the helm, and has steadily worked to bring Islam into the mainstream of Turkish politics.
He has overseen prayers in the museum and raised its status at local election rallies.
And during the municipal elections of 2019, he warned his supporters that if his Justice and Development Party (AKP) were to lose Istanbul, then they stood to lose Turkey.
As it happened, the AKP lost out to its long-time rival, the Republican People's Party (CHP).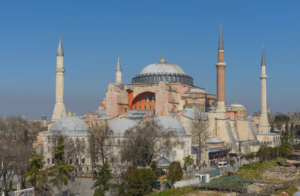 Informed sources have suggested that President Erdogan's controversial decision was motivated by a desire to inflict some sort of punishment to the inhabitants of Istanbul, who voted decisively against him. The move also appears to be designed to appeal to his ruling Justice and Development party's conservative voter base as the government struggles to shore up popular support amid a growing economic crisis due in part to the Coronavirus crisis.
There are also a number of new political parties that appear to appeal to the religious voters and seem to be challenging Erdogan's ruling AK Party.It has been suggested by a number of political analysts that the move is also part of a plan to consolidate the president's position by stirring sectarian animosity between his religious followers and those attached to secular traditions.
In any event, the net result has been that Islamist groups have fought to pray at the Hagia Sophia, angering neighbouring Greece which says the building is part of its Orthodox Christian history and prompting its culture ministry to describe the Turkish court decision as an 'open provocation' to the civilised world.
Greek Prime Minister Kyriakos Mitsotakis said : "What is happening in Istanbul is not a show of force, but proof of weaknes. For Orthodox Christians like us, Hagia Sophia today is in our hearts more than ever. It is where our heart beats".
UNESCO has warned Turkey its conversion to a mosque could be in violation to the World Cultural Heritage Convention and regretted that it had not been notified ahead of time.
It has also said it will be reviewing Hagia Sophia's status as a world heritage site.
Pope Francis © Edm
During Sunday's Angelus on July 26, Pope Francis, speaking from the window of his studio above St Peter's Square referred to the Hagia Sophia : "The sea is taking my thoughts far away to Istanbul. I am thinking of Santa Sofia (Hagia Sophia) and I am deeply pained".
As far as Russia is concerned, Hagia Sophia has always been at the core of Eastern Christianity and holds a particular place in the hearts of the Russian Orthodox community.
Kirill, the Patriarch of Moscow spoke about this in very strong terms, saying that converting it to a mosque would be an attack on all of Christian civilisation and would cause deep pain to the Russian people.
As a matter of fact, the decision by Turkey came just one week after Russians voted in a plebiscite for a new constitution which specifically states that Russia is a Christian nation. This article had never figured in any previous constitution and in a way cements the return to power of the Russian Orthodox church afters years out in the cold during the Soviet era.
However, under President Putin in the last two decades, there has been an increasingly close, almost symbiotic relationship with the Kremlin.
So, for the Russian church and indeed the Russian state, this was a big shock.
President Erdoğan visits Hagia Sophia Mosque © akparti.org.tr
This decision which seems to have been taken to shore up President Erdogan's position will most probably put stress and strain on diplomatic relations between Russia and Turkey, resulting in some kind of response.
The US State Department issued a statement saying : "We are disappointed by the decision by the government of Turkey to change the status of the Hagia Sophia,"
Secretary of State, Mike Pompeo who is an evangelical Christian and who frequently speaks about religious freedom called the museum status an "exemplar" of Turkey's "commitment to respect the faith traditions and diverse history" of the country and said a change risked "diminishing the legacy of this remarkable building."
The European Union foreign policy chief, Josep Borrell described as 'regrettable', the ruling by the Turkish Council of State to overturn Ataturk's landmark decision of 1935 and approve President Erdogan's decision to place the monument under the management of the Religious Affairs Department.
In a scathing article published on July 15 by the Washington Post, Judith Herrin, emeritus professor at King's College, London even went so far as to describe the Turkish decision as 'an act of cultural cleansing'.
Bestepe People's Mosque, Ankara, part of Erdogan's 'grand mosque programme © Sefacan Bekar, Wikimedia Commons
The Turkish president however remained totally unperturbed : "The issue of deciding the purpose of Hagia Sophia is about the sovereign rights of Turkey. Opening Hagia Sophia to prayers with a new regulation is just about Turkey exercising its sovereign rights", he defiantly declared during a press conference.
And in mid-July 2020, he had signed a decree declaring Hagia Sophia will be reopened for Muslim worship.
His declaration about his country's most popular tourist destination came after Turkey's highest administrative court, the Council of State revoked its status as a museum – clearing the way for it to be turned back into a mosque.
President Erdogan promptly declared : "This is Hagia Sophia breaking away from its chains of captivity. It was the greatest dream of our youth. It was the yearning of our people and it has been accomplished."
On Friday, July 24 2020, President Erdogan arrived by helicopter to attend the first prayers at Hagia Sophia in 85 years. He began the service with a recital from the Quran before the head of Turkey's religious authority.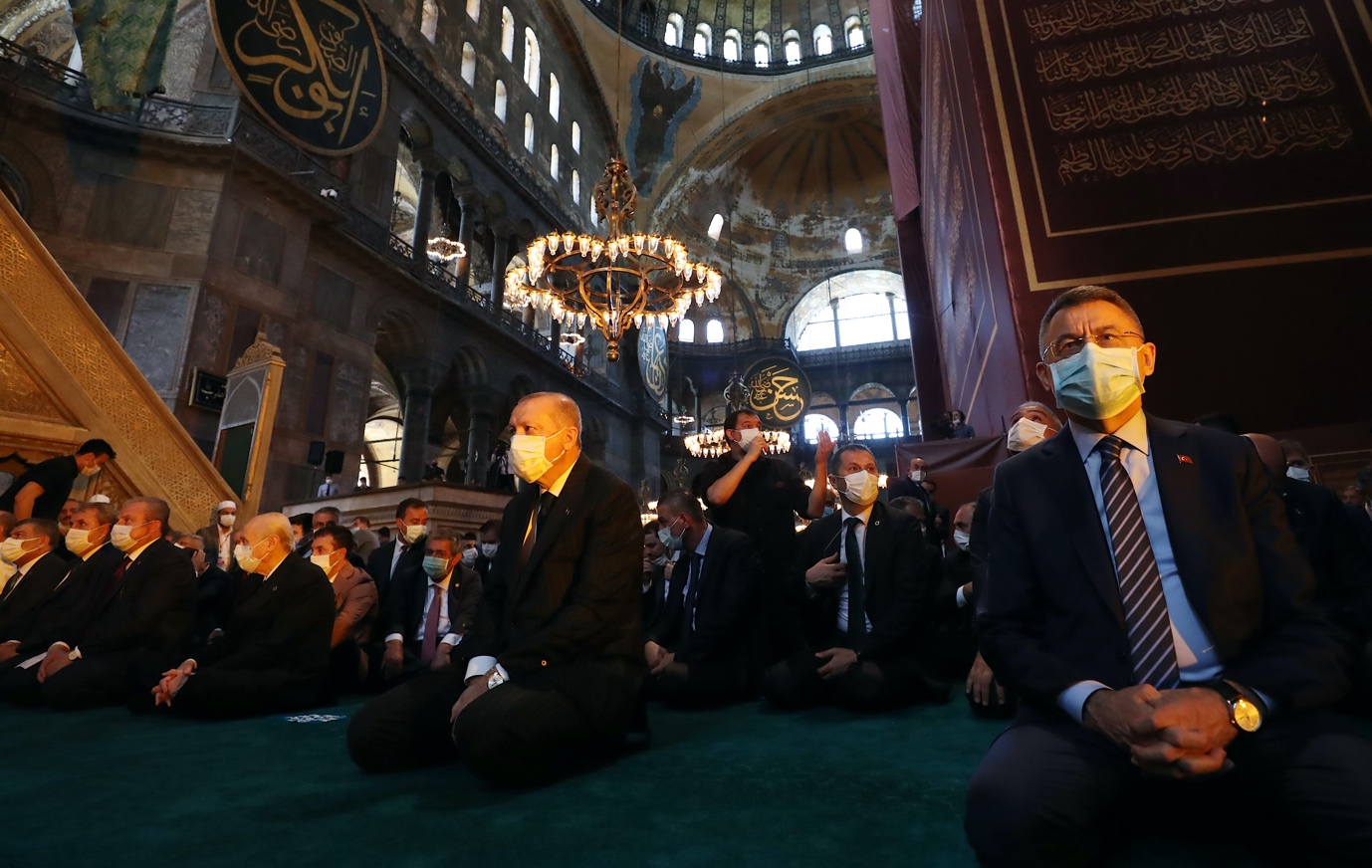 President Erdoğan performs Friday prayer at Hagia Sophia Grand Mosque © akparti.org.tr
He was accompanied by senior ministers and other officials who knelt on new, turquoise carpets while large curtains covered the original Byzantine-era mosaics of Jesus and the Virgin Mary.
Outside, an estimated 300,000 people joined in the prayers in Sultan Ahmet Square.
Recep Tayyip Erdogan has put religion firmly back at the heart of Turkish national life, chipping away at decades of secular dominance.
The mosque conversion certainly appeals to his voters, many of whom argue that it better reflects the country's identity which is overwhelmingly Muslim.
And for the Turkish president, the outrage and dismay that his move has triggered internationally seems to represent only unwarranted attacks on Turkey's own sovereignty and troublesome meddling in its internal affairs.
Hossein Sadre
Click here to read the 2020 August edition of Europe Diplomatic Magazine