Aleksandar Vučić presenting the Belgrade-Nish high-speed railway project © predsednik
"A riddle wrapped in a mystery inside an enigma." That was how Britain's wartime leader, Winston Churchill, described the likely reaction of Stalin's Russia to the outbreak of the Second World War (In fact, Churchill said it in 1939, shortly before he became prime minister; Neville Chamberlain was still in charge at the time). It would also be, however, a reasonable description of Serbian President Aleksandar Vučić, whose rule in Serbia still commands some support among EU member state leaders whilst appearing to lapse at times into autocracy. Videos of severe police brutality, described by the news website Euractiv as "unmatched anywhere in contemporary Europe", have gone viral around the world.

President Vučić visiting the 15th Tank Battalion of the ground troops First Brigade © Predsednik
The violence was certainly extreme and shocking, with protestors being beaten to the ground with batons and then repeatedly kicked. In one incident, three men simply sitting together on a park bench are targeted by the baton-wielding thugs of Belgrade's finest and beaten to the ground. These are horrific scenes and demonstrate that something is rotten in the state of Serbia, as Hamlet's friend Horatio might have said. In this particular instance, though, the cause of the violence was – theoretically – the spread of conspiracy theories about COVID-19 and resistance to Vučić's decision to impose a weekend lockdown. We've seen similar protests in other countries, especially the United States, where conspiracy theories seem more infectious than the Sars-CoV-2 virus, but the brutality of the Serbian police was extreme. Serbia's Interior Minister, Nebojsa Stefanović said the police had acted 'with restraint' and only in self-defence. The footage now on the internet suggest that Stefanović is suffering from self-delusion over self-defence. Vučić himself blamed 'far-right radicals' (having been one once upon a time he ought to know them) and 'foreign agents' for the trouble. The country's ombudsman insisted that the police had not used excessive force. In that case, I'd hate to be there when they are using excessive force. One reason for the protest is that there have been credible claims that Vučić lied about the number of COVID-19 cases in Serbia in order to calm the public before elections that he wanted to go ahead. These allegations came first from the Balkan Investigative Research Network (BIRN), which wrote in an article that, according to its investigation of the data, the number of deaths from the pandemic up to the 1st June was 632 instead of the reported 233. The sudden clampdown came as a shock, while some were circulating the sort of conspiracy theories created to sow doubt and discord.
BIRN Serbia  journalists Jelena Veljkovic and Aleksandar Djordjevic have won this year's Dejan Anastasijevic Investigative Journalism Award in the online media category for a series of articles about the father of the Serbian interior minister's involvement in arms trading.
It would be wrong, though, to suggest that all those who protested outside the Serbian parliament were moved to action simply by silly and easily refutable beliefs about the pandemic. We've had them elsewhere, with people blaming China (or the US or Israel or ISIS or aliens) with creating the virus, while others suggest – ludicrously- that it's being spread by the new 5G mobile phone network (did they never study physics or biology at school?) or even, silliest of all, it's so that Bill Gates can include some sort of drug or microchip in a vaccine in order to 'control mankind'. I've met Gates and interviewed him and he's just not like that, as far as I could tell. He was very friendly, and he is actually doing some very useful good work in the developing world, which is more than can be said for the Internet trolls who spread conspiracy theories and other kinds of poison. You have to have a ruthless autocrat and politician to even want that sort of control, anyway. The problem is that Serbia seems to have one of its very own, in the person of the country's President, Aleksandar Vučić.
Serbia is rated by the US-based non-profit NGO Freedom House as a "transitional or hybrid regime". Corruption is rife and some of his opponents have pointed out Vučić's venality since he took power in 2012 as evidence that the country is a virtual kleptocracy, lining the pockets of Vučić and his cronies (or allies, if you prefer). Freedom House cites another example of political violence that almost marks a turning-point in the country's recent development: "As 2018 drew to an end, one event set the scene for the start of 2019," it says in a report on Serbia. "In November, just before an opposition meeting in the town of Kruševac, one of the leaders of the opposition coalition Alliance for Serbia (SzS), Borko Stefanović was attacked and beaten, leaving him bloodied. In many ways, the attack was the last straw for government critics. Opposition leaders blamed Serbian president and SNS leader Aleksandar Vučić for creating a contentious climate in which violence against political opponents had moved from the verbal to the physical level."
Borko Stefanović © Wikipedia
GOING FORWARD WITH THE BRAKES ON
Vučić has stated that he still wants to see Serbia join the European Union and likens his country's long wait to that of Turkey, an outcome that is about as likely with both countries' current leadership. Opposition politicians have appealed to EU leaders to apply leverage on Vučić to try to rein in his excesses, but the EU, as on previous contentious occasions, prefers to keep its head down and hum to itself to drown out the cries and screams. It's never brave when confronting contentious issues, generally preferring the status quo to continue as long as 'stability' triumphs. That's why so far, their response to the violent repression is, largely, an embarrassed (and embarrassing) silence. Six member states have blocked further negotiations for membership, partly because Vučić still insists that Kosovo, an ethnically Albanian province, should again become part of Serbia; he refuses to recognise its independence. Kosovo broke away in 2008 after a brutal war in which atrocities were committed on both sides. Vučić was Minister of Information during that conflict, and he introduced huge fines for any journalists whose reporting didn't agree precisely with the views of Serbia's leader at that time, Slobodan Milosović. At the peace talks in The Hague, I recall, Milosović was fairly dismissive of the accusations against him and his country, and very friendly with all of us journalists who attended, making jokes and performing surprisingly accurate impersonations of his fellow leaders. He could have made his living entertaining people on the gibanica-and-chips-in-a-basket circuit, if he had wanted (gibanica is an egg and cheese pie in filo pastry and is said to be Serbia's national dish. It sounds delicious). His impersonation of Franjo Tuđman was especially clever but not very kind. Milosović was not a kind man. Neither, according to most reports, is Vučić.
During Milosović's time, Vučić was with the far-right nationalist party. After Milosović was overthrown, he became a leading figure in the opposition of the government that followed. In 2008, the same year as Kosovo began its independent existence, a new, slightly more moderate party was founded in Serbia, the Serbian Progressive Party (SNS), still well to the right of centre but now pro-European Union and populist in nature. Interestingly, at one time Vučić was banned from entering the EU; now he has been photographed with the President of the European Commission, Ursula von der Leyen and with the EU's head of foreign policy, Josep Borrell, not to mention European Council President, Charles Michel. And so the world turns.
Vučić claims to have restored prosperity to Serbia, with large-scale construction projects, such as the restoration of the Resnik-Valjevo railway line, on which an extra 201 kilometres are due to be completed from Valjevo to Vrdnica and Montenegro, with other railway projects under negotiation. The cost will be around €450-million. He also claims that there are now over 61,000 construction projects under way in the country and that he is striving to lift the barriers to a more efficient economy. He wants to clear a way through the red tape that throttles free movement of goods and services. "According to an estimate of the World Bank," he told the latest talks between Serbia and Kosovo, "if we could implement all these principles, we could save more than 3.5-billion (currency not specified but presumably euros). Note that half of that money goes to Serbia, as Serbia holds 45% of the region's GDP and is the largest exporter in the region, and holds 60% on foreign direct investment," Vučić said. The advantages of the EU's famous 'four freedoms' – of movement, capital, goods and services – perhaps explains why he is also on record as saying his aim is to secure EU membership for Serbia by 2026. That looks somewhat ambitious, especially after the scandalous way in which the protests in Belgrade were put down. He has also said he wants peace talks with Kosovo to resume, despite war crimes charges filed against the Kosovan President, Hashim Thaçi.
Hashim Thaçi, President of Kosovo © Wikipedia
It's been alleged that Thaçi's ethnic Albanian group was responsible for nearly 100 murders during the war and that the victims of their crimes included Kosovo Albanians, Serbs, Roma and members of other ethnic groups. His place in any talks has now been taken by Kosovo Prime Minister Avdullah Hoti, but according to Vučić they are still a long way apart.
Avdullah Hoti, Prime Minister of Kosovo© Wikipedia
Kosovo also wants to join the EU and has its supporters among many (but not all) of the Union's member state leaders, but Serbia does not even recognise its independence. The most recent meeting by video link was not very successful, according to the website European Western Balkans. "The Albanian side," it reported, "came out with demands for preserving the territorial integrity of Kosovo, the Constitution of Kosovo, mutual recognition, membership in the UN, that other EU countries recognize Kosovo, and only then will they deal with the missing." That, the website said, was the view of Vučić. Angelina Eichhorst, Director for Western Balkans and Turkey for the EU's External Action Service (EEAS), has praised Serbia's cooperation with various EEAS missions and points out that the EU is investing in Serbia's development: "the EU provides €80-billion each year in development assistance, covering 69% of global official development assistance and is by far the largest donor in Serbia and the rest of the region – by investing in the fight against climate change, the fight against corruption and organised crime, the development of responsive domestic institutions, and many other lines of effort, we are also investing in our own stability and security."
The President of the Republic of Serbia, Aleksandar Vučić, and the Prime Minister of the Republic of Serbia, Ana Brnabić attending the commemoration of the Day of Remembrance of all Serb victims during the Bosnian war © Predsednik
It would seem, though, that as long as Kosovo is regarded – and regards itself – as independent while Serbia doesn't, then progress is unlikely. Kosovo is recognised as an independent country by about a hundred countries, including the United States, and by all but five of the EU member states. The EU is also active in Kosovo through its Special Representative (EUSR), and the European Security and Defence Policy (ESDP) as well as its mission in the rule of law area (EULEX). The EU is also present through member countries' Embassies and Liaison offices. The European Union Rule of Law Mission in Kosovo (EULEX) is the largest civilian mission ever launched under the European Security and Defence Policy. The aim is to assist Kosovo's authorities in the area of rule of law, specifically in the police, judiciary and customs. Speaking at a meeting in late July in the dialogue between Belgrade and the Kosovan capital, Priština, Vučić said "We are not interested in what is in compliance with the Kosovo Constitution and what is not. We want serious, specific talks, but if someone thinks that we should recognise Kosovo and get nothing, that is the wrong path that will not take us anywhere." He dismissed the views of German Chancellor Angela Merkel and French President Emmanuel Macron, effectively saying they are biased in favour of Kosovo.
LIGHT OR MORE DARKNESS?
Freedom House is far from satisfied with Serbia's progress towards being a fully functioning democracy. "The state of democratic governance at the national level in Serbia," its report on the country reads, "remains at a historic albeit stable low. Power is heavily centralized in the hands of President Aleksandar Vučić, who, despite the very limited prerogatives invested in his office, maintains a tight grip over politics and the government through his control of the ruling SNS." The report is mildly pleased that events during 2019 were not overshadowed by elections and the inevitable campaigning, although it seems to believe that Serbia's politicians haven't quite grasped the realities of modern life. "Public discourse continued to deteriorate during the year driven by the ruling party's efforts to discredit political debate. As an example, on April 11, Minister of Defence Aleksandar Vulin and Belgrade Deputy Mayor Goran Vesić announced that they, along with other SNS officials, would begin a hunger strike in protest at the supposed violence of anti-government demonstrators. The threat was quickly withdrawn, but not before being ridiculed across much of the country." And in a number of other countries, too. It was, perhaps, one of the daftest and most feeble threats to emerge from any ruling party in Europe.
Serbian Defence Minister Aleksandar Vulin © Balkaneu
But what of the man himself? He's not the first politician to have sidled very slightly leftwards from a far-right party in order to win credibility and – more importantly – power. His record is mixed but he has proved himself a clever operator. When he took over at the Ministry of Defence, he quickly discovered that the financial positions of both it and the military were in dire straits, so he went looking for overseas customers. He found them, too, returning with orders from Russia and the United Arab Emirates worth hundreds of millions of dollars. He helped to organise an air show, "Batajnica 2012" to mark the centenary of aviation in the country, and it was there that a new Serbian-designed and -built pilot training aircraft was unveiled. It has been moderately successful; Vučić is a good organiser and a good salesman.
Media freedom, though, is not all it should be. Back in the days when Vučić imposed fines on journalists who failed to support Milosović, leading the closure of some newspapers, he was clearly no believer in the freedom of the press. Now he has more power as president, his views seem not to have changed. On January 25, he said that Dragoljub Simonović, then the SNS-appointed head of Grocka municipality, had been arrested for allegedly ordering an arson attack in 2018 on the home of Milan Jovanović, an investigative journalist. "Simonović was eventually indicted for incitement to arson," says Freedom House, "although some experts questioned whether he should have been indicted for incitement to murder.
Serbian investigative journalist Milan Jovanović in front of his burned home in Vrčin. In December 2018 unknown individuals set fire to his home and garage and shot at his front door. Jovanović and his wife were able to escape through the back window. (Cenzolovka)
In March, Simonović was released from detention, and while being ousted as municipal president, he was allowed to remain an SNS member. In parallel with his lawsuit, the politician also filed more than 15 libel suits against Jovanović and journalist and Zig Info owner Željko Matorčević." Judicial issues also give cause for concern. In October 2019, judge Danijela Milojević asked to be removed from a case in which the local mayor, Radoljub Vidić, was suing the sports journalist Milojko Pantić for defamation. Milojević claimed that in the previous month Vidić, who is also President of the municipality of Kursumlija, had endangered her family and caused her husband to lose his job, causing what she called 'disturbance and insecurity' for her and her family. It all fits together with the general corruption of the country: in 2019 Serbia was rated 91st on a corruption table in which zero represents no corruption and one hundred is very corrupt. Serbia's score was an unimpressive 42.
Ana Brnabić Prime Minister of Serbia © Wikicommons
During the summer, BIRN also published revelations about a network of Hungarian and Serbian companies with connections to the inner circles around Hungarian Prime Minister Viktor Orbán, Vučić, and Serbian Prime Minister Ana Brnabić, which were winning the bulk of public lighting contracts in Serbia. "Shine a light in the dark spaces where corruption hides," wrote Cathleen Falsani, an American journalist, who often writes on spiritual matters, but I'm pretty sure that's not what she meant.
HERO OR DESPOT
Meanwhile, protests continue and stability seems as elusive as ever. According to media reports, eggs were recently thrown at MPs as they left the parliament building for a short break. The protests were allegedly headed by a defrocked monk, Antonije Davidovic, who stood on the steps of the National Assembly with a megaphone in his hand. At one point, he took a few eggs and, apparently within the sight of the police, started throwing them towards the building. Security forces then closed the main entrance and police officers were reported to have led one of the protesters away. But this was child's play, compared with the protests of early July. They were described across much of the media, not only in Serbia but elsewhere, as well, as 'anti-lockdown riots', which we've seen in other countries. Not true, says Dr. Marija Pantelic, Lecturer in Public Health at Brighton and Sussex Medical School, University of Sussex, writing for the broadcaster Al Jazeera. "The immediate trigger of the protests was public anger over Vučić 's decision to lift the initial lockdown in May and to portray himself as having successfully tackled the outbreak ahead of the June 21 elections, thereby making political gains but also allowing a new spike in coronavirus cases and deaths." Hundreds of doctors in Serbia have since then rung the alarm bells over a spike in COVID-19 cases, labelling the situation a "health disaster". The group of 350 doctors have sent an open letter calling for the government to sack its coronavirus management unit and investigate the decisions they believe prompted the fresh outbreak.
Aleksandar Vučić, President of the Republic of Serbia © Predsednik
Certainly, then, something to stir public anger, but this was a different order of protest and those taking part (many of them injured in the police brutality) were middle class, not the average rebel: lecturers, university students, shop-keepers, people with white collar jobs. So the COVID-19 stunt was, if you like, the straw that broke the camel's back, "But the roots of the mass civil disobedience lie in years of political dissent among Serbians of all walks of life, fed up with the rife corruption, media suppression, neoliberal policies and creeping authoritarianism of the Vucic rule," writes Dr. Pantelic. Vučić had suddenly switched from a very strict lockdown – one of Europe's strictest – to permitting what Dr. Pantelic calls "super-spread events, including a Serbian Football Cup semi-final match with 20,000 spectators." On 21 June, Vučić's SNS won a landslide election victory when less than 50% of the electorate turned out, partly because the main opposition boycotted what they could see would be a rigged election but also by "disillusionment fuelled by a widespread belief that the vote would be undemocratic." Brnabic later denied manipulating the infection figures to get a good electoral turn-out but she admitted there had been mistakes. Pantelic claims that once the polls closed, videos were shown of victory celebrations that were not coronavirus-safe and featuring both Vučić and Brnabic. They clearly feel safe enough for the time being, from the pandemic but also from political repercussions, although surely Vučić remembers what happened to Milosević? Perhaps he should.
Russia's President Vladimir Putin (L) welcomes his Serbian counterpart Aleksandar Vučić © Tass
Serbia's finance ministry has recently launched an investigation into alleged money laundering and the financing of terrorism, but its targets have been dozens of pro-rights groups, independent journalists and opposition politicians; in fact anyone who has dared to criticize government corruption and anti-democratic policies. According to Euronews, the investigation is seeking to access private bank account data from several groups and individuals. The ministry denies that it is a targeted attack on critics, saying they are quite normal proceedings. "These are regular activities aimed at assessing the risk of terrorism financing," Zeljko Radovanovic, acting director of the state authority against money laundering, is reported as saying. The civic groups have demanded that the Serbian government immediately ceases what they say is an abuse of the mechanism against money laundering and financing terrorism to intimidate organizations which act as checks and balances for the executive. It's unlikely to cause Vučić many sleepless nights.
What about the man himself? Aleksandar Vučić was born in Belgrade in 1970. He joined the Serbian Radical Party in 1993 and in the same year was elected to the National Assembly. The following year he became Secretary-General of the party, a position he held until 2008. He became director of a previously run-down business and sports centre called Pinki in 1996. The business was in Zemun, coincidentally where he had been to High School at the Zemun Gymnasium, and he made a success of it, greatly boosting the employees' earnings. In 1998 he became Minister of Information in Milosovic's Government of National Unity.
Former President of Serbia, Tomislav Nikolić © Nõvosti
In 2008, he co-founded the Serbian Progressive Party, together with Tomislav Nikolić, and at the Founding Convention in October 2008, he was elected the Party's Deputy President. In 2012, Nikolić resigned as president and Vučić was unanimously elected to take over the job. The following year, as First Deputy Prime Minister, his job (his opponents might say ironically) was fighting crime and corruption. Following the party's victory in the 2014 elections, he became Prime Minister, a post he continued to hold after his party won the election two years later. He instituted various reforms to save Serbia from bankruptcy, although many of the measures were deeply unpopular, such as cutting pensions and public sector salaries. Following the elections of 2017, he became President of Serbia. As a point of interest, he has also won a number of 'man of the year' awards. (He was also involved in the award for "lie of the Year" in 2018, which was won by the statement of MP Aleksandar Markovic that President "Vucic never lied in his political career". However, in the records of Istinomer, a news website, there are a large number of untruths of the President of Serbia). His awards (not that one, of course) may allow him to look down on other leaders, as may his height: he is a towering 1.99 metres tall, which makes him easy to spot in group photos.
NO END IN SIGHT
In June, 2020, Vučić met with the President of the European Council, Charles Michel, and according to the Council's own report, "underlined the EU's unequivocal support for the European perspective of the Western Balkans as reaffirmed by the 6 May Zagreb Summit, its commitment to enlargement and support for Serbia's future merit-based EU membership."
Just the sort of message the Serbian leader wants to hear. It's not unconditional, though, said the Council report: "President Michel noted that the pace of Serbia's accession negotiations continues to depend on progress in the areas of rule of law and fundamental rights, as well as in the normalisation of Belgrade's relations with Priština. President Michel congratulated President Vučić on his party's victory in last Sunday's elections." Opposition parties say those elections were clearly rigged and that they had boycotted them, so their supporters didn't bother to vote. It's something to which the EU chooses to turn its habitual blind eye. Vučić and Michel discussed the pandemic (but not the issues that later led to street violence) and the €100-million the EU has provided to Serbia for tackling it. Michel's comment has about it a hint of irony, given what later happened in the streets of Belgrade: "I am confident that Serbian citizens are reassured and proactively informed that support from the European Union is unwavering, and will continue in good times and in crisis times, such as those we have all just experienced due to Covid-19." Of course, Brussels wants the Belgrade- Priština talks to continue. So does Vučić, but only on his terms.
Aleksandar Vučić, President of the Republic of Serbia and Charles Michel, President of the European Council© Consilium.europa
Not all of Serbia's intellectuals, though, are critical of Vučić. Take the academician Dragoslav Mihailović, for instance, as reported on the Serb news site, Alo.rs. He spent two years in the former Yugoslavia's notorious Goli Otok prison camp under the old regime. He thinks the current president is doing OK. "Vučić is doing an excellent job, taking into account the interests of Serbia and our people," he is on record as saying. "Now he did best in the elections and all that speaks of the mood of the people. The Serbian people should live independently and nurture good relations with the surrounding and, by God, those peoples who are a little further from us. We have to take care of ourselves, of what other nations think of us and to take a serious state. I like what Vučić is doing. Maybe I'm wrong, and maybe I'm not wrong." Mihailović has little time for those Serbs who hanker after a united Balkans once more. "I honestly don't think that would be good for Serbia," he has said. "At the time when Titoism ruled with all its might, I also thought so about Yugoslavia. It would be good if the Slavic peoples united, but not to start mutual quarrels, but to listen to each other. But as history has shown, the Balkans cannot unite and implement it without a collision. I think that what Vučić is doing, who has never pulled that Yugoslav option, is good." Certainly, Josip Broz Tito is not forgotten. In a memorable and most enjoyable flight over Solvenia in a microlight aircraft, piloted by Slovenian MEP and former Prime Minister, Alosz Peterle, we flew over a small field in which an old-time Communist farmer, loyal to his country's former leader, had made a planting that spelled the name 'Tito' in huge letters. Peterle was, I think, slightly embarrassed and annoyed by it, but he was too polite to get angry. Incidentally, and completely irrelevantly, Peterle also plays a mean harmonica and always carries one with him.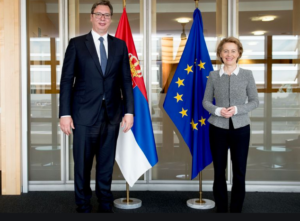 But I digress. As mentioned previously, Vučić is a clever negotiator and he now seems to be drawing Belgrade closer to Beijing. Serbia has agreed to buy China's latest type of radar-guided surface-to-air missiles, the FK3, imported through the state-run arms company, Yugoimport, which claims to have made 163 import deals with 31 countries, according to Reuters, with a value of $620.3-million (€525.78-million) in 2019. The deal includes drone systems. It seems that Vučić now sees China as more important than Russia, or even the EU. Certainly, China provided aid and expertise to deal with the COVID-19 pandemic, albeit less than the EU did, but Vučić seems to see Xi Jinping as rather more important to Serbia's future than either Vladimir Putin or Ursula von der Leyen, President of the European Commission. In terms of outright strength, he's undoubtedly right. The difference really comes in what is asked for in return. The EU wants stability, democracy and the rule of law, while China may be expecting a more generous return on investment. But in a battle of influences, Russia holds a trump card, according to the Carnegie Moscow Center: it can veto Kosovan membership of the UN. If Kosovo becomes part of Serbia, it loses that leverage. Vučić has to decide who offers the best options. He's a good negotiator but choosing between the devil and the deep blue sea is never easy. Only the EU offers a lifeboat, albeit a leaky one, but the ever-ambitious Vučić may want more.
Tobias Bowman-Grant
Click here to read the 2020 August edition of Europe Diplomatic Magazine