IN SPACE MANUFACTURING AND ASSEMBLY
Delivering technological bricks for Airbus space factory
What's next in space? A factory that's out of this world
The upcoming opening of Airbus' next production site is not going to be in Europe or the United States … It's going to be truly out of this world – up in space!
Up to now, this was pure science fiction. But as early as next year, it will become reality – to some extent, at least. And Airbus is making it happen. Because that's when the astronauts on the International Space Station (ISS) will take their own practical companion on board: Metal3D, the first metal 3D printer in space.
Metal3D, developed by Airbus for the European Space Agency (ESA), is a real game changer. It uses metal as source material and prints it at 1,200 degrees Celsius to produce new parts such as radiation shields, tooling or equipment directly in orbit. Future versions of the 3D printer could also use materials such as regolith (moondust), or recycled parts from decommissioned satellites. As early as the end of this decade, 3D printers could also be used on the Moon, enabling a sustainable human presence there by printing structures for lunar rovers or habitats.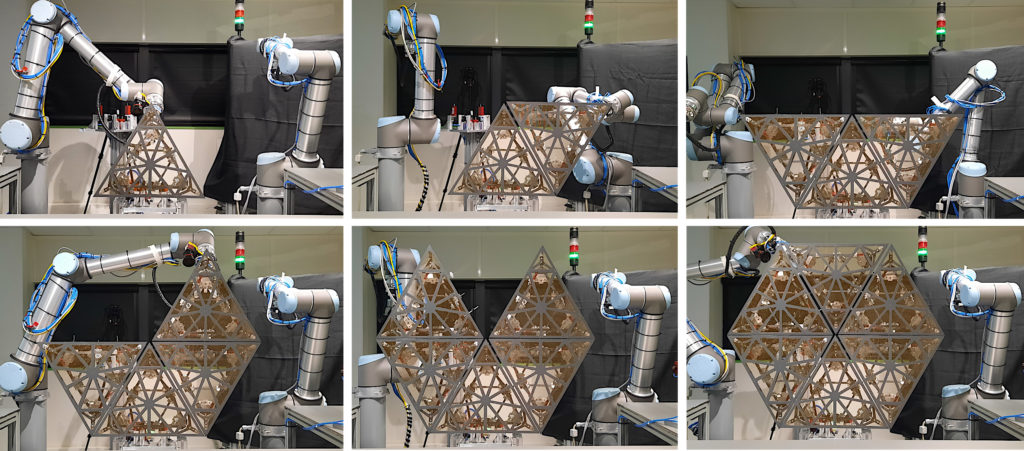 3D printing in space or on the Moon is only the beginning. Airbus wouldn't be Airbus if it didn't take in-space manufacturing to the next level. As soon as in the next three to four years, it will be producing and assembling entire satellites in space. So its next satellite factory will not be in Europe or the United States, but in space, hundreds of kilometers above us!
Since there is enough space in space, it will be possible to build bigger structures such as huge reflectors, allowing telecom satellites to cover the entire planet. Airbus' solution is to launch kit parts that will be assembled in space by the robotic arms from our space factory.
Producing satellites and larger structures directly in orbit will revolutionise traditional space system manufacturing: not only will production on Earth no longer be necessary; weight and size constraints associated with getting satellites to their orbit will be a thing of the past.
Not to mention that production in space is sustainable: fewer rocket launches are needed, and the material for production can be sourced from the space debris floating around. So with the space factory, Airbus is also helping to clean up space and ensure a sustainable future for the industry.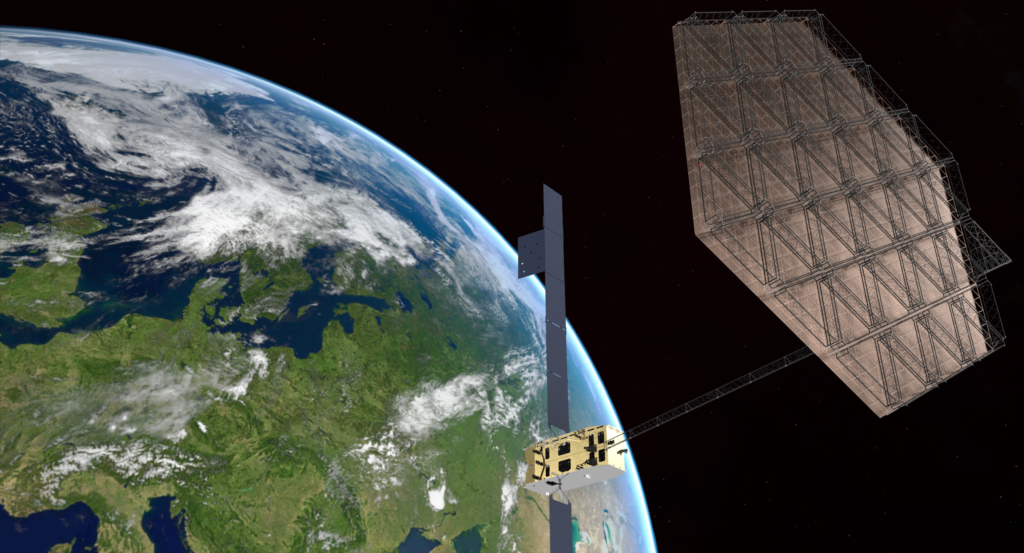 BOMBARDIER INTRODUCES GLOBAL 8000 AIRCRAFT, THE FLAGSHIP FOR A NEW ERA IN BUSINESS AVIATION
Bombardier unveiled the newest member of its industry-leading business jet portfolio with the introduction of the Global 8000 aircraft, the world's fastest and longest-range purpose-built business jet, innovatively crafted with the industry's healthiest cabin for safety, comfort and performance beyond compromise.
With an industry-leading range of 8,000 nautical miles and an unbeatable top speed of Mach 0.94, the Global 8000 aircraft is the ultimate all-in-one business aircraft, offering customers a unique blend of outstanding performance married with the smoothest ride and an uncompromising passenger experience – the absolute leader in the long-range class.
"Today, Bombardier solidifies once more its position as the leader in business aviation with the newest member of the industry-leading Global family," said Éric Martel, Bombardier's President and Chief Executive Officer. "The Global 8000 aircraft leverages the outstanding attributes of the Global 7500 aircraft, providing our customers with a flagship aircraft of a new era. We remain unmatched, which for an innovation-focused team like us, is great."
Some of the impressive performance capabilities of the new Global 8000 aircraft were witnessed as early as May 2021, following a demonstration flight with a Global 7500 flight test vehicle. The aircraft, accompanied by a NASA F/A-18 chase plane, repeatably achieved speeds in excess of Mach 1.015, a key step in enabling a maximum Mach operating speed (MMO) of M0.94 and becoming the fastest business jet in the world and the fastest in civil aviation since the Concorde. During the demonstration flight, the aircraft also became the first Transport Category airplane to fly supersonic with sustainable aviation fuel (SAF).
The discerning Global 8000 business jet also features the healthiest cabin in the industry, with the lowest cabin altitude in its class of 2,900 feet when flying at 41,000 ft. It is also equipped with Bombardier's Pũr Air and advanced HEPA filter technology for the cleanest cabin air and the fastest fresh air replacement.
The Global 8000 aircraft is the only true four-zone cabin business jet to have a range of 8,000 nautical miles – and it more than delivers even when it comes to comfort. With its spacious four personalized suites ergonomically designed to maximize space and freedom of movement, the Global 8000 aircraft also incorporates the revolutionary features introduced on the Global 7500 aircraft that dramatically improve passenger comfort, including the Soleil circadian lighting system to help combat jet lag. Coupled with the innovative Nuage seat with the first-ever zero gravity position, passengers will arrive at their destinations revitalized and refreshed.
An exemplary commitment to detail is assured on the new Global 8000 aircraft, including an available Principal Suite with a full-size bed and a stand-up shower in the En-suite. Revolutionary cabin entertainment control and connectivity, the intuitive nice Touch CMS and OLED touch dial, Bombardier's l'Opéra directional audio sound system and available 4K monitor, also ensures passengers will receive an unrivalled cabin experience.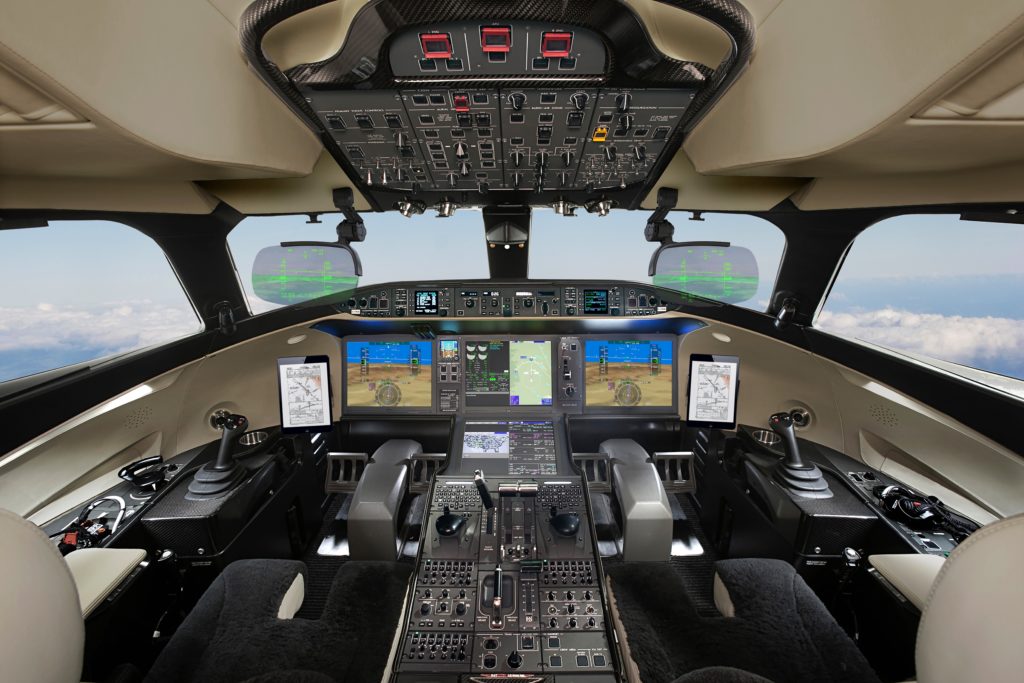 In the cockpit, the Global 8000 aircraft features the renowned Bombardier Vision flight deck with its next generation fly-by-wire technology and blend of cutting-edge avionics with exceptional ergonomics and aesthetics for remarkable comfort and control.
Performance-wise, the new Global 8000 aircraft can efficiently transport customers to a wide variety of destinations both faster and farther than ever before. And with its exceptional class-leading range and short-field performance, even more exclusive city pairs are now achievable, including Dubai-Houston, Singapore-Los Angeles, London-Perth and many others.
Expected to enter service in 2025, the Global 8000 aircraft development is ongoing, and the program is progressing to plan.
FUTURISTIC ELECTRIC DELOREAN ALPHA5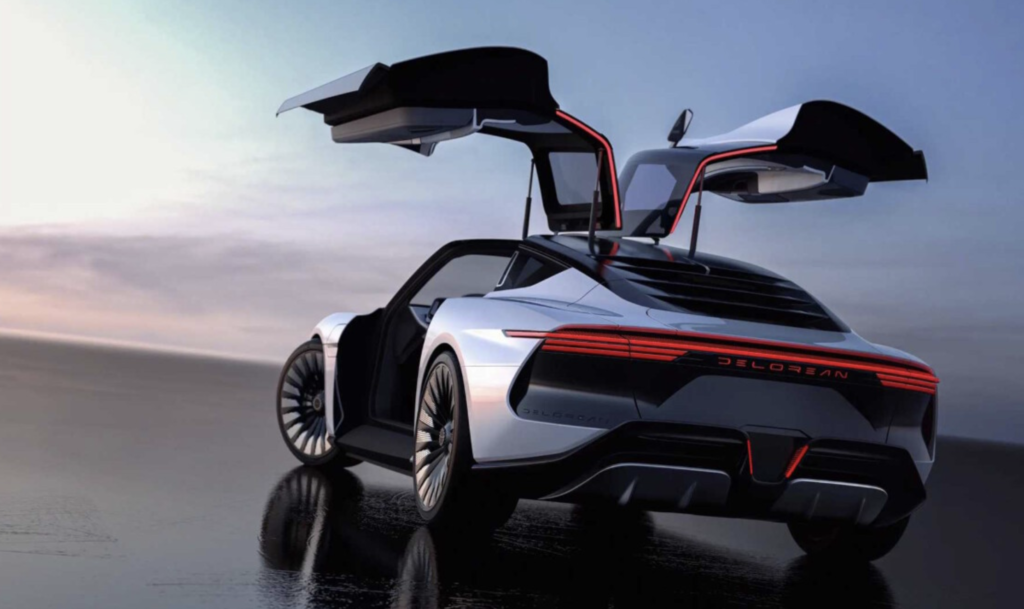 The DMC DeLorean is a rear-engine two-passenger sports car manufactured and marketed by John DeLorean's DeLorean Motor Company (DMC) for the American market from 1981 until 1983—ultimately the only car brought to market by. The DeLorean is referred to by its internal DMC pre-production designation, DMC-12.
Designed by Giorgetto Giugiaro was noted for its gull-wing doors and brushed stainless-steel outer body panels. Though its production was short-lived, it became widely known after a DeLorean was featured as the time machine in the Back to the Future films
DeLorean Motor Company, or DMC – went bankrupt in 1982. In 1990 the rights to the DeLorean brand were purchased by a new company that adopted the same name.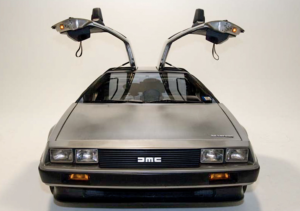 The new DeLorean Motor Company is preparing the production of a new all-electric vehicle, the Alpha5, a look-alike of  the DMC-12.
The Alpha5 should have its official unveiling in August at the California car show « Pebble Beach Concours d'Elegance ».
DeLorean Alpha5 is capable of 0-100kmh sprint in under three seconds and comes with a 100kWh battery, offering an estimated 300 miles of range and a top speed of 155mph.
The electric vehicule should enter production in 2024.
EMSA RPAS FLYING OVER THE BLACK SEA REGION IN SUPPORT OF ROMANIAN NATIONAL AUTHORITIES
Romanian national authorities have been using EMSA RPAS to conduct flights over the Black Sea region from a base in Mangalia. The flights are offering enhanced maritime surveillance to the country's Border Police, Naval Authority and National Agency for Fishing and Aquaculture. The day-to-day monitoring provided by the remotely piloted aircraft is particularly useful for the implementation of coast guard functions where getting a clear picture of what is happening at sea helps enable an efficient and effective response.
The request for the service was placed by the Romanian Border Police following successful operations in 2021 and is expected to run until the end of the summer. The flights performed will enhance surveillance for multiple purposes including general maritime safety such as vessel traffic management, ship and port security, pollution detection, accident and disaster response, and fisheries inspection and control, all within Romanian territorial waters and exclusive economic zone.
The RPAS in use is an unmanned helicopter with an endurance of six hours and a range of more than 100km. It is being provided through EMSA's contractor, Schiebel Aircraft GmbH. The aircraft – the S100 Camcopter – is also equipped with both an optical and infrared camera, as well as an AIS receiver and an automated maritime search sensor capable of detecting objects on the sea surface.
Thanks to the dedicated platform of the EMSA RPAS Data Centre, the end users of the service can communicate with each other and respond to the flight data shared with them in real time. In this way, depending on their various roles and responsibilities, the authorities can pick up and act on any activity at sea which might be considered harmful, dangerous or unlawful in a targeted and well-coordinated manner.
ABOUT EMSA
The European Maritime Safety Agency (EMSA) is a decentralised agency of the EU, based in Lisbon, Portugal. EMSA serves the EU's maritime interests for a safe, secure, green and competitive maritime sector, delivering value for member states through support for pollution prevention and response, maritime surveillance, safety and security, digitalisation and the provision of integrated maritime services, and technical assistance.
Remotely Piloted Aircraft System (RPAS) services are offered free to all EU member states by EMSA. They have been developed to assist in maritime surveillance operations and ship emission monitoring, and can operate in all seas surrounding the European Union. RPAS services can provide support to traditional coast guard functions, including search and rescue and pollution prevention and response. The services are offered to member states individually and as part of EMSA's regional RPAS strategy, which allows multiple coast guard functions in several EU member states to be supported by one or more RPAS services.
FDA APPROVES FIRST SYSTEMIC TREATMENT FOR ALOPECIA AREATA
The U.S. Food and Drug Administration approved Olumiant (baricitinib) oral tablets to treat adult patients with severe alopecia areata, a disorder that often appears as patchy baldness and affects more than 300,000 people in the U.S. each year. Today's action marks the first FDA approval of a systemic treatment (i.e. treats the entire body rather than a specific location) for alopecia areata.
"Access to safe and effective treatment options is crucial for the significant number of Americans affected by severe alopecia," said Kendall Marcus, M.D., director of the Division of Dermatology and Dentistry in the FDA's Center for Drug Evaluation and Research. "Today's approval will help fulfill a significant unmet need for patients with severe alopecia areata."
Alopecia areata, commonly referred to as just alopecia, is an autoimmune disorder in which the body attacks its own hair follicles, causing hair to fall out, often in clumps. Olumiant is a Janus kinase (JAK) inhibitor which blocks the activity of one or more of a specific family of enzymes, interfering with the pathway that leads to inflammation.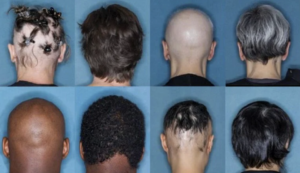 The efficacy and safety of Olumiant in alopecia areata was studied in two randomized, double-blind, placebo-controlled trials (Trial AA-1 and Trial AA-2) with patients who had at least 50% scalp hair loss as measured by the Severity of Alopecia Tool for more than six months. Patients in these trials received either a placebo, 2 milligrams of Olumiant, or 4 milligrams of Olumiant every day. The primary measurement of efficacy for both trials was the proportion of patients who achieved at least 80% scalp hair coverage at week 36.
In Trial AA-1, 22% of the 184 patients who received 2 milligrams of Olumiant and 35% of the 281 patients who received 4 milligrams of Olumiant achieved adequate scalp hair coverage, compared to 5% of the 189 patients who received a placebo. In Trial AA-2, 17% of the 156 patients who received 2 milligrams of Olumiant and 32% of the 234 patients who received 4 milligrams of Olumiant achieved adequate scalp hair coverage, compared to 3% of the 156 patients who received a placebo.
PRINTING INSECURITY: TACKLING THE THREAT OF 3D PRINTED GUNS IN EUROPE
The International Conference on 3D Printed Firearms gathered over 120 participants from 20 countries
Law enforcement professionals, ballistic experts, forensic scientists, policy makers and academia have gathered this week in The Hague, the Netherlands, for one of the world's biggest platforms of exchange on the threat of 3D printed weapons.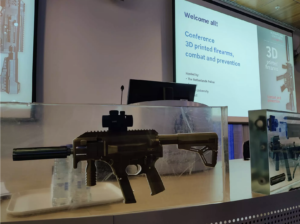 The International Conference on 3D Printed Firearms, organised by Europol and the Dutch National Police (Politie) in the framework of EMPACT Firearms and hosted at the University of Leiden, saw some 120 participants from 20 countries address the latest challenges facing law enforcement in their efforts to tackle this threat.
Over the course of two days, the participants explored the fundamental processes required for developing joint intervention strategies in this field, including tactical and forensic research, software, scientific developments and legislation.
Opening the conference, Chief Constable Gerda van Leeuwen at the Dutch National Police (Politie), said:
The development of 3D printing of firearms is a current and future threat. International cooperation therefore is crucial to be able to counter. This conference will focus not only on current state of play, but also on building a strong network of specialists on this topic, creating intervention techniques and sharing best practices.
The team leader of Europol's Analysis Project Weapons and Explosives, Martin van der Meij, added:
The threat posed by 3D printed weapons is very much on the radar of Europol, amid the growing number of such firearms being seized in investigations across Europe in recent years. Such a challenge can only be addressed by combining the expertise, resources and insights of law enforcement, the private sector and academia to get such guns off the streets.
3D printed weapons are no longer a matter of fiction
Back in 2019, two people were shot dead in Halle, Germany, by a perpetrator using a homemade weapon, based on a blueprint downloaded from the internet to partly manufacture the weapon with a 3D printer.
In April 2021, the Spanish National Police (Policía Nacional) raided and dismantled an illegal workshop in the Canary Islands which was producing 3D printed weapons. Two 3D printers were seized, alongside gun parts, a replica assault rifle and several manuals on urban guerrilla warfare and white supremacist literature. The owner of the workshop was arrested and charged with illegal possession of weapons.
A month later, two men and one woman were arrested in the town of Keighley in the United Kingdom as part of an investigation into right-wing terrorism. All three were charged with possessing components of 3D printed weapons.
Conclusions of the conference 
•    Connection and cooperation between law enforcement and the industry/private sector is needed to identify and monitor the developments around 3D printed firearms;
•    An international network of experts on 3D printed firearms will be created, tasked with keeping law enforcement agencies abreast of developments in 3D printed firearms;
•    The main policy recommendations of participants and other developments around 3D printed firearms will be put into a factsheet, which will be distributed to partners and policymakers worldwide.
EU AND US FOSTER COOPERATION AGAINST RANSOMWARE ATTACKS
Ransomware has become a global problem that requires cooperation on a worldwide level. Judicial experts and practitioners from the European Union and the United States participated in a two-day workshop in The Hague organised by Eurojust and the U.S. Department of Justice. The event aimed to share best practices and enhance collaboration in confronting ransomware attacks.
The event was opened by Eurojust President, Mr Ladislav Hamran, and Assistant Attorney General Mr Kenneth A. Polite, Jr. of the U.S. Department of Justice's Criminal Division.
Mr Ladislav Hamran said: 'There is no doubt that the scale, sophistication and impact of ransomware attacks is significant, affecting all sectors of the economy and society at large. We warmly welcome the opportunity to join forces with our US colleagues in combating this form of crime. Through this week's workshop, we are fostering closer cooperation, not only between national authorities, but also between the public and the private sector. I am convinced that this will prove crucial in our efforts to protect our citizens against online and offline threats.'
Assistant Attorney General Polite said: 'Only by working together with key law enforcement and prosecutorial partners in the EU can we effectively combat the threat that ransomware poses to our society. I am confident that the US-EU ransomware workshop will spur greater coordination and collaboration to address the ransomware threat.'
The workshop, organised by Eurojust and the U.S. Department of Justice, brought together more than 100
prosecutors, law enforcement representatives and experts from the private sector and non-governmental organisations, representing 27 countries. It took place on 15 and 16 June at Eurojust's premises and online.
Participants attended a series of presentations and panel discussions on topics such as transnational cooperation during ransomware investigations, victim remediation, and prosecution of criminal organisations.
Attorneys from the Justice Department's Computer Crime and Intellectual Property Section (CCIPS), representatives from the FBI, the U.S. Secret Service, the U.S. Homeland Security Investigations (HSI), European Judicial Cybercrime Network, Eurojust's Cybercrime Team and Europol's European Cybercrime Centre shared their experiences, best practices, and lessons learned in directing an investigation to a successful outcome including by collaborating with the tech and wider private sector. Law enforcement officers also discussed adversaries' tactics and the latest investigative techniques.
Prosecutors additionally discussed relevant changes in the law, including issues related to electronic evidence, charging options, and cross-border considerations. Private sector and non-governmental organisation representatives included the CyberPeace institute, Microsoft and Bitdefender.
THREAT OF SPIES IS INCREASING IN EUROPE
A series of high-profile cases that have recently led to arrests and convictions shows that the threat posed by spies seems to have increased in Europe over the past decade.
"In times of geopolitical tension, the activity of different countries' intelligence organisations increases," says Michael Jonsson, Deputy Research Director at FOI.
Together with analyst Jakob Gustafsson, Michael Jonsson has conducted the study, Espionage by Europeans 2010–2021, where they analyse openly known cases of infiltration or insider espionage. Of the 62 individuals involved, 42 were convicted of espionage during the studied period, something that Michael Jonsson himself describes as "the tip of an iceberg."
"We have chosen to use open sources, mainly newspaper articles, and focus exclusively on cases that resulted in convictions in court, to avoid the discussion about whether this is really about espionage or not. It's a complex subject. There is very little data and more basic research is needed. This is a narrow selection, but it still provides a relevant picture of the situation."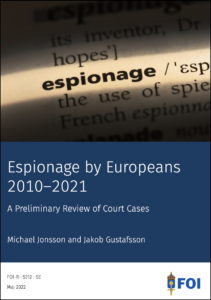 Russia is behind the vast majority of all spy cases
From the time period in question, there are spectacular examples of operations believed to have been carried out by Russian intelligence services, such as the poison attack in Salisbury, the assassination attempt on a Bulgarian arms dealer and the explosion of weapons stores in the Czech Republic. The new study also shows that Russia is behind the vast majority of all spy cases in Europe.
"It is difficult to describe a typical spy, but in our study, it is clearly a man, with a Baltic background. It is also true that Russia is the absolutely dominant recipient of espionage in Europe. And then there are different types of spies, who we describe in our study as different clusters who engage in espionage," says Michael Jonsson.
One such cluster is men with a background in the military or intelligence services. Another group consists of consultants, researchers or government officials. The researchers also found a group of petty criminal smugglers, in Estonia, who were used as spies. Potential spies can also be recruited from among those who for ideological reasons are "friends of Russia."
"The most valuable spies are probably those who have access to classified material about combat forces, weapons and defense capabilities. But you can also be interesting as a spy if you have information about new research, innovations and new technology," says Michael Jonsson.
A spy's life is pretty unglamorous
So, what makes some people take the plunge and become a spy? The study has found some common denominators, such as a feeling of being disadvantaged, either at home or at work, and struggling with financial difficulties.
"These are people who can be a little bitter about their careers, for example if they haven't been promoted as they've expected. There are certain narcissistic traits, and the role of spy makes them feel important and needed. We also saw that several had problems with debts," says Michael Jonsson.
The recruitment of a new spy often begins cautiously, with the intelligence officer asking for innocuous information that is already available from open sources. Gradually, the demands for information increase and then it can often be difficult to withdraw. The study shows some cases of extortion and threats against relatives when someone tries to withdraw.
"Initially, you also pay for less valuable information, so that the spy gets used to the approach and is incriminated early. The intelligence officer who handles the spy is also very friendly, to build trust. By then, someone who still wants to withdraw can be blackmailed; we have for example a case of an Estonian spy with a military background who had small children, where his family was implicitly threatened," says Michael Jonsson.
It is a rather unglamorous picture of the spy life that emerges in the study, and it is not about huge sums of money, either. A study from the US shows that not even the most well-paid spies earned more than a million dollars in total.
"Given the enormous risk-taking it entails and the relatively limited remuneration in relation to the stakes, being a source is not a very good deal. Rather, it is a cynical exploitation of vulnerable individuals. Our study is also about failed spies because they have all been caught."
When asked if there is no truth in all the spy movies and books involving corrupt women, alcohol and luxury hotels, Michael Jonsson replies that they nevertheless contain a grain of truth.
"For a certain group of spies, mainly the most valued sources, the handover of information often takes place in third countries. That's when the alcohol, restaurant visits and hotel stays come in. In the case of the Swede who spied on Volvo and Scania, for example, he was arrested in a restaurant and in possession of a large sum of cash," he says.
War breeds more spies
The study finds that most convicted spies are found in Northern Europe, particularly the Baltics. In this context, Sweden has a vulnerable geographical location. When asked how many spies there may be in Sweden, Michael Jonsson answered that in addition to the one who spied on Scania and Volvo, two more people have been arrested pending trial in a separate case.
"It's not possible to say for certain, but the Swedish Security Service, SÄPO, estimates that a third of the staff at Russian embassies are usually intelligence officers. That would mean 10–15 people at the Russian embassy in Stockholm."
Michael Jonsson believes that cases of espionage will continue to increase, not least in light of Russia's war in Ukraine. History shows that war always produces more spies. For example, during World War II, in neutral Sweden, Stockholm was a tumultuous place for spies. Today, Brussels, with all its international institutions, is probably a similar place.
"This is a threat that we must take seriously! And as the global political situation deteriorates, espionage will only increase. Just in the time since we completed the report, there have been a number of new European cases that are likely to go to trial," says Michael Jonsson.
Source FOI Sweden