The International Federation of Journalists has published the most comprehensive report on journalists and media staff killed in work-related incidents around the world during 2021.
The annual report, in its 31th edition, details the circumstances of the 47 killings which occurred during targeted attacks, bombings and cross–fire incidents as well as 2 accidental killings.
This is the fifth lowest death toll since the IFJ began publishing annual reports on journalists' killings in 1990 and brings the total to 2725 journalists and media workers who lost their lives to violence in the world since then. 2021 registered 18 fewer killings than in the previous year (65).
Despite this decrease, 2021 was also a year in which threats against journalists and media freedom witnessed a significant increase. The IFJ registered record numbers of journalists in detention, with 365 behind bars because of their reporting, a considerable increase from 235 recorded last year. This onslaught on press freedom has had a chilling effect on media.
Commonly, journalists have been arrested and accused of wrongdoing for simply covering protests or trying to report on the coronavirus crisis, both of which are issues of significant public interest.
https://www.ifj.org/fileadmin/IFJ_KILLED_LIST_2021_FINAL.pdf
In 2021, we also discovered a threat to press freedom in the form of Pegasus, the spying software for surveillance through mobile telephones which was used to target journalists among others. With its ability to eavesdrop on telephone conversations, access contacts and emails without raising a single suspicion from the owner, Pegasus has shattered the safety of most handheld devices. The confidentiality of sources and the privacy of personal communications of journalists can no longer be taken for granted.
WOMEN JOURNALISTS
This year, at least seven women journalists have been killed in the course of their work around the world. Afghanistan is the country paying the highest price. The IFJ Gender Council is particularly concerned about the situation of Afghan women journalists and believes that efforts must be redoubled to protect their lives and those of their families and urged international action to address the critical situation of Afghan women journalists, who are particularly targeted by the Taliban.
The IFJ also condemns the online harassment of women journalists around the world and calls on newsrooms, online platforms and governments to take action to put in place sustainable solutions to eradicate this scourge.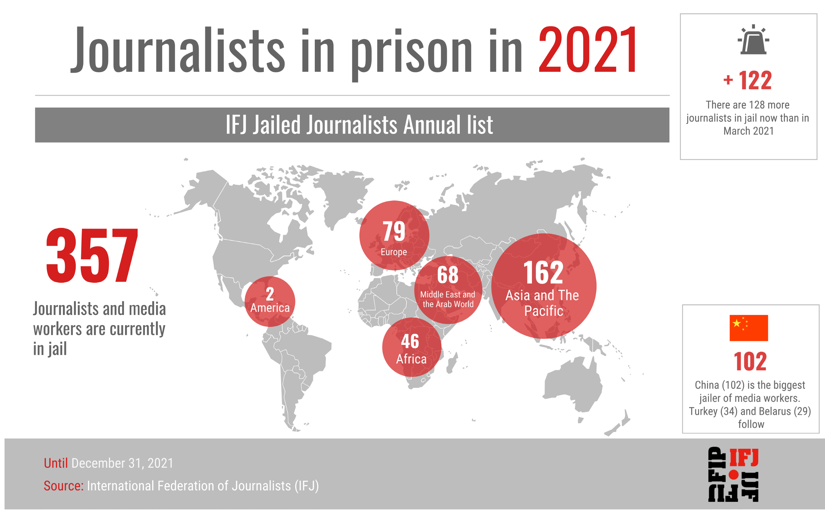 IFJ SAFETY FUND: LIFELINE FOR JOURNALISTS IN DANGER
In 2021, the IFJ's International Safety Fund continued to help journalists and media staff and their family members from the four corners of the globe to meet multiple needs.
The IFJ International Safety Fund paid over 90.000 Euros in relief to help them relocate to safety, receive medical treatment or pay for legal assistance. The Safety Fund provided support in 2021 in:
Nigeria: Humanitarian grant to a journalist who needed an eye operation.
Haiti: Medical treatment for a journalist and support to cover relocation costs of a second journalist to escape danger in their own country.
Afghanistan: Support to dozens of journalists for various reasons such as food, medical care and relocation to safe areas.
Myanmar: Financial support to a journalist who had been a victim of police brutality during pro-democracy demonstrations.
Philippines: Another journalist seeking refuge in exile because of threats received assistance to cover the cost of the administration process needed for residence in the country.
Belarus: Financial support to 8 journalists in exile, including relocation assistance and help with daily living costs.
France: The Safety Fund contributed to costs of legal representation in a case brought by a journalist over threats to her physical integrity and safety.
Turkey: One journalist in exile received financial help with living expenses.
Palestine: Two journalists were given assistance for medical treatment after they were injured while covering clashes and protests.
Yemen: Support to journalists to cover medical expenses
Source : IFJ
For more information, please contact IFJ on +32 2 235 22 16
The IFJ represents more than 600,000 journalists in 146 countries