On the 14 June 2017 two Swedish midwives, Ellinor Grimmark and Linda Steen, filed complaints against Sweden for violations of their freedom of conscience and religion to the European Court of Human Rights in Strasbourg. The two nurses claimed, among other things, that their religious freedom was violated and that they were discriminated against for not being able to continue working as midwives when they stated that they did not want to practice abortions for religious and conscience reasons.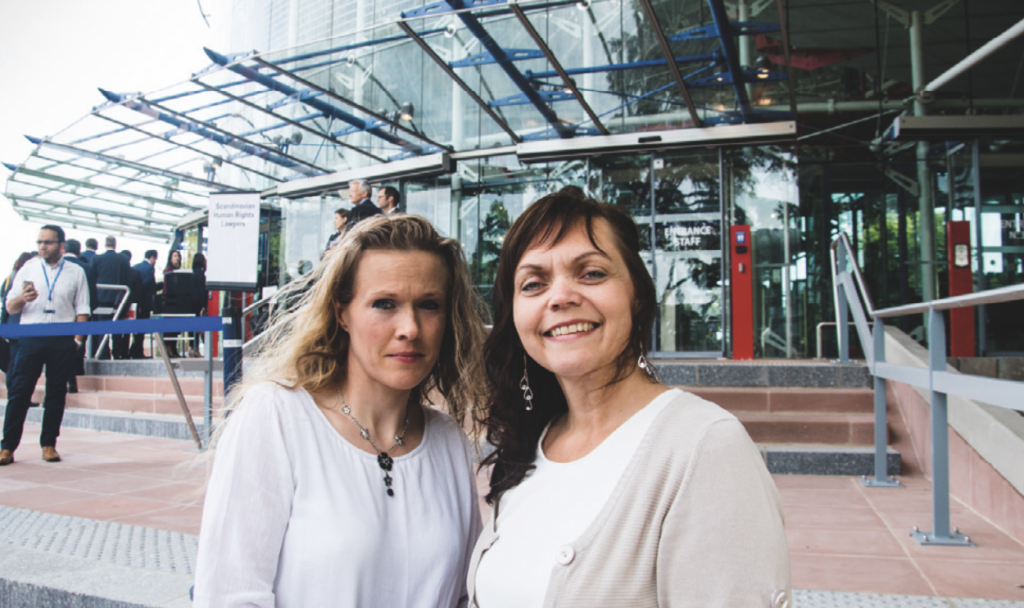 Swedish Ellinor Grimmark and Norwegian Linda Steen – worked in health facilities in the Jönköping region and the Sörmland region, respectively.
Ellinor Grimmark has been denied employment as a midwife at the Högland Hospital women's clinic and at Ryhov women's clinic and her employment at the hospital of Värnamo was terminated. Ellinor Grimmark was granted a job as a midwife, with respect of her freedom of conscience at Värnamo women's clinic, but the County Council of Jönköping terminated the employment because Ellinor Grimmark's opinion on abortion had been made public through a news article in the local media. Linda Steen had a contract with Nyköping Hospital women's clinic within the County of Sörmland, in which they had agreed that she was to work within the clinic for two years after her midwife studies. However, the County broke the contract when she informed them that she was unable to perform abortions due to her faith and her conscience. She has to commute to Norway, where she can work as a midwife with freedom of conscience. According to the Court of Justice there is nothing to justify all this, and according to Swedish law, the employee is obliged to exercise all his functions. It also mentions "that the restriction of religious freedom is proportionate and necessary in a democratic society".
" The Court is satisfied that the interference thus had a sufficient basis in Swedish law and that it was prescribed by law. It also pursued the legitimate aim of protecting the health of women seeking an abortion.", indicates the Court's decision.
As for the discrimination claim, in its final decision the court also stated : "The Court considers that the applicant's situation and the situation of other midwives who had agreed to perform abortions are not sufficiently similar to be compared with each other. The applicant cannot therefore claim to be in the same situation as those midwives. In conclusion, the Court finds that this complaint is manifestly ill-founded and must be rejected pursuant to Article 35 §§ 3 (a) and 4 of the Convention."
"We are very disappointed by the Court's decision not to take up the cases of Ms Grimmark and Ms Steen. A positive judgment from the Court would have been an important step in the protection of the right to freedom of conscience. Medical professionals should be able to work without being forced to choose between their deeply held convictions and their careers. Although freedom of conscience is protected as a fundamental right in almost every other European country, the decision today marks a missed opportunity to uphold this important protection in Sweden. In its short written decision, the Court agreed that Sweden had interfered with the rights of these midwives. "However, in failing to take up the case, the decision marks a dangerous departure from the Court's purpose in protecting fundamental freedoms," said Robert Clarke, Deputy Director of ADF International, a faith-based legal advocacy organization.
Rebecca Ahlstrand, a lawyer with Scandinavian Human Rights Lawyers, which represented the women, said: " It can neither be considered proportionate nor necessary to prohibit a midwife from working on delivery and maternity care while there is such a great shortage on midwives throughout Sweden. It is women in delivery care who will suffer out of patient safety risks due to this shortage."
J.L.
Click here to read the 2020 April edition of Europe Diplomatic Magazine