"I would sooner be a foreigner in Spain than in most countries," wrote George Orwell, writer of 1984 and Homage to Catalonia, among many other famous books. "How easy it is to make friends in Spain." It has been, traditionally, very easy to smuggle drugs there, too, at least until recently. Things have been changing, however, although not as much as the law enforcement agencies would like. It seems a lot of people have taken Orwell at his word and moved to Spain, but not to make friends; they have gone there to conduct their illicit businesses, among them a number of Italian gangsters who, it's alleged, now call the Costa del Sol the "Costa Nostra", a joke about the very unfunny Mafia and especially its Sicilian part, the Cosa Nostra (literally "our thing"). It's hard to be amused at jokes about an organisation that ruthlessly seeks to enslave people to narcotics, makes a fortune from shipping the stuff so as to maintain their addiction and supply their need, and murders anyone who stands in their way. They are not nice people; the only time to laugh is when they are caught and put away behind bars.
That's what happened earlier this year to a Belgian, wanted by the police for running a drug smuggling operation. Known as Yannick M.W., he was living in a luxury villa in Estepona, on the Costa del Sol, together with his wife, his 12-year-old daughter, his parents and even his in-laws, according to the Organised Crime Unit (UCO) of the Spanish Civil Guard. He topped Belgium's 'most wanted' list, having run a massive smuggling operation, shipping cocaine in huge quantities from South America to Antwerp.
He was also linked to arms trafficking and had virtual control of the illicit trade through Belgium's main port. Ports like Antwerp are often called the 'arteries' of trade, but like other arteries carrying blood around our bodies, they are liable to attack by viruses, parasites and disease.
European Police forces have had some success in thwarting the drug gangs' efforts. In August 2020, they seized more than €8-million of criminal assets and arrested 75 people in a massive crackdown on marijuana growing and marketing. The operation, codenamed 'Vangelis' was led by Spain's Guardia Civil, working closely with the Polish Police's Centralne Biuro Śledecze Policji (Central Investigation Bureau, or CBSP) and Europol. In it Spanish investigators carried out 24 search warrants, and in the course of that they uncovered 2,690 cannabis plants with a street value in excess of €3-million. Altogether, 36 properties were searched, along with 50 vehicles, resulting in the seizure of goods valued at more than €8-million as well as €200,000 in cash. Police also froze €370,000 in the bank accounts of the criminals. In the end, 69 Spanish nationals and 6 Poles were charged with drugs trafficking and money laundering charges.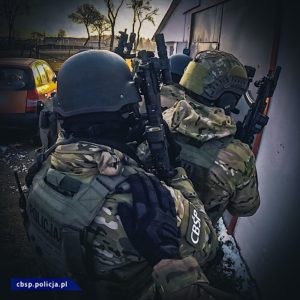 More recently, in January of this year, the Guardia Civil, working with the US Drug Enforcement Administration (DEA), succeeded in bringing down an organised gang of criminals engaged in laundering money for major South American drugs cartels.
The crooks were involved in debt collection and laundering the proceeds of drug trafficking, providing hitmen and undertaking contract killings targeting rival criminal groups. The gang, according to Europol, the EU's policing agency, used its killers to collect payments all over Spain by using threats in order to gather money.
It was mainly from other criminal gangs that had been buying drugs from South American cartels to redistribute locally. Some of the gang's leaders had acquired luxurious goods to accompany their lifestyles.
They traded high-end cars and used what are called 'smurfing' techniques to place their ill-gotten gains into the mainstream financial system. The on-line Investopedia site explains it like this: "Smurfing is a money-laundering technique involving the structuring of large amounts of cash into multiple small transactions. These smaller transactions are often spread out over many different accounts, to keep them under regulatory reporting limits and avoid detection." In this case, it didn't help the criminals. Four people were arrested, of Colombian, Spanish and Venezuelan nationality, seven suspects were charged with criminal offences, one company was charged with criminal activity, three Spanish homes were searched and a number of luxury items seized, including high-end vehicles, firearms and ammunition. The investigation was backed by Europol, which provided an exchange of information and analytical support.
RUN SILENT, RUN DEEP, RUN PROFITABLY
The criminal gangs involved in drugs trafficking see it merely as a means to make money; for them the only downside is the risk of apprehension by law enforcement agencies, and it's a risk worth taking. With that end in mind, they clearly believe that a little investment in their project is worthwhile. That's where submarines enter the picture. The first one to be spotted was seized in 2019.
The sub in this case, said to have been built in Guyana at a cost of some €2.5-million, had operated for years as a transport vessel for narcotics. When it was discovered by Guardia Civil officers using night goggles, its crew were in the process of attempting to scuttle it. The officers saw some of the crew fleeing the scene but two Ecuadorian crew members were arrested. The criminals had been trying to unload the 20-metre vessel which contained some 3-tonnes of cocaine with a value of millions of euros. Bad weather had prevented the crew from transferring the load to a surface craft nearby, which is why they decided to sink it instead. But police now know the submarine had been making two trips a year, ferrying its illicit cargo to users in Europe.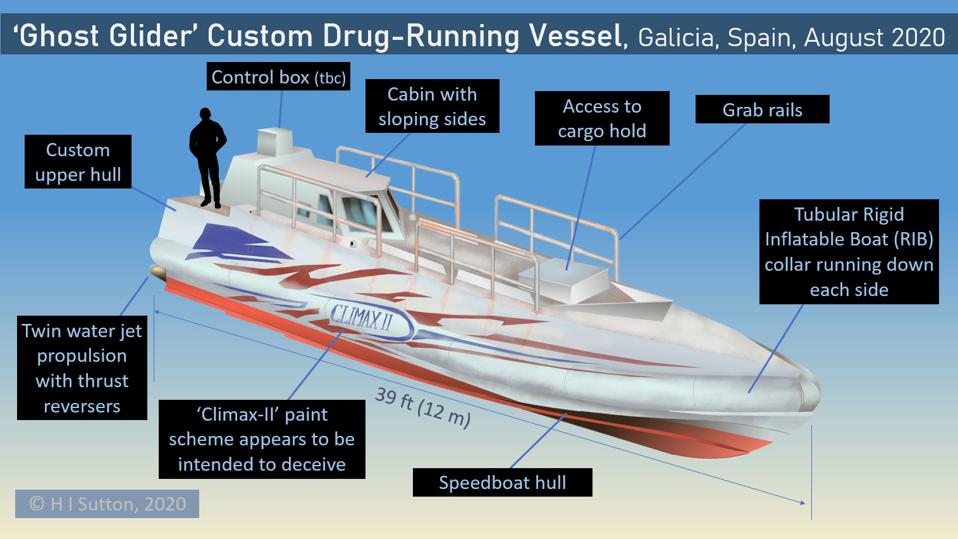 The same technique is used to take drugs to the United States: the previous year, the US Coastguard discovered a submarine carrying more than $165-million (€141-million) worth of cocaine off the coast of Columbia. It's believed by Britain's National Crime Agency that the drugs on the submarine found off Spain had been destined for the UK.
But the narco-criminals have not rested on their laurels. Experience shows that submarines are a viable way of transporting drugs without being detected by watchful coastguards. In March, 2021, the Spanish Policía Nacional (National Police), working with Europol and with law enforcement agents from five other countries tracked down and seized what's called a "half submersible" that was being built in Europe. It was found in the city of Málaga in a joint operation involving more than 300 police officers from a number of countries: Spain's Policía Nacional, but also from Columbia's Policía, the Dutch National Police (Politie), the Portuguese Judicial Police (Policía Judiciária), The UK's National Crime Agency and the US Customs and Border Protection agency, the international element of it being co-ordinated by Europol. It was quite an operation.
First of all, investigators identified an organised crime group made up of Spanish, Columbian and Dominican criminals, operating out of Cataluña. During the second half of 2020, there were a number of seizures of cocaine made in Columbia, all linked to the identified gang. In total, 2,900 kilos of cocaine were seized. Then, in November 2020, Spanish Police arrested the gang's leader in Tarragona, together with thirteen of his accomplices. In February, members of another branch of the gang were targeted: this time four individuals were arrested in Tarragona and officers seized 583 kilos of hashish that had been bound for France and Italy. Several houses were searched in Málaga and it was during these that the half-submersible vessel was found in a warehouse. It was nearing completion and was the first such craft ever seized on European soil. It was nine metres long and could have carried up to two tonnes of drugs if brought into service.
Next, one of the main suspects was arrested at El Prat airport in Barcelona as he was attempting to flee to the Netherlands. A resulting search of a warehouse led to the seizure of 300 kilos of cocaine. A clandestine drug laboratory was then uncovered in Barcelona, close to a cannabis plantation where more than a thousand plants were growing. Furthermore, a 15-metre speedboat belonging to the gang was also seized in the Murcia region. It was carrying around 7,000 litres of gasoline. At the end of February, the remaining members of the network were arrested and some 6,000 litres of drug precursors, that had been destined for a Murcia laboratory, were seized. Europol had liaised among the various police forces involved to help identify the targets.
FRIENDLY, SAFE, TRADITIONAL?
The advice for ex-pats moving to Spain is that it is a relatively safe country, just as George Orwell suggested all those years ago, and with a fairly low crime rate. The Expatica website gives this advice to new residents and tourists: "People are advised to avoid traveling with large amounts of money and to be careful when using ATMs or paying for goods on the street. Busy locations such as markets, outdoor performances, and cafes are prime target areas and you should be extra vigilant. Be mindful that criminals often work in gangs with one member distracting the intended victim, perhaps by pointing at something, while another uses the opportunity to steal their belongings." Just like anywhere else, really. Indeed, people living in Spain can enjoy its low murder rate and the relative rarity of crimes against the person. According to the OECD Better Life index: "Spain has a  homicide rate of 0.6 murders per 100,000 inhabitants which is much lower than the OECD average of 3.6 per 100,000. OECD figures also show that 83% of Spanish residents say they feel safe walking alone at night, compared to the OECD average of 69%." But the picture changes when you view Spain as part of the corridor along which drugs are smuggled, mainly from South America, to the rest of Europe. The people doing the trafficking are extremely dangerous, with a cavalier attitude to killing. That's why police forces in different countries are obliged to work together. Criminality knows no borders so neither must the police.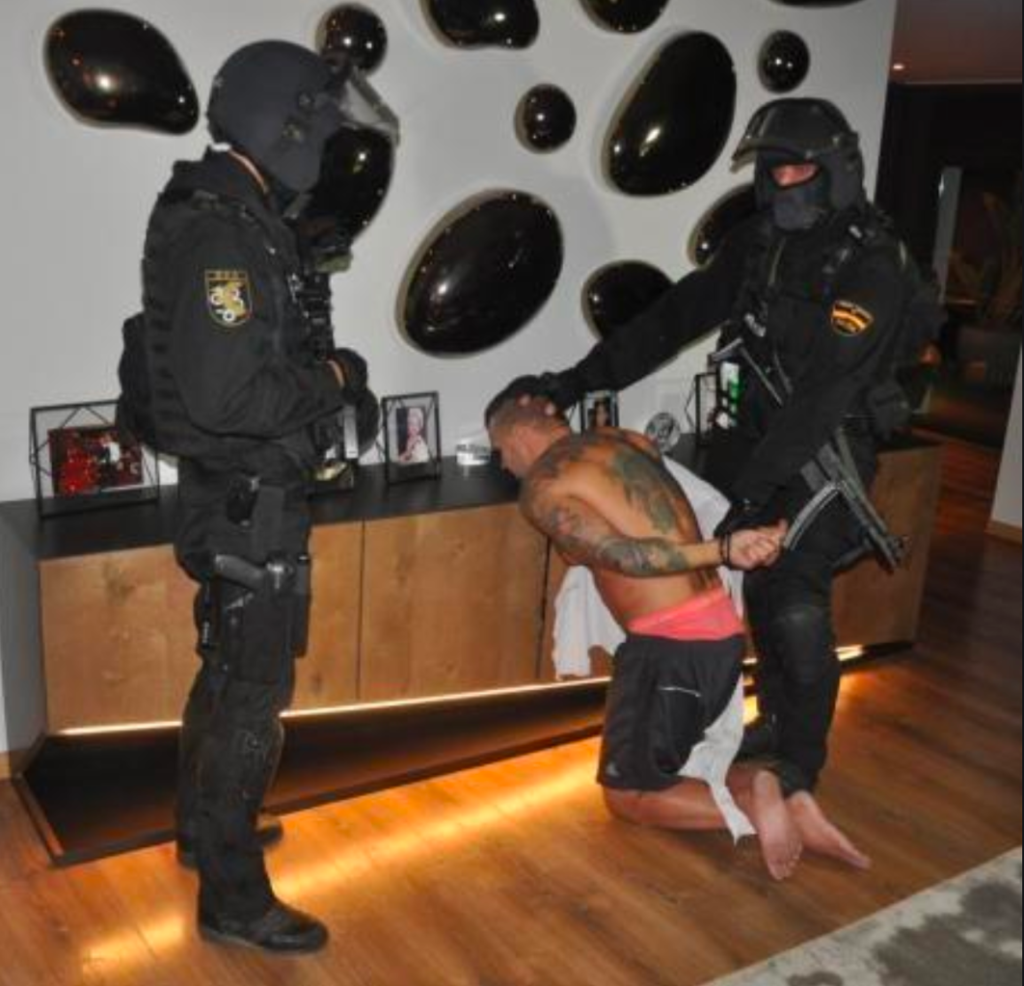 It's a technique that paid off in 2019. Then, a joint investigation by law enforcement authorities from seven countries, led by Spain and with Europol's support, dismantled the largest organized crime group in Spain's Levante area. The gang had been engaged in major drug trafficking and money laundering. Altogether, 81 people were arrested while officers seized 4,000 kilos of cocaine, €2-million in cash and three firearms, as well as jewellery, gemstones, luxury watches, 42 vehicles and a 25-metre yacht. In addition, properties worth €20-million were seized and 800 bank accounts frozen. The final part of the operation involved more than 200 police officers, who carried out 13 house searches and arrested 42 people. They called it 'Operation Beautiful'. The gang had been especially violent and the Spanish police were aided by law enforcement agencies from Colombia, France, Portugal, Romania, Sweden and the UK. Despite the prevalence of drug seizures and arrests, it would be wrong to blame Spain. The origins of a large proportion of the crimes uncovered there actually involve Italy's notorious criminal gangs, the Camorra from Naples, the 'Ndrangueta from Calabria and Sicily's Cosa Nostra. They have long been a problem for law enforcement in Italy; they are now operating in Spain where they have access to the Atlantic, across which their precious illegal cargoes are shipped. They have years of experience, they are completely ruthless, they lack any kind of scruples and they are very good at what they do. Perhaps it's time to look at these traditional Italian gangs more closely.
The Camorra is one of the largest and oldest criminal organisations in Italy, dating back to the 17th century. The structure of the Camorra is somewhat special, with individual 'clans', each led by a 'capo', or boss, some with hundreds of affiliates and inclined to act individually to maximise the individual clan's profits. As a result they often feud among themselves and these disagreements tend to be deadly. The old saying "there is no honour among thieves" would seem to apply. Interestingly, the Camorra seems to have evolved from a Spanish secret society, the Garduña, founded in 1417. The Camorra, in their current form, apparently emerged during a chaotic power vacuum between 1799 and 1815, when the Parthenopean Republic was proclaimed, following the French Revolution and the Bourbon Restoration. It was first mentioned officially in 1820, when police records note what was supposedly a 'disciplinary meeting' of the group. They grew into something more organised than the disparate gangs of their birth, and following the defeat of the 1848 revolution, the liberal politicians asked the Camorra, who were recognised as leaders of the poor, to help them to overthrow the monarchy. The head of the police, Liborio Romano, asked the man leading the Camorra, Salvatore De Crescenzo, to help keep order, appointing him as head of the municipal guard and turning the Camorra into power brokers. It was like President Herbert Hoover responding to the St. Valentine's Day Massacre by appointing Al Capone as head of the FBI. There is always a price to pay for outright stupidity by politicians.
The 'Ndrangueta is another Mafia-type organised crime organisation, every bit as dangerous and deadly as Italy's other contenders. It's a strange word and it is pronounced with the first 'n' almost silent and the emphasis on the 'dran' part. The word comes from Greek and means 'heroism' or 'virtue'. The 'Ndrangueta lack both. In fact, it's hard to think of a less appropriate name. The organisation was already known about by the late 18th century, although it grew to prominence in its Calabria home region during the 19th century, mainly through the amount of the crime its adherents committed and the number of innocent people they murdered. They remain extremely active: in 2010 a US diplomat estimated that their turnover from drugs trafficking, extortion and money laundering accounted for at least 3% of Italy's GDP that year. That's almost exactly the same as Fiat's share of the country's GDP that year (3.09%). Whoever said crime doesn't pay? However, I'm very glad Fiat continues to produce rather good vehicles, rather than getting into the drugs, money laundering and murder business. I have very fond memories of a little blue Fiat 500 I had in the 1960s.
The 'Ndrangueta, however, has not got better. Since the 1950s in particular, it has expanded its activities and in a 2013 threat assessment of Italian organised crime for Europol and Italy's Guardia Finanza, the "Ndrangheta is one of the most powerful and dangerous organized crime groups in the world." According to the Demoskopika Research Institute, they made €53-billion in 2013. According to the Quartz website, the 'Ndrangueta, if it was a legitimate company, would be the fifth largest in Italy. The only firms that can boast a bigger turnover are Eni (a multinational oil and gas company), EXOR (a holding company owned by the Agnelli family that has fingers in a great many pies and whose recorded revenues of $144-billion, which is €122.59-billion, make it the 28th largest group in the world in revenue terms), Enel (a multinational energy provider) and Generali (a giant insurance company). If the 'Ndrangueta's home region of Calabria was a country, its annual sales volume would rank it, in terms of GDP, just below Sri Lanka and above Luxembourg. Incidentally, EXOR also owns the Juventus FC football team, Ferrari and The Economist magazine. I met and interviewed Gianni Agnelli once in Brussels many years ago and I liked him. Unlike some industrial giants I could name he wasn't too full of himself and his own importance to talk to me. Bill Gates was equally modest.
But all is not well for the 'Ndrangueta right now. In a bunker-style courthouse in Messina, 97 members of the gang are on trial, accused of defrauding the EU out of millions of euros, including a share of the €55-billion the EU pays out every year in farm subsidies. It has always been the EU's weakness: it doles out cash where it is needed but the pots are large, the supervision sometimes weak and wherever there is a large bowl of honey it won't be just the bees who come along to enjoy it but also the swarms of flies and wasps. The 'Ndrangueta count as wasps because they sting. But it was not an armed robbery this time. The gang used white-collar accountants, politicians and government employees to help themselves to at least €10-million from the subsidy. Some 90 lawyers are involved in the trial and up to a thousand witnesses may be called. On the Politico website, the start of the trial was reported rather dramatically: " 'A colossal fraud,' the investigating judge proclaimed in a pre-trial charge sheet, 'exploiting the EU funding on a huge scale and to perfection.' It was, the document declared, 'a devastating phenomenon. A mafia ready to take on Europe using illegal methods, and an [Italian] state that is already behind and playing in defence.'"  In the past, fraud against EU funding has been seen as a minor crime in Italy and largely ignored. A concerted attempt by a criminal gang, however, runs up against Italy's anti-Mafia laws; some defendants could face up to 25 years in prison.
The trial will not be an easy experience for the witnesses either, given the 'Ndrangueta's reputation for violent revenge. As Politico reports, Piera Aiello, who married into the gang before turning state witness, remarked to Politico on the intimidating prospects of facing the accused as they are held in cages in the court room.
Informers know that their testimony may bring death to their doors. "It is one thing to go against one mafioso," she told Politico, "but to go against 100? It is such a hard moment to look into their eyes and point the finger at the mafia. Your heart tremors."
The irony is that, given their enormous organisational skills, it's possible that the 'Ndrangueta could make as much money from legitimate businesses, without all the murder and mayhem. They choose otherwise.
Which brings us to the third crime gang, Sicily's Cosa Nostra, active not only in Europe but in the United States, too. They used 500 kilos of explosive to kill the anti-mafia magistrate Giovanni Falcone. A few weeks later, they murdered Falcone's colleague, Paolo Borsellino.
On each occasion, they murdered those accompanying them, too. It's said that Cosa Nostra's leaders celebrated with champagne but it had been not only a cruel and brutal thing to do. It was also suicidal for a gang convinced – wrongly – of its invincibility.
They had declared war against the state and the state responded by putting armed soldiers on the street. In 2009, an anti-Mafia MEP was elected to the European Parliament. Rosario Crocetta had to be guarded at all times and had police protection even while I was interviewing him on the footbridge known as the Passerelle inside the Parliament's Brussels headquarters.
He persuaded his fellow MEPs to create a special committee, the Organised Crime Committee, or CRIM, to use its official nickname. According to the Parliament's press office, it's estimated that organised crime costs the EU economy billions of euros annually. But despite efforts by the courts and the police, less than 1% of the proceeds of human trafficking, counterfeiting and money laundering is ever recovered, with criminal gangs adopting increasingly sophisticated methods and Europe's open borders allowing for the easy movement of goods and people.
CELLULOID MISPRISION
However, the massive operation against the gang, led by the Italian Special Operation Department (ROS Caltanissetta) and co-ordinated by Europol, has led to the arrest of 46 members of Cosa Nostra. The suspects are accused of drug trafficking, firearms offences, extortion and corruption in public tenders. In the action, police searched 60 properties and seized €1.5-million in cash. One suspect arrested in Germany was taking advantage of his residence in another country to reorganise the gang's assets in Sicily and the drug trafficking routes. Many of those, of course, come through Spain, with the Cosa Nostra's American affiliates involved on the other side of the Atlantic. The activities of the Italian mob in the United States have been glamorised in a number of Hollywood movies, such as The Godfather in 1972 and its sequels. There is nothing glamorous about their murderous activities in reality, however. Even so, the notion of becoming a gangster can appeal, especially to young men who want the money it can bring and the chance to carry a firearm. It's a sort of grown-up way of playing cowboys with real guns.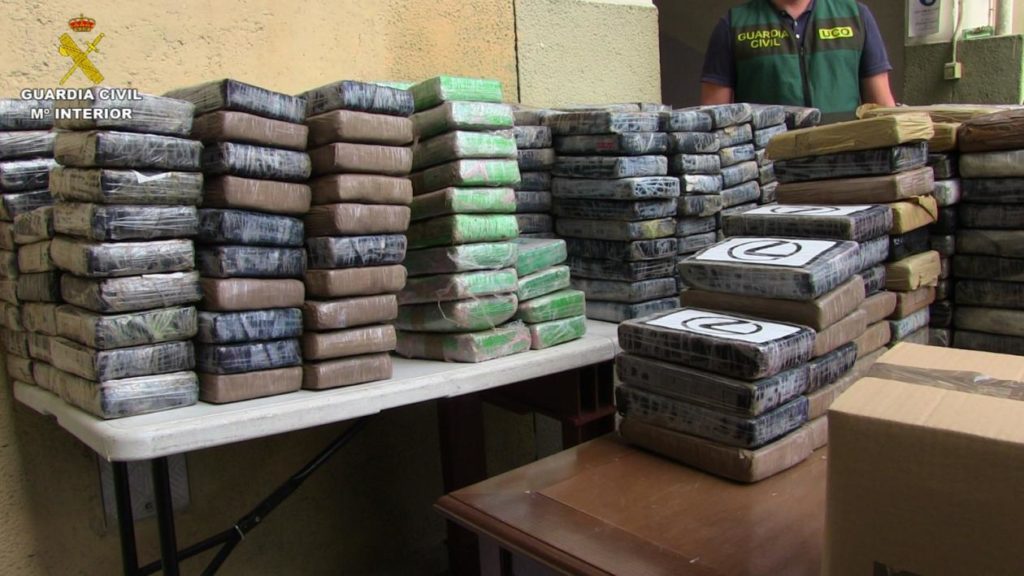 There was a vast migration of poor Italians to the US and it was in the impoverished areas where they gathered that Italian gangsterism thrived. Now, they remain highly active and, according to the FBI, very hard to eradicate. "Transnational organized crime (TOC) groups are self-perpetuating associations of individuals who operate, wholly or in part, by illegal means and irrespective of geography," says the FBI website. "They constantly seek to obtain power, influence, and monetary gains. There is no single structure under which TOC groups function—they vary from hierarchies to clans, networks, and cells, and may evolve into other structures. These groups are typically insular and protect their activities through corruption, violence, international commerce, complex communication mechanisms, and an organizational structure exploiting national boundaries."
Rather like the SARS-CoV-2 virus that has been plaguing the world, for the various Mafia gangs there is no easy cure; the virus can mutate very quickly, just as the gangsters can rearrange their operations to suit changed circumstances. The Spanish newspaper El País recently reported on how the drugs trade is developing. "Drug trafficking in Spain is evolving rapidly. While recently released 2020 data lists the seizure in 2019 of a staggering 1.5 million marijuana plants, almost 38 tons of cocaine and nearly 350 tons of hashish along with 20,437 arrests (that's an increase of 12.3%), drug traffickers are becoming masters at adapting to new circumstances, including those of the pandemic." El País quotes the narcotics prosecutor José Ramón Noreña, who has spent 14 years dealing with drug crime, "this is an area that has no boundaries and is only going to grow, not just in Spain but across the world, and the solution, if there is one, is complex."
It also quotes a Guardia Civil police chief who has been involved in the fight against gangsterism. "The system is as follows," he says, "due to its geographical position, Spain is a receiver – hashish from Morocco and cocaine from Latin America – and it's also a big marijuana producer. It has perfect, fluid distribution channels, mainly road transportation, with trucks carrying all kinds of fruit and vegetables across Europe." It's easy to hide narcotics, of course, in a truckload of melons. "We can dismantle stronger or weaker groups," the paper quotes a senior police chief of Spain's National Police Drugs and Organised Crime unit as saying, "but others will come behind and they will also try to impose themselves and fill the vacuum, as can be seen with the violent clashes between rival organizations on the Costa del Sol. The only thing we can do is prevent this system from replacing and competing with the state itself, as happens in some countries, such as Mexico."
Meanwhile, rival gangs on the Costa del Sol have been trying to resolve their differences with guns. In 2020 in the Málaga province, one gang tried to kidnap the son of a rival gang leader. They failed but shot him in the arm and leg as a warning anyway. In another incident in Marbella, a group of British men, supposedly out for a friendly drink, got into a bar fight in which one shot another in the face.
The gunman had a police record for trafficking marijuana. The victim survived, but between 2018 and the start of this year inter-gang feuding in the area had cost 20 lives. The use of explosive devices and machine guns have been recorded. Málaga has proved exceptionally attractive to the big-time drug traffickers. Firstly, it offers sunshine and luxurious accommodation that appeals to gangsters, just as it does to other people. What's more, it is an easy journey from Morocco, where much of the marijuana is grown while its climate makes it suitable for growing Cannabis, too. And, of course, it is on Spain's Atlantic coast, where shipments of cocaine arrive from South America. It's an ideal location, as El País notes: "there are groups whose field of expertise is smuggling drugs ashore; others are adept at car theft, and yet others at fuelling the speedboats used to carry the goods. There is also dedicated storage space for keeping drugs, and a wide selection of hitmen who can get rid of problems for a fee." One police officer explained that "these people solve everything with guns."
KILLING THE MONSTER
The Spanish interior Ministry estimates that there are some 100 criminal gangs operating along the coast; more than twice the number that were there in 2013. The gangsterism blighting Spain is not going away. Local people say they feel safe, although they are clearly not. Back in 2004, a clumsy attempt to eliminate a member of a rival gang resulted in the fatal shooting at a hair salon of a 7-year-old child and a 36-year-old man. The killers had missed their target and left fifty spent shell cases on the floor of the salon. The police say that hitmen are normally very professional, which clearly wasn't the case here: "They come, they shoot, they get their victim and they disappear," one veteran officer told the paper. To fire so many rounds and yet miss their target whilst accidentally killing a child smacks of rank amateurism and carelessness. Even Jesse James never did anything so unprofessional. The cause of the feuds remains a mystery. The Police have tried to find out the reasons but, just like the Italian gangs, those caught observe the principle of Omertà. No-one will speak, even about their rivals. Nor are all the gangs linked to Italy. Baltic gangs are also committing murder on the Costa del Sol. Last year, one man was shot by a hitman using an Uzi sub-machine gun. Milos Perunic had been living under a false identity and his killer escaped on a motorcycle. His killing was an act of revenge in a turf war between two rival Montenegrin gangs. Three people have been arrested for the hit. The Uzi, designed in Israel in 1948 and named after its designer, Uziel Gal, is a reliable weapon and when using 9mm ammunition, has a low recoil.
Many, though, are in other calibres, such as .41, and the recoil when used in rapid-fire mode can affect the accuracy, as the hair salon incident proved. One regular user noted that "they should not be used by newbies". But in the streets of the Costa del Sol, they should not be used at all. Even in the gun-loving United States, civilian manufacture of the Uzi as well as the sale and the possession of select-fire Uzis produced after 1986, is prohibited.
The tentacles of the Mafia along that desirable stretch of coast seem to be getting longer. In fact, the gangs are more like the hydra of Greek mythology. According to those stories, it had a hundred heads (although only 50, in some accounts). My 1827 edition of Lemprière's Classical Dictionary explains that "as soon as one of these heads was cut off, two immediately grew up if the wound was not stopped by fire". And indeed, that was how Hercules, aided by Iolaus with a hot iron, destroyed the monster as one of his ten labours. Sadly, we no longer have a Hercules to call upon, although we may need one to defeat such a dangerous, deadly and multi-headed foe.