The French national rail company SNCF is taking a lead in adopting Galileo technology to boost customer services, in particular in its high-speed TGV network. With almost 50% of TGV trains already equipped with Galileo receivers, European GNSS is enabling improved customer information and traffic management. GNSS is a crucial technology for the digitalisation of infrastructure and autonomous train developments thanks to accurate and safe localisation of trains. Solutions are currently developed through partnerships between space and railway sectors.
Satellite positioning and geolocation technologies, like Galileo, are among the main technology building blocks that can precisely and safely locate trains and contribute to the future evolution of the European Rail Traffic Management System (ERTMS). Implementation of the ERTMS aims to harmonise signalling systems across Europe and European GNSS can help to reduce its costs.
French national rail company SNCF is already embracing GNSS-based systems, in particular for passenger information, and fleet and traffic management. "At the beginning of 2019, some 250 high-speed trains were already equipped with Galileo-ready receivers. This represents nearly 50% of SNCF's TGV fleet. Some 320 trains are expected to be Galileo-ready by the end of 2019" said Antoine Barre, Head of Train localisation projects from SNCF.
70 million passengers to benefit
The aim is to deliver Galileo-enabled services along the entire train journey and customer experience. During 2019, more than 70 million passengers will benefit from the improved accuracy and positioning availability delivered to French TGV trains by Galileo. SNCF aims to equip its entire train fleet with Galileo receivers to assist non-safety relevant train localisation and also plans to further investigate the future contribution of European GNSS within ERTMS. "Having Galileo on the iconic TGV trains is a major milestone for us, confirming that European GNSS is delivering a clear value added to one of the main EU Railway undertakings. It is also good to see that SNCF is further progressing towards GNSS adoption on the regional fleet on the basis of the GSA position paper delivered earlier to the Community of European Railways (CER), explaining the benefits of Galileo for such applications" comments Daniel Lopour, Market Development officer from GSA.
Currently, signalling is enabled by equipment installed along rail tracks that requires regular inspection and maintenance. Accurate and reliable geolocation using GNSS will enable rail networks to reduce the cost related to the infrastructure. Receivers installed in the train and connected via wireless networks should considerably reduce the costs of operation, maintenance and renewal of the network.
SNCF has identified three main themes of work for future rail technologies: geolocation, telecommunication and the use of satellite images for infrastructure monitoring.
Technology forward
Speaking at the recent Space for Innovation in Rail event in Vienna Corinne Talotte, Director of Innovative Technologies at SNCF, described SNCF's Technology Forward programme that is looking to build the 'Railway for the Future' – a railway that is "autonomous, connected, and zero emission".
This spirit of innovation at SNCF aims to accelerate the implementation of new technologies. "First, this involves keeping an open mind on innovation and learning from other transport sectors," says Talotte. "And our second important principle is to move to demonstrate innovative technologies as soon as possible in real operational situations to prepare the future deployment of innovations."
Highly precise geolocation is a key element to enable autonomy in all modes of transport and future mobility systems. For trains, autonomous operation can increase the density of trains operating in the network while at the same time improving safety and reliability of customer services.
"We need to know accurately the position, velocity and attitude in real time to enable autonomous train systems," explains Talotte. "We are developing a multi-sensor system for localisation based on GNSS but combined with other inertial sensors. This hybrid approach is inspired by the approach already adopted in the aviation sector. SNCF is undertaking a number of demonstrations with several partners, including the ERTMS user group and the Shift2Rail Joint Undertaking."
Hybrid architecture
At the Space for Innovation in Rail event Corinne Talotte said that SNCF was working on the remote operation of trains for use cases like shunting yards and the development of fully autonomous train prototypes.
The hybrid architecture makes it possible to take advantage of the benefits offered by both technologies: the GNSS corrects the natural drift of the inertial unit, and when the GNSS is not available, for example in tunnels or in dense urban environments, the inertial unit can take over to ensure continuity of location data. The inertial unit also protects the system from any possible disturbances in the GNSS signal, such as jamming or spoofing, as well as environmental factors.
The use of autonomous trains with innovative network control systems should enable SNCF to increase throughput on its lines. The objective is to carry more people and more goods, with greater regularity, improved energy efficiency and better economic performance, while ensuring continuing high levels of safety.
SNCF believes that the autonomous train is no longer science fiction, but the immediate future. A first prototype remote-controlled freight train should be tested during 2019, and the first prototypes of freight and passenger trains with autonomous driving capability are predicted from 2023, with gradual implementation. (source : European GNSS Agency)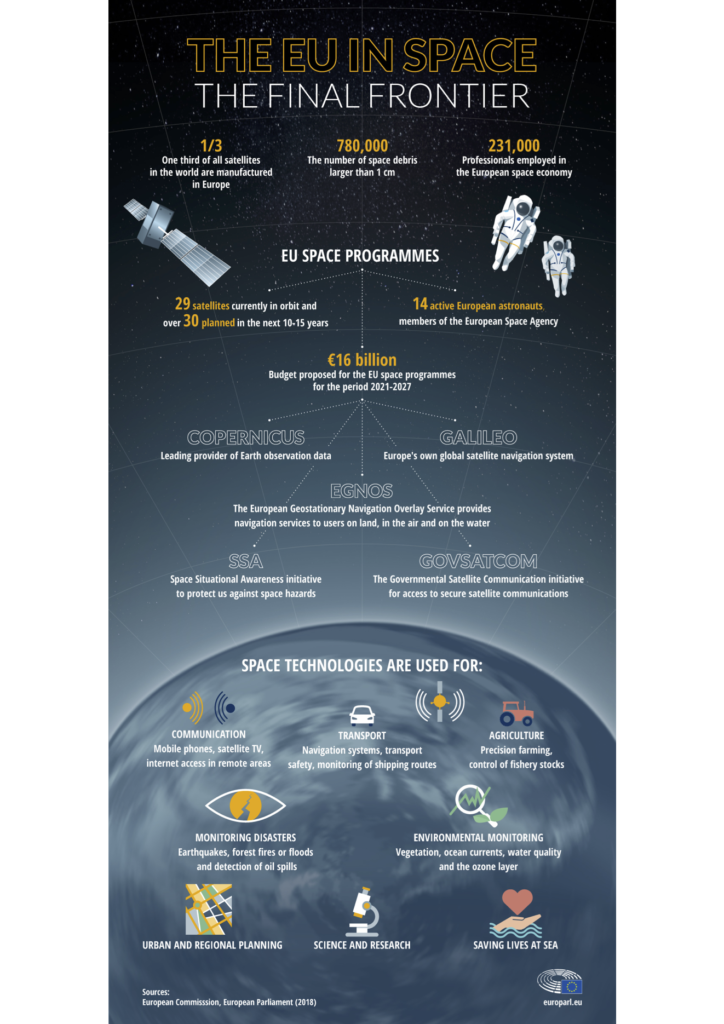 The second Galileo satellite EDRS-C successfully launched
The second satellite to join the constellation that forms the European Data Relay System (EDRS) was launched by Arianespace on 06 August, 21:30 CEST (19:30 UTC). The satellite was launched on board an Ariane 5, together with a second passenger, Intelsat 39, from Europe's Spaceport in Kourou, French Guiana.
EDRS enables people to observe Earth almost live, accelerating responses to emergency situations and spurring the development of new services and products, to create jobs and increase prosperity.
EDRS – dubbed the 'SpaceDataHighway' by its private operator, Airbus – uses innovative laser technology to dramatically cut the time needed for Earth observation satellites, to deliver information to the ground.
The latest satellite, called EDRS-C, will operate in geostationary orbit, at 31 degrees East longitude. It will join its sister EDRS-A, launched in January 2016. The satellites can transmit data at a rate of up to 1.8 Gbit/s.
The geostationary position, higher than typical low-Earth orbiting observation satellites, will enable the constellation to maintain an almost constant connection with the low-Earth orbiting satellites that could otherwise only transmit their information when in direct line-of-sight with their ground stations, which introduces delays of up to 90 minutes.
The EDRS satellites can then beam the information back to Earth in almost real time. Since the end of 2016, EDRS has, on a daily basis, been transmitting images of Earth acquired by the Copernicus programme's four Sentinel observation satellites. It is also due to relay information from the International Space Station once a new antenna is installed on the outside of Europe's Columbus laboratory.
The EDRS-C satellite has been manufactured by OHB System AG based on a SmallGEO Platform. EDRS-C also hosts a Ka-band payload called HYLAS 3, which is designed to provide satellite communications services over Africa and the Middle-East. HYLAS 3 is owned by Avanti Communications.
EDRS is a new, independent European satellite system, and is a public–private partnership between ESA and Airbus as part of ESA's efforts to federate industry around large-scale programmes, stimulating technology developments to achieve economic benefits.
GALILEO
Galileo is Europe's programme for a global navigation satellite system, providing a highly accurate, guaranteed global positioning service, interoperable with the US GPS and Russian Glonass systems. Galileo's modern and efficient design will increase Europe's technological independence, and help to set international standards for Global Navigation Satellite Systems (GNSS). Galileo is developed in collaboration between the European Union and the European Space Agency (ESA).The completeGalileo constellation will consist of 24 satellites plus spares. With the satellites taking about 14 hours to orbit Earth at altitudes of 23 222 km, there will always be at least four satellites visible anywhere in the world. The satellites will be positioned on three orbital planes at an angle of 56 degrees to the equator, which will provide coverage right up to the polar regions.Galileo also depends on an extensive ground infrastructure, which will have to make sure that time and positioning data are extremely accurate –a single second's clock error means apositioning error up to a range of 300 000 km. This ground infrastructure includes sensor stations worldwide, two control centres, Mission Uplink stations, and Telemetry, Tracking and Command (TT&C) stations
Click below to read September's edition of Europe Diplomatic Magazine