Nastia Mitrofanova and Masha Senchuk were held against their will in occupied territory © Slidstvo.Info
Two girls from occupied Kherson were taken far from home and held in prison-like conditions for months – until journalists helped them escape. Hundreds or perhaps thousands more Ukrainian children are still in Russian hands.
"Well, some other girls and I didn't stand up for the anthem. So they held us there and started calling us names." The 17-year-old from the Ukrainian city of Kherson describes what was initially supposed to be nothing more than a holiday arranged by the Russian authorities: a two-week trip from her then occupied hometown to a resort in Crimea.
But what she and her best friend thought would be a sunny break from the dreariness of wartime life turned into a months-long ordeal after they were held against their will, pressured into accepting Russian citizenship and housed in deplorable conditions under the strict supervision of Russian wardens.
Journalists from the Organized Crime and Corruption Reporting Project's (OCCRP) Ukrainian member centre, Slidstvo.Info, contacted the two Ukrainian girls last autumn after learning of their plight through their posts on social media. They communicated in secret and reported that they were being held as virtual prisoners far from home after being tricked into going to Crimea.
They and hundreds of other Ukrainian children were pressured to give up their mother tongue and become Russian citizens. Over the weeks, the two friends reported verbal abuse and horrific threats as they took photos and videos of their spartan living conditions.
The pressure seemed to increase day by day, and the journalists knew that publishing the material they had received could put the girls in grave danger. As they received little help from the Ukrainian authorities, they decided to help Nastia and Masha escape from the Russians and return to Ukraine.
On 17 March, the International Criminal Court issued an arrest warrant for Russian President Vladimir Putin and Maria Lvova-Belova, his representative for children's rights. They are accused of being personally responsible for the mass illegal deportation of Ukrainian children to Russian-controlled areas, which is a war crime under international law.
The Ukrainian government states that several hundred thousand children have been deported to Russia and that over 19,000 specific cases have been identified.
Only a few hundred have made it back home, says Daria Gerasymchuk, the Ukrainian president's commissioner for children's rights.
"Behind each of these numbers is the fate of a rescued child," she says. "And behind each of these numbers is the fate of a rescued child," she says. "And a complex operation specifically designed to bring the children home."
Before Russia invaded Ukraine in February 2022, Nastia and Masha were studying culinary arts in Kherson, a thriving port city of nearly 300,000 people.
But Kherson was occupied in the first days of the war as the Russian army swept through the region, and any prospect of staying in school was quickly gone. In the first months of the occupation, the Russians tore down Ukrainian symbols, hung Russian flags and installed a puppet administration. Some educational institutions fled the city; those that remained were confiscated and subjugated.
After six months, however, Masha applied to study at a university in Kherson that had been taken over by the Russians. Although there were no classes, she was rewarded with an offer of a free beach holiday in Crimea.
Although the girls lived only a few hours' drive from the peninsula, once a popular summer holiday destination for Ukrainians, they had never been there. Russia had conquered Crimea in 2014 when they were 7 and 8 years old.
"I told Nastia we could go together," says Masha. "She also signed up quickly and we went."
Masha and Nastia say they left without their parents' consent and that teachers "helped" them with the permit paperwork. In Masha's case, they accepted a document signed by her cousin, even though it should have been filled out by her parents. In Nastya's case, she says, a woman signed in place of her mother and gave her age as 17 instead of 18 because the Crimean resort wouldn't accept a person of legal age.
"We were told we were going there for a fortnight, just kids on holiday," Nastia says. "We thought, 'Oh, great, we'll see Crimea and have a rest'."
On 8 October 2022, Nastia and Masha embarked on their journey. Along with hundreds of other children, they were taken in more than a dozen buses to resorts in Crimea. The two friends ended up in a resort called Zdravnytsia in the town of Evpatoriya.
There, their "re-education" began: Russian hymns, Russian lessons, Russian rules.
Still, Nastia recalls, those first days weren't so bad. "On the whole, it was more or less normal," she says, "if we had really been there for a fortnight and been brought back."
But as the deadline approached, the girls realised they'd not be taken home. When they asked the director of the resort if they could return to Kherson, he said no.
He justified this by saying that the return journey was uncertain; the Russian position in the region had become precarious under Ukrainian fire.
Then, on 11 November – over a month after Masha and Nastia arrived in Crimea – the Ukrainian army liberated their home town. The children of Kherson rejoiced at the news, Nastia recalls, and one girl ran through the corridors shouting, "Kherson is free! Glory to Ukraine!" But they also realised that the news meant they'd probably never go home again.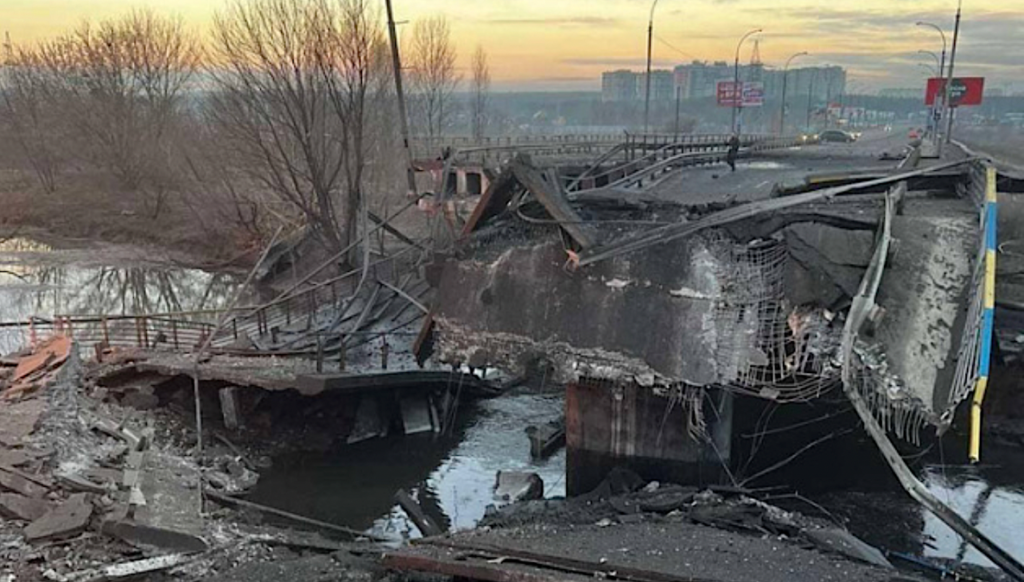 "The occupying state knew what it was doing," says Kateryna Rashevska, a lawyer with the Ukrainian human rights organisation Regional Centre for Human Rights. "The girls were misled … They were informed that [their trip] would be to Crimea for a certain period of time for a holiday. In reality, these are aspects of child abduction."
In late December, Masha and Nastia were suddenly taken to a nearby Russian-occupied Ukrainian town, Henichesk, and placed in a local school.
"They took us to a dormitory and gave us the most horrible room," Masha says. "We went in and I started crying. It was very cold."
At this point, Slidstvo.Info journalists found the girls through their posts on social media. At the reporters' request, they filmed their meagre living conditions. It was the height of the freezing Ukrainian winter, but the rooms were not heated, they said, and the administrators refused their requests for more blankets and electric heaters.
"Nastia and I slept in the same bed to keep warm," Masha recalls. In the showers, which were shared by the whole floor, there was hot water only once a day for fifteen minutes at a time.
"We were under special scrutiny there, they checked us often," says Nastia. "The 'normal kids' [local students] were allowed to go for a walk, but when we went out, for example, they asked us where we were going. I'd say, "to the shop." And they'd ask, "why?".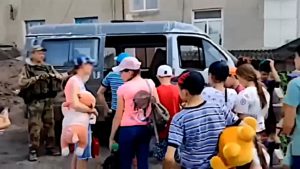 Although the two girls prefer to speak Syrzhik, a mixture of Russian and Ukrainian, they were forced to switch to Russian.
"At school we were forced to write in Russian. I understood what they were saying, but I still wrote in Ukrainian. I do not know how to write in Russian. I thought if I learned Russian, I would get used to writing in Ukrainian."
"We did not want to study at this university at all," adds Masha.
Once, Nastia recounts, a man said to her, "Let me give you a Russian book and you'll learn it little by little."
"I said, 'No, thank you,'" she recalls. "'I am going back to Ukraine.' Then he started saying something about naivety. They tried to convince me that I was either going to Russia or nowhere."
The girls report that the school administration told all Ukrainian children to apply for Russian passports because they would have exams in the summer that they would not be able to pass without Russian documents.
The Ukrainian authorities consider such treatment a sign of genocide – an attempt to wipe out an entire people and their culture. Gerasymchuk, the children's rights commissioner, says that when the government interviewed children who had managed to return to Ukraine, they told how they had been completely cut off from their families and pushed to assimilate.
"The Russians immediately confiscated mobile phones from almost all the children who were taken away. Which means that they did everything to prevent the children from reuniting with their families," she says.
"The Russians are forcing Ukrainian children to learn Russian language, culture and history, to love Putin and thank him for saving them. By placing the children in the care of Russian citizens, they 'devalue' them as much as possible and erase their identity as part of the Ukrainian nation. They want to raise fighters who will then take action against Ukraine."
Masha and Nastia's situation became increasingly tense. Their treatment was getting worse: one day they begged a journalist to "get them out by Monday"
"We were told that on Monday people from the [Russian] military command would come," Nastia told reporters.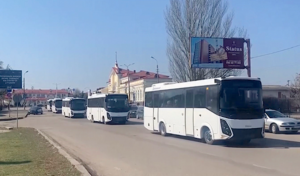 The soldiers were known for their aggression against children who shouted Ukrainian patriotic slogans, she said, and threatened to "sew their mouths shut with black thread" She heard that two boys had been taken to a so- called "pit"
Desperate to free the girls, the journalists contacted several hotlines, including the Ministry of Reintegration, the Ukrainian Ombudsman for Human Rights and an NGO called Save Ukraine. None wanted to take responsibility for the abduction of minors without the official permission of their parents.
Masha's mother definitely did not want her to return to Ukraine and urged her to get a Russian passport and stay in the occupied territories. Her father – to whom Masha wanted to return – did not support the Russians, but was afraid that she would be injured or killed if she tried to escape.
The reporters decided that the only option was to organise the girls' escape themselves. Nastia and Masha used a weekend holiday to visit one of their mothers and left the hostel.
But although the university administration expected them back on Monday, the girls were already on their way home.
The details of the journey cannot be revealed here for fear that other Ukrainian children may not have the same means of escape. But their journey towards Ukraine first took Nastia and Masha much deeper into Russia. Using a series of buses and private cars organised by reporters, the girls travelled detours through several countries for four days – even though their home town was only 200 kilometres from the starting point.
In order to pass through a series of borders and checkpoints, they invented the story that they were going to attend a wedding in St. Petersburg. They entered a reporter into their phone as "Aunt Yuliya" and communicated with her as if she were a relative.
The reporters knew that once the girls went missing, the Russian authorities could issue a search warrant for them. If the message reached the border authorities in time, the girls could be prevented from leaving the country when their passports were checked.
Whenever they could, the girls kept the reporters informed of their progress, although there was a frightening time when they could not be reached.
The worst, they say, was the last Russian border crossing before entering the European Union.
"We stood outside for five hours, our documents were checked several times. It was snowing heavily and it was very cold," Nastia recalls. They were particularly worried about Masha, who could be refused entry because she is a minor.
"I went up first, Nastia was behind me," says Masha. "I gave the border guard my papers. He called somewhere and asked if I could pass. They said yes, he stamped the papers and gave them back."
Finally, after 11 months under Russian occupation, the girls were back in Kiev. They were amazed when they heard Ukrainian spoken on the streets and prices in shops were in hryvnias instead of roubles.
Nastya stayed in the Ukrainian capital while journalists took Masha, the younger girl, back to her father Vitaliy, who now lives in a small town in central Ukraine.
"I did not know Masha had left," said Vitaliy, "if I had known, I would not have let her go."
He also said that he had spoken on the phone to one of his daughter's teachers at the school in Henichesk.
The teacher complained that Masha had dropped out of her studies. I told her: "She is studying in Kherson. She studied and is still studying," Vitaliy recalls. She said, "Let us not go into politics".
"They kill our children, pregnant women, and say, let us not talk about politics".
Anna Babinets and Yuliya Khymeryk (Slidstvo.Info) – Translation OCCRP
Watch Slidstvo.info's documentary about Masha and Nastia, "Escape from the Russians." With reporting by Yanina Korniienko.