The war in Ukraine has upended the lives of children and their families for almost a year © UNICEF/Aleksey Filippov
"He alone who owns the youth, gains the future," wrote Adolf Hitler. He's hardly a rôle model I would choose, but it seems as if that's what Russian leader Vladimir Putin is doing, aping a man he claims to hate. Hitler's comment is based on a famous quote from the Greek philosopher Aristotle, who said: "Give me a child till he's seven, and I will show you the man," a saying that was repeated and re-used by St. Ignatius of Loyola, the 16th century Spanish priest and theologian. I can't see Putin wanting to be closely associated with either a Roman Catholic saint or with the founder of the Nazi movement, which he claims to despise, but the evidence is there for all to see. Whatever excuses Putin may offer, about giving orphans from Ukrainian lands that are now occupied by Russian soldiers, a bright new future in "Mother" Russia, the world knows it to be a lie. I suspect quite a few Russian parents will also find it highly suspicious. One 12-year-old whose mother was taken away from him by Russian soldiers after they were captured together, told how he only escaped enforced "adoption" into a Russian family by remembering his grandmother's telephone number and calling on her to save him. Russian welfare officials tried to dissuade her by saying she would have to take the child through an area of heavy fighting, while they could easily put him into a Russian orphanage or find a Russian family to adopt him. The grandmother declined their preferred alternatives and took the boy away. A brave lady indeed! Putin has signed into law a decree that makes it quick and easy for Russian families to adopt these stolen Ukrainian children while making their removal back to Ukraine a bureaucratic nightmare. The boy with the brave granny was lucky but hundreds of other Ukrainian children have been less fortunate. Strangely, Russia's Commissioner for Children Rights, Maria Lvova-Belova, is firmly behind Putin's policy of forcing the captured children to lose their Ukrainian identities and "teaching them to love Russia". It confirms her complicity in large-scale state-organised kidnapping. It is – and certainly should be – a war crime, in this case perpetrated by a leader who appears to have developed some mediaeval ideas about raising children. Hitler might have understood but I hope no other modern-day leader would. Putin's actions are of a type that would have been familiar only to Nazis. Heil Vlad?
After all, when Joseph Stalin was young, the seminar to which he was sent similarly tried to make him forget that he was a Georgian by teaching him in Russian, debating ecclesiastical points with him in Russian and generally making him more Russian. It didn't work, although he was fluent in several of the languages used in the Soviet Union. Awful though Stalin undoubtedly was, he was a confirmed respecter of nationality by place of birth and a Georgian he was very determined to stay. Putin, however, has other ideas and very sneaky ones at that, such as telling the children they're going on a school trip which ends up very much in Russia and a long way from the border. When I was at school on Tyneside in the Northeast of England, our school trips were to places such as Housesteads Roman fort and the Roman Wall, or to study nature in Kielder Forest. We never ran the risk of ending up in Vladivostok or, more likely, in Novosibirsk. We would have been very cross otherwise: I don't suppose they make good fish and chips there.
Russia's pressure on the parents of Ukrainian new-borns to register their babies as Russian extended as far as denying them free diapers and baby food if they didn't. It demonstrated the abject cruelty of Russian forces towards babies, children and parents. According to a report by Yale University, more than 6,000 children aged between four months and 17 years are now being held in 43 camps, where the Russian authorities are engaged in 're-education' of their young captives. And since they cannot get home they must be regarded as "captives". The Russians claim to have "evacuated" 738,000 Ukrainian children, according to Daria Herasymchuk, Ukraine's Commissioner for Children's Rights, but she also says it's not simply evacuation, since the children are not allowed to go home, nor to claim Ukrainian citizenship. Herasymchuk reckons the real number is considerably lower but still in the hundreds of thousands. Herasymchuk says there are various methods being employed, including the murder of parents and simple kidnapping. The shocking thing is that it would seem that Putin sees this as 'statecraft'. In areas occupied by Russian forces, any newborn has to be registered as "Russian". The Chief Doctor at Kherson City Clinical Hospital – the only working hospital in the immediate area – announced that all of Ukraine's newborn citizens are now Russian from birth.
|

Владимир, военный преступник (Vladimir the War Criminal)
According to UNICEF, the kidnapping of children counts as one of six recognised forms of war crimes involving children under United Nations rules. First on that list of infamous acts is the forced recruitment of children into the kidnapping country's armed forces. So far, that doesn't seem to be what's been happening in Ukraine. But there are ways to misuse children other than by forcing them to take up arms against their own people. Girls are especially vulnerable and can be used as sex objects by fighting men. Again, there is no evidence of this happening. According to the UN, however: "Their tasks can vary, from combatants to cooks, spies, messengers and even sex slaves. Moreover, the use of children for acts of terror, including as suicide bombers, has emerged as a phenomenon of modern warfare. Each year, the UN receives reports of children as young as 8 or 9 years old associated with armed groups." It's been reported that during Russia's illegal occupation of the Kherson region, in southern Ukraine, at least a thousand children were seized from schools and orphanages and, it's been claimed, transported to Crimea, the part of Ukraine illegally seized by Russia in 2014. It's possible, perhaps even probable, that the seized children were neither armed nor ordered to the front line, nor, for that matter, ordered to engage in sexual activities. The UN, however, lists several ways children can be misused: "No matter their rôle, children associated with parties to conflict are exposed to acute levels of violence – as witnesses, direct victims and as forced participants. Some are injured and have to live with disabilities for the rest of their lives."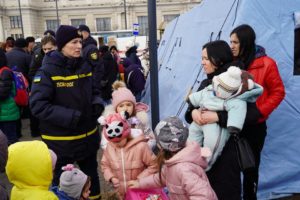 For its part (and, of course, as prompted by Putin), Russia has claimed that it has merely been moving vulnerable children from conflict zones to safer places on Russia's side of the frontier. The Russians have been trying to give thousands of Ukrainian children to Russian families for "foster care" or for adoption (the latter being more likely and more permanent), even if they neither want nor need such attention. Russia has repeatedly claimed that its activities are aimed at protecting the children from the continuing hostilities. Lvov-Belova has claimed that the children are being moved "for their own protection", while Russia's Foreign Ministry claims to be "searching" for any missing parents so that the children can return home. However, a Washington-based think tank, The Institute for the Study of War, claims that it's a deliberate depopulation campaign, with Ukrainian children being settled in distant parts of Russia under the guise of "medical rehabilitation schemes" or adoption programmes. In one case, children were taken from an orphanage in Kherson in a bus marked with the letter "Z", which appears to symbolise Russia's aggression. Why "Z"? That's a good question without a definite answer, it seems, but it could be short for Zek, a word representing an inmate of a Soviet-era prison or labour camp and therefore may be short for the full original word, Zaklyuchënnyi. Lvov-Belova has made the claim that some of these children were offered an opportunity to return to Ukraine but declined. This claim, of course, cannot be verified and seems, at least superficially, to be unlikely.
The war has certainly taken its toll of Ukraine's children, with more than 460 said to have been killed and almost a thousand wounded. The children's charity Save the Children has estimated that the average Ukrainian child has spent more than 900 hours in underground shelters over the past twelve months, while more than 1,500 schools have been damaged or destroyed, although Herasymchuk thinks the number is far higher. She says it's all part of Putin's "Russification" campaign (something Stalin hated as a boy).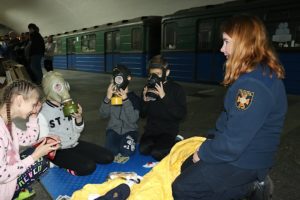 Herasymchuk says Russia uses five methods for its deliberate kidnapping programme. These include the simple murders of the child's parents, the forced long-term separation of child and parent, tricking the youngsters into believing their parents are dead, thinking they're being sent to sports facilities or health camps and straightforward kidnapping, especially from special schools, boarding schools and orphanages. This is rendered easier by the fact that Ukraine has the highest rate of the institutionalisation of children in Europe. More than 105,000 live in such conditions. According to Herasymchuk, some seven-and-a-half-million children have been directly affected by the war. She says it's part of Russia's policy: breaking the children psychologically because they represent Ukraine's future. The whole issue is now under investigation by Karim Khan, Chief Prosecutor for the International Criminal Court, who says the Russians have been boasting about their "humanitarian kindness" to the young Ukrainians.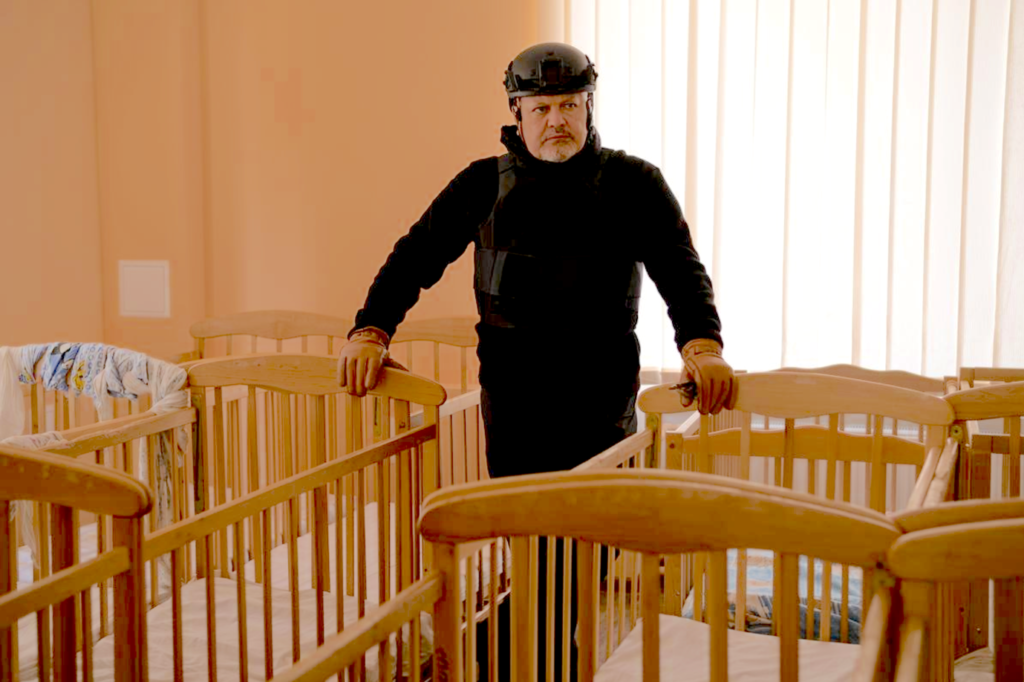 Needless to say, not everyone sees it in that way. The Russian government is operating a systematic network of at least 40 child custody centres for thousands of Ukrainian children, which could be classed as a potential war crime, according to a new report by Yale University researchers in a collaboration with the U.S. State Department in a program to hold Russia accountable. Under the title "Russia's Systematic Program for the Re-Education and Adoption of Ukrainian Children," the new report describes a system of holding facilities that stretch from the Black Sea coast to Siberia. "This is not one rogue camp, this is not one rogue mayor or governor," says Nathaniel Raymond, executive director of the Yale Humanitarian Research Lab. "It is a massive logistical undertaking that does not happen by accident." Even Wikipedia reports on the abductions. During the Russian invasion of 2022, it says, thousands of Ukrainian children were abducted, deported and even forcibly adopted by families in the Russian Federation. An investigation by the Associated Press confirmed that Russian forces forcibly resettled Ukrainian children without their consent or that of their parents. The Russians, it seems, lied to them that their parents had rejected them and used them for propaganda. They even set up summer camps for Ukrainian orphans and what they called "patriotic education", further "Russifying" them by giving them Russian citizenship and even false parents, aiming to erase their Ukrainian identity.
|

BOYS AND GIRLS, COME OUT TO PLAY (BUT OVER THE BORDER)
According to a report by Raoul Wallenberg Centre for Human Rights, based in Montreal, and also the New Lines Institute in Washington, there are "reasonable grounds to conclude" that Russia is in breach of two articles of the 1948 Genocide Convention, which includes the forcible transfer of Ukrainian children to Russia, itself an act of genocide under international law. Ukraine's President, Volodymyr Zelenskyy, speaking at the European Council summit, which he attended on-line, told delegates that the whereabouts of the children Russian forces seized are unknown and he also accused Russian forces of firing on humanitarian aid convoys and targeting women and children in evacuation corridors. India's Eastern Herald newspaper reports that: "Russia's responsibility for war crimes in Ukraine, as well as for unleashing a war of aggression itself, is increasingly at the centre of attention for the world community." Among the most serious violations of international law are the actions of the Russian authorities and military against children in the Ukrainian territories Russia has occupied. At the end of January, the United Nations High Commissioner for Refugees, Filippo Grandi, declared that Russia was violating the fundamental principles of the protection of children in wartime by issuing Russian passports to Ukrainian children and having them adopted by Russian families. "We are talking about children who were transported from Ukraine to Russia," he said, "Often against their will". There is a Ukrainian charity trying to reunite the kidnapped children with their birth parents, which Russia opposes. The charity, called "Save Ukraine" is run by the former ombudsman for children, Mykola Kuleba, who told journalists: "We are doing everything we can to get these kids back. What the Russians are doing is pure indoctrination." Getting to the camp where her daughter was being held (what a strange kind of "holiday" it turned out to be) involved a detour via Poland and Belarus because the direct routes were blocked by Russian troops. Even so, some of the reunions took place; the children had been warned that if their parents failed to turn up then they'd be sent to boarding schools or to adoption into Russian families, far from the frontier. There are many other stories of parents separated by Russia's policies, fearful they'll never get their children back.
These kidnappings were not new: there are reports of Russia snatching Ukrainian children almost since the war began. According to the United Nations, there have been credible reports of Russian forces sending Ukrainian youngsters for adoption in Russia as part of a large-scale forced relocation and deportation programme. Ilze Brands Kehris, the UN's assistant secretary-general for human rights, told a meeting of the UN Security Council in February that Russian forces are also running "filtration" operations in which Ukrainians in occupied territories face systematic security checks that have involved "numerous" human rights violations. Exactly what is not specified. The news outlet Al Jazeera reports that United States Ambassador Linda Thomas-Greenfield told a meeting that estimates from a variety of sources, including the Russian government, indicate that Russian authorities have interrogated, detained and forcibly deported between 900,000 and 1.6 million Ukrainians.
One 15-year-old wrote to his parents that after a pleasant couple of weeks he'd been moved to what amounts to a prison camp with no sheets on the bed, only the used clothes of old people to wear and he and his comrades were fed inedible food. They were also beaten if they failed to sing the Russian national anthem, while camp workers were forcing 13-year-old girls to have sex with them. The claim cannot, of course, be verified. The young prisoners were also told that their parents had fled Ukraine and would never come back for them. We must suppose that Russia expects (demands?) total obedience, so the opinions of the young people themselves don't matter.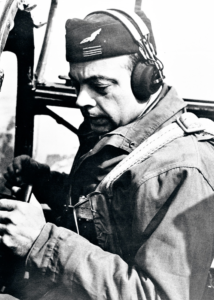 They should remember the words of the French novelist and pilot Antoine de Saint-Exupéry, who wrote: "Les grandes personnes ne comprennent jamais rien toutes seules, c'est fatigant, pour les enfants, de toujours et toujours leur donner des explications." ("Grown-ups never understand anything for themselves, and it is tiresome for children to be always and forever explaining things to them") I'm sure my grandson would agree but I don't know if Putin would listen; I suspect not but I could be wrong.
|

DO WHAT WE TELL YOU, OR ELSE!
According to Al Jazeera: "Filtration of Ukrainian adults allows Russia to identify Ukrainians it "deems insufficiently compliant" to Russian control, Thomas-Greenfield said. "And there is mounting and credible evidence that those considered threatening to Russian control because of perceived pro-Ukrainian leanings are 'disappeared' or further detained," she said. In his dystopian novel, 1984, George Orwell portrays children as being programmed to turn against their families (and ever-more towards 'the party'), just as children in today's society are brainwashed into falsely accusing a once-loved parent in Parental Alienation cases. Children in Orwell's famous book, 1984, are taught the party's ways when they are young and impressionable, according to the website Bartleby Research, enabling them to act as spies who will sever ties with family members 'for the betterment of the party'. In Orwell's book, every action of an individual is controlled by the state through the use of fear, thus restricting an individual from using their own intellect in order to make effective decisions. That is clearly what's happening in Ukraine. In Orwell's Oceania, the real villain of the piece is called Big Brother, the power figure nobody dare disbey. It begins to look as if Putin now sees himself in that rôle. Now Russia's commissioner for children's rights, Maria Lvova-Belovahas stated her support for the policy of stripping Ukrainian children of their Ukrainian identities to turn the children Russian. They tell Ukrainian relatives that the paperwork is a nightmare (Russia's choice to make it like that, of course) and that a child would be far safer if he or she is adopted in Russia itself. The policy would seem to be one of deliberate depopulation.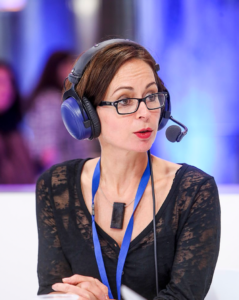 Now the European Commission, working in conjunction with Polish authorities, has launched a programme to trace the stolen children so that the process of getting them home can begin. Dana Spinant, a spokesperson of the European Commission, told a media briefing in Brussels: "It's been estimated that since the beginning of the full-scale invasion of Ukraine, the Russian forces have sent thousands of Ukrainian children to Russia. Kidnapping of Ukrainian children is a big social issue, a tragedy and a crime." That's why the Commission is working with Poland at finding and getting back the kidnapped children. "Our goal," she told journalists, "is to unite the forces in order to collect evidence, find the kidnapped children and prosecute those responsible for these crimes." Spinant's remarks were quoted by European Pravda. The whole process is clearly well planned and organised; the mind behind it is as clever as it is evil. The Russian troops apparently target children whose parents are known to have been killed or imprisoned, although in some cases they have promised parents that they are taking the youngsters for a break in a children's holiday camp.
|

THE PHONE-Y WAR
It's reported that the Russians take the children's mobile phones immediately, not only to prevent contact with their families but also so that the signal cannot reveal their locations. It's a very carefully planned act of criminality whose wickedness is hard to comprehend. Herasymchuk explained: "They collect phones from children right away and don't allow them to share their location. It's very difficult to find a child. The Russians are dispersing Ukrainian children across their territory and constantly moving them around," she said. It makes it very difficult to track them down. The Russians are dispersing Ukrainian children across their territory and constantly moving them around," she said. Obviously, Putin's motives are political; I'm not accusing him of paedophilia but he certainly seems strangely keen to get his hands on Ukraine's children. When all of Ukraine's children suddenly become Russian, he'll have got what he wants. It was President John F. Kennedy who said: ""Children are the world's most valuable resource and its best hope for the future." I suppose that must be Putin's motive.
It's hard to believe that the goal is simply depopulation. Could this be a form of long-term pressure being put on Ukraine to surrender: giving up the fight is the only way to get back their children? The UN is looking into the phenomenon and has expressed concern about Russia's theft of children, especially (but certainly not only) those who had been living in special state-run institutions. "In Bucha and Irpin, the Commission received information about arbitrary killing of civilians, destruction and looting of property, as well as attacks on civilian infrastructure, including schools," said the chair of the UN's Commission of Inquiry, Erik Mose. "In Kharkiv and the Sumy region, the Commission observed the destruction of large urban areas, allegedly as a consequence of aerial bombings, shelling, or missile strikes against civilian targets." How Putin can justify these sorts of acts is hard to see, except that he appears to believe he and his immediate lieutenants are not responsible for their criminal activities.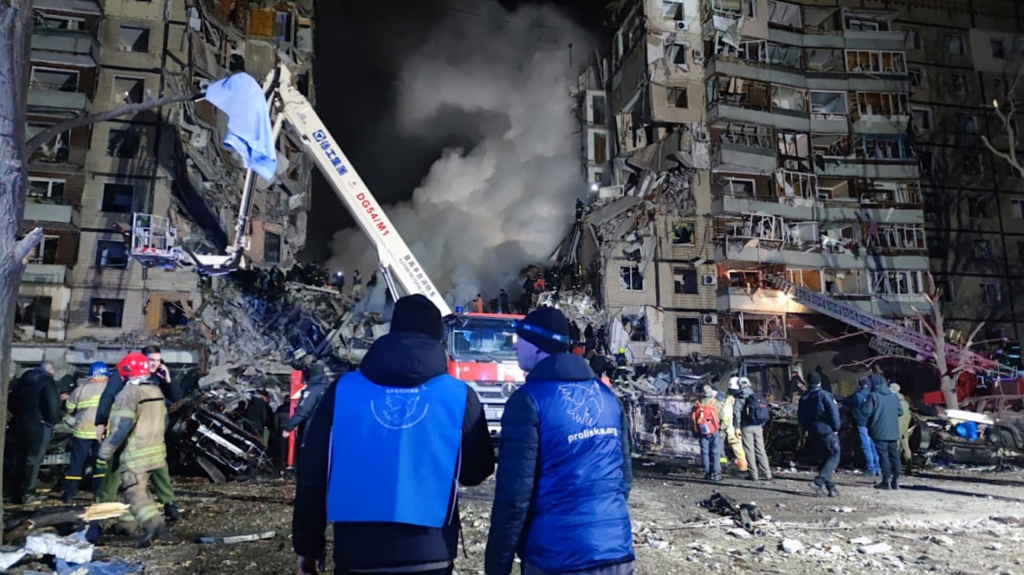 It's clear that the war in Ukraine, with Russia trying to take over the country at any price, is far from over. It seems unlikely that Putin will be persuaded not to keep bombing and shelling civilian areas. He wants to add the territory of Ukraine to his own and to rule both, it seems. It also seems virtually certain that his ambitions will not end there. Putin's ambitions are keeping NATO leaders on their toes. The alliance has dispatched four battle groups of battalion size to guard its eastern flank: one in Poland and one in each of the Baltic republics: Latvia, Lithuania and Estonia, all of which may be under threat. Meanwhile, the United States has restored heavily-armed units to western Europe, to ensure that the same sort of fate as befell Crimea is not repeated. We may all have hoped that Europe had seen the last of continent-wide war, but it seems that's not what Putin wants. For much of the West – and for the United Nations – getting back the kidnapped children is a priority, however Putin may see things.
I am reminded once more of George Orwell's novel, 1984, and the sloganizing that was part of the way in which the people of Oceania were controlled. Russians should get very worried if they see the words "Большой Брат следит за тобой" appearing on posters. Its warning may be all too real. It means: "Big Brother is watching you". If you count Putin as your "Big Brother", of course. He wouldn't be my first choice.