Gustav Klimt, Water Serpents II, 1904/1906-07, private collection, courtesy of HomeArt
Gustav Klimt (1862-1918) is one of the most fascinating artists of western art history. He is world-famous for his golden and decorative paintings and his portraits of strong women. But who was this 'golden boy', and what is the story behind his talent? You perhaps know Klimt's work, but have you actually seen it?
Golden Boy Gustav Klimt. Inspired by Van Gogh, Rodin, Matisse… explores how Klimt developed his unique style and how the Austrian artist was inspired by the work of Van Gogh, Toorop, Rodin, Whistler, Toulouse-Lautrec, Monet, Matisse and many other artists.
New research has revealed which artists influenced Klimt, and which he admired. Klimt co-founded the Vienna Secession art society, where European modern art was exhibited for the first time in 1898. From then on, each exhibition organised by the society offered Klimt a new wave of inspiration and creativity.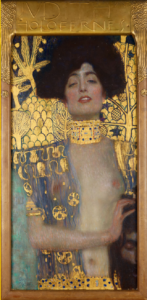 ICONIC MASTERPIECES
Dozens of Klimt's iconic masterpieces are on display in this large-scale exhibition: from decorative landscape paintings and powerful figure drawings to monumental, colourful female portraits such as Judith (1901), Emilie Flöge (1902) and spectacular paintings such as Water Serpents II (1904/1906-07).
One of the highlights of the exhibition is the life-sized reproduction of the Beethoven Frieze. Klimt presented this mural in the Secession in 1902 as an homage to Symphony No. 9 by Beethoven, the definitive cult figure of the new generation. The monumental Beethoven Frieze represents the start of Klimt's 'golden period', in which he used gold leaf in his paintings.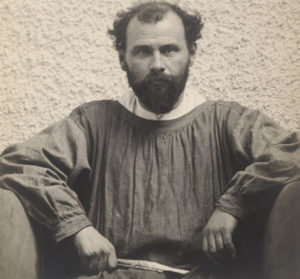 BAS VAN BEEK INSPIRED BY…
Designer and artist Bas van Beek (1974) was inspired by Klimt's expressive style to create a space especially for the exhibition with various patterns.
Van Beek has also developed a 'Klimt vocabulary', a form language based on the decorations in Klimt's paintings. This colourful vocabulary has been printed on stickers, so you yourself can compose new patterns on the staircase walls.
COLLABORATION
The exhibition is a collaboration with the Belvedere Museum in Vienna, which is home to the world's largest collection of oil paintings by Gustav Klimt. Klimt. Inspired by Van Gogh, Rodin, Matisse… will be on display at the Belvedere from 3 February to 29 May 2023.
Exhibition Golden Boy Gustav Klimt. Inspired by Van Gogh, Rodin, Matisse… Until 8 January 2023