PLACES TO VISIT
HAUSER & WIRTH MONACO OPENING WITH INAUGURAL EXHIBITION BY LOUISE BOURGEOIS
The inaugural exhibition 'Louise Bourgeois. Maladie de l'Amour' opens on 19 June 2021 in Monaco on the Côte d'Azur. A monumental public sculpture from the French American artist's Spider series, a bronze arachnid over three meters tall, will be installed in the gardens adjacent to the gallery.
Located in the heart of Monaco, near the historic Hôtel de Paris, our new gallery features a spectacular main exhibition space, a 290 sq.m. cube with 9 meter high walls, lit from above by a dramatic skylight. The conversion of the site has been conducted by Selldorf Architects, New York, which has collaborated with Hauser & Wirth on its spaces internationally since the founding of the gallery in 1992. In Monaco the gallery occupies the lower spaces of a building designed by Rogers Stirk Harbour + Partners and owned by the Société des Bains de Mer.
'When we were invited to play a part in the continuing revival of the art scene in Monaco,' says Iwan Wirth, President, Hauser & Wirth, 'we saw that it offered an exceptional opportunity to present our artists in the heart of city, engaging with the vibrant contemporary scene across the south of France, strengthening our European presence. In former times, Monaco was a destination for artists, writers, and filmmakers who were as captivated as we have been by the Côte d'Azur. Over our nearly 30-year history, Hauser & Wirth has created physical spaces in the locations where our artists and our collectors reside—not only in the large urban centers of London, New York, and Los Angeles, but also in legendary resort communities and seasonal gathering spots such as Southampton and St. Moritz. This is something we have always done. But it's an even more important step given the impact of events over the last year during which we have sought out new ways to present and sell works of art.'
The works in the inaugural exhibition by Louise Bourgeois span a period between 1947-2008 and draw on recurring themes of anxiety and longing, emotions which the artist repeatedly mined to create her personal visual vocabulary. Along with Bourgeois' monumental Spider sculpture dating from 1996, one of the artist's most enduring and iconic motifs, two further aluminium sculptures are suspended inside the gallery. 'Untitled' (2004) gently rotates, as a continuously morphing form. The abstract spiral belongs to an important series Bourgeois made during the 1990s and shares a particular affinity to a previous work entitled 'Les Bienvenus' (1996), commissioned by the French Government and installed in the Parc de la Mairie in the village of Choisy-le-Roi, France, where she grew up.
FOR IT REOPENING THE BRITISH MUSEUM ANNOUNCES FIRST MAJOR UK EXHIBITION ON ROMAN EMPEROR NERO
Nero: the man behind the myth will explore the true story of Rome's fifth emperor informed by new research and archaeological evidence from the time, challenging the biased historical accounts written after Nero's death that have shaped his legacy.
Recent discoveries relating to Nero's fourteen-year rule reveal a more accurate picture. Treasures hidden during the destruction of Colchester in AD 60-61 during Boudica's Iceni rebellion, burned artifacts from the Fire of Rome in AD 64, and evidence from the destruction of Pompeii uncover a new understanding of Nero's turbulent and misconceived reign.
This major exhibition is featuring over 200 objects, charting the young emperor's rise to power and examining his actions during a period of profound social change in regions from Armenia in the Near East, to Britain, and across mainland Europe. Drawn from the British Museum's world-class collection alongside rare loans from Europe, most never seen in the UK before, the exhibition includes humble graffiti next to grand sculpture, precious manuscripts, objects destroyed in the fire of Rome, priceless jewellery and slave chains from Wales, telling the story of rich and poor alike.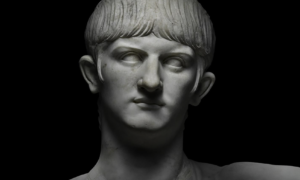 Nero (r. AD 54–68), the last male descendant of Rome's first emperor Augustus, succeeded to the throne aged only sixteen. Britain had been under Roman rule for just eleven years. During his reign of nearly fourteen years, he had his own mother killed, his first wife, and allegedly his second wife. Written accounts even claim that Nero himself started the Great Fire of Rome in AD 64. In June AD 68, when confronted with rebellions by insubordinate military officials, Nero was forced to commit suicide. The Roman senate immediately excised his memory from official records, and his name was vilified to legitimise the new ruling elite.
The image of Nero as a tyrant created 50 years after his death by the historians Tacitus and Suetonius, and written about more than another century later by Cassius Dio, is a story that has been repeated for centuries. We now know that this Nero is a fabrication and that ancient sources stand between us and the historical character. This exhibition challenges traditional preconceptions and explores what the ancient elite narrative on Nero tells us about the inner conflicts of Roman society.
Statues of Nero were erected throughout the empire, yet very few survive due to the official suppression of his image. A star piece in the exhibition is a bronze head of Nero, long-mistaken as Claudius, which was found in the River Alde in Suffolk in 1907. The head was part of a statue that probably stood in Camulodunum (Colchester) before being torn down during the Boudica-led rebellion. A small bronze figure of Nero, lent by Museo Archeologico Nazionale di Venezia and seen in the UK for the first time, gives a rare sense of a complete sculpture.
The Fenwick Hoard will be shown as part of a major exhibition for the first time since it was discovered in 2014 beneath the floor of a shop on Colchester's High Street. The treasure was buried for safekeeping by settlers fleeing for their lives during Boudica's attack. Among the items are Roman republican and imperial coins, military armlets and fashionable jewellery very similar to finds from Pompeii and Herculaneum.
Famously, Nero was the first Roman emperor to act on stage and compete in public games as a charioteer. Aged 21, Nero first took to the stage as part of private games, but a few years later he performed publicly in Naples and then in Rome itself. This event was described in hostile sources as unprecedented and scandalous, but contemporary evidence shows that Nero was hardly the first young man of good family to take part in public performances. Chariot racing, gladiatorial combats and theatre were incredibly popular in the Roman world, as shown by fascinating objects such as gladiatorial weapons from Pompeii on loan from the Louvre, stunning frescoes depicting actors and theatrical masks lend by Museo Archeologico Nazionale di Napoli.
One of the defining moments of Nero's reign was the Great Fire of Rome in AD 64, which burned for nine days and laid waste to large parts of the city. Excavations in recent years have revealed the true extent of the ferocity and impact of the fire.  A warped iron window grating, discovered near the Circus Maximus, will be displayed in the UK for the first time, as testament to the intensity of the flames and destruction.
Nero, who was in the nearby city of Antium rather than in his palace watching the inferno, led the relief and reconstruction efforts. A new palace, the Domus Aurea, rose from the ashes. Stunning frescoes and wall decorations will give visitors a taste of Nero's opulent residence. The elaborate designs and the use of precious materials such as exotic marbles, cinnabar and gold speak to the height of imperial luxury.
Nero: the man behind the myth runs from 27 May to 24 October 2021 in the Sainsbury Exhibitions Gallery at the British Museum.
Open Saturday – Thursday 10.00–17.00, Friday 10.00–20.30. Last entry 90 mins before closing.
Adult tickets £20 weekdays and £22 weekends, under 16s free, 2-for-1 tickets for students on Fridays, and concessions and group rates available.
britishmuseum.org/nero +44 (0)20 7323 8181
DASSAULT AVIATION LAUNCHES FALCON 10X, FEATURING INDUSTRY'S LARGEST CABIN AND MOST ADVANCED TECHNOLOGY ON A BUSINESS JET
High-speed, ultra-long-range Falcon will come with innovative safety features derived from latest fighter technology
Dassault Aviation today announced an all-new Falcon jet that will deliver a level of comfort, versatility and technology unmatched by any purpose-built business jet.  Featuring a range of 7,500 nautical miles, the Falcon 10X will fly nonstop from New York to Shanghai, Los Angeles to Sydney, Hong Kong to New York or Paris to Santiago. Top speed will be Mach 0.925.
"Today we are introducing a new benchmark in business aviation," said Dassault Chairman and CEO Eric Trappier. "The Falcon 10X will offer an unrivalled passenger experience over both short- and long-duration flights, along with breakthrough safety features from Dassault's frontline fighter technology. We have optimized every aspect of the aircraft with the passenger in mind and established a new level of capability for ultra-long-range aircraft."
The Falcon 10X will enter service at the end of 2025.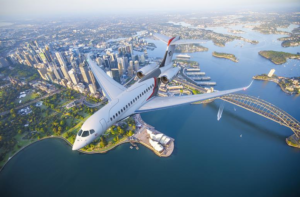 Taking cabin modularity to unprecedented heights
The 10X will have the biggest and most comfortable cabin on the market and offer greater modularity than any other aircraft in its class, with a selection of multiple interior configurations. The 10X is large enough to accommodate four cabin zones of equal length but owners can configure their cabin to create a truly customized interior, including for example, an expanded dining/conference area, a dedicated entertainment area with a large-screen monitor, a private stateroom with a queen-size bed or an enlarged master suite with a private stand-up shower.
"The 10X will be more than just another big step forward in business aviation. It will be absolutely the best business jet available in the ultra-long-range category, and will remain so for a long time," said Trappier.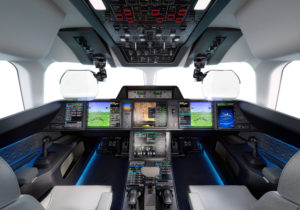 The 10X will have a cabin cross section larger than some regional jets.  Its cabin will be 6-feet, 8-inches (2.03 m) tall and 9 feet, 1 inch wide (2.77 m). That will make it almost 8 inches (20 cm) wider and 2 inches (5 cm) taller than the widest and tallest purpose-built business jet flying today.
Pressurization will also be the best on the market, with passengers experiencing a 3,000-foot cabin pressure altitude while flying at 41,000 feet. A next-generation filtration system will provide 100-percent pure air. The aircraft will be at least as quiet as the Falcon 8X, currently the quietest business jet in service.
New structures, new materials, ultra-efficient power 
The 10X will feature an entirely new fuselage with extra-large windows—nearly 50 percent larger than those on the Falcon 8X. Thirty-eight windows will line the fuselage making for the brightest cabin in business aviation.
The high-speed wing will be made of carbon fiber composites for maximum strength, reduced weight and minimum drag. Tailored for speed and efficiency, the very-high aspect ratio wing will be equipped with advanced, retractable high-lift devices offering superior maneuverability at low approach speeds.
The twin-engine aircraft will be powered by business aviation's most advanced and efficient engine, the in-development Rolls Royce Pearl® 10X. The 10X is the latest, largest and most powerful version of the Pearl series, delivering more than 18,000 pounds of thrust.
A major advance in flight deck technology
The Falcon 10X's flight deck will set a new standard in intuitive design, with touch screens throughout the cockpit. A next-generation Digital Flight Control System, derived directly from Dassault's latest military technology, will provide an unprecedented level of flying precision and protection, including a revolutionary, new single-button recovery mode.
A single smart throttle will serve as the primary power control, connecting both engines to the Digital Flight Control System which will automatically manage the power of each engine as needed in different flight scenarios.
Thanks to Dassault's breakthrough FalconEye® combined vision system—the first to offer both enhanced and synthetic vision capabilities—combined with dual HUDs able to serve as primary flight displays, the 10X will be capable of operating in essentially zero ceiling/visibility conditions.
"We have set the bar for our new Falcon incredibly high," said Trappier. "But I can confidently say that we have put this aircraft at the top of the market."
About Dassault Aviation
Dassault Aviation is a leading aerospace company with a presence in over 90 countries across five continents. It produces the Rafale fighter jet as well as the complete line of Falcons. The company employs a workforce of over 11,000 and has assembly and production plants in both France and the United States and service facilities around the globe. Since the rollout of the first Falcon 20 in 1963, over 2,500 Falcon jets have been delivered. Dassault offers a range of six business jets from the twin-engine 3,350 nm large-cabin Falcon 2000S to its flagship, the tri-engine 6,450 nm ultra-long range Falcon 8X and the new ultra-widebody cabin Falcon 6X.
About Dassault Falcon Jet
Dassault Falcon Jet Corp., is a wholly owned U.S. subsidiary of Dassault Aviation, France. Dassault Falcon Jet markets and supports the Falcon family of business jets throughout North America and South America.
THE PARLIAMENTARY ASSEMBLY OF THE COUNCIL OF EUROPE CALLS ON TURKISH AUTHORITIES 'TO PUT AN END TO LAWS AND PRACTICES THAT CONTRAVENE DEMOCRATIC STANDARDS'
The Assembly has strongly reiterated its call on the Turkish authorities "to put an end to laws and practices that contravene democratic standards, to revise its legislation and constitutional framework in order to ensure the separation of powers, to restore freedom of speech and media freedom, to restrict the interpretation of its anti-terror legislation, and to implement the judgments of the European Court of Human Rights".
At the end of an urgent debate at the end of April on the functioning of democratic institutions in Turkey, the parliamentarians also stated that the presidential decision of 20 March 2021 to withdraw from the Istanbul Convention – which aims to combat violence against women and domestic violence – constitutes "a step backwards for the country". They deeply regretted that this decision was taken "without any parliamentary debate and on account of misleading narratives" and requested the expertise of the Venice Commission to prepare a comparative study on the modalities of ratification and denunciation of the Council conventions.
The adopted resolution, based on a report prepared by Thomas Hammarberg (Sweden, SOC) and John Howell (United Kingdom, EC / DA), notes with concern the procedures aimed at lifting the parliamentary immunity of one third of parliamentarians – mostly from the opposition – as well as the attempt to dissolve the People's Democratic Party (HDP) and the repression of its members. The Assembly therefore "urges the Turkish authorities to put an end to the judicial harassment of parliamentarians and refrain from submitting numerous summaries of proceedings seeking the undue lifting of their immunity which gravely impedes the exercise of their political mandate" as well as to political pluralism.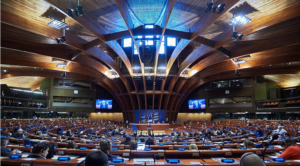 The text also calls for the immediate release of former HDP co-chair Selahattin Demirtaş and philanthropist Osman Kavala "in application of the rulings of the European Court of Human Rights of 2020 and subsequent decisions of the Committee of Ministers, which is supervising their implementation".
According to the Assembly, the Turkish authorities should seize the opportunity of implementing the Human Rights Action Plan and revising the legislation on elections and political parties to take "concrete and meaningful steps", which thus respect the obligations rising from the Council of Europe membership.
THE TESLA GIGAFACTORY IN BERLIN ON ITS TRACK TO START PRODUCTION IN 2021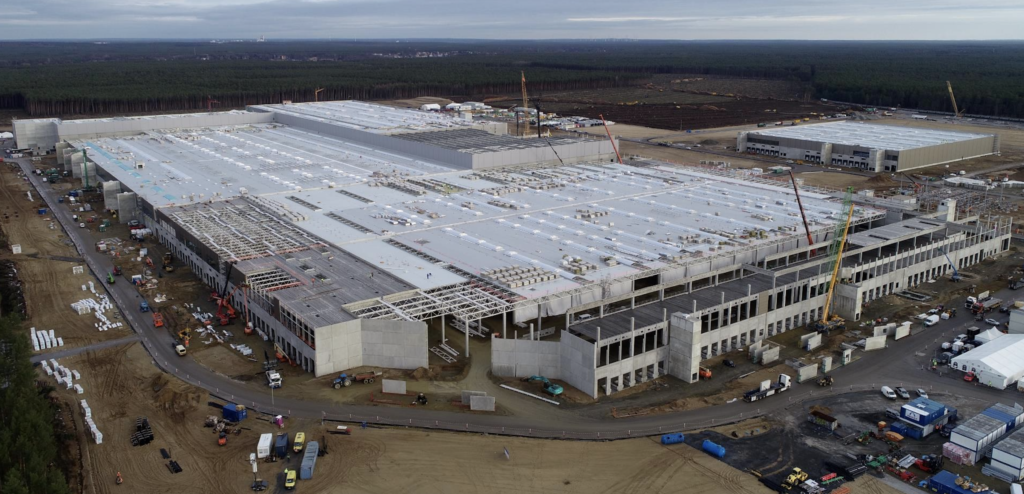 Gigafactory Berlin-Brandenburg will be the most advanced high-volume electric vehicle production plant in the world. Starting with Model Y production at launch, it will establish original vehicle design and engineering for worldwide markets out of Germany.
The Gigafactory product technologies and production methods will be cutting edge: The most powerful Battery Systems as well as high performance Drive Units and Power Electronics. A new dimension of Casting systems and a most efficient Body-Shop, leading to a high level of vehicle safety. With a next generation Paint Shop, enabling color tone depth and complexity, never seen before in volume production cars, as well as with a high-quality Final Assembly, world class vehicles will be delivered to the customer.
Tesla Gigafactory Berlin-Brandenburg (also known as Gigafactory Berlin, Gigafactory 4 or Gigafactory Europe) is a European manufacturing plant for Tesla, Inc. under construction in Grünheide, Germany. The campus is 35 kilometres (20 mi) south-east of central Berlin on the Berlin–Wrocław railway, which forms the north border of the site between Erkner station and Fangschleuse railway station; and the A10 motorway, which forms the west border.
The facility and its Berlin location were announced by Tesla CEO Elon Musk in November 2019. The factory is planned to produce batteries, battery packs and powertrains for use in Tesla vehicles, and also assemble the Tesla Model Y, with a proposed start of production in late 2021. Elon Musk projected that the Tesla Model Y could become the world's best-selling car by 2022 or 2023. Musk announced that the Tesla Model 3 became the best-selling luxury sedan of any kind in the world during its latest earnings call. Based on Tesla's calculations, the Model Y could beat the Model 3's record.
Some recent news announced some delays regarding the  production due to numerous constraints that deal with battery pack output and the pandemic situation.  The Brandenburg Economic Minister Jörg Steinbach, still believes Tesla is on pace for a late-Summer or early-Autumn start at Giga Berlin.