The rise of China's electric vehicle industry and its bold marketing campaign © Edm
"Social wealth is created by the worker, the peasant, and the educated," wrote Mao Zedong back in the days of his struggle for power; a struggle which, of course, he won. In his case, despite his famous quote, power didn't really come, as he had proposed, "from the barrel of a gun", but from the ingenuity of his people, and a very ingenious lot they were back then and still are, too. Today's Chinese leaders, though, should remain conscious of another of the many salient points Mao made: "There is a serious tendency towards capitalism among the well-to-do peasants", he warned. Chinese ingenuity may help to make China's people rich, but it could also turn them into capitalists. Perish the thought! Mao would not have liked that. Probably. He would certainly have spared a smile, though, for the global 2022 Auto Express Affordable Electric Car of the Year prize being awarded to Chinese-owned MG for its ZS EV, one of many Chinese designed and manufactured electric vehicles that are taking on the world and winning. MG used to be, famously, a British manufacturer, the letters standing for "Morris Garages" once upon a distant time. They might as well stand for "Maoism gains" today. I owned an MG car once and liked it, long before it became the pride of Beijing although my local garage loved the string of repairs it required. The manufacturer's latest incarnation, however, as a maker of electric-powered vehicles, would seem to be enjoying considerable success globally.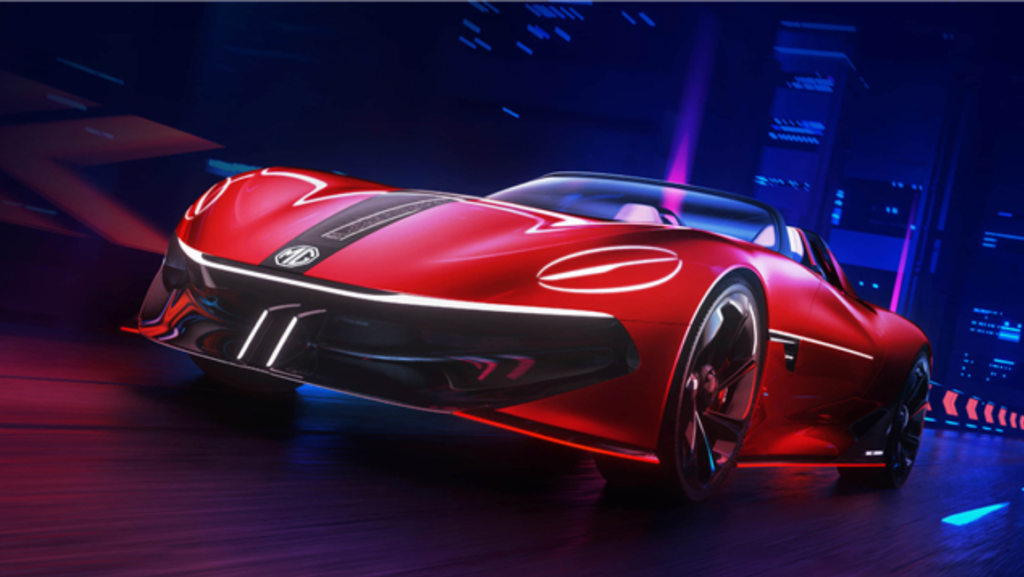 Apart from MG there are quite a number of other companies that have entered the automotive market with competitive products that are drawing praise from around the world. Electric vehicles are gaining a lot of attention, especially since cutting their prices to overcome buyer resistance (no-one buys things that seem to be overpriced because they're more than the budget can bear, or simply 'too dear'). According to Britain's Daily Telegraph newspaper: "Figures from the Society of Motor Manufacturers and Traders (SMMT) revealed an 88pc year-on-year increase in the sale of battery-powered vehicles last month, as deliveries hit 23,000." Another point in their favour across Europe is that the former Communist bloc countries don't share the aversion to China that still affects some sales in the West. Their attitude towards China is "more pragmatic", in the world of the Director of the Institute of European Studies of Chinese Academy of Social Sciences, Feng Zhongping. Eastern and Central European countries especially have been displaying a more open approach, none more so than Hungary. Chinese investment in Europe overall has shown a big increase, but none more so than among former Eastern bloc countries.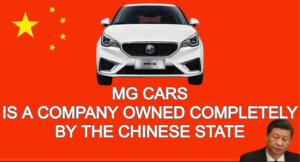 The EU's interest in greener solutions for travel is an obvious boost for battery power and it has led to China's direct investments in former Eastern Bloc countries, which rose by 148%, year-on-year, in the first quarter of 2023. Even so, China's overall investments in the EU as a whole rose by 21% to just over €10-billion, mainly focused on energy, vehicles, machinery, and plant. Now Europe's long-held lead in producing private vehicles is shrinking fast. Europe's battle to stay on top hasn't been helped by the UK government failing to meet its target of buying "ultra-low emission" vehicles for its non-military "white fleet" of civilian vehicles. It was supposed to comprise battery and rechargeable cars, vans, and trucks, but only one electric vehicle in 39 was built in the UK, despite government promises to source its new vehicles from UK manufacturers, wherever possible. The UK's inability to meet the Ministry's demand may be partly due to the fact that the UK government diverted £136-million (€157.43 million) away from its planned electric vehicle supply chain towards Britain's main nuclear reactor project, Sizewell C. Out of the project's supposed budget of £191-million (€221-million), only £7-million (€8.1-million) was spent on electric vehicle development, with 76% of the total going to help build Britain's first new nuclear power station for 30 years. Splitting the atom, it seems, involves splitting the funding, too, as well as parts of the government.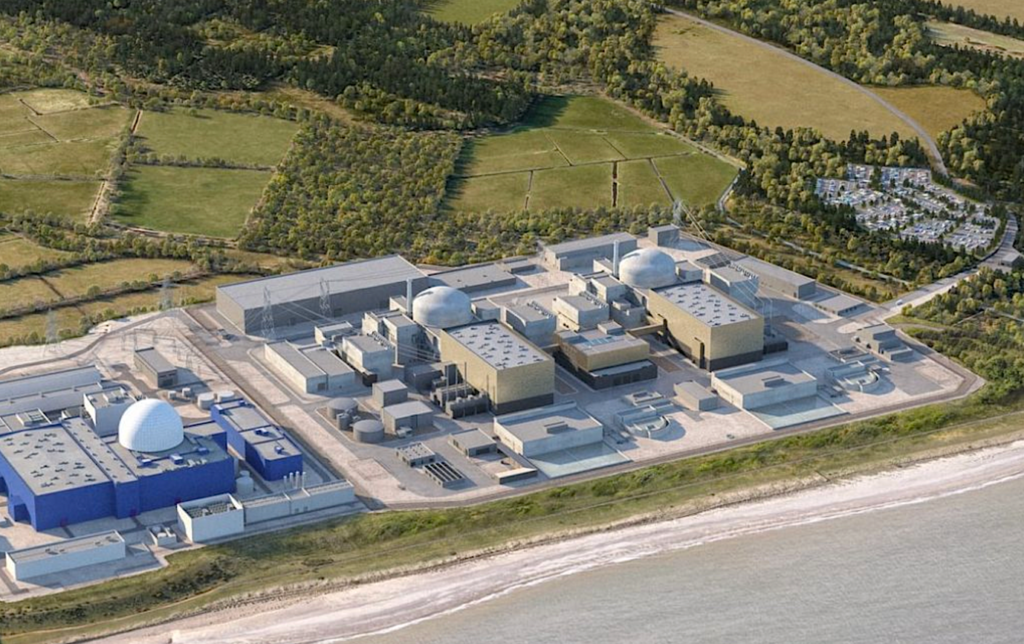 According to the German research body, the Mercator Institute for China Studies (MERICS), Europe is now the top destination for China's exports of EVs, and not because people are clamouring to buy a Chinese product. The real reason is that Europe's car-makers are increasingly moving production to China. China has become (and is increasingly doing so) the main manufacturer for Europe, producing quality vehicles at prices that European manufacturers cannot match. That is, one imagines, why more than 50% of the 850,000 electric vehicles Europe imported in 2022 came from China. In the race to make more of the world's electric passenger vehicles, China has a clear lead. By 2025, it's been estimated, some 13% of China's road-going vehicles are likely to be fully electric or at least hybrid.
|

WHO PAYS THE PIPER?
Beijing has now brought to an end its programme of subsidies that had been in place for a decade to aid its electric vehicle industry, but Beijing still demanded that the firms compete with one another on a fair basis, obliging them to sign a pledge to that effect. The government in Beijing has backed the manufacturers with a range of tax breaks, pouring some 152-billion yuan (€19.10-billion) into allowances for the industry, leading to falls in the retail price of up to 15% in some cases. Of course, European carmakers are also producing EV cars and vans, but they tend to be more expensive that their Chinese equivalents. Don't believe that a switch to EVs will eliminate all the dust and other pollutants associated with driving: it won't. Quite apart from exhaust fumes, pollution also comes from tiny particles of brake dust, tyre and road surface cast-offs released by wear and tear, and in that regard, electric cars are like traditional petrol or diesel ones, although pollution from brake dust is much lower because of the ways in which EVs work. They use regenerative braking to recharge their batteries. When you take your foot off the accelerator, the electric motor or motors act as generators, which are of course, turned by the road wheels. The generator turns mechanical energy into electrical energy and in doing so, slows the vehicle down. You'll find that you don't need to use the brakes as much, especially in stop-start city driving.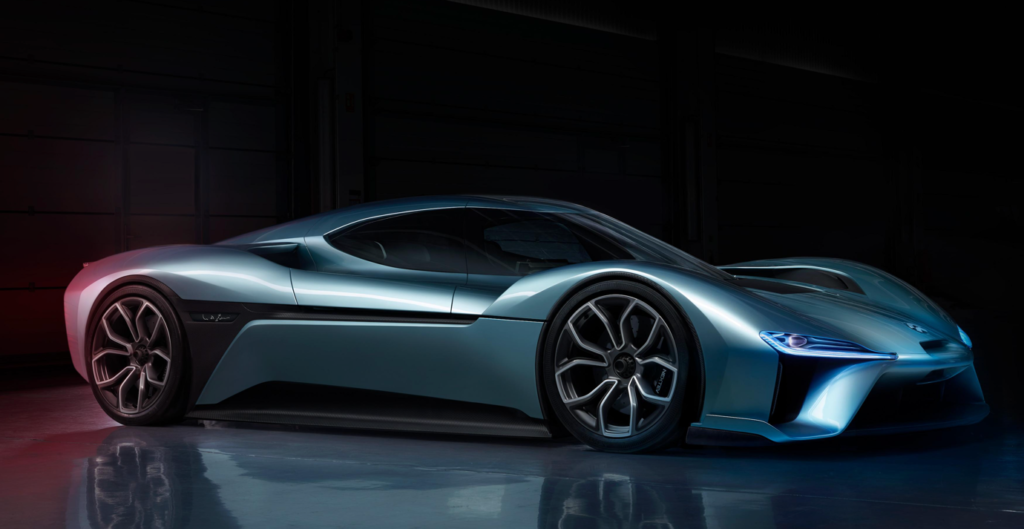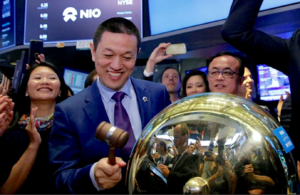 Stellantis, a group mainly linked on-line with the common purpose of facilitating easier electric charging and other green links to transport, describes itself as being "a constellation of 14 iconic automotive brands and two mobility arms that are about more than transportation: they're about moving people and making connections, claiming that "they're about moving people and making connections".  Right now, though, the group's CEO, Carlos Tavares says that the European auto industry "is at a crossroads in competition with its Chinese rivals. If politicians do not find an answer to the push into Europe by China's automakers, there will be a 'terrible fight'," he told the leading German auto magazine , Automobilwoche. The industry has set itself a target of being "climate neutral", according to publisher and Editor-in-Chief Burkhard Riering. It sounds like a splendid idea, but like most great leaps forward, it comes with a price tag and it's not very clear who will be asked to pay it (nor exactly how much it's likely to cost). Regulations in Europe make vehicles produced here more expensive by about 40%, when compared with those produced in China. That may be one reason why China is already the second largest automobile exporter in the world and likely to take over the top spot by the end of 2023. What can I write except "小心驾驶"? It means drive carefully, I'm informed, but please don't ask me how to pronounce it. I get very confused over this. As it is, however, Chinese companies are expanding into Europe, aiding their advance with the built-in complexity. It's interesting to use the quotes that are mentioned in Chinese, however confused were non-Chinese readers.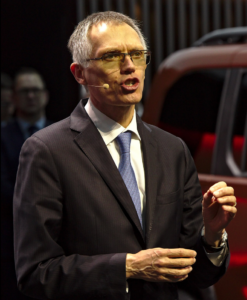 The Stellantis group CEO Carlos Tavares has identified the disagreement over the meanings of China's automobile makers and Europe's commentators. The European vehicle industry has talked about China's shrinking production capacity, with the purchasing power of Europe regarding Chinese-made car products noticeably shrinking.
Europe's automobile industry could be obliged to reduce its production output considerably, while the purchasing power of European customers has also been contracting.
Carlos Tavares has predicted a nasty conflict, with Europe's auto industry being obliged to fight China over Chinese exports heading this way. (Please don't ask me to hold their coats during the fisticuffs). It's being predicted that China is likely to dominate the UK market for petrol and diesel vehicles with Chinese electric vehicles outselling their UK equivalents and even facing possible quotas for zero emission vehicle sales.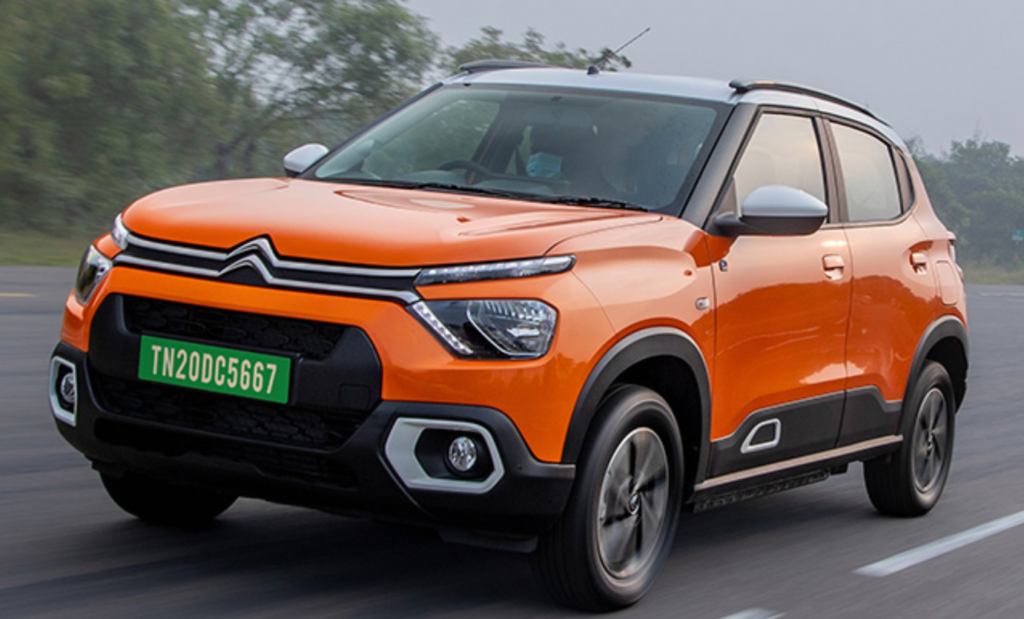 That may not be the worst things they'll face, either. Some UK ministers have claimed that Chinese-built electric cars will allow Beijing to spy on British citizens. UK "experts" claim the Chinese vehicles could allow China to gather vast quantities of data, such as location of the car user, as well as audio and video recordings. (How about: "I'm parked outside the pub; I'll stop at the supermarket on the way home"?) Fascinating in most cases, I'm sure! However, according to The Sunday Telegraph, a senior government source told the newspaper: "If it is manufactured in a country like China, how certain can you be that it won't be a vehicle for collecting intel and data?" (if it's anything like what I've suggested I don't think we have much to fear). If you have electric vehicles manufactured by countries who are already using technology to spy, why would they not do the same here?" Ministers and officials have admitted feeling nervous about possible surveillance and interference. You may think you can choose more traditionally-powered vehicles instead, but they may not remain available for very long. What's more, there are fears in UK circles that – according to sources close to the heart of the UK government – China's new petrol and diesel vehicles are also likely to dominate the British market. The concern is so great, it seems, that there has been talk of watering down Britain's proposed laws on low emissions; we're not as clean as they are, it seems. Some have even expressed a fear that Britain's motor industry could be driven to the point of extinction. Achieving "net zero" emissions was never going to be easy but the idea was never aimed at closing down the UK's car industry and handing the business in its entirety to China.
It's well-known that China leads the field in terms of manufacturing and fitting cellular modules that can not only relay data but can even be used to interfere with the way a vehicle runs, causing it to have accidents. Imagine the scene: "I'm sorry officer, but it wasn't me.
The car was being steered by a Chinese chap in Beijing".
|

PROGRESS ACCELERATES
The growth in sales of Chinese electric vehicles is causing concern in Germany, whose own automotive industry is now under pressure. The sales figures for German vehicles looked quite promising in early 2022, with higher profits from increased revenue, but increasing inflation and the desired transition to electric power is proving problematic. German order books are getting thinner, although the figures for the first part of 2023 looked promising for some of the big-name manufacturers, all with increased turnover and a boost to profits. What's more, however, interest in electric-powered vehicles has been declining in Germany. China, however, has a clear lead in the electric vehicle race: across the world China manufactures every second electric vehicle current in use, comfortably overtaking the previous world leader, Tesla.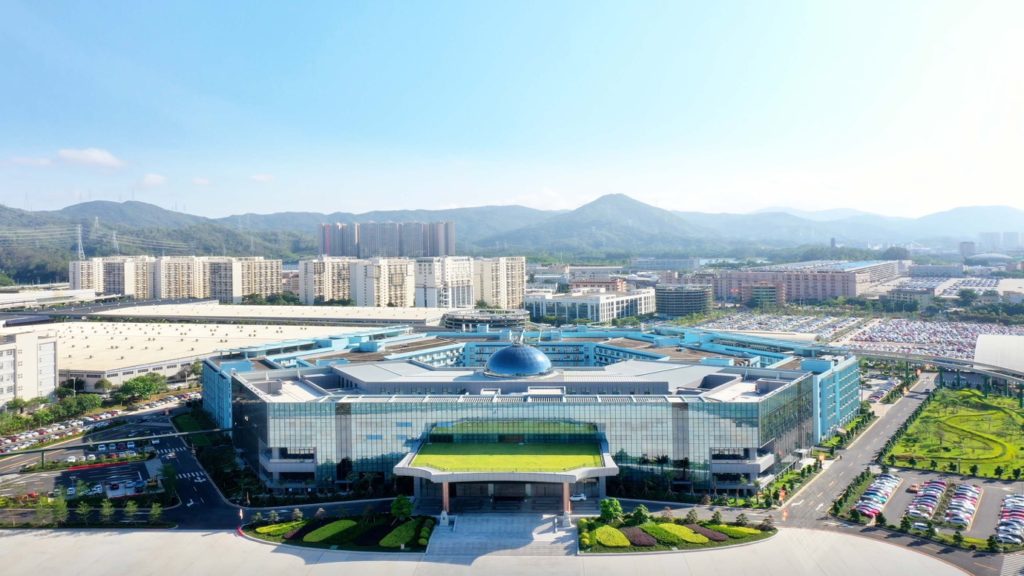 It's worth taking a look at China's giant car manufacturing body, BYD. Headquartered in Shaanxi province it's a publicly listed company which claims its initials in English stand for "Build Your Dreams", which is, I suspect, a mere coincidence, although I'd be happy to hear a counter-argument. It was set up in 2003 and apart from cars it also makes buses, trucks, other commercial vehicles and rechargeable batteries, too. It only stopped producing internal combustion engines in March 2022. BYD (whatever it really stands for) is wiping the floor with VW in China, selling almost 20 times as many vehicles there. As a result, VW has formed a partnership with another Chinese carmaker start-up, Xpeng. It's proving more difficult to launch in the UK because it lacks a provision (briefly, I imagine) for positioning the steering wheel on the right. It should do well in the United States and the rest of Europe, though. According to the New York Times, "Exports from China, which has the world's second-largest economy after the United States, have now declined for three months in a row while imports have fallen for five consecutive months." That should be a concern for any economy, even one as vast as China's.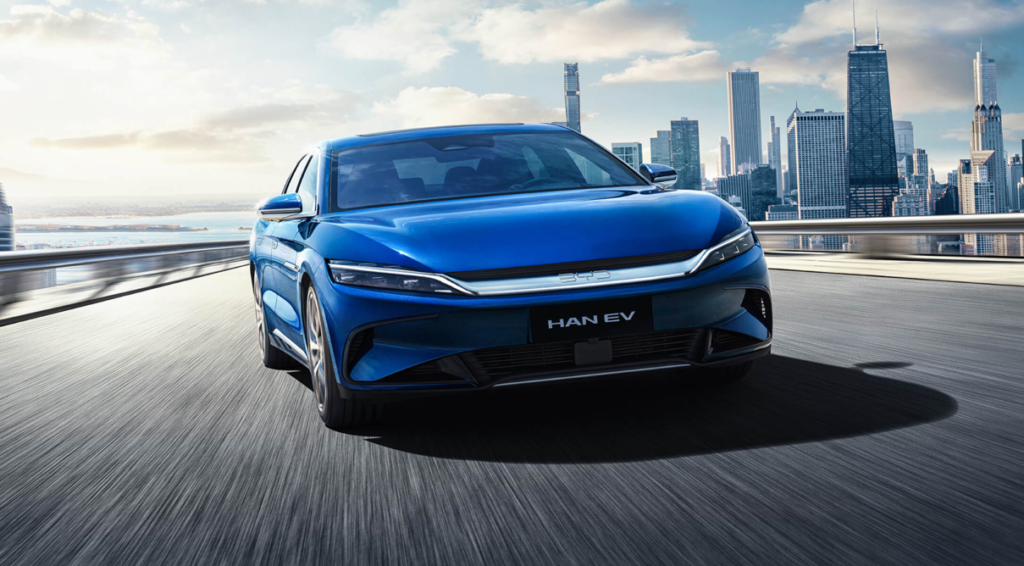 "The numbers reflect declining demand for Chinese-made products, falling domestic demand, a real estate crisis and geopolitical tensions, including the war in Ukraine," writes The Times. According to the NYT: "Officials in Beijing have been trying to foster a rebound from an economic slump after nearly three years of pandemic restrictions. After China ended its lockdowns last December, many expected the economy to bounce back, but recovery has been halting." Indeed, domestic demand has been falling, as has the population size (although it's still huge, of course). It was Mao, of course, who wrote: "The people and the people alone are the motive force in the making of world history." Well, he should know. The International Business Times has warned that China has become "the most important bearish factor weighing on oil prices recently, with July export-import data showing the Asian country's economy is struggling to outgrow its post-COVID woes".  Furthermore, "Overseas exports of Chinese goods recorded the worst month-on-month decline since February 2020 last month, down 14.5% in dollar terms, with weak consumer spending and investment growth aggravating the outlook." As IBT reports: "China's population is likely to fall below 800 million by the end of the century, and this trend could spell trouble for the country's economic future. According to China's National Bureau of Statistics (NBS), the population dropped to 1.411 billion in 2022, down some 850,000 people from 2021. That is the first reduction in population numbers since 1961. That decline proved temporary and was reversed, but the current situation is different, expected to "deepen for the foreseeable future," according to a report from the research and consultancy firm, Terry Group.
All of this is, of course, good news for the Chinese economy. Its current direction is not. China's exports fell by 14.5% in July, its fastest drop since February 2020. In June it also fell, but only by 12.4%. China is not to blame for this drop, however, apparently; it's the global decline in demand that lies behind it. Beijing needn't panic just yet; China's total trade surplus was US$80.6 billion (€73.27-billion) in July compared to US$70.62 billion (€64.2-billion) in June, so it's not about to go under any time soon, although there's no room for complacency, which is why Beijing is trying to boost domestic demand.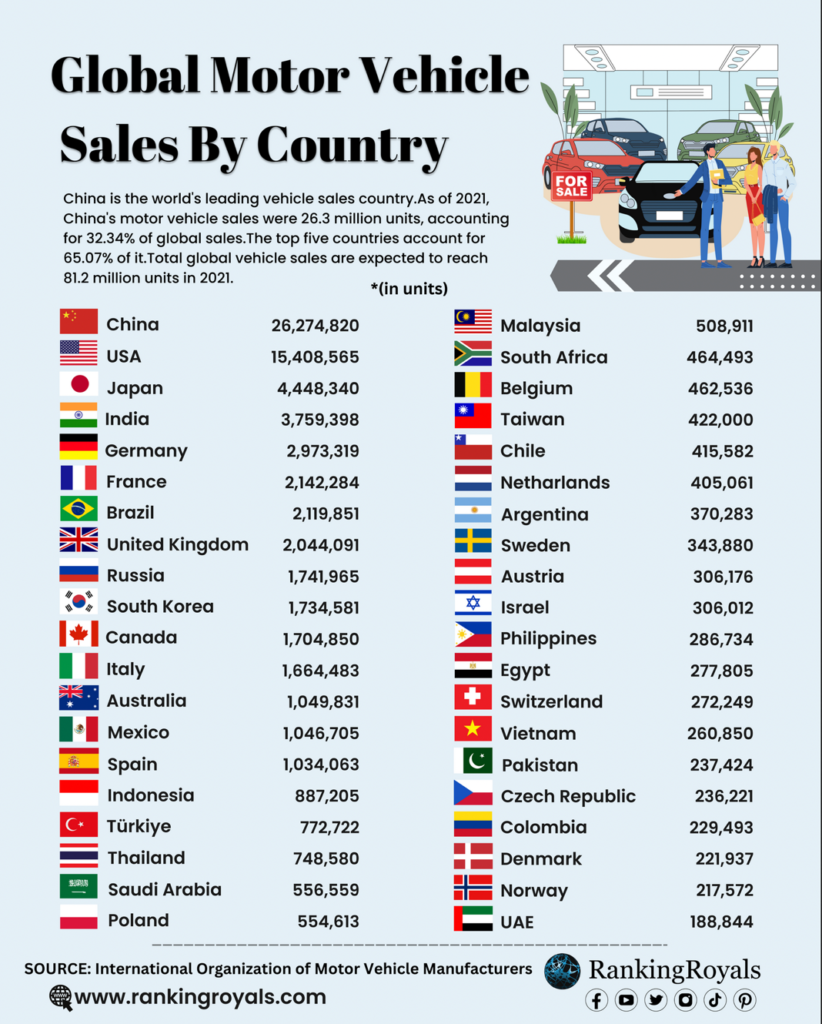 According to the South China Morning Post, it's not all going swimmingly, however: "Exports to the European Union, meanwhile, declined by 20.62 per cent. year on year, while shipments to the United States dropped for the 12th consecutive month after falling by 23.12 per cent in July." Mao famously described the United States, of course, as "the most respected enemy", although that was back in the 1940s. Things have changed as consumerism takes control, and China certainly needs to have profitable trade with the United States, as it does with the European Union. Follow the money! Mao and President Richard Nixon got on better than either of them had expected when they finally met in 1972, shaking hands for a full minute, according to observers. It was described at the time as "the week that changed the world". Was it for the better? You decide!
|

FIGHTING A (TRADE) WAR IN A CAR SHOWROOM
According to the analysts at Capital Economics, quoted in the South China Morning Post, "Chinese exports contracted in July by the greatest percentage since the start of the pandemic. But the recent declines mostly reflect lower prices rather than volumes, which are still well above their pre-pandemic trend." It seems likely that the problems will have to be addressed in the months ahead, but that shouldn't dent China's growing lead in the manufacture of battery-powered vehicles. China has to be fully aware, naturally, of certain doubts about its probity in military issues: India, for instance, has banned its own domestic manufacturers of military drones from using components acquired from China, fearing security risks. India doesn't fancy Chinese drones overseeing its highways. Even so, the current trend must be worrying Beijing, with the overall population expected to drop to below 800-million by the end of this century, with the current trend expected to continue and to deepen further, which would place a drag on economic growth.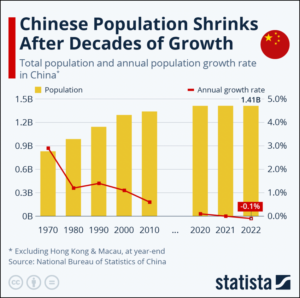 Marvie Basilan, writing in Politics World, points out that the country's "stunning" economic ascent, as she puts it, is down to China's demographics, so the current decline in population numbers is likely to have consequences. China's National Bureau of Statistics admits that last year, the country saw its largest drop in population since 1961. The decline back then was reversed but that is not expected to happen this time, with some experts predicting a continuing fall. The current situation is thought to have been caused by the country's "one-child policy", which ended in 2015. It will take years for that situation to correct itself. The UN believes that with the Chinese population ageing fast, by 2050 China will have twice as many old people as children, while it will have lost an average of 12-million working-age adults by the same time. In fact, it has been suggested by economic experts the Terry Group that: "China's deteriorating demographics pose formidable obstacles to its continued economic rise," while Beijing is taking policy decisions aimed at helping young people to fall in love and have children, although the results (if there are any) are unlikely to appear on the production lines for a little while yet. It's clear that China is aware of its problem, although it seems a little uncertain at present as to how best to address it. It's clear that China needs more people, but that's not the sort of shortfall that can be quickly put right. The Chief Economist for Asia-Pacific, Middle East and Africa at the Mastercard Economics Institute, David Mann, told CNBC's "Squark Box" programme that there is an extra challenge: an insufficiency of people to meet production targets.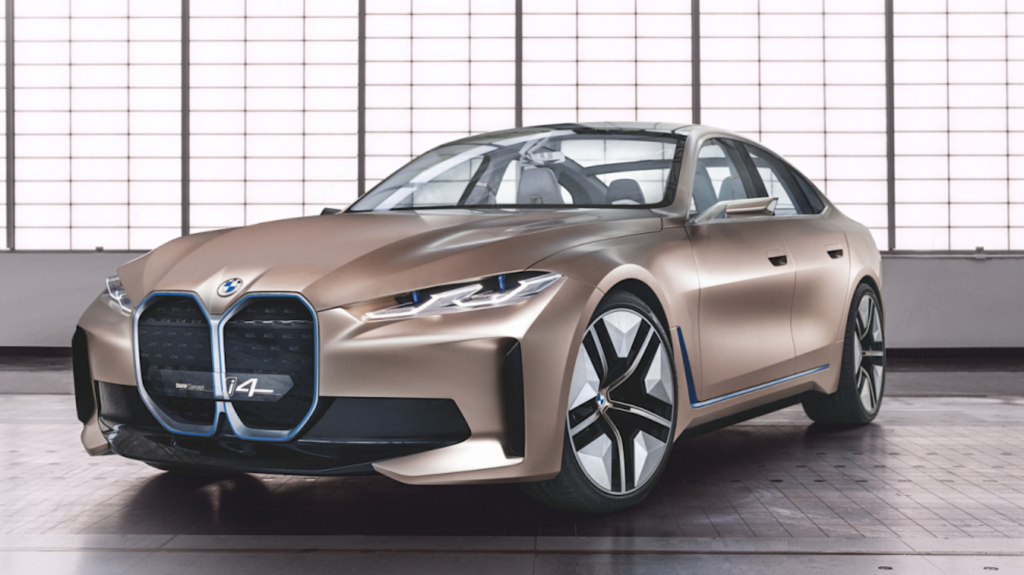 Getting back to the issue of battery-powered electric vehicles, however, Deutsche Welle has pointed out that Germany has now fallen far behind China in terms of automotive output. Order books are looking thinner, it warned, and rising inflation continues to eat into consumer purchasing power.
As mentioned earlier, the figures for such companies as Volkswagen, Mercedes Benz and BMW for the first half of 2023 looked promising enough, with increased revenues and higher profits, but there's not much optimism for the rest of the year and into the slightly longer-term future. Inflation and rising interest rates are having an effect. According to Hildegard Müller, President of the German Association of the Automotive Industry, sales remain more than 20% lower than they were before the pandemic struck. When it comes to electrically-powered vehicles, however, China has a clear lead. As I mentioned earlier, currently every other electric vehicle across the world is being driven in China. In Germany, demand for battery-powered vehicles is declining, falling to only 60% of the previous year's volumes. Indeed, China has been described as "overtaking in the fast lane" when in competition with Germany's quality brands. The plain fact is that Chinese manufacturers now include such digital systems as advanced assistance and infotainment systems. China's roads are notoriously congested, which makes having something to listen to very important. You don't hear much moaning about quality, either: China's manufacturers can take on all-comers, it seems. And beat them. That would seem to be why Chinese carmakers will continue to pile pressure on their European equivalents. That is, as long as the population figures hold up.
As it is, China's demographics problems have been self-inflicted, with policies such as its rigid household registration scheme, which threatens to leave rural migrants to the cities in permanent poverty. China is also seeing a slowdown in economic growth. Some Western observers blame that the Chinese economy has seen a fall in productivity. Beijing should encourage the private sector to grow, they argue, but it's by no means certain that it will happen. As it is, China is said to have reached its peak population size and numbers are now dropping. India is taking over, predicted to have a population 2.9-million larger than China's very shortly. But they don't build electric cars, it seems. Not yet, anyway.