BOY MOSCOW COLD WAR EXPLOITS AND ADVENTURES
By Kevin Paul Scarrott
What's it like to be a teenager when your father works for the British embassy in Moscow during the Cold War?
Kevin Scarrott was that teenager (as were others in Moscow and other postings around the world). Where do you go to school in that situation? What's your social life like? And how do you make friends when you and your family are always moving to the next foreign posting?
Scarrott describes what his life was like; the people he met, how it affected his relationships with his parents, what it was like exploring Moscow in the 60s and early 70s, and the different peers (and adults) he had as friends in this exciting, yet challenging time.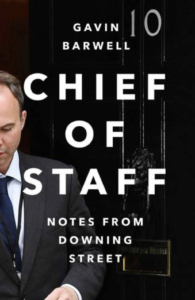 CHIEF OF STAFF
By Gavin Barwell
NOTES FROM DOWNING STREET
A revelatory political memoir by Theresa May's former chief of staff.
Once a more sedate affair, since 2016, British politics has witnessed a barrage of crises, resignations and general elections. As Brexit became logjammed, Theresa May's premiership was the most turbulent of all. In her darkest hour, following the disastrous 2017 election, she turned to Gavin Barwell to restore her battered authority. He would become her Chief of Staff for the next two years – a period punctuated by strained negotiations, domestic tragedy, and intense political drama.
In this gripping insider memoir, Barwell reveals what really went on in the corridors of power – and sheds a vital light on May, the most inscrutable of modern prime ministers. He was by her side when she negotiated her Brexit deal, met Donald Trump, heard about the poisoning of the Skripals in Salisbury, responded to the Grenfell Tower fire, met Jeremy Corbyn and Keir Starmer to broker a cross-party Brexit agreement – and ultimately made the decision to stand down as Prime Minister. Revealing how government operates during times of crisis, this will become the definitive record of a momentous episode in Britain's recent political history.

CHINA VS AMERICA A WARNING
By Oliver Letwin
A WARNING
China's rise as a global superpower has completely reshaped the landscape of international politics. As the country's authoritarian regime becomes increasingly assertive on the world stage, the United States grows ever more hostile to its Asian rival. Repressive moves by China in Xinjiang and Hong Kong, military activities in the South China Sea and Western measures against Chinese companies have only exacerbated tensions. While the great powers of East and West battle over hegemony, the world is being led inexorably towards a new Cold War.
During his time as a Cabinet minister attending National Security Council meetings, Oliver Letwin realised that there was no agreement among Western politicians and academics on how to conduct a peaceful long-term relationship with China. China vs America traces the contours of history, both ancient and modern, to explain how China has emerged as a challenger to American power in the twenty-first century and why this has created such uneasiness in the West.
In this robust and controversial assessment, Letwin argues that the international rules-based order is completely ill equipped to foster a positive relationship between China and the United States and that the global community must act now to correct the collision course these two behemoths are currently on before it's too late.
MAFIA STATE
By Luke Harding
Award-winning journalist and bestselling author Luke Harding's haunting, brilliant account of the insidious methods used against him by a resurgent Kremlin which led to him becoming the first western reporter to be deported from Russia since the days of the Cold War. Featuring a new foreword from the author.
In 2007, Luke Harding arrived in Moscow to take up a new job as a correspondent for the British newspaper the Guardian. Within months, mysterious agents from Russia's Federal Security Service – the successor to the KGB – had broken into his flat. He found himself tailed by men in cheap leather jackets, bugged, and even summoned to Lefortovo, the KGB's notorious prison.
The break-in was the beginning of an extraordinary psychological war against the journalist and his family. Vladimir Putin's spies used tactics developed by the KGB and perfected in the 1970s by the Stasi, East Germany's sinister secret police. This clandestine campaign burst into the open in 2011 when the Kremlin expelled Harding from Moscow.
Luke Harding's Mafia State gives a unique, personal and compelling portrait of today's Russia, two decades after the end of communism, that reads like a spy thriller.
RED KNIGHT
By Michael Ashcroft
Sir Keir Starmer has played many parts during his life and career. He went from schoolboy socialist to radical lawyer before surprising many by joining the establishment, becoming Director of Public Prosecutions, accepting a knighthood and then, in 2015, standing successfully for Parliament. At Westminster, he was swiftly elevated to the shadow Cabinet, and in April 2020 he became the leader of the Labour Party.
Michael Ashcroft's new book goes in search of the man who wants to be Prime Minister and reveals previously unknown details about him which help to explain what makes him tick.
Starmer was the architect of Labour's second-referendum Brexit policy, which was considered a major factor in its worst electoral defeat for nearly a century. Is he the man to bring back Labour's lost voters? Is he the voice of competence and moderation who can put his party back on the political map? Or is he just a member of the metropolitan elite who is prepared to say and do whatever it takes to win favour?
This meticulous examination of his life offers voters the chance to answer these vital questions.