Water, this natural element which is fundamental to human existence, accounts for more than 60% of our bodies and is one of the most basic biological needs.
Although water covers approximately 71 percent of the Earth's surface (326 million cubic miles of water on the planet), only around 3 percent of this water is actually freshwater. However, most of it is inaccessible to us, being locked up in glaciers and polar ice caps or buried too far underneath the earth's surface. Most of our drinking water comes from rivers and streams (roughly 0.4% of the earth's water to be shared among the almost 8 billion people) but sadly, much of this accessible freshwater has become highly polluted lately (Source: worldwaterreserve.com).
Nearly 30 percent of all fresh water resources on Earth are to be found underground. Eurogeosurveys estimates that 75 percent of European Union residents depend on groundwater for their water supply (Denmark gets its drinking water 100 percent from ground waters).
There are more categories of drinking water, which are used for human consumption. Natural mineral water comes from natural underground reservoirs and mineral springs. They are considered more pure and cleaner than surface water and may be treated at source, to remove any unstable elements and undesirable residues. This water can provide important minerals such as magnesium, calcium, sodium and zinc (in different percentages, depending on the formation of the source) and it is considered very beneficial to human health, being an effective way to boost the daily mineral necessary intake.
Bottled mineral still water has an average of 7.1 to 7.5 pH level, which is slightly alkaline, while that of sparkling mineral water is lower, between 5.3 and 6. Keeping a balanced pH level in the body and in the blood has been linked to increased immunity and good health. But, when used in high quantities, carbonated mineral water may cause problems with the kidneys and can lead to kidney stones formation or bloating.
Mineral springs have been exploited for over 4000 years. Romans were the first to acknowledge the benefits of both thermal and mineral springs. The habit of drinking this 'curing water' continued throughout human history and it flourished even more, once traveling became easier and faster, especially in Europe. The tradition of bottled water comes from the early 17th century, when the first bottled water was made in the UK. Later on, mineral water consumption became very popular and was considered a health remedy. In 1809, Joseph Howkins developed the first recipe for carbonated water. He reproduced, for the first time, the natural effervescence of natural spring water. This technological discovery led the way to mass consumption of cheaper sparkling water as well as to increasing the popularity of mineral water (healthier and with natural properties that cannot be fully reproduced) even further.
It is estimated that 60 percent of Europe's underground mineral water reserves are in Romania. However, out of the approximately 1900 mineral water brands in the EU which are officially registered and recognized by the European regulatory authorities, Germany with 821, has the highest number of certified natural mineral water brands. Italy comes second with 322, followed by Hungary with 214 and Spain with 165 registered mineral water brands. (Source: Statista.com- 2016). Romania, although having huge potential and natural reserves, with around 2000 natural mineral water springs, currently exploits only about 20 percent of them, with an average consumption of 50 liters per person; this is half of Europe's numbers.
In Europe, the average consumption of packaged water was around 115,3 liters per person in 2019 (Source: Statista.com). The total volume of bottled water consumed in Europe in a year is estimated at around 50.000 cubic meters and continues to grow yearly. Italians seem to be the thirstiest of all Europeans, with an average consumption of 184 liters of mineral water per year (Source: eurogeosurveys.org).
Germany and Hungary have some of the lowest water prices within Europe. On the opposite side, Iceland and Norway have the most expensive mineral water (Source: Numbeo.com).
The preference in Europe nowadays is more for sparkling mineral water. Inversely, the US market seems to be more open to still water consumption. This comes not only from a long tradition, but also a need since as tap water was not safe to drink for a long time on the American continent. Although this is no longer the case, the American preference was already set and in total, in 2020, for the fifth year in a row, bottled water ranked higher than any other beverage in the preferences of American clients.
In Europe, tap water is appreciated for its quality and is considered as being one of the safest. Austria for example, is renowned for that quality, after it invested heavily in its water systems. It now publicizes the fact that it brings its tap water directly from some natural springs in the Alps (in Vienna, they advertise the famous 'Wiener Hochquellen Wasserleitungen') .
As people are becoming increasingly aware of the importance of clean water consumption, demand for purified bottled water has also increased. From the 1980s on, bottled mineral water consumption has experienced a boom, partly benefiting from wise and targeted marketing campaigns. Even now, with a multitude of choices of beverages on the market, the European bottled water market is expecting a growth of around 3 percent between 2020 and 2026. The new trend of flavored waters has also helped. Whether due to its better taste or its perceived health benefits, because of fewer calories than other sugary soft drinks, it has definitely influenced sales and the resulting increased market share.
Although the global pandemic has severely affected the tourism industry which constitutes one of the major markets for bottled water, mineral water consumption has continued its upward trend. Bottled water has been in especially great demand as consumers stock up for longer "stay at home" periods due to lockdowns. Trade Associations such as the European Federation of Bottled Water (EFBW) are also constantly advocating for the consumption of mineral water.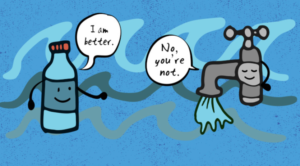 Natural Mineral Water Europe (NMWE) represents the interests of the European bottled water producers. It is based in Brussels, Belgium and it promotes natural waters, spring waters and their benefits before the European Union regulatory authorities and international organizations.
In the EU, the exploitation, quality standards and marketing of mineral waters are strictly regulated by European Directives 2009/54/EC and 2003/40/EC. From January 7, 2022 due to Brexit, EU mineral waters will have to be additionally accredited by British authorities in order to be imported to the UK. Although some fear that the process might take weeks or even months, British officials assured that this will not be the case and that popular European water brands will be available in UK supermarkets as usual. Needless to say, that there are huge sums and interests at stake.
The bottled water industry is now a multi-billion dollar affair with big players on the market. Some of the largest bottled water producers in the world are Aquafina (owned by Pepsico), Dasani (owned by Coca Cola), Nestlé and Danone (France).
It is important to note that the top two world producers, both from the USA, get their water from the tap and then refine and purify it through osmosis and ultraviolet sterilization, enriching it with minerals or adding flavors. Brilliant marketing strategies and great logistics are part of their success.
Nestlé Waters, with gross annual sales of 3.4 billion dollars, bases its strategies on promoting the importance of water for good health. Danone, another big player on the water market with gross sales of 540 million dollars (Source: Zippia.com) has concentrated on delivering high quality water in creatively designed bottles in order to increase its market share and notoriety.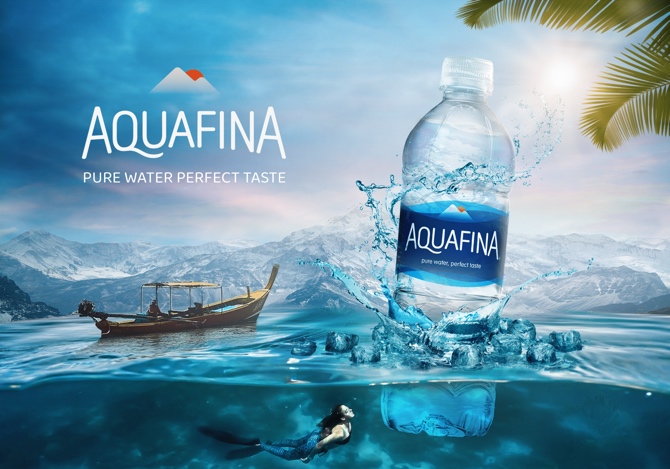 Evian (now owned by Danone) is one of the most famous natural mineral water brands in the world. Its natural mineral water source, 'les Bassins' in the 'Haute Savoie' region, is the only one recognized by the Ramsar Convention on Wetlands signed in the Iranian city of Ramsar in 1971. This is an international UNESCO convention with over 170 member states. Ramsar is one of the oldest intergovernmental accords for preserving the ecological character of wetlands and promoting best water practices, with more than 2400 recognized sites around the world. Despite its price compared to other mineral waters, Evian acquired its fame and market share which is steadily growing.
Whether they come directly from the Alps or from the rain in the tropical forest of Fiji (as advertised by Fiji, another top world water brand ), these waters are recognized as luxury items, to be found in 5-star hotels and Michelin Star restaurants, consumed by international influencers and celebrities, all adding to their fame.
Bottled mineral waters are produced by some 23 European countries. The most famous brands such as Evian and Perrier from France, San Pellegrino from Italy, Gerolsteiner from Germany and Voss from Norway are recognized internationally and are currently distributed worldwide. There are other, more recent brands that are trying to compete with these established names to also gain some notoriety by emphasizing their competitive advantages.
Aqua Carpatica, a relatively new Romanian brand has gained fame in recent years and other than Europe, it is now also sold in the USA and Asia. It underlines its advantage of being extracted from springs deep in the Carpathian Mountains, home to the last wild forest of Europe and far from any non-agricultural or industrial activities that might affect its purity. It is the only mineral water which is naturally nitrate and sodium free, and perfect for newborn care, with a naturally alkaline pH of 8,2 (nitrates are heavy oxidants. They are odorless, colorless and tasteless, and harmful to humans when ingested in large quantities). With its unique square shaped bottles and its high-quality composition, Aqua Carpatica won the 2021 edition of the 'Superior Taste Award' at the International Taste Institute in Brussels for the fifth year in a row. Jury members are composed of renowned chefs and experienced water sommeliers.
As the water industry developed, so did the options for safe and attractive packaging. There are now rows of glass or plastic bottles and aluminum or cardboard cans of all shapes, sizes and colours waiting for the customers in many supermarkets. When considering packaging, the question of not only safety but also the taste of the product, as well as the environmental impact need to be addressed. In ancient times, silverware was widely used; now it is modern materials. Glass is still considered the safest, and since it is chemically inert, it does not affect flavor. Its impact is also much less severe on the environment which today, is literally suffocating under the weight of plastics. Glass bottles have also been promoted as more elitist and luxurious; this undoubtedly brings to mind Perrier with its elegant, green glass bottle. The brand has promoted this image for a long time, associating its high quality sparkling mineral water, extracted from the unique underground source in Vergèze, in the south of France, with the distinctive green bottle.
Nestlé has recently unveiled a revolutionary prototype of its Perrier water bottle, made entirely of recycled plastic, using new recycling techniques, without compromising quality. This new technology is important as it allows plastics of all types and of all colors to be recycled and transformed, thus creating an endless life cycle to plastic. The 'Carbios' technology uses enzymes from naturally occurring microorganisms to break down PET plastics (olyethylene terephthalate, a type of thermoplastic polymer resin) contained in various plastics or textiles into its constituent parts. These can then be converted back into new, virgin-grade plastic (Nestlé.com). Around Europe, a whole series of recycling measures and rules have been implemented in order to increase plastic recycling and to reduce plastic pollution.
No matter where they get their natural waters from, all producers must be aware of the fact that heavy and uncontrolled exploitations may endanger these natural resources to become depleted and diminish to nothing. Pollution and extensive agriculture may also pose a serious threat to the quality, safety and availability of our drinking waters.
We must all treat water as a natural heritage, a precious element of life, to be protected, valued and preserved.
'If there is magic on this planet, it is contained in water' (Loren Eiseley).