Queen Elizabeth II at Balmoral Castle, inviting Britain's Prime Minister Liz Truss to form a Government,September 6, 2022 © Pool photo by Andrew Milligan
The new Prime Minister of the United Kingdom must rate as one of the luckiest political leaders of any democracy in the world. Liz Truss had only been chosen (by a very select group of people, not by the voting public) for two days when the country she was to run was plunged into national mourning by the death of the reigning monarch. Now, I'm not saying she would have been pleased by the news, of course; like most people in the United Kingdom, she will have been deeply saddened by the death of Queen Elizabeth II after she had been on the throne for 70 years and 214 days. She was 96 years old, making hers the longest reign in British history, and she died at Balmoral Castle in Scotland, thought to have been her favourite residence. She became Queen while out of the country on a safari holiday in Kenya. The diplomat and politician Harold Nicholson wrote in his diary: "She became Queen while in a perch in a tree in Africa, watching the rhinoceros come down to the pool to drink." He father, King George VI, had died in his sleep almost 6,500 kilometres away on the Sandringham estate in Norfolk. He was just 56 at the time.
Ever since the Queen's death was announced, Britain has been plunged into mourning and seemed to lose interest in everything else, with people queuing for hours just to glimpse the coffin as the body of the Queen lay in state in London's Westminster Hall. What a gift for a new Prime Minister: the power to do or say whatever she wanted without anyone taking an interest. I'm sure she would not have chosen to begin her premiership in a period of such sorrow but she's a sufficiently professional politician not to turn down the opportunities it provided. She could plan her time in office without interference from other politicians; she had the time to plan, and she will have used it. One of the first things she did was to rid herself of senior ministers who had backed her rival, Rishi Sunak, for the top job. Out they all went, to be replaced by hard-line supporters of Britain's exit from the European Union. She also appointed several new advisors with backgrounds in right wing think tanks and lobby companies sympathetic to her personal political leanings.
Her father, a lifelong Socialist and keen supporter of the Labour Party, has said he hopes it's just a phase she's going through, as in the past she had supported the Labour Party and the Liberal Democrats, as well as campaigning against Margaret Thatcher when she was prime minister. Truss's mother will still – somehow reluctantly – campaign on her behalf and hand out leaflets but her father refuses.
Truss may find that the new monarch, the late queen's eldest son, now King Charles III, doesn't share all of her political beliefs. He has already expressed his concern over the rising cost of living. Truss has stated that she plans to tackle the cost of living crisis, but at the time of writing her exact plans are unknown. She has drawn criticism for refusing to reveal exactly how she intends to start an economic recovery and for avoiding interviews with journalists who are well versed in economic theory. She has said she will cancel the rise in National Insurance contributions announced by her former leadership rival, Rishi Sunak, so as to leave more in the wallets and pockets of the people. She has also promised to help people living in fear of high and rising energy costs, although she is on record as saying there will be no "hand-outs". This comes at a time of wage stagnation and fast -rising prices for essentials. Perhaps the essential hand-outs will be disguised as something else.
LIFE GETS DEARER
Another cost that Truss has sworn to do away with is the rise in Corporation Tax announced by Rishi Sunak in his role as Chancellor of the Exchequer. It had been set to rise from 19% to 23% in 2023. She also pledged to introduce some £30-billion (€34.2-billion) in tax cuts to help rebuild the British economy. The plan was condemned by Sunak when he was Chancellor, calling it "reckless", a "short -term sugar-rush" and "fairytale politics".
Others in his party (and importantly those with voting rights) clearly disagreed with him. It's a well-known fact of politics that given a choice between price rises and no price rises, most people will choose the latter. The intricacies of budgetary matters may be lost on most British people, especially those who have been out buying bigger televisions on which to watch the Queen's funeral. I remember watching her coronation (yes, I'm that old) when my father went out and bought a very early television: a tiny screen in a massive and rather attractive cabinet, so that he could invite a few neighbours round to see the spectacle. When he bought it, there was no television service in the north-east of England, where we lived. The transmitter was turned on especially for the big outside broadcast, then switched off again until some 5 or 6 months later, when the service really started. I recall one of our neighbours' children (like me, around 4 years old or maybe a little older) who kept standing up to block the screen and goad us into responding with such cries as "now you can't see it" and "look at me instead". He was a most irritating child! The TV, although a large piece of furniture, had a 405-line screen in black-and white with a corner-to-corner measurement of just 30 centimetres.
During the leadership campaign, Truss was quite cagey about her likely policies. However, she enters office at a time of crisis. According to Britain's Office of National Statistics, the Consumer Price Index rose by 8.2% in the 12 months to June 2022, up from 7.9% in May. The biggest contribution to that rise came from housing and household services, mainly electricity, gas and owner-occupier housing costs, as well as motor fuels. The Consumer Price Index (CPI) rose by 9.4% in the 12 months to June.
Truss has stated that her main economic priority is to reboot the sluggish economy and help those facing soaring energy bills, promising to reverse the recent increase in National Insurance contributions and cancel a planned rise in corporation tax, which together come to some £30-billion (34.2-billion). She has also talked about cutting VAT by 5% or else cutting income tax to help household budgets. Both solutions would mean more borrowing and the added costs associated with it.
Truss risks upsetting environmentalists, despite her supposed pledge to stick to the UK's net-zero carbon target. Her team have said she will focus on renewable energy, but it's hard to see how. She has said she will suspend the green levies on energy bills, and she is also known to be keenly opposed to onshore wind farms and has described solar farms on farmland as "a depressing site". As someone brought up on the North East Coalfield, I can recall all too clearly how my mother used to dash outside to bring her washing in if the wind changed and directed the smoke from the nearby coke works our way. Truss is also in favour of restarting fracking for shale gas, despite scientists warning that it could lead to earthquakes. A ban on fracking in the UK in England was announced in 2019 after a report by the Oil and Gas Authority found it was not possible to accurately predict the probability or intensity of earthquakes linked to fracking operations. Truss also wants to see more drilling in the North Sea and a big expansion in nuclear power. She has made no mention of such things as help with home insulation to reduce energy bills, which could help cut costs for householders. It almost looks as if she wants to clean up the environment by expanding the dirty measures that were popular in the past.
CHANGING HORSES IN MIDSTREAM
Not all of her announced plans or known intentions are environmental in nature. She has said little about her plans for the National Health Service, although she has promised to continue supporting it. However, she has said she will reverse the rise in National Insurance payments, even though it was aimed at providing money to help clear the backlog of HNS procedures and also pay for better social care. She wants to improve ambulance response times, but very often delays in ambulance arrival times are the result of hospital beds being too full. Truss has not yet talked about how she would address that issue. Nor has she explained how she plans to address Boris Johnson's pledge to "level up" society. The problem is that it will cost money which she has few ways of raising. She has said she's committed to the idea in principle, but that she would have to tackle the issue in "a
Conservative way", presumably through tax cuts and deregulation, which seems not to have been Johnson's favoured route.
Johnson became (and remained) popular in the so-called "red wall" constituencies that had traditionally elected Labour Party candidates by securing financing for popular infrastructure projects there and constantly reminding voters that it was a Conservative government that is picking up the bill for them. That won't work for Truss if she stresses how she's saving money through cutting expenditure, and also through deregulation and by reducing public spending. She can't have it both ways: saving money AND spending at the same time? She has not made herself popular with those who disagree with the outgoing Home Secretary, Priti Patel's, policy of deporting asylum seekers and illegal immigrants caught crossing the Channel or arriving on south coast beaches to Rwanda or some to other country where their human rights are unlikely to be respected. Truss has said the policy will continue, even be stepped up, although it remains to be seen if the threat of imposing such measures will dissuade migrants from trying to reach the UK. Many – probably most – of them have faced dangers and almost certainly paid large sums of money to the traffickers. Many of these migrants end up in difficult and dangerous situations, as they do not have the proper documents to get a job, access healthcare, and housing. The flow of illegal migrants is almost always from poorer countries to wealthier ones.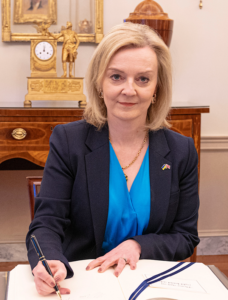 The idea of sending those caught by the authorities to some African country far from Britain has made many British people angry, butTruss has often spoken against what she describes as "woke culture", such as "trans rights" and free speech (and allowing illegal migrants to settle). She has also talked about quitting the European Court of Human Rights and its relevant Convention, saying she might replace membership with a British "bill of rights", which would offer a far lower level of protection, if any. She has also talked up her toughness over the Northern Ireland protocol, suggesting she would be willing to trigger Article 16, the emergency procedure in the UK's post-Brexit deal with the EU.
The Article is supposed to be invoked only in an emergency. Safeguard measures can be taken if the protocol is leading to serious "economic, societal or environmental difficulties" that are liable to persist. So, while it is not intended to be used for temporary or minor problems there is no specific guidance on what qualifies as a "serious" difficulty. That presents a problem that is hard to quantify, let alone resolve. The measure contains no instructions for how and when it should be applied; it is supposed to be a 'safeguard' measure, to be invoked only if either the EU or the UK claims that the agreed deal "is leading to serious practical problems or causing diversion of trade."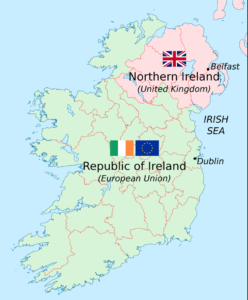 Frontier separating the United Kingdom and the European Union in Ireland after 31st January 2020 with the Union Jack in Northern Ireland and the European and the Irish flags in the Republic. The international border is now also the frontier of the European Union and the European Economic Area
Additionally, it says that priority shall be given to measures that will 'least disturb' the functioning of the protocol. Once the article in invoked, "negotiations should continue, with the measures being jointly reviewed every three months with a view to their abolition or limitation." This leaves the UK government with a range of possible options, and if it thinks the rules for access of goods into Northern Ireland from the UK are too complicated, it could suspend articles 5, 7, 8 and 10, which deal with customs, product standards, VAT and state aid. That would be unacceptable to Brussels because it would end the Irish Sea border and, from the EU's perspective, open up a back door to the Single Market, which could never be allowed. Truss seems quite willing to upset the EU, however, and it's a view shared by most of her new cabinet. The only hope for those who believe in a more united Europe and the UK's place within it may well be that Truss's list of things to do – a nightmarishly long list, too – may leave her with insufficient time to tackle issues connected with the EU.
TURNING UP THE HEAT
The list of problems facing Liz Truss on taking up office is formidable. She has said that she wants energy bills to be frozen until the next election in 2024. That won't be easy because Russian President Vladimir Putin has said that Russia will continue to block gas supplies to Europe until the West lifts its sanctions over his invasion of Ukraine. The UK gets relatively little gas from Russia but the whole affair has dramatically pushed up wholesale gas prices. Germany, more reliant on Russian gas, has been installing temporary terminals for liquified gas allowing it to import gas from further afield, while providing €62-billion in financial help to consumers.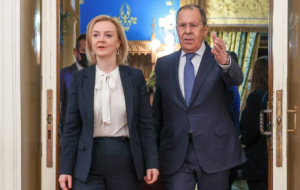 During her campaign for leadership of the Conservative party, Truss declined to describe how her rescue package would work. She needs to explain it in the very near future; the energy price cap is expected to jump from £1,971 (€2,247) to £3,549 (€4,047) overnight. That's very serious money and not the sort you find down the back of the sofa. Any sort of political action to cope with such a jump would have the support of the other political parties, so Truss needn't fear opposition in the House.
Truss is said to be styling herself on Margaret Thatcher, although in her youth she used to take part in anti-Thatcher demonstrations, chanting slogans against the so-called "Iron Lady"and giving out leaflets. The biggest differences between them is that Thatcher – like her or not – had very clear ideas about her principles and didn't change them. If Truss says she believes in something as a principle, you must bear in mind that it may change, according to what thoughts most closely reflect her thinking at that precise moment. Truth and accuracy have seldom played much part in her political activities. She sold herself to the electorate as someone who had succeeded despite having been brought up in a poor part of the industrial northern city of Leeds.
But Leeds has pleasant, leafy parts, and it was in one of those that she was raised by middle-class (Labour voting) parents. She went to the local school, Roundhay, formerly a grammar school with large grounds and very well thought of. It gave her special tutoring to get her into Oxford, but she told voters the school had let down its pupils by giving them "low expectations". She even said it was the reason she was a Conservative, despite having progressed through Oxford as a Liberal Democrat and a pro-European. As The Spectator newspaper put it: "Truss even headed up a pro-EU group that backed the Maastricht Treaty while a student at Oxford University doing PPE. (Politics, Philosophy and Economics)." In her speeches she slandered her excellent school as "a failing comprehensive". It wasn't. And Truss's supposed devotion to Conservatism and "levelling up" is at the very best a misnomer. During her time at Oxford, she upset the then leader of the Liberal party, Paddy Ashdown, by publicly calling for the abolition of the monarchy. The mass hysteria that followed the recent death of the Queen amply demonstrated that it is not a widely-held policy, nor a wise course to follow. Even in 2022, the monarchy remains popular.
She met her husband, Hugh O'Leary, at the 1997 Conservative Party conference and they have two teenage daughters. However, in 2010, while standing as a Conservative Parliamentary candidate for South West Norfolk, it was revealed that she'd been having an affair for 18 months with her mentor at the time, the Conservative MP Mark Field. She won the seat and her marriage survived, although his marriage came to an end. She made some fairly poor political decisions which her career has also survived, such as co-authoring a book called 'Britannia Unchained', in which the British people are described as being "among the worst idlers" in the world. She also incorrectly claimed in a speech to the Conservative Party conference that two thirds of the cheese sold in Britain was imported, a situation she described as "a disgrace". It was also a lie. The journalist Brian Reade, writing in the left-leaning Daily Mirror, wrote: "Her slogan, 'In Liz We Truss' and pledge to make Britain "an aspiration nation" sum up the vacuum in her thinking. What we know is she is a free trade fundamentalist who wants to cut taxes, shrink the state and slash workers' rights. And she will say anything to get power." Just to clear up her background, I should mention that after Oxford she worked for Shell as a graduate trainee, acquiring an accountancy qualification along the way, going on to become Economic Director at Cable and Wireless.
According to the local newspaper, "This is Oxfordshire", all was not plain sailing at Merton College. A satirical Liberal Democrat newspaper at the time listed her alleged problems in an article written by a future Oxford professor, Paul Martin: "1.) Liz is mad. 2.) Liz is going out with Malcolm Hutty and he too is mad. 3.) Liz has mad ideas. 4.) Liz shirks work." After leaving Oxford she joined the Conservative Party. According to the newspaper, a Merton contemporary told the Sunday Times: "We came out of Oxford and it was the summer of Euro 96 and Britpop then Tony Blair got in. It was a breath of fresh air. The country was full of optimism. To then go and join the Conservative party, I was like: 'How does that happen?' It was really perplexing."
POETIC JUSTICE
Truss certainly doesn't seem to be a follower of the poem, "The Rubáiyát of Omar Khayyám" by Edward FitzGerald, which contains the famous lines:
"The Moving Finger writes; and, having writ,
Moves on: nor all your Piety nor Wit
Shall lure it back to cancel half a Line,
Nor all your Tears wash out a Word of it."
In Truss's cases, a stated belief or conviction she expresses can change or even reverse on the turn of a coin. There would seem to be no firm belief that cannot be overturned by expedience. The Rubáiyát itself (the word means "quatrains" or sets of 4-line stanzas) was written in Persian in the 11th century and translated in Victorian times at the instigation of FitzGerald by Edward Cowell, one of the few Victorian scholars to speak Persian. It is not – nor was it ever intended to be – mystical. As for Omar Khayyám himself, he was a philosopher and follower of Avicenna, which is western mis-spelling of Ibn Sina, an 11th century Muslim polymath. He was also a mathematician who used geometry to solve cubic equations. A clever chap, in other words.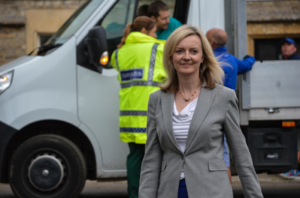 Truss may find it harder than she imagines to cut taxes at a time of almost record inflation. Deutsche Bank's foreign exchange analyst Shreyas Gopal has warned that large, unfunded and also untargeted tax cuts and spending pledges "could alarm global markets", which, given the fairly parlous state of the British economy, would not be surprising. Quoted in The Guardian newspaper, Gopal warned that "it could lead to foreign investors refusing to fund the UK external deficit by buying government debt as investor confidence cannot be taken for granted. Gopal was quoted as pointing out that the UK's current account deficit was already at record levels, meaning sterling "needed large capital inflows, supported by improving investor confidence and falling inflation expectations, to support the currency." Whatever route Truss selects to get Britain out of trouble is packed full of traps, tricks and tripwires.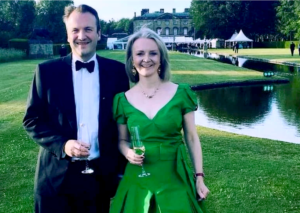 The Guardian writes that the UK could borrow £87-billion (€99-billion) more than anticipated in this financial year, including £17-billion (€19.4-billion) of the tax cuts Truss promised when campaigning to become Prime Minister. That would rise to £29-billion (€33-billion) in 2023 and £35-billion (€40-billion) in additional support for households and businesses. The problem with numbers that big is that they pass over the heads of most people for being simply too massive for us to grasp. Truss has even used the words "tax cuts" to define Conservatism. It would appear that she has a choice in dealing with the rocketing cost of energy between subsidising the bills of the poorest people or freezing prices. Either will cost her government between £70-billion (€80-billion) and £100-billion (€114-billion). If she also comes good on her promise of tax cuts, she could end up with such a massive rise in government debt that the financial markets will simply turn their backs on the UK. These are dangerous times for Truss and for the Conservative Party itself. She can celebrate her move to No. 10, Downing Street, with a glass of something fizzy, but she'll have to take great care; it could yet turn out to be a poisoned chalice. Truss's defeated rival for the premiership, former Chancellor of the Exchequer Rishi Sunak, has called on the party to unite behind Truss, but given the party's reputation for knives in the back, she may prefer to keep them all where she can see them.