Nataša Pirc Musar upon handing over the signatures of voters to the National Election Commission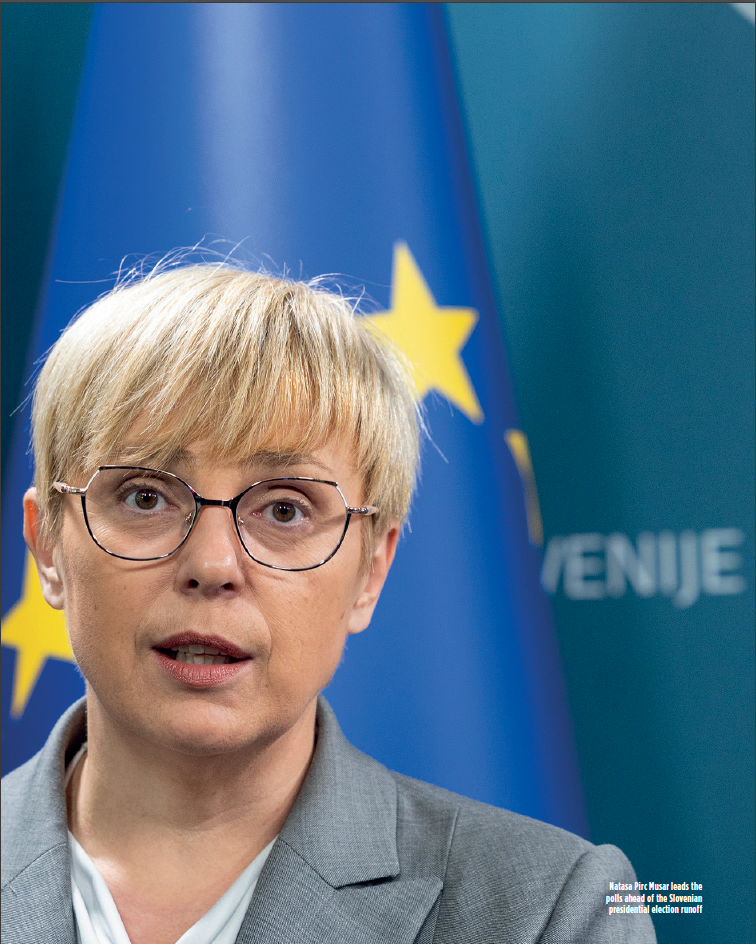 Abraham Lincoln was a lawyer before he became President of the United States. "Honest Abe" was his nickname in court circles back then. Further back in time, Cicero became famous as a friend of Julius Caesar and also a lawyer, but he was never chosen to be Caesar. More recently, of course, Barrack Obama was a lawyer before he became President of the United States. When you think about it, the legal profession is good training for leadership of a country. You just have to look at a list of lawyers who went on to fame and fortune as leaders. Mahatma Ghandi, for instance. Or how about Hilary Clinton? Or Tony Blair. It's a very long list. Now we must add another one: Nataša Pirc Musar of Slovenia has been elected as Slovenia's first ever female head of state. In the UK, of course, lawyers appearing in a court of law must wear their black lawyer's gown and also a particular type of wig that may have been fashionable in the early 19th century or earlier but would certainly earn you some funny looks in any street today.
Lawyers, after all, know the exact legal parameters of leadership: how far your writ can run and exactly where it must come to an end. Ms. Pirc Musar, who is 54 years old at the time of writing, ran as an independent, as did other contenders, but her main opponent, Anže Logar, former Foreign Minister, is from the Centre-Right, which suggests that Ms. Pirc Musar leans to the left.
It's not her first brush with fame, having represented the former American First Lady, Melania Trump, who is herself Slovenian, in a number of copyright and other cases. How does she view her fairly convincing victory (53.86% to 46.14%)? She said to the reporters who inevitably clustered around her: "I believe in democracy, human rights, in tolerant dialogue," she said. "There is a lot of work to be done." Having declared her victory, she went on to say: "I will do my best to be a true president for all, to work for fundamental and constitutional human and democratic rights and democracy." It all sounds very promising; it's never as simple as many voters may believe.
What do we know about this hitherto low-profile and modest woman? She was her country's Information Commissioner from 2004 to 2014, she worked as a journalist and she was President of Slovenia's Red Cross (2015-2016). She has also written several books about freedom of information and legal opinion, for which she is a strong advocate. Apart from Ms. Trump, she has also represented the Political party of the Social Democrats and various others. She has been involved in several high-profile cases. She officially takes over as President of Slovenia in December. It will, of course, be a challenging position and, as her country's first female President, she will be watched especially closely. Yes, I know that's unfair, but as the first woman in the top job I'm afraid it's bound to happen. I wish her a quiet and uncontroversial term of office, during which she can be as fierce and assertive as she likes!
As a journalist, however, she trained at CNN, which is seldom the quietest and most peaceful newsroom in the world. It always struck me as a hectic – but very well organised – office in which everyone knew what they had to do and got on with it. The journalists made friends with a lot of people, too, and spoke a lot of languages. In fact, I can't think of a better training ground. Ted Turner can pat himself on the back. I must assume, therefore, that Nataša Pirc Musar knows her way around a television newsroom. Nataša Pirc Musar was born in 1968 in Ljubljana and after graduating from the Faculty of Law of the University of Ljubljana in 1992, she passed her national bar examination in 1997. After completing her studies, she was employed for six years at the Slovenian national television station as a journalist and news presenter for the main news programme TV Dnevnik. She then worked for five years as a news presenter on "24 ur", the primary information programme of the largest commercial television broadcaster in Slovenia, POP TV.
It was after that that she gained additional experience in journalism at CNN and studied at the Media Department of Salford University in Manchester in the UK. During her studies she served professional internships at the BBC, Granada TV, Sky News, Reuters TV, and Border TV. She has also written newspaper articles and worked on radio. An all-round news-hound, in effect, with wide experience.
|

Never stand still
However, she was someone who was forever looking to broaden her experience, so
in 2001 she moved to the financial sector, joining the largest Slovenian private financial corporation, Aktiva Group, as Head of Corporate Communications. In April 2003 she became the Director of the Training and Communications Centre of the Supreme Court of the Republic of Slovenia. On July 15 2004, the National Assembly elected her the second Slovenian Commissioner for Access to Public Information. She was nominated for this position by the President of the Republic of Slovenia. From 31 December 2005, when the Office of the Commissioner for Access to Public Information was merged with the Inspectorate for Personal Data Protection, and for the following decade, Nataša Pirc Musar held the office of Information Commissioner.
Now she has the top job she must decide her priorities. "My first task will be to open a dialogue among all Slovenians," she told the media. She stood as an independent, without party connections, but she had the backing of Slovenia's centre-left government. The Presidency in Slovenia is largely ceremonial, but Pirc Musar will still be in a position to nominate prime ministers and members of the constitutional court. Her past record shows that she is not the sort of person to sit still and simply let things happen around her. Hers will be an active – perhaps even energetic – presidency. She succeeds the centrist politician Borut Pahor in the post. Pirc Musar was supported by two small extra-parliamentary parties, the Pirate Party of Slovenia (PSS) and the Young People's Party/European Green Party (SMS-Zeleni).
Throughout her career, Pirc Musar has sought wider experience and greater knowledge. After she became Information Commissioner in December 2005, her term of office was extended for an additional five years in 2009 at the instigation of the country's then president, Dr. Danilo Türk. Pirc Musar was then elected Vice-President of Europol Joint Supervisory Body, being elevated to President of Europol's Joint Supervisory Body (JSB Europol) in March 2013, with the task of protecting personal data for all the member states of Europol and their citizens. In December 2014, she took an oath as Attorney at Law with the Slovenian Bar Association and from 1 January 2015 she became the director and owner of her own law firm, Pirc Musar. In November 2015, she successfully defended her Ph.D thesis at the law Faculty in Vienna, on striking the right balance between the availability of access to public information and the personal protection of data using a test based on the principle of "public interest". It was also as the representative of her law firm that she acted as legal counsel for the family of Melania Trump.
Pirc Musar is married to the businessman Aleš Musar and they have a son. They have a property known as the Russian dacha in Zgornje Gameljne, and they also own a 1971 Rolls Royce Phantom VI limousine, once owned by first cousin of Britain's Queen Elizabeth II, Princess Alexandra. Clearly, it's a bit of a step up from her motorbike.
Pirc Musar's election victory has certainly aroused interest around the world but especially in the Balkans. OSW, the Centre for Eastern Studies or Ośrodek Studiów Wschodnich im, points out the result is visible proof of just how polarised Slovenian society is, but with a slight predominance for the left-liberal side, which tends to be concentrated in the larger towns and cities, while the more right-wing conservative camp enjoys more success in the rural areas of northern and eastern Slovenia . Her rival for the presidency, Anže Logar, who is a former foreign minister in the government of Janez Janša, and who had the backing of the centre-right opposition Slovenian Democratic Party (SDS) which is rather more to the right than most "centre-right" parties, and New Slovenia (NSi), won just 46% of the vote, giving Pirc Musar a comfortable victory. In the first round of voting, it was her rival, Logar, who had the edge, but she won in the second round thanks to the support of the Freedom Movement (GS) and the Social Democrats (SD), the two parties which have led the left-green governing coalition since they won the parliamentary elections earlier this year. Pirc Musar has some very helpful friends.
|

Saving the planet by bicycle
The victory of Pirc Musar is also a sign of success for Dr. Robert Golob, the businessman and politician who has been serving as Prime Minister of Slovenia and leader of the Freedom Movement since 2022. He is a highly talented and creative engineer who is determined to solve the problem of meeting the country's climate targets. If anyone can do it, it would seem, he can. He is not popular, needless to say, with climate change deniers, who exist even in Slovenia, but he is trying to encourage people to use renewable types of transportation. In her political views, Pirc Musar is pretty much in line with Golob, too, and during the election campaign she emphasized the ecological and social issues, promised to cooperate with NGOs and civic activists in the field of human rights, and also said that she would work towards maintaining the high standard of living in the country, which is what most voters want, of course. Both Golob and Pirc Musar are involved in the Climate Pact Movement, which is based upon the principle that if everyone were to work together, virtually any obstacle and problem could be overcome, including climate change.
The movement tries to encourage more people to use bicycles to get about. As for Golob, he was among those who responded to the presentation of the European Commission Enlargement Report: "Today's decision by the European Commission to recommend granting candidate status to Bosnia and Herzegovina is also based on last June's initiative by the Government of the Republic of Slovenia to grant EU candidate status to Bosnia and Herzegovina," he reminded his audience. He became a Climate Pact Ambassador in 2021.
Pirc Musar herself is a firm believer not only in human rights but in the need to protect them from those with more nefarious views. She was a member of the EU delegation that negotiated with the US following Edward Snowden's revelations about the misuse of EU citizens' data and has put human rights and the rule of law at the centre of her campaign to be chosen as president. Her key priorities include health and pension reforms, climate neutrality and comprehensive security. She has chosen to have a wide brief and, it seems, she displays unfailing energy when pursuing it. Pirc Musar, who headed the country's data protection authority for a decade, won a healthy majority ahead over Logar, according to the election commission. "Slovenia has elected a president who believes in the European Union, in the democratic values on which the EU was founded," she told reporters, adding she would "give all my efforts so that politicians unify on strategic issues." Pirc Musar looks like being a sensible choice.
As for her involvement with the Truss family? As a lawyer, Pirc Musar was hired to protect the interests of Slovenian-born Melania Trump during her husband's presidency, stopping companies who were attempting to commercialize products by using her her name without permission. During the campaign, Pirc Musar, who is a keen motorcyclist, came under attack because of her husband's lucrative investments – especially in tax havens.
According to Le Monde, she told reporters at Agence France Presse (AFP): "The president cannot be neutral […] and have no opinion […] I have never been afraid to speak out." Indeed, the record shows that to be true. And the result is a blow more for the Slovenian Democratic Party (SDS) of Janez Jansa than for the defeated candidate. Critics had accused Mr. Jansa of attacking media freedom and the judiciary and of undermining the rule of law during his latest term in office. "This election confirmed once again the vote against Janez Jansa," the press was told. "Logar is not the biggest loser tonight, but it is Jansa," Vlado Miheljak, a professor at Ljubljana University, told AFP. However the losing party (or parties) may choose to interpret the result, there is no doubt that Nataša Pirc Musar is the winner. Does it matter? After all, Slovenia is just a small Balkan country. Well yes, it does. With the world population having just reached eight-billion, who is running the show is a matter of great concern. As for Slovenia itself, it covers just 20,271 square kilometres with a population of 2.1-million. It is also mostly mountainous and heavily forested.
SIDE EFFECTS?
Certainly, Pirc Musar's victory is a blow for Slovenia's conservatives. Her opponent in the poll, Anže Logar, ran as an independent but is a long-term member of the Slovenian Democratic Party (SDS) which is headed by Janez Jansa who tried and failed to be re-elected as prime minister in April. The French newspaper Le Monde quoted Vlado Miheljak, a professor at Ljublijana University who was interviewed by Agence France Presse (AFP): "This election confirmed once again the vote against Janez Jansa. Logar is not the biggest loser tonight but it is Jansa." Most commentators are saying that this result marks the end of Jansa's career as a political force.
As for Pirc Musar, what are the options ahead for her? In Slovenia, the rôle of the president is as an arbiter or supra-party authority, in the words of Łukasz Kobeszko, a Research Fellow at the Central European Department at the Centre for Eastern Studies in Warsaw. Clearly the President's is an important rôle but in reality it carries relatively little power. According to Kobeszko, the President cannot dissolve parliament, nor veto laws, although she (or he) can nominate ambassadors, even if the government chooses to ignore the proposals. According to Kobeszko, the choice put forward in this way was often ignored during the period of 2020-2022, when Janez Janša was in power, or was at least in "cohabitation" (as it was euphemistically called) with the outgoing president, Borut Pahor, with his long-lasting links to the Social Democrat (SD) party. We should bear in mind that the SD is also the successor to the League of Communists of Slovenia. Presidents also nominate prime ministers and members of the constitutional court, who are then elected in parliament, and furthermore appoints members of the anti-corruption commission.
You will gather from this the depth of the political divide within the small alpine (and very beautiful) country. Pirc Musar has pledged to bridge that divide and unite the people, setting aside the serious squabbles of the past, which won't be easy. "My first task will be to open a dialogue among all Slovenians," she said as her election team celebrated. "In the democratic election, Slovenians have shown what kind of a country they want." She went on to clarify her immediate intentions: ""All my life I've advocated the same values: democracy, human rights, tolerance. It's time to stop dealing with the past. Many things have to be done in the future," she said, surrounded by her election team as her victory was announced.
|

First-hand knowledge
As to her decision to run for the Presidency, she claims to have noted what was going wrong in Slovenia when she was reporting on it for television news. She decided to seek public office because she "understands what the state's needs are and how to realize them", according to her website.
"I am also convinced that the time has come in Slovenia to get the first female president of the republic, who will confidently and courageously step forward with a new, different energy and strengthen her rôle as a statesman," says her website. "The President of the Republic is the one who must initiate and encourage this with a genuine, sincere desire and intention. That is why we need self-confidence, hope and trust. We need a seething energy, which must be skilfully clothed in a statesmanlike attitude. I know I have it." There speaks the voice of confidence.
Perhaps it comes from the fact that Pirc Musar rides a motorcycle. As the old 1950s motorcycle advertisement goes: "God didn't create metal so that man could make paper clips!" There are a number of sayings about women who ride motorcycles but I'm not going to quote them here. Some of them are quite suggestive, even rude. Pirc Musar can say if they're true, or if they're still true, now she's reached the age of 54. But motorcycling is said to keep you feeling young. Apart from being Slovenia's first female president and holding a number of other senior posts, the Presidency is a much higher-profile job. The head of state is elected for 5 years and plays a more formal rôle.
Although the rôle is mostly ceremonial, the president is commander in chief of the armed forces and nominates several top officials, including the central bank governor. Ceremonial it may be, but it clearly has some important functions. Pirc Musar is not a woman to shirk her duties. "Not a single day of my life have I said 'Oh God, I have to go to work'," she told Associated Press. "All the jobs that I have done in my life were a hobby of mine." Some hobby, you may well think, and certainly not one to everybody's taste.
Pirc Musar can be seen as a relative newcomer to the world of politics, but her face is doubtless familiar to most Slovenians as a former television news anchor. Familiarity is part of the charm of politics conducted in public. The issue of power and where it resides exactly has been under debate for centuries. In the excellent book about the history of jurisprudence and its relationship to power, "The Rule of Laws", Fernanda Pirie traces how jurists and lawyers came to hold control over others. "Did the ruler simply have power," she asks, "or did he only have the power to declare what was lawful? Or did the people have this power?" It's what makes being a lawyer a sensible qualification for rule, it seems. "The civil law had an authority, based on its ancient history and intellectual sophistication, that even emperors respected." In theory, anyway. Not all leaders have bothered to observe their own laws; there seems little doubt that Nataša Pirc Musar will do so. No-one pretends it will be easy but if anyone can do it, it would seem, she can. I wish her luck. It's not a job I would fancy. More of a poisoned chalice, really. But Pirc Musar is extremely well-qualified to do it; from the Rule of Law to the Rule of a Lawyer. I wish her luck!
anthony.james@europe-diplomatic.eu