AUTOMOBILI PININFARINA DELIVERS FIRST BATTISTA CARS TO U.S. CLIENTS AND FURTHER STRENGTHENS PRESENCE IN NORTH AMERICA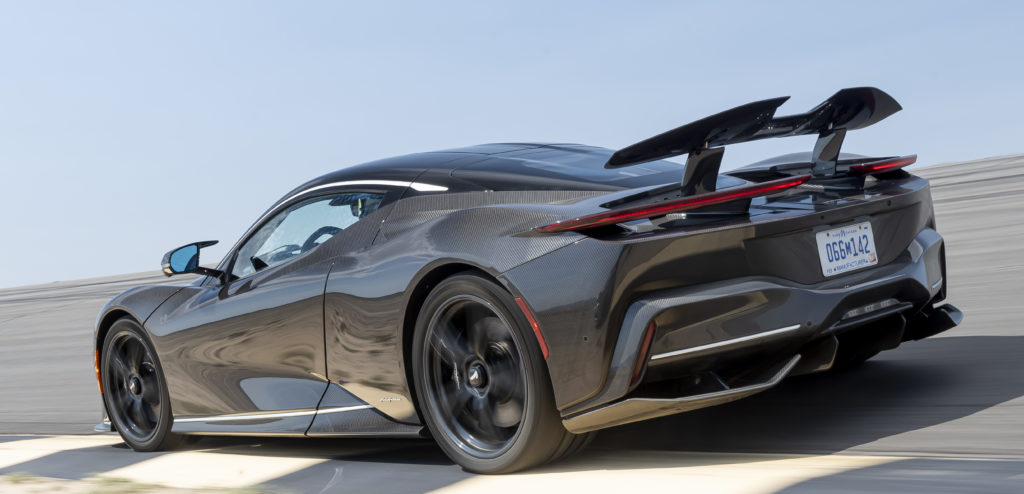 The first Battista pure-electric hyper GT cars crafted for clients in North America are delivered to new owners, marking another significant milestone for Italian luxury car brand Automobili Pininfarina. The first bespoke Battista is followed by the exclusive Battista Anniversario, which will also leave the Battista Atelier in Cambiano, Italy this month to be received by another U.S. owner.
The arrival of the first two Battista cars in the U.S. coincide with a strengthened presence in the region for Automobili Pininfarina, through the addition of a new retail partner in Dallas, Texas.
Per Svantesson, Automobili Pininfarina CEO, said: "The team and I are very proud of Automobili Pininfarina's expansion in the U.S. and the delivery of the first Battista cars stateside. This symbolises our creation of a new luxury electric car segment both in the U.S. and globally. With a passionate collector receiving the first Battista in North America, we see tremendous confidence in this masterpiece of design and technology in this influential community." "North America is a very special region for Automobili Pininfarina. The appetite in the community for peerless design and the demand for innovative electric luxury cars means that the majority of the 150 bespoke Battista we handcraft in Italy will be owned by U.S. clients."
The Battista will be the most powerful car ever designed and built in Italy and it will deliver a level of performance that is unachievable today in any road-legal sports car featuring internal combustion engine technology. Faster than a current Formula 1 race car in its 0 -100 km/h sub-two second sprint, and with 1,900 hp and 2,340 Nm torque on tap, the Battista will combine extreme engineering and technology in a zero emissions package. The Battista's 120 kWh battery provides power to four electric motors – one at each wheel – with a combined WLTP range of up to 476 km (U.S. combined EPA: 300 miles) on a single charge. No more than 150 examples of Battista will be individually hand-crafted at the Battista Atelier in Cambiano, Italy. Price tag is around $2.2 million.
COURT OF JUSTICE OF THE EUROPEAN UNION:
THE RIGHT TO COMPENSATION FOR AIR PASSENGERS SUBJECT TO LONG DELAYS APPLIES TO CONNECTING FLIGHTS MADE UP OF FLIGHTS OPERATED BY SEPARATE OPERATING AIR CARRIERS
The request for a preliminary ruling has been made in proceedings between flightright GmbH, a German company providing legal assistance for air passengers, and American Airlines Inc., an air carrier, concerning compensation under Regulation No 261/2004, requested due to a long delay to a flight's arrival at its final destination.
A passenger purchased, through a travel agency, an electronic plane ticket for a journey on 25 July 2018 from Stuttgart to Kansas City made up of three flights. The first flight from Stuttgart to Zurich was operated by Swiss International Air Lines, whilst the two flights from Zurich to Philadelphia and from Philadelphia to Kansas City, respectively, were operated by American Airlines. The electronic ticket number appeared on the boarding passes for those flights. In addition, that ticket showed that American Airlines was providing services and contained a single reservation number relating to the entire journey. Furthermore, the travel agency issued an invoice showing a total price for the whole of that journey and for the return.
While the flights from Stuttgart to Zurich and from Zurich to Philadelphia, respectively, ran to schedule, the arrival of the flight from Philadelphia to Kansas City was delayed by more than four hours. Before the German courts, flightright, a company providing legal assistance to air passengers to which the rights arising from that delay had been assigned, is claiming compensation of € 600 from American Airlines, pursuant to Regulation No 261/2004 concerning compensation and assistance to passengers in the event of denied boarding and of cancellation or long delay of flights.
The German Federal Court of Justice, before which the case has been brought, has put questions to the Court of Justice regarding the interpretation of certain parts of that regulation. By its judgment on October 6, the Court of Justice holds that the concept of a 'connecting flight' covers a transport operation departing from a Member State made up of a number of flights operated by separate operating air carriers which do not have a legal relationship, where those flights have been combined by a travel agency which has charged an overall price and issued a single ticket for that operation.
The Court points out that the concept of a 'connecting flight' must be understood as referring to two or more flights constituting a whole for the purposes of the right to compensation for passengers provided for in Regulation No 261/2004. That is the case when two or more flights were booked as a single unit. In the present case, it appears that the passenger had a ticket constituting proof that the reservation for that passenger's entire journey from Stuttgart to Kansas City had been accepted and registered by a tour operator. Such a transport operation must be regarded as being based on a single reservation and, therefore, as a 'connecting flight'. The flights comprising the connecting flight at issue were operated by separate operating air carriers, namely Swiss International Air Lines and American Airlines, there being no legal relationship between them.
The Court considers that no provision of the regulation concerning compensation of air passengers renders the classification as a connecting flight subject to the condition that there is a specific legal relationship between the operating air carriers operating, where relevant, the flights which make up the connecting flight. Such an additional condition would also be contrary to the objective of ensuring a high level of protection for passengers, in that it would be capable of limiting, in particular, their right to compensation, where there is a long delay to their flights.
EMSA SNIFFER DRONE SUPPORTS FRENCH AUTHORITIES TO MONITOR SHIP EMISSIONS ON MEDITERRANEAN SEA COAST
EMSA has responded to a request from the French authorities to provide surveillance support for multiple tasks including the monitoring of emissions from passenger and commercial ships using the busy ports in the area of Marseille (Port of Marseille, Port of Fos). The sniffer drone deployed takes measurements from the exhaust plumes of passing ships to help verify compliance with EU and IMO rules capping the sulphur content of marine fuels (Directive (EU) 2016/802 and MARPOL Annex VI), with a view to reducing harmful effects on human health and the environment. The operation follows recent successful trials and is expected to run until 23 December 2022.
The ship safety inspectors of the Interregional Directorate for the Mediterranean Sea (DIRM MED) in charge of dockside controls will be directly involved in the targeting of vessels in close contact with the pilots of the drone. Each flight will be followed in real time through EMSA's RPAS Data Centre and the measurements taken will trigger follow-up inspections via the THETIS-EU database for port state control where instances of non-compliance are suspected. The particular model of RPAS in use is ideal for rapid mobilisation from different sites. The ATLAS 4 vertical take-off and landing quadcopter manufactured by ALTUS LSA and supplied by the ALTUS LSA-led consortium with ADAPTIT is under contract to EMSA and fully equipped with different payloads including cameras and emissions measurement sensors. While emissions monitoring will be the primary task of the operation, the RPAS may also be deployed for other complementary tasks within a designated area. In this way, it can also serve the purposes of search and rescue, fisheries control, and marine pollution monitoring depending on the specific needs of the authorities at any given time.
ABOUT RPAS
Remotely Piloted Aircraft System (RPAS) services are offered free of charge to all EU countries by EMSA. They have been developed to assist in maritime surveillance operations and ship emission monitoring and can operate in all seas surrounding the European Union. RPAS services can provide support to traditional coast guard functions, including search and rescue and pollution prevention and response. The services are offered to member countries as part of EMSA's regional RPAS strategy, which allows multiple coast guard functions in several EU countries to be supported by one or more RPAS services. See where EMSA is flying.
ABOUT EMSA
The European Maritime Safety Agency (EMSA) is a decentralised agency of the EU, based in Lisbon, Portugal. EMSA serves the EU's maritime interests for a safe, secure, green and competitive maritime sector, delivering value for member states through support for pollution prevention and response, maritime surveillance, safety and security, digitalisation and the provision of integrated maritime services, and technical assistance.
EUSPA LAUNCHES THE #MYEUSPACE COMPETITION 2022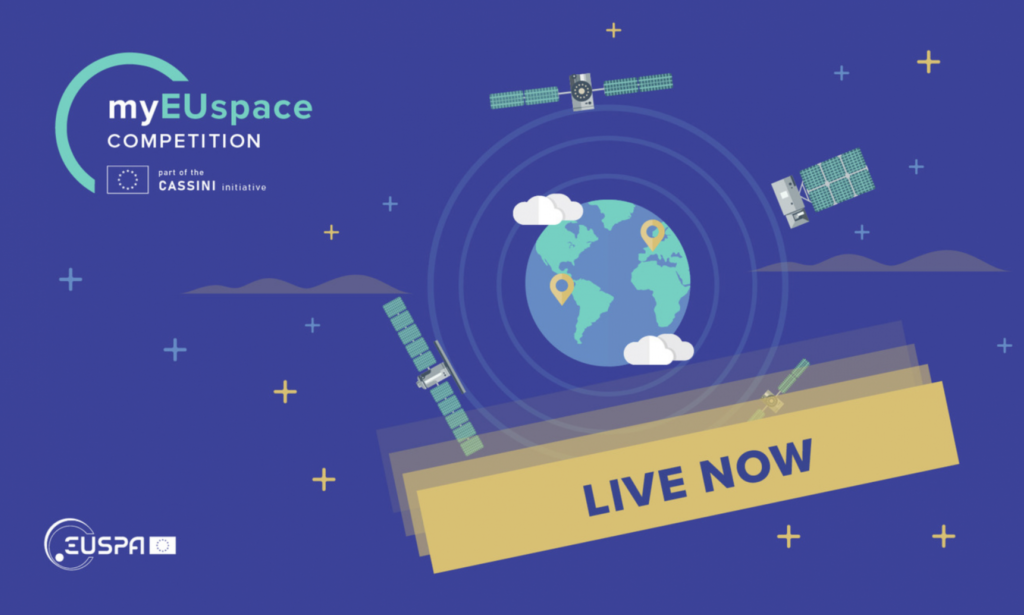 EUSPA is looking to support the development of innovative commercial applications that leverage data coming from the EU Space Programme.
Have an idea for a commercial application that leverages the power of the EU Space Programme? Looking for support to turn that idea into a prototype or to take it to market? Then check out the #myEUspace 2022 competition!
The annual competition, which is organised by the EU Agency for the Space Programme (EUSPA) as part of the European Commission's CASSINI – Space Entrepreneurship Initiative, challenges innovators and entrepreneurs to create game-changing commercial solutions that use data coming from Galileo, Copernicus or both. "Space data is at the heart of the technological revolution currently sweeping Europe, and this competition is another example of how EUSPA supports innovative entrepreneurs, start-ups and SMEs from across the EU who are leveraging Copernicus and Galileo data, information and services, during the different steps of their evolution cycle," says EUSPA Executive Director Rodrigo da Costa. While ideas can range from mobile applications to hardware-based solutions, all must be tied to one of three targeted innovation areas:
Space My Life: Consumer solutions like mobile applications, wearables (smart watches, smart glasses, fitness trackers, etc.), drones or robotics that address major societal challenges in focus areas such as health, citizen safety and security, gaming and entertainment, sports and fitness, and tourism.
Our Green Planet: Innovative solutions addressing environmental challenges and sustainable life and that contribute to the implementation of the European Green Deal, as well as solutions that aid the green transformation of corporations. The proposed solutions must address major societal challenges in focus areas such as the conservation of ecosystems, green mobility, sustainable agriculture and the management of energy and resources.
Dive in Deep Tech: Innovative solutions that combine EU Space data with deep technologies like artificial intelligence (AI), quantum (quantum computing, sensing, simulation, encryption, etc.), blockchain, the metaverse and extended reality (augmented reality [AR], mixed reality [MR], virtual reality [VR]). The proposed solutions must address major societal challenges in focus areas such as biotech, medtech and fintech.
Ready, set, disrupt!
The #myEUspace competition is open to teams from all EU Member States plus Switzerland, Norway and Iceland and has a total prize purse of nearly EUR 1 million. In addition to the cash prize, the competition provides support to entrepreneurs during the entire innovation cycle, from early-stage start-ups to scale-ups.
"Start-ups and entrepreneurs are particularly enthusiastic about embracing the potential offered by the EU Space Programme and translating it into the innovative solutions that are sure to disrupt a wide range of sectors," says EUSPA Head of Market, Downstream and Innovation Fiammetta Diani. "The #myEUspace competition can help you turn that enthusiasm into action – and success."
Depending on the maturity of the solution at the time of submission, entrepreneurs can compete and win in three different prize tracks:
Best Ideas: for promising theoretical ideas that leverage EU space data and have a high market potential. The best 15 ideas will receive a cash prize of EUR 10K each.
Best Prototypes: for tested prototypes or beta versions that you want to bring to market. The 10 best prototypes will receive a cash prize of EUR 30K each.
Best Products: for existing commercial products that are looking to scale-up. The 5 best products will receive a cash prize of EUR 100K each.
Teams who win in one category can take the same award-winning idea or prototype and apply again in another track to compete and win additional prizes!
The details
All applications will be assessed based on their innovativeness, market potential, feasibility, relevance to the EU Space Programme and operational capacity. Awarded teams will be invited to showcase their solutions to the public and investors during the Contest Finals, part of next June's Entrepreneurship Day.
More information about the contest : https://www.euspa.europa.eu/myeuspacecompetition
The application platform is now open for all three tracks and the application process is very easy!
The deadline for the Best Ideas track is 30 November 2022, 10 February 2023 for the Best Prototype track, and 23 April 2023 for the Best Products track.
Source : European Union Agency for the Space Programme (EUSPA) (http://www.euspa.europa.eu).
THE GIANT BIBLE OF MAINZ DIGITIZED BY THE LIBRARY OF CONGRESS
The Giant Bible of Mainz, one of the last handwritten giant bibles in Europe, has now been digitized by the Library of Congress, ensuring online access to an important national treasure from the 15th century.
The Giant Bible is famous for having been copied by a single scribe, who precisely dated his progress between April 4, 1452, and July 9, 1453. These dates are remarkable because they place the creation of this manuscript bible in proximity to the first printed bible crafted in Europe, the Gutenberg Bible.
While it has never been in question that the Giant Bible and the Gutenberg Bible were created around the same time, scholars were previously less certain about the location of Mainz, Germany, as the birthplace of both bibles. The Giant Bible of Mainz received its name from an inscription on the first leaf of the manuscript, which states that in 1566, Heinrich Stockheim, cantor at the Mainz Cathedral, signed the bible over to the cathedral's custody. This early evidence of the bible's presence in Mainz, coupled with the stylistic influence of the Middle Rhine upon certain aspects of its paintings and illuminations, suggested Mainz as a place of origin. But it left room for doubt.
New scholarship is putting those doubts to rest. historian John Jefferson recently identified the coat-of-arms on the first leaf of the manuscript as those of Bishop Rudolph von Rüdesheim and Abbot Emmerich Nauta of Winkel, both of whom were local to the Mainz area when the Giant Bible was being copied. This identification makes it much more likely that the Giant Bible was created within the greater Mainz area, and brings it within greater historical proximity to the beginning of European printing.
In its digital form, the Giant Bible of Mainz can now be accessed by people across the globe and will be preserved for future generations. In keeping with Rosenwald's commitment to encouraging broad cultural engagement with the history of the illustrated book, these images allow anyone interested in medieval manuscripts to encounter each page of this singular codex.
"Digitization is an important part of equitable access to early materials, and we are excited that new voices will have an opportunity to become part of the future of the Giant Bible at the Library of Congress," said Marianna Stell, reference librarian in the Rare Book and Special Collections Division.
To acces The digital from of the The Giant Bible of Mainz : https://www.loc.gov/item/52002226/
HORIZON EUROPE INFO DAYS TO TAKE PLACE ON 15-16 DECEMBER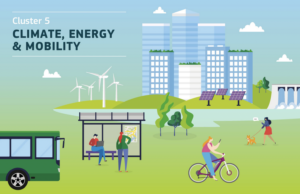 The European Commission has announced that new Info Days for Horizon Europe Cluster 5 – Climate, Energy & Mobility – will be held as a hybrid event on 15-16 December 2022. 
The hybrid (virtual/limited physical) Info Days will present the research and innovation topics proposed for 2023 under the Work Programme 2023-2024 of Horizon Europe (HE) Cluster 5 – Climate, Energy & Mobility.
They will give the opportunity to prospective applicants to learn more about the funding options under the new Work Programme with focus on twin green and digital transitions to achieve climate neutrality in Europe by 2050.
The goal of the Info Days is to present 107 open topics of the Horizon Europe Cluster 5 2023 calls by way of a plenary and four parallel sessions.
Registration
Limited physical registrations will be possible via the official Info Days registration page (coming soon!). Participants wishing to attend remotely or who cannot attend physically will be able to follow all sessions as well as the NCP project pitching session online through this main event page. No registration is needed to follow the online sessions.
Brokerage event
A separate physical pitching session and brokerage session organised by the National Contact Points (NCP) will take place in the afternoon on 15 December at the same venue – the Centre de Conférences Albert Borschette (CCAB) in Brussels. The brokerage session will provide to future project partners the opportunity to network, through dedicated meetings organised by sector.
The NCP brokerage session on Thursday afternoon (15.00-17.30) will require physical presence for networking, and Info Day participants who will not attend this session are encouraged to attend remotely, in order to facilitate access to those participants who wish to attend both.
For a detailed agenda, participation information and practical details, visit the event website : https://research-and-innovation.ec.europa.eu/events/horizon-europe-info-days/cluster-5_en
NICARAGUA: EU SANCTIONS REGIME PROLONGED FOR A FURTHER YEAR
The Council has prolonged the framework for imposing targeted restrictive measures in view of the situation in Nicaragua for an additional year, until 15 October 2023.
The restrictive measures currently in place apply to a total of 21 persons and three entities. Those designated are subject to an asset freeze and EU citizens and companies are forbidden from making funds available to them. Natural persons are additionally subject to a travel ban, which prevents them from entering or transiting through EU territories.
This decision takes place following the unjustified decision of the Nicaraguan regime to expel the Head of the EU Delegation from the country, and cut diplomatic ties with the Kingdom of the Netherlands, as well as the EU reciprocal response to declare the Head of the Mission of the Republic of Nicaragua to the EU as persona non grata.
The EU reaffirms its continued commitment to the Nicaraguan people and to defending democracy, the rule of law and human rights. The current political crisis in Nicaragua should be resolved through genuine dialogue between the government and opposition. The EU remains open to dialogue with Nicaragua, provided that this dialogue is conducted in a respectful manner.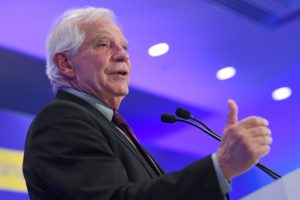 Background and next steps
The sanctions regime was first introduced in October 2019 to address Nicaragua's deteriorating political and social situation, after the Council had repeatedly expressed its concern about such deteriorating situation in the country.
On 4 May 2020, the Council adopted the first restrictive measures against six individuals. They targeted persons and entities responsible for serious human rights violations or abuses, or for the repression of civil society and democratic opposition in Nicaragua, as well as persons and entities whose actions, policies or activities undermine democracy and the rule of law in the country.
The EU follows developments in Nicaragua constantly and can decide to renew sanctions and amend the list of targeted entities or persons based on developments in the country.
Nicaragua: head of mission to the EU declared persona non grata
On the initiative of the High Representative of the Union for Foreign Affairs and Security Policy, the Council agreed on 10 October that the head of the Mission of the Republic of Nicaragua to the European Union will be declared persona non grata.
This is a reciprocal response to the decision by the Nicaraguan government on 28 September to declare the head of the EU Delegation to Nicaragua as persona non grata. The EU considers the Nicaraguan decision unwarranted.
The EU reaffirms its continued commitment to the Nicaraguan people and to defending democracy, the rule of law and human rights.  The current political crisis in Nicaragua should be resolved through genuine dialogue between the government and opposition. The EU remains open to dialogue with Nicaragua, provided that this dialogue is conducted in a respectful manner.
REGISTRATION OPENS FOR EUROPEAN DRUGS WINTER AND SUMMER SCHOOLS 2023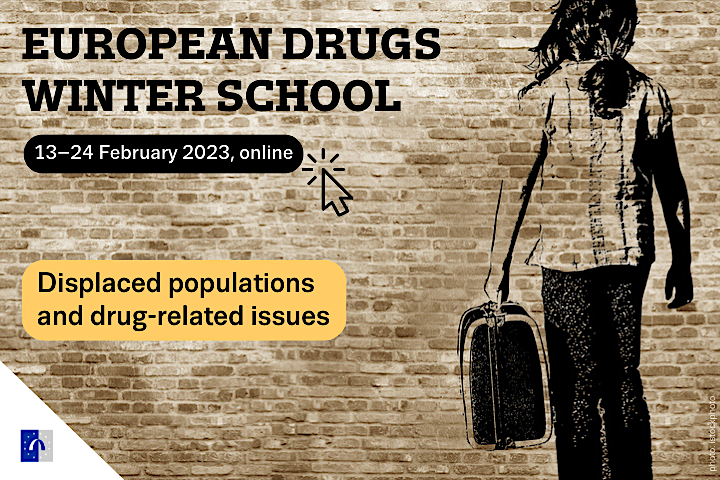 EDWS: 13–24 February 2023 (online): This year, the theme will be 'Displaced populations and drug- related issues', with one full day dedicated to this topic. The two-week course will feature live lunchtime lectures with experts and practitioners, followed by afternoon exercises. Virtual fieldwork tours will also be offered. Completion of exercises and an exam are compulsory for those wishing to obtain credits. The sessions will be recorded and available for subsequent viewing.
EDSS: 26 June to 7 July 2023 (Lisbon): In 2023, this face-to-face two-week course will focus on the issue of mental health. Sessions will include lectures on drugs and mental health, dual diagnosis and integrated interventions. Study visits will be organised to one of the Portuguese commissions for dissuasion as well as to mobile methadone units and a drug consumption room in Lisbon. During the course, students will participate in interactive workshops to discuss their own projects and views. The course will conclude with an open debate with guest speakers, followed by an exam for those wishing to obtain credits.
The target audiences for the two events are: university students, researchers, professionals and administrators interested in working on drug issues. The previous rounds of these courses brought together students from the EU Member States as well as from Africa, Asia, Australia and the Americas. Profiles of former alumni and their testimonials can be found on the official summer school website and their statements viewed in a promotional video.
The courses prepare professionals and students to meet the complex policy challenges that face Europe in the field of drugs. Involving scientific experts from the EMCDDA, university professors and policymakers, they provide a multi-disciplinary and inclusive approach to the study of the drugs problem in Europe and beyond.
Details on scholarships in 2023 are available on the event web pages. Both events will be conducted in English.
Contacts:
Catherine Moury, EDSS Scientific Director — drugsummerschool.cies@iscte.pt
Marica Ferri, Scientific programme — Marica.Ferri@emcdda.europa.eu
https://www.emcdda.europa.eu/news/2022/registration-opens-european-drugs-winter-and-summer-schools-2023_en
EUROPEAN DEFENSE AGENCY PROJECT SEEKS LIGHTER BALLISTIC ARMOUR
Ballistic, or bullet proof, armour is used to protect vehicles against different threats. But it also makes them heavier, especially when seeking to protect against more powerful weapons. Taken together, armour and the vehicle structure constitute more than half of vehicle's weight, requiring more fuel and potentially making it harder to manoeuvre.
In search of a lighter armour, the European Defence Agency (EDA) launched a project on 20 October 2022 to use new advances in metallic materials for ballistic steels.
Known as the Additive Manufacturing of Metallic Auxetic Structures and Materials for Lightweight Armour, (AMALIA), the project aims to enhance the performance of ballistic and blast protections using auxetic structures, which become thicker when stretched or thinner when compressed. Making use of specific alloys developed for ballistic applications, this material can be tailored for the additive manufacturing process.
In response to a violent impact, the auxetic materials have the advantage of being denser in the strike zone and allow a higher energy absorption, offering more protection.
The AMALIA project, costing slightly less than € 5 million, is funded by seven EDA Member States (Italy, Czech Republic, France, Germany, Poland, Romania, Slovenia), led by RINA Consulting – Centro Sviluppo Materiali.
The state-of-the-art structures are still mainly at a theoretical level, involving numerical simulations. Several studies have assessed the positive effect of these structures on energy absorption, suggesting that auxetic structures can be used for protective equipment, including armour for military vehicles. However, due to the manufacturing difficulties of such structures, not many 3D metallic structures have been developed.
Some examples of parts with auxetic structures are made in aluminium, stainless steel and titanium alloys (EBM technology) but are still on a small scale.
The AMALIA project aims to explore technical issues related to the difficulties of manufacturing such auxetic structures using traditional manufacturing methods. Material development will also have an important role in producing alloys specifically developed for the additive manufacturing process by means of thermodynamic, kinetic and solidification tools.
The materials will be investigated to better understand the response of auxetic materials to static and dynamic impact loading conditions at different strains, an aspect not yet sufficiently explored.
The project will rely on extensive simulations, in order to test the ballistic properties of new auxetic structure topologies and fine tune the process parameters for the actual structures production.
The properties of the additive manufactured part will be improved through gas atomisation, a process aiming at synthesizing high-quality metal powders with controlled particle sizes.