SNCF VOYAGEURS & ALSTOM LAUNCH TGV M "POWER CAR"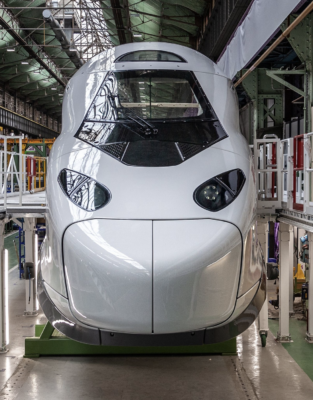 Jean-Baptiste Eyméoud (President of Alstom France), Christophe Fanichet (Chairman and CEO, SNCF Voyageurs), and Alain Krakovitch (Managing Director, Voyages SNCF) unveiled on May 26th the first TGV M power car in Alstom's Belfort workshops.
A new face for a new train
This eco-designed TGV, the first trainsets of which are scheduled to enter service in 2024, has benefited from the know-how of the best experts from Voyages SNCF and Alstom, brought together on a common platform during the definition and co-specification phases of the project. This new way of designing a more innovative and efficient train is a first in Europe.
Thanks to a more compact, simplified, and streamlined architecture, the TGV M boasts reduced acquisition and maintenance costs whilst gaining 20% in capacity.
The return of energy to the catenary during braking, eco-driving and the increasingly aerodynamic shape of the nose allow overall energy savings of around 20%.
4th generation TGV features
These new vehicles, which will also contribute to our OUIGO offer, introduce a number of major advancements:
unprecedented modularity, making it possible to adjust the number of carriages according to precise market needs (7, 8, or 9), to transform 1st class seating areas into 2nd class areas and reconfigure them by adding or removing seats or bicycle and baggage storage areas, etc.
on-board floor space increased by 20%, amounting to 740 seats compared to 600 in current duplex carriages.
ultra-competitive energy efficiency and carbon footprint per journey: with a 97% carbon recyclability objective, the TGV M's carbon footprint is the lowest on the market.
access to online scalable services to meet passenger needs, such as on-board WiFi and complete real-time information across train areas.
real-time provision of information on train parts, allowing preventive maintenance.
100% accessibility across carriage areas for all passengers. From the start, TGV M was the first TGV to be designed in close collaboration with wheelchair user (WU) associations and will be the first TGV to provide fully autonomous train accessibility for people with reduced mobility.
Design competition results for the two trial trains
Launched late September to create the lamination or coating of two trial trains, the event was also an opportunity for SNCF Voyageurs and Alstom to unveil the internal competition winners amongst 210,000 SNCF employees and Alstom France's 12,500 employees.
The two winners will be invited to participate in trials to be held in the Czech Republic and in France in 2022.
Key TGV M figures
An environmental train
-32% CO² emissions
97% of train materials can be recycled
An energy-efficient train
-20% energy consumption for more efficient aerodynamism and motorisation
-20% acquisition costs
-30% maintenance costs
A 100% online train
Optimised on-board Internet network capable of integrated all future technical improvements
SNCF, a major territorial economic player
DANISH PARLIAMENT APPROVES CONSTRUCTION OF THE LYNETTEHOLM MEGA ISLAND

The Danish Parliament (Folketing) has given the green light to the construction of Lynetteholm, a giant man-made island that will protect the waters of the port of Copenhagen from rising sea levels while providing housing for 35,000 people.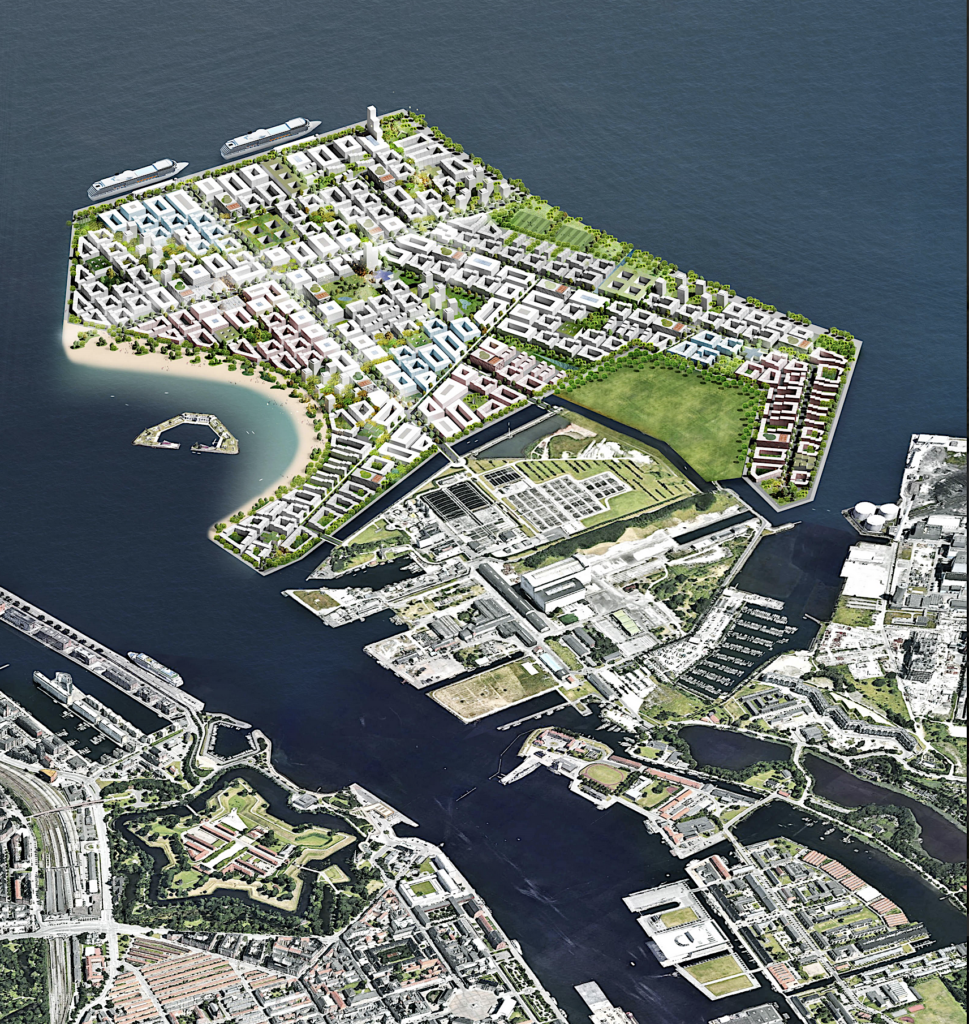 The bill allowing the government to move the project forward passed with a massive majority of 85 for and 12 against, paving the way for work to continue on the 2.8-square-kilometer island this fall.
The plan was first announced in 2018 by then Prime Minister Lars Løkke Rasmussen and Copenhagen Mayor Frank Jensen The project, will cost around 20 billion Danish crowns (€2.7 billion) and will be self-financed.
A team of engineers and architects from COWI, Arkitema and THIRD NATURE has been given the task to develop the new island.
The plan faces strict opposition from environmentalists who have concerns over the impact of its construction.
The artificial island faces resistance and concern not only in Denmark, but also with Swedish neighbors and from Poland, Lithuania and Finland.
THE EDPS OPENS TWO INVESTIGATIONS FOLLOWING THE "SCHREMS II" JUDGEMENT
The EDPS has launched two investigations, one regarding the use of cloud services provided by Amazon Web Services and Microsoft under Cloud II contracts by European Union institutions, bodies and agencies (EUIs) and one regarding the use of Microsoft Office 365 by the European Commission.
These investigations are part of the EDPS' strategy for EU institutions to comply with the "Schrems II" Judgement so that ongoing and future international transfers are carried out according to EU data protection law.
In line with his strategy, the EDPS ordered EUIs in October 2020 to report on their transfers of personal data to non-EU countries. The EDPS' analysis shows that because of diverse processing operations, in particular when using tools and services offered by large service providers, individuals' personal data is transferred outside the EU and to the United States (US) in particular.
The EDPS' analysis also confirms that EUIs increasingly rely on cloud-based software and cloud infrastructure or platform services from large ICT providers, of which some are based in the US and are therefore subject to legislation that, according to the "Schrems II" Judgement, allows disproportionate surveillance activities by the US authorities.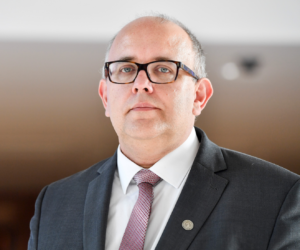 Wojciech Wiewiórowski, EDPS, said: "Following the outcome of the reporting exercise by the EU institutions and bodies, we identified certain types of contracts that require particular attention and this is why we have decided to launch these two investigations. I am aware that the "Cloud II contracts" were signed in early 2020 before the "Schrems II" judgement and that both Amazon and Microsoft have announced new measures with the aim to align themselves with the judgement. Nevertheless, these announced measures may not be sufficient to ensure full compliance with EU data protection law and hence the need to investigate this properly."
The objective of the first investigation is to assess EUIs' compliance with the "Schrems II" Judgement when using cloud services provided by Amazon Web Services and Microsoft under the so-called "Cloud II contracts" when data is transferred to non-EU countries, in particular to the US.
The objective of the second investigation into the use of Microsoft Office 365 is to verify the European Commission's compliance with the Recommendations previously issued by the EDPS on the use of Microsoft's products and services by EUIs.
Wojciech Wiewiórowski, EDPS, said: "We acknowledge that EUIs – like other entities in the EU/EEA – are dependent on a limited number of large providers. With these investigations, the EDPS aims to help EUIs to improve their data protection compliance when negotiating contracts with their service provider". 
The EDPS believes that EUIs are well positioned to lead by example when it comes to privacy and data protection. The announced steps are part of a continuous cooperation between the EDPS and the EUIs to ensure a high level of protection of these fundamental rights.
INDUSTRIAL-SCALE COCAINE LAB UNCOVERED IN ROTTERDAM IN LATEST ENCROCHAT BUST
An international multi-agency operation has led to 9 arrests, the seizure of over €3.4 million in cash and the shutdown of an industrial-sized cocaine production lab in the framework of Operation SR13
The cooperation between the French National Gendarmerie (Gendarmerie Nationale) and the Dutch Police (Politie) in the framework of the investigation into Encrochat has led to the discovery of an industrial-scale cocaine laboratory in the city of Rotterdam in the Netherlands.
Acting on information from Europol and the  French Gendarmerie, 80 Dutch police officers, accompanied by their SWAT teams and specialised dogs, raided in the early hours of 26 May several addresses in the cities of Rotterdam and The Hague. The clandestine drug laboratory was found hidden in a building also housing a garage used by criminals to customise vehicles with secret compartments to transport drugs across Europe. A total of 7 vehicles already equipped with such compartments were seized on site, alongside a vehicle worth €110 000.
Both the drug laboratory and garage were run by the same criminal syndicate who was flooding Europe with cocaine. One of its members was arrested in Rotterdam under a European Arrest Warrant facilitated by Eurojust.
This sting follows an earlier action day carried out by the French Gendarmerie on 31 March on the occasion of which 450 of its officers were deployed against the same criminal group, leading to the arrest of 8 members of the gang. In addition, €5 million worth of cocaine was also seized in the region of Marseille, alongside €3 million worth of cannabis resin and €3.4 million in cash. The investigation was able to trace back the cocaine to the underground laboratory targeted this week in the Netherlands.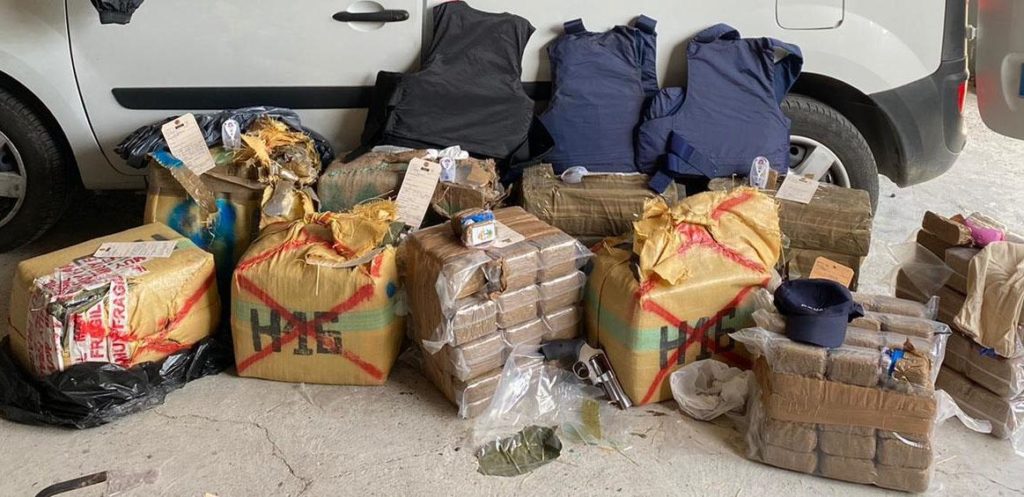 Europol support
In the framework of intelligence activities underway with its operational counterparts, Europol developed actionable intelligence concerning the activities in Europe of this criminal syndicate.
In November 2020, Europol  brought together the national investigators on both sides who have since been working closely together to establish a joint strategy to bring down the whole network. The suspects were identified with the support of Operation EMMA 95/LEMONT 26, the French and Dutch-led investigation against the Encrochat network.
Since then, Europol has provided continuous intelligence development and analysis to support the field investigators
Source : Europol
LADY MOURA UP FOR SALE FOR FIRST TIME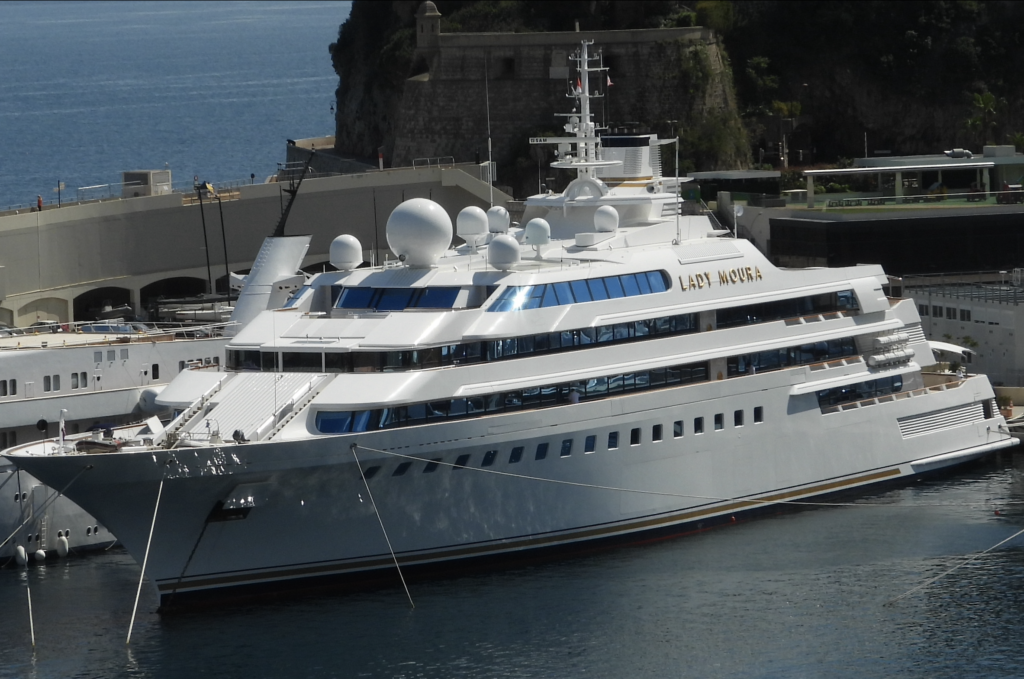 Owned by Saudi billionaire Nasser al-Rashid, close to the royal family, this luxury private 105-meter unit was built in steel to Lloyds class by German yard Blohm + Voss with in-house naval architecture and was delivered in 1990 and has had the same owner ever since.
Lady Moura was the most expensive and innovative yacht in the world. Its construction cost has been estimated at 200 million dollars It is offered for sale by Camper & Nicholsons  for 125 million USD.
Accommodation in a luxury interior designed by Luigi Sturchio is for as many as 27 guests in 13 cabins comprising a master suite, VIP suite and 11 further cabins. All guest cabins have state-of-the-art entertainment systems and en suite bathroom facilities while the crew quarters sleep 60 staff aboard.
Lady Moura's incredible volume allows for an impressive number of onboard amenities. She boasts: a helipad, movie theatre / disco with DJ room, gym, owner's study and medical suites for both owner/guests and crew. There are also two galleys aboard, one for the owner and one for the crew both equipped with the finest commercial-grade appliances, a bakery and separate owner/crew laundry facilities.
All the never seen before features of this splendid yacht can be seen on the seller's internet site:
https://camperandnicholsons.com/luxury-motor-yacht-for-sale/lady-moura-blohm-voss-1990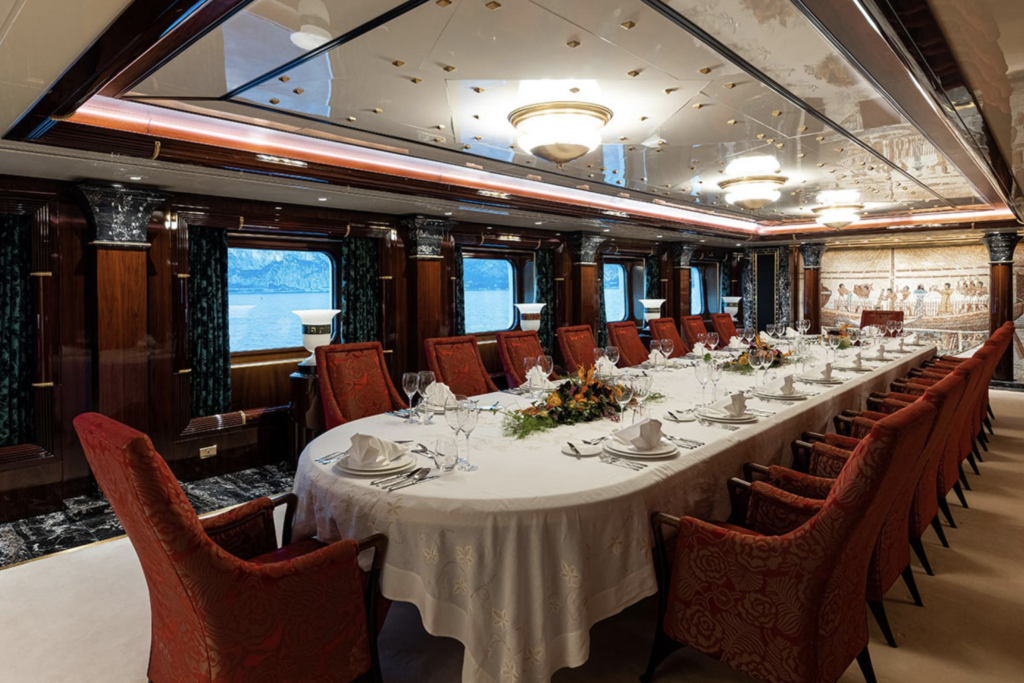 THE LONGEST PEDESTRIAN SUSPENSION BRIDGE IN THE WORLD IS KNOW OPEN IN PORTUGAL
The Arouca Geopark, some 30 kilometres southeast of Porto, was already famous for its gorgeous scenery and outdoor activities. From this
 month, it now also boasts a new, record-breaking attraction: the longest walking bridge with suspended deck in the world.
Its construction was made possible thanks to EU Regional funds. It culminates at 175 metres above the Paiva River and it would take someoneabout 10 minutes to cross the 516 meters long at a leisurely pace.
The bridge is expected to boost the regions' tourism industry whilst increasing accessibility to sites of cultural and natural heritage. It will also more easily connect local communities across the Paiva River.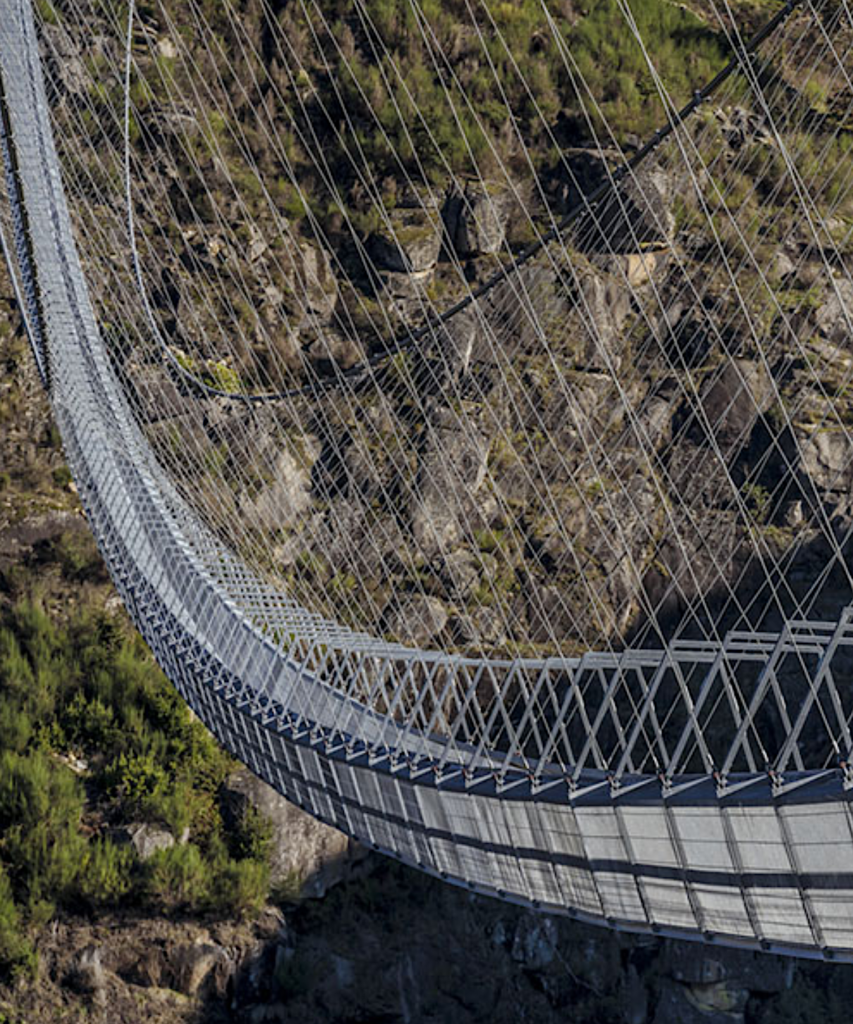 Through this project, the region will gain not only a better connection for the communities across the Paiva River, but also an asset that will make better use of its endogenous potential – natural and cultural heritage – increasing attractiveness, competitiveness, and employment opportunities across the region, and conserving social and human capital in low-density areas.
The project received EUR 800,000 (ERDF) of investments through the Operational Programme Norte 2020 within the scope of the Program for the Economic Valorisation of Endogenous Resources (PROVERE).
Those who cross it will be able to see the Aguieiras waterfall, Paiva walkways, Alvarenga Bridge and Paiva Gorge. It costs €12 ($14.46) for adults and €10 ($12.05) for students, children and seniors.
UKRAINE HAS PROVIDED THE CZECH REPUBLIC ARCHIVES ESTABLISHING ADDITIONAL EVIDENCE OF REPRESSIVE TACTICS AGAINST CZECHS IN THE SOVIET UNION
The SBU (Security Service of Ukraine) has delivered another portion of digitized archive evidence of repressions against Czechs in the Soviet Union to Czech partners in Ukraine.
According to Andriy Kohut, director of the SBU (Security Service of Ukraine) archive department : "In the realm of cultural diplomacy, archival collaboration in the study of Czechoslovak-Ukrainian relations plays a key role.
Discovering and making public the archives of the communist totalitarian regime's oppressive agencies enable Czech and Ukrainian societies to better understand one other.
"This is crucial for the development of solid bilateral relations."
More than 8,000 archival affairs on persecuted Czechs and Czech residents have been identified and digitized.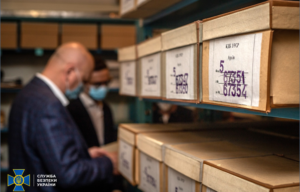 However, due to the military situation in Ukraine, historic material regarding Czech society in Crimea and specific portions of the Donetsk and Luhansk regions are currently unavailable to scientists.
The Czech Republic's Ambassador to Ukraine stressed the importance of bilateral collaboration, which not only promotes Czech-Ukrainian relations but also serves as a model for many EU nations and the Eastern Partnership.
Radek Matula expressed gratitude to the SBU Archive's director for his efforts and offered to fully support the archival collaboration.
UNITED AIRLINES ADDING SUPERSONIC SPEEDS WITH NEW AGREEMENT TO BUY AIRCRAFT FROM BOOM SUPERSONIC
First U.S. airline to sign commercial agreement with Boom Supersonic; New aircraft will cut travel times in half and operate on up to 100% sustainable aviation fuel
United Airlines has announced a commercial agreement with Denver-based aerospace company Boom Supersonic to add aircraft to its global fleet as well as a cooperative sustainability initiative – a move that facilitates a leap forward in returning supersonic speeds to aviation.
Under the terms of the agreement, United will purchase 15 of Boom's 'Overture' airliners, once Overture meets United's demanding safety, operating and sustainability requirements, with an option for an additional 35 aircraft. The companies will work together on meeting those requirements before delivery. Once operational, Overture is expected to be the first large commercial aircraft to be net-zero carbon from day one, optimized to run on 100% sustainable aviation fuel (SAF). It is slated to roll out in 2025, fly in 2026 and expected to carry passengers by 2029. United and Boom will also work together to accelerate production of greater supplies of SAF.
"United continues on its trajectory to build a more innovative, sustainable airline and today's advancements in technology are making it more viable for that to include supersonic planes. Boom's vision for the future of commercial aviation, combined with the industry's most robust route network in the world, will give business and leisure travelers access to a stellar flight experience," United CEO Scott Kirby said. "Our mission has always been about connecting people and now working with Boom, we'll be able to do that on an even greater scale."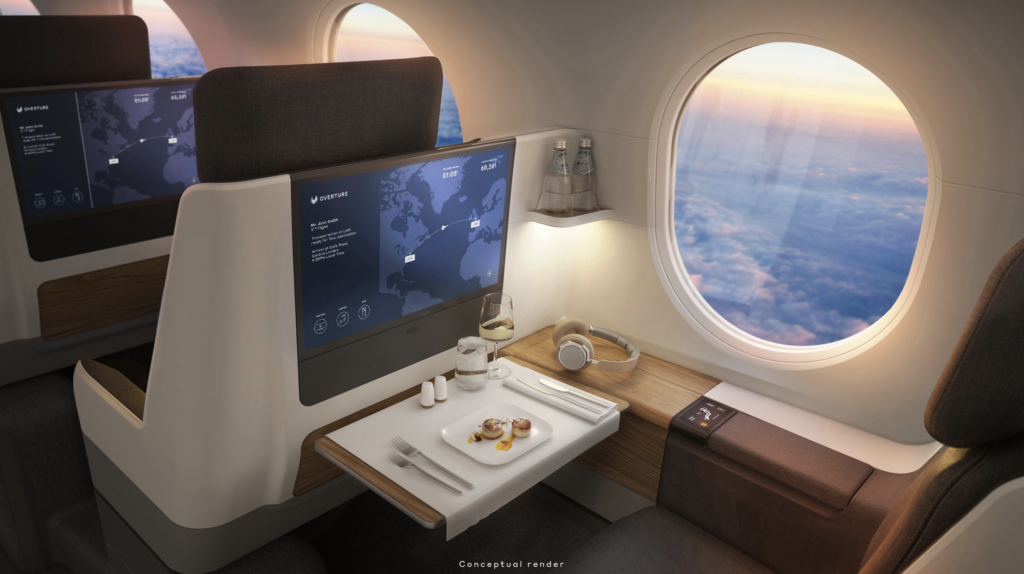 Capable of flying at speeds of Mach 1.7 – twice the speed of today's fastest airliners – Overture can connect more than 500 destinations in nearly half the time. Among the many future potential routes for United are Newark to London in just three and a half hours, Newark to Frankfurt in four hours and San Francisco to Tokyo in just six hours. Overture will also be designed with features such as in-seat entertainment screens, ample personal space, and contactless technology. Working with Boom is another component of United's strategy to invest in innovative technologies that will build a more sustainable future of air travel.
"The world's first purchase agreement for net-zero carbon supersonic aircraft marks a significant step toward our mission to create a more accessible world," said Blake Scholl, Boom Supersonic founder and CEO. "United and Boom share a common purpose—to unite the world safely and sustainably. At speeds twice as fast, United passengers will experience all the advantages of life lived in person, from deeper, more productive business relationships to longer, more relaxing vacations to far-off destinations."
About Boom Supersonic
Boom Supersonic is redefining commercial air travel by bringing sustainable, supersonic flight to the skies. Boom's historic commercial airliner, Overture, is designed and committed to industry-leading standards of speed, safety, and sustainability. Overture will be the first commercial aircraft to be net-zero carbon from day one, capable of flying on 100% sustainable aviation fuels (SAF) at twice the speed of today's fastest passenger jets. Overture's order book, including purchases and options, stands at 70 aircraft, and Boom is working with the United States Air Force for government applications of Overture. XB-1, a demonstrator aircraft, rolled out in 2020, and its net-zero carbon flight test program is underway. The company is backed by world-class investors, including Bessemer Venture Partners, Prime Movers Lab, Emerson Collective and American Express Ventures.
CREATING PORTS OF CALL WITH ECO-RESPONSIBLE FACILITIES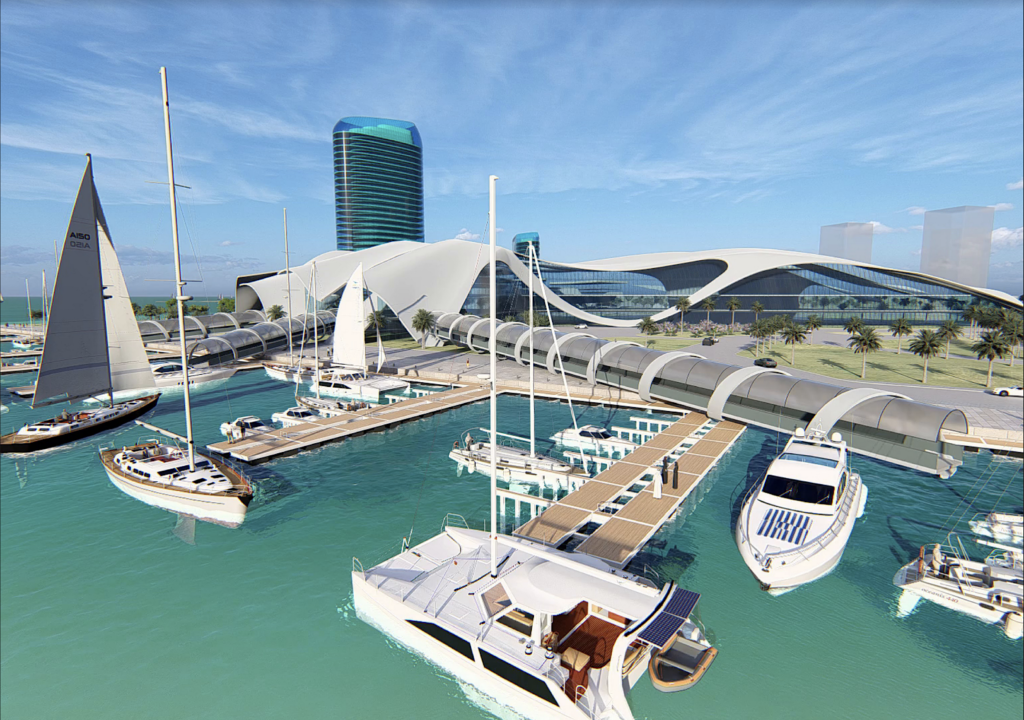 Under its La Belle Classe Destinations certification, Yacht Club de Monaco aims to support development of new generation marinas to accommodate tomorrow's greener yachts.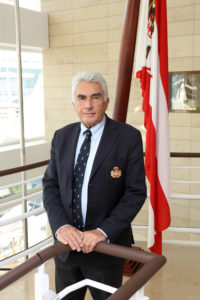 "The whole yachting ecosystem needs to be mobilised. We want to accompany developments not only in how yachts are powered and good practices, but also to ensure these boats will be able to call into virtuous marinas," says General Secretary of the YCM which will host the Smart Yachting & Marina meeting on 20th September 2021. Supported by the Prince Albert II of Monaco Foundation and Extended Monaco, the Monaco Government's digital transformation programme, the meeting is being organised by Monaco Marina Management. It will bring together key players, investors, promotors, manufacturers and innovators to develop eco-responsible, efficient, attractive and user-friendly marinas that are lively places where people want to be. The day will be dedicated to targeted high-level discussions between decision-makers from across this ecosystem keen to invest in innovations that will meet their business and environmental challenges. The most promising solutions will be highlighted to encourage their adoption: this is "Smart" technology at the service of protecting the environment.
Through these initiatives, Yacht Club de Monaco is fast becoming an effective platform promoting an approach to yachting that respects the environment.
"In putting words into actions, these initiatives demonstrate how Yacht Club de Monaco carries out its mission to educate and support all relevant initiatives to ensure recreational boats lead the way in sustainable development," concludes Bernard d'Alessandri who believes everyone involved in the sector must be mobilised to protect the Ocean.
Smart Yachting & Marina (20th Sept. 2021)