© Fom.coe.int
In a special internet edition The Platform for the Protection of Journalism and Safety of Journalists publishes a list of journalists and other media workers covering the Ukrainian war that have been injured, killed, are still missing or have been or are still detained.
According to the organisation, as of 11 May 2022, at least ten journalists and media workers have been killed while covering the war or because of their status, and at least ten have been injured. At least three journalists and media workers have gone missing or been taken hostage.
We believe it is important to publish the list of our fellow journalists who are victims of their duty covering the news in conflicting zones order to inform. Without their commitments and courage nobody would know what happens in the world.
On 26 February 2022, the Ukrainian photojournalist Ihor Hudenko lost contact with his friends and family while in Kharkiv, according to the National Union of Journalists of Ukraine (NUJU), news reports, and the Kharkiv-based journalist Oleg Peregon, who with Hudenko covered environmental isues in Kharkiv.
The city and its surroundings have been the site of intense fighting since the start of the invasion of Ukraine by the Russian Federation. On 24 February, shortly after the start of the invasion, Hudenko posted original photos and video of abandoned Russian tanks on his personal Facebook page, Peregon told CPJ.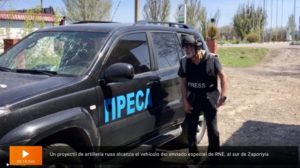 On 26 April 2022, a Russian artillery shell hit the press vehicle in which a Spanish journalist from the broadcaster Radio Nacional de España (RNE), Fran Sevilla, and a Brazilian journalist were travelling, in the south of Zaporizhzhia, towards Mariupol.
Their vehicle was badly damaged but they are all safe. The two journalists and their driver had to leave the vehicle and wait for the artillery fire to stop before they could leave the area.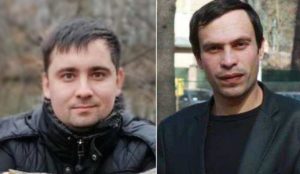 Two journalists, Roman Nezhyborets (left) and Zoreslav Zamoysky, were found killed in Bucha and Yahidne, following withdrawal of the Russian forces from the region. Roman Nezhyborets' body was found buried in the northern village of Yahidne, and Zamoysky's body was found in Bucha, near Kyiv. Nezhyborets worked as a video editor for Dytynets, a privately owned TV broadcaster. Russian forces occupied Yahidne on 5 March. Nezhyborets, who was sheltered with his family in Yahidne, attempted to hide evidence of his work with Dytynets, and called his mother to ask that she notify his friends and colleagues that he should be removed from group chats for Dytynets workers, according to his mother. She told CPJ that Russian forces caught Nezhyborets and took him away from his family on 5 March. On 6 April, after Russian forces withdrew from the city, Ukrainian volunteers found Nezhyborets' body in a grave in Yahidne, with gunshot wounds to his knees and his hands tied. In Zoreslav Zamoysky's case, local residents in Bucha found his body on a street in the city in early April, according to statements by the Ukrainian National Union of Journalists (NUJU) and the Irpin city council. Zoreslav Zamoysky covered the activities of local authorities in the region around Bucha and the city of Irpin as a freelancer for his outlet and other local media groups. Zamoysky's last post on Facebook was published on 4 March. The CPJ asked the authorities to thoroughly investigate the deaths of these journalists, determine if they were targeted for their work, and hold those responsible to account.
On 18 March 2022, the Russian military detained journalist, writer and member of the National Union of Journalists of Ukraine Yevgeny Bal in his house near Mariupol.
The reason for the detention was "compromising" photos of Bal together with the Ukrainian military which were found during the search in his flat. Bal was kept in the cellar for three days, where he was tortured and beaten. After being released on 21 March, he died on 2 April.
National Union of Journalists of Ukraine said that his death was result of the torture.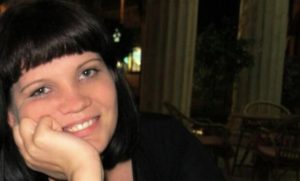 On 26 March 2022, Russian forces detained the journalist Iryna Dubchenko in the city of Rozivka, and took her to the separatist-controlled city of Donetsk, according to media reports, a report by the Ukrainian National Union of Journalists (NUJU) and social media posts shared by Dubchenko's friends. On 28 March, the Ukrainian military command in Rozivka told Dubchenko's family that the journalist had disappeared two days before and had been taken to Donetsk. Her sister, Oleksandra Dubchenko, told CPJ that the journalist called her on 26 March and said that Russian forces had occupied Rozivka and that a local resident had told those forces that Dubchenko had been involved in volunteer work and journalism; the forces then proceeded to search her house, during which they accused Dubchenko of hiding a wounded Ukrainian soldier at her home, before taking her to Donetsk for an "investigative action". Oleksandra Dubchenko told CPJ she then lost contact with the journalist. CPJ was not able to independently verify the reason the journalist was detained. Oleksandra Dubchenko told NUJU that the Russian forces said they "knew everything about [Dubchenko's] journalistic activities". On 29 March, the Ukrainian military administration of the Zaporizhzhia region, which includes Rozivka, confirmed the journalist's abduction and said that "response measures are being taken". Dubchenko has worked for Ukrainian outlets including the news website Depo.Zaporizhzhia, the newspaper Subota, and the UNIAN news agency.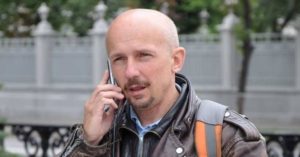 In early March, Russian soldiers detained Dmytro Khilyuk in the village of Kozarovychi, north of Kyiv, according to the Media Initiative Group for Human Rights, a local press freedom group, and a relative of the journalist. On 1 March, Khilyuk, a reporter for the Ukrainian news agency UNIAN, had written that Russian troops were occupying the village in a post on his personal Facebook page, where he posts commentary on current events and has about 450 followers. The relative, who asked that her name not be published, told CPJ that Khilyuk called her on 3 March and said Russian soldiers had searched the home he shared with his parents, seized their phones and SIM cards, and looked at Khilyuk's posts on social media. After the search, Khilyuk's home was hit by a Russian missile, forcing him and his parents to spend the night with their neighbours, according to the Media Initiative Group for Human Rights. The relative told CPJ that she lost contact with Khilyuk after 3 March, and that local residents in Kozarovychi told her on about 4 March that the journalist and his father were detained at a
nearby Russian base. CPJ was not able to immediately determine the exact date that Khilyuk was detained. Russian forces accused the journalist, who covers the Ukrainian legal system and high-profile court cases, of communicating with the Ukrainian military and law enforcement agencies, according to the Media Initiative Group for Human Rights. Russian authorities released Khilyuk's father on 10 March, and then took the remaining detainees, including the journalist, to the nearby town of Dymer, according to the relative and the Media Initiative Group for Human Rights, which said other captives who were later released recognised Khilyuk among people being held in a Dymer office building. The relative told CPJ on 5 April that she had no updates on Khilyuk's status.
Gunko was released on 6 April, according to Facebook posts by his family and the journalist's friend, Lera Lauda. Lauda told CPJ that Gunko had been held in a Russian-controlled pretrial detention centre in Kherson. She said he was in good spirits after his release, and that Russian soldiers retained possession of his phone and laptop, which they said they would return by 8 April.
On 30 March 2022, Russian forces searched in the city of Kherson for Konstantin Ryzhenko, and his family lost contact with him, according to Sergei Chernyavsky, a friend who published about Ryzhenko's situation on Facebook. On 31 March, a post appeared on Ryzhenko's Telegram account, saying "if you are reading this text it means that something has happened". The post explained that Ryzhenko, editor in chief of the Kherson Newscity news website, had scheduled that post for publication ahead of time, in case the journalist was detained or lost access to his phone or to the internet. "Where Kostya is now is unknown. There is no connection with him", Chernyavsky told CPJ. Kherson has been occupied by Russian forces since 2 March. On 31 March, Russian forces searched the apartment of Ryzenko's family in Kherson, detained the journalist's brother Zakhar, and seized Zakhar's phones after accusing him of using the encrypted messaging app Signal, according to the Ukrainian National Union of Journalists (NUJU). The journalist's father, Aleksandr, was present during that raid and told the NUJU that the soldiers demanded he get in touch with Konstantin. Aleksandr said the soldiers told him that "many people died" because of Ryzhenko, and asked about whether Konstantin was reporting solely for the money he made, and whether he had "nationalist views". The soldiers said that they could "find a common language with him" if the journalist was working solely for money. Chernyavsky told CPJ that he believed Russian authorities searched for Ryzhenko because he had streamed and recorded anti-Russian demonstrations by civilians in Kherson. He was also cited as a source on the situation in Kherson by news outlets including the BBC and Meduza. In an interview with Meduza before his disappearance, Ryzhenko said that he had been "tracking Russian fakes and refuting them" since the beginning of the war, and that Russian forces had been "asking where they could find such a journalist".
On 2 April 2022, the Lithuanian documentarian Mantas Kvedaravičius was killed while attempting to leave Mariupol, according to news reports, social media posts by his friends and colleagues, and a statement by Ukraine's Ministry of Defence. The Russian film director Vitaly Mansky wrote on Facebook that Kvedaravičius died "with a camera in his hand". The President of Lithuania, Gitanas Nauseda, issued a statement saying that Kvedaravičius "until the very last moment, in spite of danger, worked in Russia-occupied Ukraine". The Ministry of Defence alleged that Kvedaravičius had been killed by Russian forces. The Prosecutor General's Office of Lithuania stated its intention to investigate the documentarian's death as part of a larger investigation into Russian war crimes in Ukraine. CPJ was unable to immediately determine the circumstances of his death. Russian forces have repeatedly harassed people attempting to flee Mariupol, where at least 5,000 civilians have been killed since the start of the war on Ukraine, according to news reports. Kvedaravicius' documentary film "Mariupolis," about the southeastern Ukrainian port city, was shown at the 2016 Berlin International Film Festival. His 2011 film "Barzakh," based in Chechnya, was awarded the Amnesty International Film Prize.
On 2 April, Levin's death was announced by the news website LB.ua, and confirmed on Telegram by the aide to the President of Ukraine Andriy Yermak. LB.ua said police found Levin's body on 1 April after a "long search" near Huta-Mezhyhirska. The Vyshhorod district prosecutor's office has announced an investigation into Levin's death over a potential violation of the laws and customs of war under Article 438 of the Ukrainian Criminal Code: "According to preliminary information, unarmed Maks Levin was killed by soldiers of the Russian Armed Forces with two firearm shots. A pre-trial investigation is ongoing, and measures are being taken to establish all the circumstances of the crime", it said in a statement. Oleksiy Chernyshov, a serviceman and former photographer with whom Levin drove to Huta-Mezhyhirska, remains missing, according to LB.ua.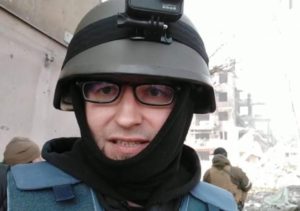 On 29 March 2022, Rodion Severyanov, a war correspondent for the Russian broadcaster Izvestiya TV, was shot in the leg and wounded in Mariupol, according to reports by his outlet.
Severyanov was covering the activity of Russian forces and their allies in Ukraine, when one of the soldiers was injured; he was shot when he paused reporting to help that soldier, Severyanov told Izvestiya TV in an interview: "I was shot by a Ukrainian sniper.
It was impossible not to notice the inscription 'Press' on my bulletproof vest, so he knew exactly who he was shooting at".
On 25 March 2022, Russian forces shelled a convoy of evacuating civilians in the region of Chernihiv, injuring Andriy Tsaplienko, a reporter with the Ukrainian broadcaster 1+1 who was filming the evacuation, according to media reports and a statement by his outlet.
Tsaplienko sustained a minor injury to his thigh and was treated at a local hospital.
Oksana Baulina, a reporter for the Latvia-based investigative news website The Insider, was killed on 23 March 2022 while reporting in Kyiv's Podilskyi district, according to one of Baulina's colleagues and a statement published by her outlet. Baulina was covering Russian forces' shelling of the city, which had intensified on residential areas near the centre early on 23 March. The Insider reported that another civilian died in the attack that killed Baulina, and two persons accompanying her were wounded and hospitalized. Baulina was based in Ukraine and covered Russian politics as well as alleged corruption.
Before joining The Insider, she worked for the Russian opposition figure Alexei Navalny's Anti-Corruption Foundation, until the organisation was put on the list of extremist organisations in June 2021 and she was forced to leave the Russian Federation. At least five other journalists have been killed since the Russian Federation started its invasion of Ukraine in late February.
On 21 March 2022, unidentified armed men briefly detained four journalists with the Ukrainian news agency MV in the southeastern Russian-occupied city of Melitopol, according to a report by the Ukrainian National Union of Journalists (NUJU).
At about 6 a.m., the men detained the MV executive editor Yevgeniya Boryan, the journalists Yuliya Olkhovskaya and Lyubov Chayka, and the retired MV publisher Mykhaylo Kumok at their homes in Melitopol, and took them to an undisclosed location, according to that report and a Facebook post by Kumok's daughter, Tatiana, who was also detained.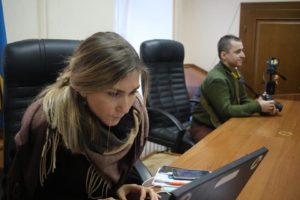 On 5 March 2022, Hromadske reporter Victoria Roschina was targeted by gunfire when her vehicle came across a column of Russian tanks while she was covering the ongoing war in Ukraine near the city of Zaporizhia. The journalist and her driver were not hit by the bullets. According to Reporters without borders (RSF), they managed to leave the vehicle marked "press" and found refuge behind abandoned houses nearby. Roschina explained that, while they were hiding, Russian soldiers stole her laptop, camera, and other belongings that were in the car. They spent several hours hidden, surrounded by tanks and without being able to communicate and pass on information. On 21 March 2022 Roschina has been released. According to Hromadske, she has been forced by Russian security forces to record a video, in which she denied being held by Russian forces.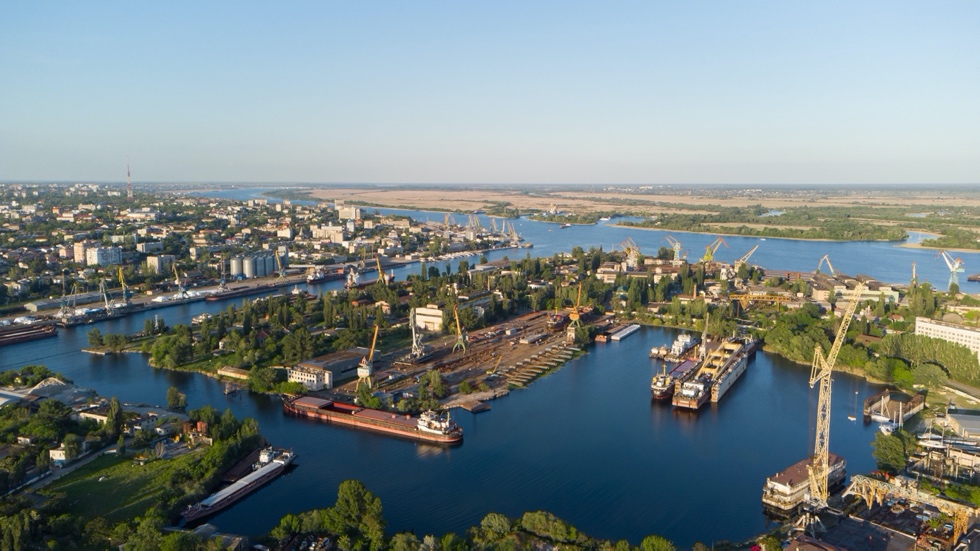 On 20 March 2022, Baturin's sister announced the journalist's release after eight days of detention. Olga Perepelitsya wrote on Baturin's behalf on Facebook: "Practically without food. Almost without water for a few days. No soap, no changing clothes. Not knowing where I am. But they clearly knew what for. They wanted to break, trample. To show what will happen to every journalist: you will be distributed. You will be killed". The message does not identify his abductors.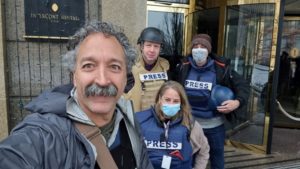 On 14 March 2022, the Fox News camera operator Pierre Zakrzewski and the journalist Oleksandra Kuvshynova were killed while reporting from Horenka, a city close to Kyiv. The Fox News reporter Benjamin Hall was seriously injured in the attack. Fox News reported that their vehicle came under fire as they headed towards the city of Irpin. Anton Gerashchenko, an adviser to the Ministry of Internal Affairs of Ukraine, posted on Telegram that the crew probably "came under mortar or artillery fire" from Russian forces. However, the Fox News statement and the news reports did not specify the suspected source of the attack. On 16 March, the Fox News CEO Suzanne Scott announced the death of Pierre Zakrzewski: "It is with great sadness and a heavy heart that we share the news this morning regarding our beloved cameraman Pierre Zakrzewski". The Prime Minister of Ireland, Micheál Martin, wrote on Twitter that Zakrzewski's death "disturbed and saddened" him. Zakrzewski, 55, was a French and Irish citizen based in London who reported from many war zones for Fox News, from Iraq to Afghanistan to Syria. Kuvshynova was a 24-year-old Ukrainian journalist. She had been working as a consultant assisting the Fox News team for a month. Scott said: "Sasha was helping our teams navigate the city, gather news, and speak with the sources. Round the clock, she helped to share Ukraine's story with the world". Both died from injuries sustained during the attack. Ukrainian authorities said on 16 March that Hall was still hospitalised and had to have part of his leg amputated. Hall is a Washington correspondent for Fox News, where he has worked since 2015, and was deployed to cover the war in Ukraine.
On 13 March 2022, the award-winning U.S. reporter Brent Renaud was shot dead when his vehicle came under fire at a checkpoint in the city of Irpin, outside Kyiv. The U.S. journalist Juan Arredondo and a Ukrainian citizen, who were in the vehicle, were wounded in the attack and taken to a hospital in Kyiv. The circumstances surrounding the shooting remain unclear. The Chief of the Kyiv Regional Police, Andriy Nebytov, wrote on Facebook that Russian forces had opened fire on the car. "We were across one of the first bridges in Irpin, going to film other refugees leaving, and we got into a car", Arredondo said in a video published on Twitter. "Somebody offered to take us to the other bridge and we crossed a checkpoint, and they started shooting at us. So the driver turned around, and they kept shooting; there's two of us. My friend is Brent Renaud, and he's been shot and left behind… I saw him being shot in the neck". Renaud, 50, was on assignment for Time Studios working on a "project focused on the global refugee crisis", according to a statement by the Time management. A journalist and documentary filmmaker who lived and worked in New York City and Little Rock, Arkansas, his film and television projects have covered the wars in Iraq and Afghanistan, the earthquake in Haiti, political turmoil in Egypt and Libya, the fight for Mosul, extremism in Africa, cartel violence in Mexico, and the youth refugee crisis in Central America.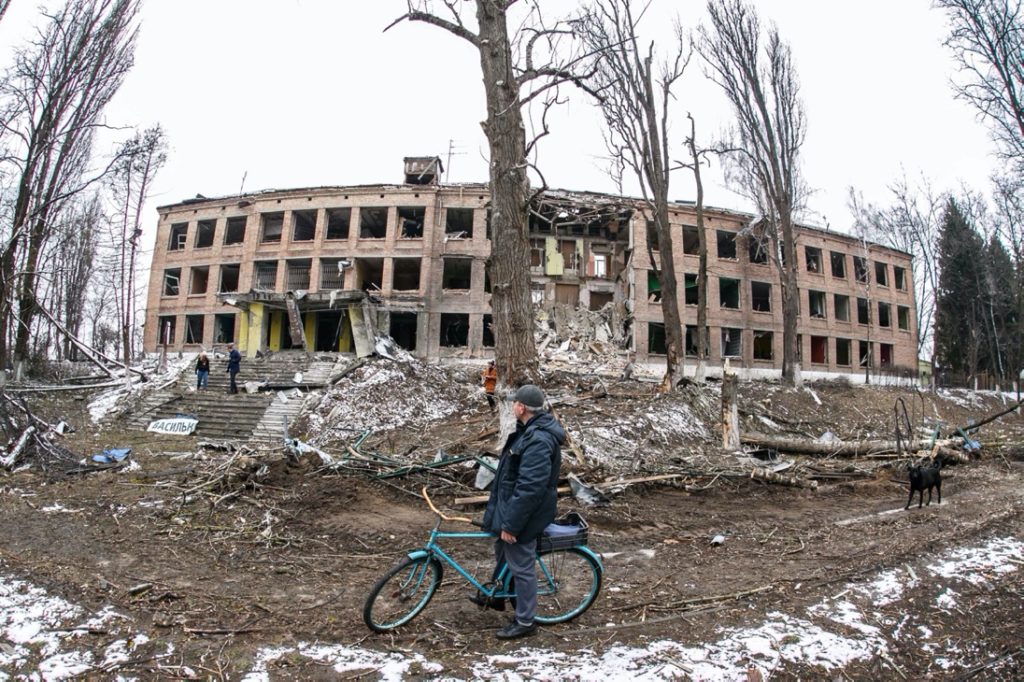 On 2 March 2022, journalists from the Czech news outlet Voxpot, Majda Slamova and Vojtěch Boháč, came under fire by Russian forces in the city of Makarov near Kyiv. The journalists reported that they are alive, but as they were escaping, Russian forces kept deliberately targeting their car, even though it was marked "PRESS". Shots from AK-74 can still be seen on the car's door. On 6 March 2022, the Swiss freelance journalist Guillaume Briquet was driving towards the city of Mykolaiv, near the Black Sea, when he was hit by Russian fire, according to the outlet Ukrayinska Pravda. He had just passed a Ukrainian checkpoint when several bullets hit his vehicle, which was marked « PRESS ». Briquet was reportedly wounded in the face and forearm from what appears to be glass from the shattered windscreen. After he stopped, members of what the journalist referred to as a « Russian commando » appeared and took his documents, cash, laptop, photo, video, and protective equipment. According to the Ukrinform news agency, Briquet drove on to Kirovohrad, where the police arranged for his admittance to hospital.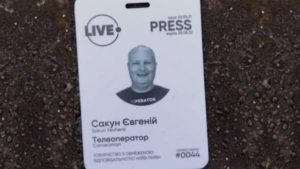 On 1 March 2022, the Live TV cameraman Yevheniy Sakun was killed during a missile attack in Kyiv, Ukraine. The media operator was identified by the National Police on the basis of to his union membership card. Later in the day, Live TV confirmed the information, and the National Union of Journalists of Ukraine (NUJU) expressed its condolences to the family. In total, five persons were killed in the Russian missile attack on the Kyiv TV tower and the Babin Yar Memorial Complex, a Holocaust memorial site.
On 28 February 2022, a British television crew for Sky News was attacked while covering the war in Ukraine. Chief correspondent Stuart Ramsay and his four colleagues were driving back to Kyiv when they were ambushed. A bullet hit Ramsay in his lower back while camera operator Richie Mockler was shot twice in his flak jacket. According to media reports, the team fled the car while still under fire and got cover inside a factory building before being rescued by Ukrainian police. Ramsay said the car was hit by up to 1,000 bullets despite their shout of "journalist!". Ramsay recalled: "The first round cracked the windscreen. Camera operator Richie Mockler huddled into the front passenger footwell. Then we were under full attack. Bullets cascaded through the whole of the car, tracers, bullet flashes, windscreen glass, plastic seats, the steering wheel, and the dashboard disintegrated. We didn't know it at the time, but we were later told by the Ukrainians that we were being ambushed by a saboteur Russian reconnaissance squad. It was professional, the rounds kept smashing into the car – they didn't miss." Stuart and his team were safely repatriated to the United Kingdom on 4 March.
On 26 February 2022, two Danish freelance journalists, reporting for the Danish newspaper Ekstra-Bladet and the Daily Beast were shot and injured while covering Russia's war in Ukraine. Journalist Stefan Weichert (left) and photographer and reporter Emil Filtenborg Mikkelsen were driving near Ohtyrka, a town 90 km from Kharkiv in the northeast part of Ukraine, when they were attacked by gunfire. The shooters were not identified. The reporters managed to reach the hospital for treatment and surgery. Both are in a stable condition.
On May 30th French President Manuel Macron tweeted :
« Journalist Frederic Leclerc-Imhoff was in Ukraine to show the reality of the war.
On board a humanitarian bus, alongside civilians forced to flee to escape the Russian bombs, he was fatally shot," Leclerc-Imhoff, 32, worked for CNN affiliate BFM TV, which released a statement saying its staff was "deeply saddened" by his death, adding that he was killed on the road to Lyssychansk in the Severodonetsk region of Ukraine. According to a official report he suffered a fatal wound to the neck after shrapnel pierced the armoured vehicle he was travelling in. His colleague Maxime Brandstaetter was also injured.
ABOUT THE PLATFORM FOR THE PROTECTION OF JOURNALISM AND SAFETY OF JOURNALISTS 
The Platform for the Protection of Journalism and Safety of Journalists is a unique mechanism which helps the dialogue between the governments and the organisations of journalists, with the aim of stopping violations to press freedom in the member states of the Council of Europe and enabling journalists to exercise their profession without the risk of compromising their safety. 
It aims to improve the protection of journalists, better address threats and violence against media professionals and foster early warning mechanisms and response capacity within the Council of Europe.
Since 2015, the Platform facilitates the compilation and dissemination of information on serious concerns about media freedom and safety of journalists in Council of Europe member states, as guaranteed by Art. 10 of the European Convention on Human Rights.
Contributing Partner organisations – invited international NGOs and associations of journalists – issue alerts on media freedom violations and publish annual reports on the situation of media freedom and safety of journalists in Europe.
The Platform enables the Council of Europe to be alerted in a more systematic way on the situation with regard to media freedom in the member states and to take timely and coordinated action when necessary. It helps the Organisation identify trends and propose adequate policy responses in the field of media freedom.