DXTERITY OFFERS COVID-19 TESTS FOR SALE ON AMAZON
DxTerity announcing the sale of COVID-19 diagnostic tests on Amazon available to U.S. businesses and customers at home. The self-administered, non-invasive saliva kits are FDA authorized for use by both individuals with and without symptoms of COVID-19. The kits are now available in individual and 10-pack kits on Amazon. DxTerity's SARS-CoV-2 PCR-based test is the first at-home saliva test to receive Emergency Use Authorization (EUA) by the FDA for symptomatic and asymptomatic testing. Asymptomatic testing is essential in limiting viral spread because a person can have COVID-19 without exhibiting any symptoms of the illness. The test detects the presence of viral genetic material but will not confirm immunity or detect antibodies. "We have demonstrated the reliability and quality of our COVID-19 testing solution with big business and now we want to expand access to customers at home and small businesses," says Bob Terbrueggen, Ph.D., Founder and CEO of DxTerity.  "Amazon is the perfect partner for expanding access to millions of U.S. customers."
DxTerity's COVID-19 testing solution are deployed by over 130 U.S. corporate partners, including numerous Fortune 500 companies, global pharmaceutical organizations and entertainment groups. Single test kits are available for $110 and 10-pack kits are available for $1000 on Amazon. Testing does not require supervised sample collection, and prescription authorization is included as part of test registration. The price includes pre-paid overnight return shipment and testing in DxTerity's CLIA licensed and accredited laboratory.
About DxTerity
DxTerity is an ISO 13485-certified genomics company with a CLIA-licensed, CAP-accredited laboratory based near Los Angeles, CA. DxTerity develops highly accurate, fast, and affordable genomic tests for disease diagnosis and monitoring.
ALBANIA ANNOUNCES PLANS TO LAUNCH TENDER FOR FIRST WIND POWER PLANTS
-> First wind power plants tender in Albania to be launched
-> EBRD and Swiss SECO support preparation of groundbreaking move
-> Albania to diversify energy supply, attract investment and increase resilience to climate change
The government of Albania has announced plans for launching the first tender for the construction of utility-scale on-shore wind power plants, which will make a major contribution to improve the country's future energy supply and significantly reduce greenhouse gas emissions. The tender, expected to be launched early in 2021, will be the first in a planned series of investments in wind energy projects and was supported by the European Bank for Reconstruction and Development (EBRD) with additional financial grant support of €650,000 provided by the Swiss State Secretariat for Economic Affairs (SECO). Matteo Colangeli, EBRD Head of Albania, said: "We are delighted to expand our partnership with the Albanian authorities to start up the wind power sector, building on the successful experience with solar. We are confident that transparent and well prepared tenders for wind can deliver attractive energy prices and quality investors for Albania". Patrik Meier, Deputy Head of Mission at the Swiss Embassy in Albania, added: "I am happy that this innovative energy auction in Albania will contribute to improve sustainable energy supply, enhance resilience to climate change and reduce greenhouse gas emissions. This is an inspiring model for promoting transparency, competitiveness and participation of private sector which will trigger new initiatives for scaling-up renewable energy investments in the country."The EBRD has been a leading force in promoting renewable solar and wind power in Albania through a combination of policy engagement, technical assistance and investments. Earlier this year the Bank supported Albania's Ministry of Infrastructure and Energy in launching tenders for the 140 MW Karavasta and the 100 MW Spitallë solar photovoltaic projects.
Prospective bidders can propose projects with a minimum capacity of 30 MW and a maximum capacity of 75 MW. Through this tender process, the ministry will select projects totaling 150 MW that will receive support measures. The first wind power plants tender will diversify the country's energy sources, increase its resilience to climate change and is expected to attract foreign investment. The EBRD is a leading institutional investor in Albania. To date, the Bank has invested more than €1.4 billion in 104 projects in the country. The State Secretariat for Economic Affairs (SECO) is the Swiss government's leading office for economic affairs, including international economic development cooperation. It promotes sound framework conditions and governance principles for economic and trade development in partner countries by sharing its expertise and financing projects. In the last two decades, Switzerland has provided CHF 38 million grant funding for Albania's energy sector.  Source: EBRD
EUROPOL AND EUROJUST SIGN NEW CONTRIBUTION AGREEMENT EXPANDING COOPERATION ON THE SIRIUS PROJECT

Europol and Eurojust have signed a contribution agreement that will expand their partnership in supporting law enforcement and judicial authorities with cross-border access to electronic evidence. This new agreement, in place from January 2021 to June 2024, reinforces the success of the SIRIUS project and sets about its second phase of development and enhancement.
Launched by Europol in 2017, the SIRIUS project aims to foster the co-development of practical and innovative tools and solutions for EU law enforcement and judicial authorities that can support internet-based investigations. Eurojust has made a significant contribution to the SIRIUS project by providing the perspective of EU judicial authorities. Under this new agreement, Eurojust becomes a full partner of the project.
The practical measures outlined in the new agreement are:
 strengthen and speed up direct cooperation between law enforcement authorities and online service providers to access e-evidence by exchanging experiences;
exchange best practices and training for EU practitioners on applicable rules in the US related to the mutual legal agreement procedure;
 expand the geographical focus of SIRIUS to develop collaboration on existing initiatives and projects with selected non-EU countries based on the interest of EU Member States.
About SIRIUS
Created by Europol in October 2017, the SIRIUS Project is a central reference point in the European Union for knowledge sharing on digital cross-border investigations for law enforcement and judicial authorities. SIRIUS products and services are currently available to more than 5 000 practitioners, representing all EU Member States and 17 non-EU countries. Eurojust, a partner in the project since early 2018, has become a full co-beneficiary of the funded action. Moreover, the European Judicial Network also closely collaborates with the project. The SIRIUS project has received funding from the European Commission's Service for Foreign Policy Instruments.
INTERPOL WARNS OF ORGANIZED CRIME THREAT TO COVID-19 VACCINES
INTERPOL has issued a global alert to law enforcement across its 194 member countries warning them to prepare for organized crime networks targeting COVID-19 vaccines, both physically and online.
The INTERPOL Orange Notice outlines potential criminal activity in relation to the falsification, theft and illegal advertising of COVID-19 and flu vaccines, with the pandemic having already triggered unprecedented opportunistic and predatory criminal behaviour. It also includes examples of crimes where individuals have been advertising, selling and administering fake vaccines. As a number of COVID-19 vaccines come closer to approval and global distribution, ensuring the safety of the supply chain and identifying illicit websites selling fake products will be essential. The need for coordination between law enforcement and health regulatory bodies will also play a vital role to ensure the safety of individuals and wellbeing of communities are protected. Vaccines prime target of organized crime "As governments are preparing to roll out vaccines, criminal organizations are planning to infiltrate or disrupt supply chains." Says Jürgen Stock, INTERPOL Secretary General.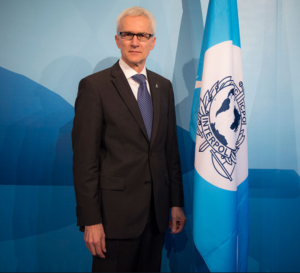 "Criminal networks will also be targeting unsuspecting members of the public via fake websites and false cures, which could pose a significant risk to their health, even their lives.
"It is essential that law enforcement is as prepared as possible for what will be an onslaught of all types of criminal activity linked to the COVID-19 vaccine, which is why INTERPOL has issued this global warning," concluded Secretary General Stock. As well as targeting COVID-19 vaccines, as international travel gradually resumes it is likely that testing for the virus will become of greater importance, resulting in a parallel production and distribution of unauthorized and falsified testing kits.
Online dangers
With an increasing amount of COVID-related frauds, INTERPOL is also advising members of the public to take special care when going online to search for medical equipment or medicines. In addition to the dangers of ordering potentially life-threatening products, an analysis by the INTERPOL's Cybercrime Unit revealed that of 3,000 websites associated with online pharmacies suspected of selling illicit medicines and medical devices, around 1,700 contained cyber threats, especially phishing and spamming malware. To avoid falling victim to online scams, it is important to be vigilant, be skeptical and be safe, as offers which appear too good to be true usually are. Always check with your national health authorities or the World Health Organization for the latest health advice in relation to COVID-19.
UKRAINE'S SECURITY SERVICES  BLOCKS LARGE-SCALE HEROIN SMUGGLING TO EU
The SBU prevented smuggling of a large batch of heroin to the EU countries. As a result of a special operation, the SBU documented the illegal activities of a transnational organized criminal group consisting of the Turkish citizens. In particular, the suspects smuggled heroin to Ukraine on a ship that arrived at the Odesa Commercial Sea Port in December 2020. The narcotics were hidden in a food container. SBU officers decided to monitor the supply of heroin in order to expose and document the unlawful activities of all members of the criminal group.
As a result, the SBU operatives detained three foreigners in the city of Lviv while packing narcotics in rented warehouses, in accordance with the Art. 208 of the Criminal Procedure Code of Ukraine. Allegedly, the drug traffickers planned to smuggle heroin to the EU under the guise of diplomatic cargo. On the same day, the SBU detained the organizer of the criminal group, a citizen of Turkey, in the regional center.
During the searches, the law enforcement officers found 1,035 kilos of the substance prepared for shipment. The rapid drug tests showed that it was heroin. The "black market" cost of the seized narcotics tops UAH 2,3 billion (USD 80,766,770). Also, the SBU officers are currently conducting searches of the smugglers' temporary homes.
The criminal proceedings were initiated upon the fact of smuggling of narcotic and psychotropic drugs, its analogues or precursors. The investigation is ongoing to identify and prosecute all those involved in the illegal activity. The issue of serving the detainees suspicion notices is being resolved.
The operation was conducted by the Security Service of Ukraine with the assistance of the State Customs Service of Ukraine under the supervision of the Lviv Region Prosecutor's Office.
THE SELECTION PANEL OF THE VÁCLAV HAVEL HUMAN RIGHTS PRIZE
The selection panel of the Václav Havel Human Rights Prize, which rewards outstanding civil society action in the defence of human rights in Europe and beyond, has announced the shortlist for the 2020 Prize, with all three nominees involved in promoting women's rights or gender equality.
Meeting by teleconference, the panel – made up of independent figures from the world of human rights and chaired by the President of the Parliamentary Assembly of the Council of Europe Rik Daems – decided to shortlist the following three nominees, in alphabetical order: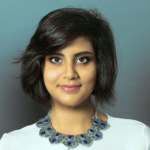 Loujain Alhathloul (Saudi Arabia) :
The nominee is one of the leaders of the Saudi feminist movement. Ms Alhathloul is a prominent womens' rights activist known for defying the ban on women driving in Saudi Arabia and for opposing the Saudi male guardianship system. She has been detained on several occasions, sentenced and has been in prison since 2018.
Nuns of the Drukpa Order (Nepal):
The nominee is a group of young Buddhist nuns, promoting gender equality, environmental sustainability and intercultural tolerance in their home villages in the Himalayas. They are known for their delivery of supplies to hard-to-reach villages after an earthquake struck Kathmandu in 2015. The Nuns of the Drukpa Order have also taught self-defence classes for women and biked over 20,000 kilometres to protest against the trafficking of women and girls.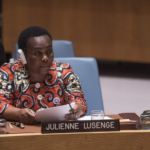 Julienne Lusenge (Democratic Republic of Congo):
The nominee is a Congolese human rights activist who has been documenting sexual abuse and acts of violence against women in Congo. She was instrumental in obtaining the conviction by the ICC of Thomas Lubanga for enlisting child soldiers and collected evidence of sexual slavery in the trial of German Katanga, as well as obtaining the convictions of hundreds of perpetrators of sexual violence against women at national level. She has been threatened for her work on several occasions.