A career in motorsport placed Thierry Boutsen in pole position for success in his next venture, business aviation. But Formula One also introduced the Boutsen Aviation Chairman and Founder to Monaco – and now there's no place like home
Chrissie McClatchie
Of all the races on the Formula One calendar, it's fairly safe to say that for former driver Thierry Boutsen his favourite was Monaco. After first competing in F1's flagship race behind the wheel of an Arrows in 1984, he loved the principality so much that he quickly made it home. "It's the best place in the world to live," the Belgian native enthuses to Europe Diplomatic.
Today, as he travels to and from the rue Grimaldi office of Boutsen Aviation, the brokerage firm he founded in 1997 with his wife Daniela, his preferred mode of transport as he zips around Monaco's streets is much less flashy. "I drive the circuit everyday … on a scooter" he chuckles. "Or by foot or bicycle."
That's not to say that he doesn't still draw upon experiences from his F1 days in his aviation career. "Racing is a very good school of life, you learn lessons the hard way," he says. "You feel it every single day, every single minute that you sit in the car."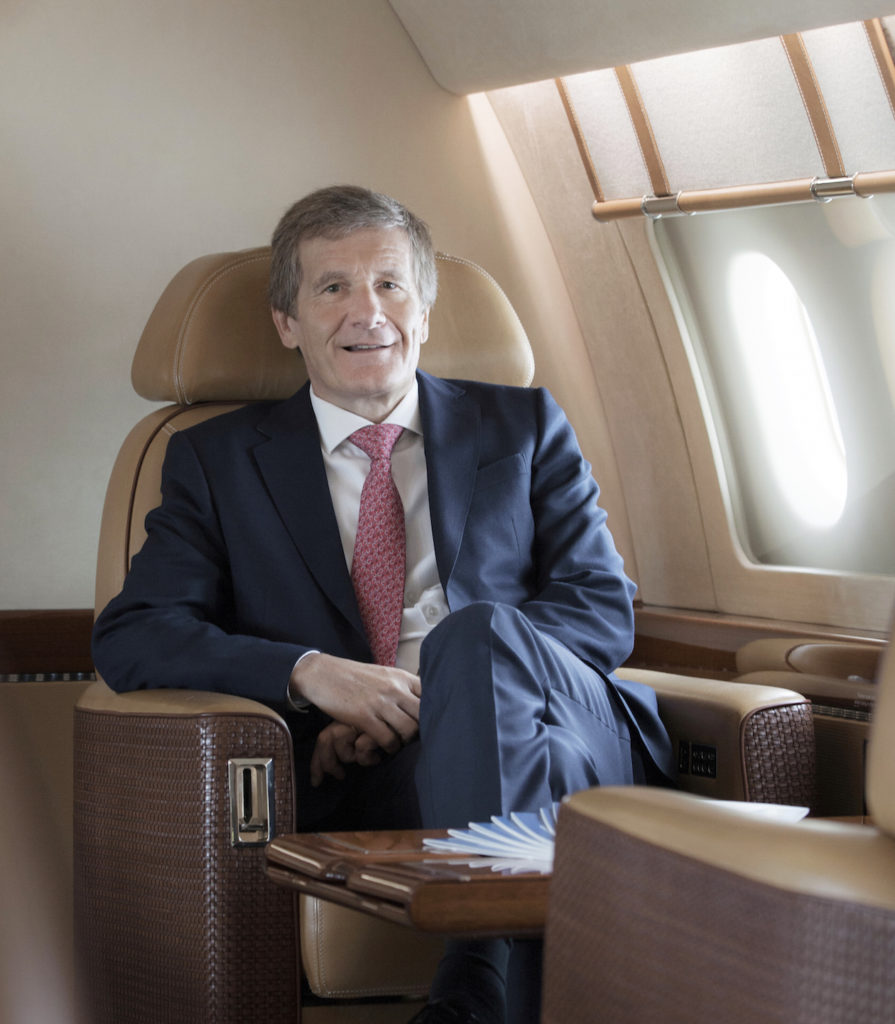 Two decades may have passed since he last raced competitively, but the importance of team spirit is another lesson that has followed him into the business world. "In motorsport, the whole team is there to make the car win, and I apply the same principle here. We are a small team. But we all work together to achieve success and to sell aeroplanes. There is no personality that is more important than another in the company. We are just one team going for it," he continues.
Growing up with a passion for aviation, Boutsen admits swapping fast cars for corporate jets hadn't crossed his mind as he neared the end of his racing career. "I wouldn't say (the transition) came as a surprise," he says. "More as a coincidence." He passed his pilot's licence in the early 80s, and, a year before his maiden F1 Grand Prix (fittingly, in Belgium), he found himself the owner of a small, single-engine aeroplane. "When I won points in F1, I was able to upgrade for a better, faster plane," he recalls.
During his racing days, he completed four aviation transactions for himself. Then, in 1997, he found himself the go-to figure for fellow F1 drivers keen to explore the world of private jet ownership for themselves. "Heinz-Harald Frentzen said he wanted to buy a plane exactly the same as the one I had, but he didn't know where to look and the process involved in certifying and registering aircraft. So I offered to act on his behalf." Two months later, Frentzen's new plane had been delivered and Keke Rosberg, Michael Schumacher and Mika Häkkinen were all queuing up at Boutsen's door for the same service.
"I was close to retiring from racing, so I thought, why not continue a bit and see what this is going to bring me." With Daniela, a laptop, and his living room for an office, he formed Boutsen Aviation in Monaco. "We've been very busy since then," he smiles. In 2000 he hired his first salesman (Dominique Trinquet, who became President of Boutsen Aviation in 2015). "Slowly, we have been increasing the size of the aeroplanes that we sell and now specialise in mid-size and heavy jet sales of the biggest planes in construction today, such as Airbus, and Boeing Business Jets." Today, along with headquarters in Monaco and representation in Moscow, New Delhi and Dubai, the company has sold 370 aircraft in 71 countries around the world. "We've been learning as we go along," he admits.
When asked to identify a turning point in the company's evolution, he doesn't hesitate to recall one singular contract for two Airbus Corporate Jets, signed in 2006. "At the time, these were by far the biggest aircraft we had sold and it was when we really entered into the big league of aviation brokers." In the years since, the Boutsen Aviation team has traded "six or seven more Airbuses, as well as Boeing Business Jets, lots of Gulfstreams and Dassault Falcon's in that category," Boutsen says.
This 2006 sale happened to be a watershed moment for the husband and wife team for more than one reason. "The client really was after a very special interior design inside the aircraft and we couldn't find anybody who could create exactly what he wanted." Instead, with her impeccable taste and sense of aesthetics, Daniela was handed the opportunity. "That was the start," Boutsen explains proudly. "The project was a big success and so we decided to develop the design side of the business." First, under the label of Boutsen Aviation and, since 2011, as a separate company, Boutsen Design. "We found it was too complicated to manage two companies under one roof," he continues. "Plus, it doesn't fit selling tablecloths and aeroplanes at the same time," he laughs.
Not that Daniela is too far away, however. With offices opposite each other on rue Grimaldi, the couple is more than within walking distance. "We are probably about ten seconds away from each other!"
Boutsen has had to navigate inevitable obstacles in his business career with all the precision and quick-thinking he relied upon as an F1 driver. None more so than the Global Financial Crisis of 2007-8, or, in the case of the private aviation industry, mid-2010 to mid-2017. "We found ourselves with an incredible amount of inventory and not many buyers," he recalls. "Prices were decreasing on a daily basis, which made it very difficult to sell aircraft." Preparation, however, was the key to the company's survival – and a willingness to adapt. "We changed our attitude, changed our marketing, and changed our strategies and we kept on enduring even though the market was slowing down." More than survive, Boutsen acknowledges that the company actually grew. "I'm very proud of that," he says. Today, the outlook is brighter. "We are in recovery mode, the market is getting better and we are a trusted name in the industry."
Which leaves Boutsen and his team free to focus on what they do best: brokering aircraft. "Currently we're trying to grow the business. We've been selling planes in 71 countries but everything has been based out of Monaco," he says. In order to develop local markets, the company has employed a series of representatives: one in Moscow, one in New Delhi and one in Dubai. "The result is more insight into a particular country, a greater presence and the chance to build up closer relationships with our clients there," he explains. "It seems to be working quite well."
With an eye on the present, Boutsen is also carefully planning for the future. "I'm in the process of structuring the company so that it can start to function without my input 18 hours a day," he explains, adding that there is a bit of maturity to the business now.
Boutsen's trophy cabinet may be full from podium finishes on the racing circuit, but figuratively-speaking, it is overflowing with achievement. "There is not one single moment that I am more proud of than others. Instead, it's a case of looking at what has been attained overall. We've sold 370 aeroplanes and each sale is celebrated in the same spirit as a race victory. So I've got quite a few trophies now," he laughs.
Breakout box
There's no place like home
Although both his F1 and aviation career have taken Thierry Boutsen around the world, he doesn't hesitate to name Monaco as his favourite destination. "We travel a lot so when we are at home, we enjoy it," he says. Away from home, he is likely to be found with his wife and children enjoying Sunday lunch at Ristorante La Salière, on the port in Fontvieille. "It's a bit of a family tradition," he says.
Click below to read June's edition of Europe Diplomatic Magazine.