A new system developed by Garmin revolutionises the aviation industry with the first Autoland system for general aviation aircraft
The new technology enables, in a case of emergency, anyone in the airplane, to press a button that will land the airplane to a full stop whatever the weather condition, the terrain and any other obstacles.
As soon as activated, the system takes over the calculations for a flight plan to an airport and initiates the approach to land automatically on the runway. This without any human intervention.
It can also activate itself automatically if the system detects an emergency situation.
"The vision and development of the world's first Autoland system for general aviation was a natural progression for Garmin as we looked at our aircraft systems and existing autonomous technologies and recognized it is our responsibility to use these building blocks to deliver a technology that will change lives and revolutionize air travel," said Phil Straub, Garmin executive vice president and managing director of aviation.
The pilot may also, at any time, deactivate the autoland system with a single press of the autopilot key. In case of an accidental deactivation, there will be a message on the flight display enabling the passengers to reactivate Autoland.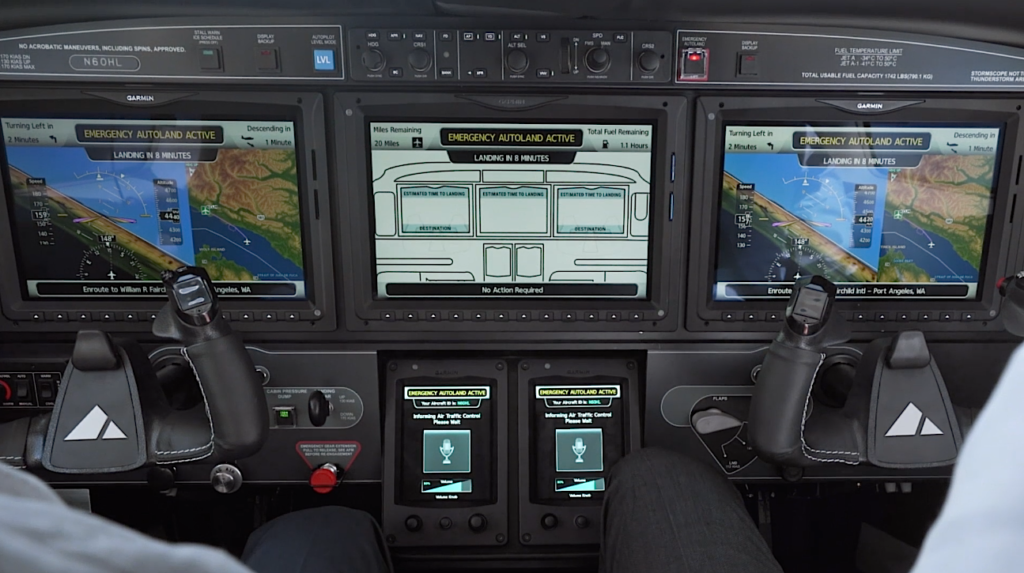 According to Garmin, Garmin Autonomi, a family of automated flight technologies, encompasses Autoland, Emergency Descent Mode (EDM) and Electronic Stability and Protection (ESP). These technologies add to the safety enhancing tools and capabilities of a Garmin-equipped flight deck. For example, in the event an aircraft loses pressurization, EDM is capable of automatically descending the aircraft to a preset altitude without pilot intervention to help avert hypoxic situations.
ESP further enhances the Autonomi suite by working to assist the pilot in avoiding unintentional flight attitudes beyond that for normal flight. ESP works in the background while the pilot is hand-flying the aircraft to help pilots avoid inadvertent flight attitudes or bank angles. Should the pilot become inattentive while hand-flying the aircraft and exceed pre-determined pitch, roll or airspeed limitations, Garmin ESP activates and the pilot will feel pressure on the flight controls that guide him/her back to a recommended flight limit.
Autoland will soon be available as part of the G3000 integrated flight deck on the Cirrus Vision Jet and the Piper M600, pending Federal Aviation Administration (FAA) certification.
The first aircraft that will be able to use the Autoland system as part of the integrated flight deck will be the Piper M600 and the Cirrus Vision jet pending the Federal Aviation Administration certification.
James Lookwood
Click below to read November's edition of Europe Diplomatic Magazine