BRAZEN
By Julia Haart
MY UNORTHODOX JOURNEY FROM LONG SLEEVES TO LINGERIE
From the star of the Netflix reality series My Unorthodox Life, a riveting, inspiring memoir of one woman's escape from an extremist religious sect and an extraordinary rise from housewife to shoe designer, to CEO and co-owner of the modeling agency Elite World Group
"An irresistible read . . . Written with great intensity and rare candor, Brazen is a story of longing for more and manifesting that vision."—Tommy Hilfiger
Ever since she was a child, every aspect of Julia Haart's life—what she wore, what she ate, what she thought—was controlled by the dictates of ultra-Orthodox Judaism. At nineteen, after a lifetime spent caring for her seven younger siblings, she was married off to a man she barely knew. For the next twenty-three years, her marriage would rule her life. Eventually, when Haart's younger daughter, Miriam, started to innocently question why she wasn't allowed to sing in public, run in shorts, or ride a bike without being covered from neck to knee, Haart reached a breaking point. She knew that if she didn't find a way to leave, her daughters would be forced into the same unending servitude that had imprisoned her.
So Haart created a double life. In the ultra-Orthodox world, clothing has one purpose—to cover the body, head to toe—and giving any thought to one's appearance beyond that is considered sinful, an affront to God. But when no one was looking, Haart would pore over fashion magazines and sketch designs for the clothes she dreamed about wearing in the world beyond her Orthodox suburb. She started preparing for her escape by educating herself and creating a "freedom" fund. At the age of forty-two, she finally mustered the courage to flee the fundamentalist life that was strangling her soul.
Within a week of her escape, Haart founded a shoe brand, and within nine months, she was at Paris Fashion Week. Just a few years later, she was named creative director of La Perla. Soon she would become co-owner and CEO of Elite World Group, and one of the most powerful people in the fashion industry. Along the way, her four children—Batsheva, Shlomo, Miriam, and Aron—have not only accepted but embraced her transformation.
Propulsive and unforgettable, Haart's story is the journey from a world of no to a world of yes, and an inspiration for women everywhere to find their freedom, their purpose, and their voice.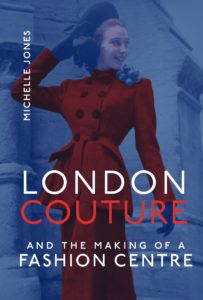 LONDON COUTURE AND THE MAKING OF A FASHION CENTRE
By Michelle Jones
How design collaboration, networks, and narratives contributed to the establishment of a recognized English couture industry in the 1930s and 1940s.
In the 1930s and 1940s, English fashion houses, spurred by economic and wartime crises, put London on the map as a major fashion city. In this book, Michelle Jones examines the creation of a London-based couture industry during these years, exploring how designer collaboration and the construction of specific networks and narratives supported and shaped the English fashion economy. Haute couture—the practice of creative made-to-measure womenswear—was widely regarded as inherently French. Jones shows how an English version emerged during a period of economic turbulence, when a group of designers banded together in a collective effort to shift power within the international fashion system.
Jones considers the establishment of this form of English design practice, analyzing the commercial, social, and political factors that shaped the professional identity of the London couturiers. She focuses on collaborative activity that supported this form of elite, craft-based fashion production—from the prewar efforts of the Fashion Group of Great Britain to the wartime establishment of the Incorporated Society of London Fashion Designers, modeled loosely after French fashion's governing body, the Chambre Syndicale de la Couture Parisienne.
It was these collective efforts by couturiers that established and sustained London's place as an internationally recognized center for creative fashion.

WE WANT EVERYTHING
By Nanni Balestrini Introduction by Rachel Kushner
A NOVEL
The explosive novel of Italy's revolutionary 1969
It was 1969, and temperatures were rising across the factories of the north as workers demanded better pay and conditions. Soon, discontent would erupt in what became known as Italy's Hot Autumn. A young worker from the impoverished south arrives at Fiat's Mirafiori factory in Turin, where his darker complexion begins to fade from the fourteen-hour workdays in sweltering industrial heat. His bosses try to withhold his wages. Our cynical, dry-witted narrator will not bend to their will. "I want everything, everything that's owed to me," he tells them. "Nothing more and nothing less, because you don't mess with me."
Around him, students are holding secret meetings and union workers begin halting work on the assembly lines, crippling the Mirafiori factory with months of continuous strikes. Before long, barricades line the roads, tear gas wafts into private homes, and the slogan "We Want Everything" is ringing through the streets.
Wrought in spare and measured prose, Balestrini's novel depicts an explosive uprising. Introduced by Rachel Kushner, the author of the best-selling The Flamethrowers, We Want Everything is the incendiary fictional account of events that led to a decade of revolt.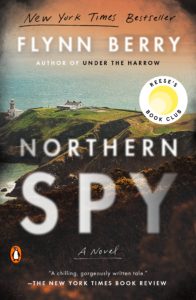 NORTHERN SPY
By Flynn Berry
A NOVEL
The acclaimed author of Under the Harrow and A Double Life returns with her most riveting novel to date: the story of two sisters who become entangled with the IRA
A producer at the BBC and mother to a new baby, Tessa is at work in Belfast one day when the news of another raid comes on the air. The IRA may have gone underground in the two decades since the Good Friday Agreement, but they never really went away, and lately bomb threats, security checkpoints, and helicopters floating ominously over the city have become features of everyday life. As the news reporter requests the public's help in locating those responsible for the robbery, security footage reveals Tessa's sister, Marian, pulling a black ski mask over her face.
The police believe Marian has joined the IRA, but Tessa is convinced she must have been abducted or coerced; the sisters have always opposed the violence enacted in the name of uniting Ireland. And besides, Marian is vacationing on the north coast. Tessa just spoke to her yesterday.
When the truth about Marian comes to light, Tessa is faced with impossible choices that will test the limits of her ideals, the bonds of her family, her notions of right and wrong, and her identity as a sister and a mother. Walking an increasingly perilous road, she wants nothing more than to protect the one person she loves more fiercely than her sister: her infant son, Finn.
Riveting, atmospheric, and exquisitely written, Northern Spy is at once a heart-pounding story of the contemporary IRA and a moving portrait of sister- and motherhood, and of life in a deeply divided society.