ARMADILLO
By William Boyd
A NOVEL
From the award-winning author of A Good Man Africa and An Ice-Cream War comes Armadillo, a brilliant satirical noir set in contemporary London.
To his colleagues, Lorimer Black, the handsome, mild-mannered insurance adjuster rising through the ranks of his London firm, is known as the guy who has it all: the sleek suits, the enviable status. But when Lorimer arrives at a routine business appointment and finds his client hanging from a water pipe, his life spirals out of control. His company car is blowtorched after he investigates a fire at a luxury hotel. He becomes the fall guy of a new colleague who puts the company in the red and the victim of a vicious attack by the possessive husband of a mysterious actress.  As Lorimer becomes increasingly entangled in an apparent conspiracy that involves everyone he knows, his own past comes to light. A brilliant satirical noir, Armadillo confirms Boyd's place as England's most versatile, sublime novelist.
MIDNIGHT IN PEKING
By Paul French
HOW THE MURDER OF A YOUNG ENGLISHWOMAN HOUNTED THE LAST DAYS OF OLD CHINA
Winner of the both the Edgar Award for Best Fact Crime and the CWA Non-Fiction Dagger from the author of City of Devils
Chronicling an incredible unsolved murder, Midnight in Peking captures the aftermath of the brutal killing of a British schoolgirl in January 1937. The mutilated body of Pamela Werner was found at the base of the Fox Tower, which, according to local superstition, is home to the maliciously seductive fox spirits. As British detective Dennis and Chinese detective Han investigate, the mystery only deepens and, in a city on the verge of invasion, rumor and superstition run rampant. Based on seven years of research by historian and China expert Paul French, this true-crime thriller presents readers with a rare and unique portrait of the last days of colonial Peking.

NORTHERN SPY
By FlynnBerry
A NOVEL
A producer at the BBC and mother to a new baby, Tessa is at work in Belfast one day when the news of another raid comes on the air. The IRA may have gone underground in the two decades since the Good Friday Agreement, but they never really went away, and lately bomb threats, security checkpoints, and helicopters floating ominously over the city have become features of everyday life. As the news reporter requests the public's help in locating those responsible for the robbery, security footage reveals Tessa's sister, Marian, pulling a black ski mask over her face.
The police believe Marian has joined the IRA, but Tessa is convinced she must have been abducted or coerced; the sisters have always opposed the violence enacted in the name of uniting Ireland. And besides, Marian is vacationing on the north coast. Tessa just spoke to her yesterday.
When the truth about Marian comes to light, Tessa is faced with impossible choices that will test the limits of her ideals, the bonds of her family, her notions of right and wrong, and her identity as a sister and a mother. Walking an increasingly perilous road, she wants nothing more than to protect the one person she loves more fiercely than her sister: her infant son, Finn.
Riveting, atmospheric, and exquisitely written, Northern Spy is at once a heart-pounding story of the contemporary IRA and a moving portrait of sister- and motherhood, and of life in a deeply divided society.
POWER PLAY
By Tim Higgins
TESLA, ELON MUSK, AND THE BET OF THE CENTURY
The outrageous inside story of Elon Musk and Tesla's bid to build the world's greatest car—from award-winning Wall Street Journal tech and auto reporter Tim Higgins 
Elon Musk is among the most controversial titans of Silicon Valley. To some he's a genius and a visionary; to others he's a mercurial huckster. Billions of dollars have been gained and lost on his tweets; his personal exploits are the stuff of tabloids. But for all his outrageous talk of mind-uploading and space travel, his most audacious vision is the one closest to the ground: the electric car.
When Tesla was founded in the 2000s, electric cars were novelties, trotted out and thrown on the scrap heap by carmakers for more than a century. But where most onlookers saw only failure, a small band of Silicon Valley engineers and entrepreneurs saw potential. The gas-guzzling car was in need of disruption; the world was ready for Car 2.0. So they pitted themselves against the biggest, fiercest business rivals in the world, setting out to make a car that was quicker, sexier, smoother, cleaner than the competition.
But as the saying goes, to make a small fortune in cars, start with a big fortune. Tesla would undergo a truly hellish fifteen years, beset by rivals, pressured by investors, hobbled by whistleblowers, buoyed by its loyal supporters. Musk himself would often prove Tesla's worst enemy–his antics more than once took the company he had initially funded largely with his own money to the brink of collapse. Was he an underdog, an antihero, a conman, or some combination of the three?
Wall Street Journal tech and auto reporter Tim Higgins had a front-row seat for the drama: the pileups, wrestling for control, meltdowns, and the unlikeliest outcome of all, success. A story of power, recklessness, struggle, and triumph, Power Play is an exhilarating look at how a team of eccentrics and innovators beat the odds–and changed the future.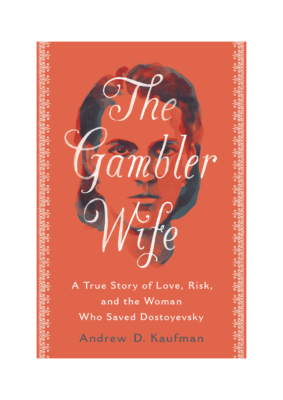 THE GAMBLER WIFE
By Andrew D. Kaufman
A TRUE STORY OF LOVE, RISK, AND THE WOMAN WHO SAVED DOSTOYEVSKI
A revelatory new portrait of the courageous woman who saved Dostoyevsky's life—and became a pioneer in Russian literary history
In the fall of 1866, a twenty-year-old stenographer named Anna Snitkina applied for a position with a writer she idolized: Fyodor Dostoyevsky. A self-described "emancipated girl of the sixties," Snitkina had come of age during Russia's first feminist movement, and Dostoyevsky—a notorious radical turned acclaimed novelist—had impressed the young woman with his enlightened and visionary fiction. Yet in person she found the writer "terribly unhappy, broken, tormented," weakened by epilepsy, and yoked to a ruinous gambling addiction. Alarmed by his condition, Anna became his trusted first reader and confidante, then his wife, and finally his business manager—launching one of literature's most turbulent and fascinating marriages.
The Gambler Wife offers a fresh and captivating portrait of Anna Dostoyevskaya, who reversed the novelist's freefall and cleared the way for two of the most notable careers in Russian letters—her husband's and her own. Drawing on diaries, letters, and other little-known archival sources, Andrew Kaufman reveals how Anna warded off creditors, family members, and her greatest romantic rival, keeping the young family afloat through years of penury and exile. In a series of dramatic set pieces, we watch as she navigates the writer's self-destructive binges in the casinos of Europe—even hazarding an audacious turn at roulette herself—until his addiction is conquered. And, finally, we watch as Anna frees her husband from predatory contracts by founding her own publishing house, making Anna the first solo female publisher in Russian history.
The result is a story that challenges ideas of empowerment, sacrifice, and female agency in nineteenth-century Russia—and a welcome new appraisal of an indomitable woman whose legacy has been nearly lost to literary history.