Airbus and Koniku Inc. have made a significant step forward in the co-development of a solution for aircraft and airport security operations by extending research activities to include biological hazard detection capabilities, as well as chemical and explosive threats.
The disruptive biotechnology solution, which was originally focused on the contactless and automated detection, tracking and location of chemicals and explosives on-board aircraft and in airports, is now being adapted in light of the COVID-19 crisis to include the identification of biological hazards.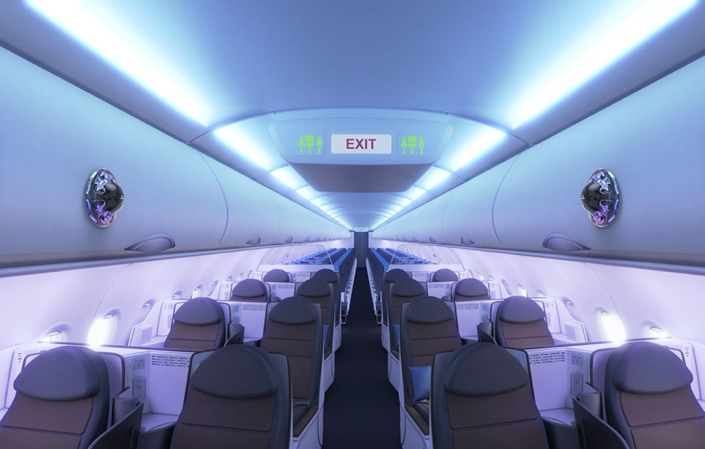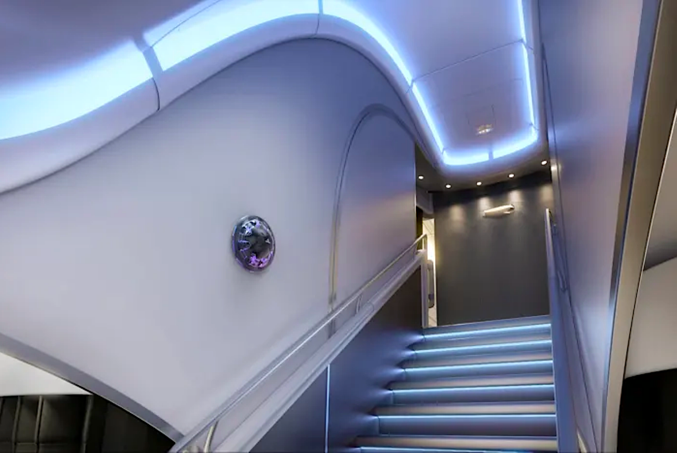 Aircraft cabin with disruptive biotechnology solutions for aviation security operations © Airbus
Based on the power of odor detection and quantification found in nature, the technical solution, developed to meet the rigorous operational regulatory requirements of aircraft and airport security operations, uses genetically engineered odorant receptors that produce an alarm signal when they come into contact with the molecular compounds of the hazard or threat that they have been programmed to detect.
"The technology has a very quick response time of under 10 seconds in best conditions," Julien Touzeau, head of product security for the Americas at Airbus, told the Financial Times. "With this level of maturity it's an incredible result and hopefully it will improve over time."
Airbus and Koniku Inc. entered into a cooperation agreement in 2017, leveraging Airbus' expertise in sensor integration and knowledge of ground and on-board security operations within the aviation and defense industries, as well as Koniku's biotechnology know-how for automated and scalable volatile organic compound detection (via their Konikore™ platform).
"We are now adapting our development activities to include the detection and identification of biological hazards including pathogens such as the novel coronavirus, SARS-CoV-2 with encouraging signals as of today. COVID 19 is a warning shot and it cannot be business as usual." says Osh. Agabi, founder & CEO, Koniku Inc.
According to M. Agabi "Most infections and diseases cause slight changes to the composition of our breath and sweat, which then produce distinct odors. If we can detect those odors, we can detect the presence of those infections. This approach has been demonstrated successfully with cancer-smelling dogs, and detecting influenza A in breath. However, training dogs to sniff out the specific, subtle smell indicating any given disease is time consuming, unreliable and expensive. The smell-cyborgs we are building have that same ability to detect the presence of organic volatile compounds and small variations in people's breath."
Osh. Agabi, founder & CEO, Koniku Inc
"Our technology, which is being developed to meet the rigorous regulatory requirements of airport security operations, uses genetically engineered odorant receptors. Those receptors screen molecules in the air and produce a signal when they come into contact with the molecular compounds of the hazard or threat that they have been programmed to detect. » Furthermore M. Agabi asserts "by programming the DNA of the cells that make up these receptors to react to the compounds that appear in infected people's breath or sweat, we believe we will be able to quickly and reliably screen for COVID-19 and determine whether a person is infected."
According to Airbus :"With in-situ testing planned for Q4 2020, Airbus is demonstrating its ability to accelerate traditional research cycles in a real-time environment in order to develop and bring to market a game-changing, end-to-end, security solution at convincing scale and speed, thereby contributing to the continuous improvement of security in the air transport ecosystem, while increasing operational efficiency and improving passenger experience."
Click here to read the 2020 June edition of Europe Diplomatic Magazine