Battle of Brothers
William and Harry – The Inside Story of a Family in Tumult
By Robert Lacey
A comparison of nine leaders who led their nations through the greatest wars the world has ever seen and whose unique strengths—and weaknesses—shaped the course of human history, from the bestselling, award-winning author of Churchill and Napoleon

"Has the enjoyable feel of a lively dinner table conversation with an opinionated guest." —The New York Times Book Review
Taking us from the French Revolution to the Cold War, Andrew Roberts presents a bracingly honest and deeply insightful look at nine major figures in modern history: Napoleon Bonaparte, Horatio Nelson, Winston Churchill, Adolf Hitler, Joseph Stalin, George C. Marshall, Charles de Gaulle, Dwight D. Eisenhower, and Margaret Thatcher.
Each of these leaders fundamentally shaped the outcome of the war in which their nation was embroiled. Is war leadership unique, or did these leaders have something in common, traits and techniques that transcend time and place and can be applied to the essential nature of conflict?
Meticulously researched and compellingly written, Leadership in War presents readers with fresh, complex portraits of leaders who approached war with different tactics and weapons, but with the common goal of success in the face of battle. Both inspiring and cautionary, these portraits offer important lessons on leadership in times of struggle, unease, and discord. With his trademark verve and incisive observation, Roberts reveals the qualities that doom even the most promising leaders to failure, as well as the traits that lead to victory.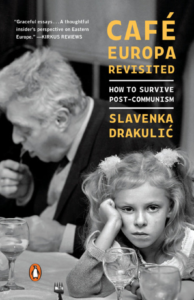 Café Europa Revisited
How to Survive Post-Communism
By Slavenka Drakulic
About Café Europa Revisited
An evocative and timely collection of essays that paints a portrait of Eastern Europe thirty years after the end of communism.
An immigrant with a parrot in Stockholm, a photo of a girl in Lviv, a sculpture of Alexander the Great in Skopje, a memorial ceremony for the 50th anniversary of the Soviet led army invasion of Prague: these are a few glimpses of life in Eastern Europe today. Three decades after the Velvet Revolution, Slavenka Drakulic, the author of Cafe Europa and A Guided Tour of the Museum Of Communism, takes a look at what has changed and what has remained the same in the region in her daring new essay collection.
Totalitarianism did not die overnight and democracy did not completely transform Eastern European societies. Looking closely at artefacts and day to day life, from the health insurance cards to national monuments, and popular films to cultural habits, alongside pieces of growing nationalism and Brexit, these pieces of political reportage dive into the reality of a Europe still deeply divided.

Madame Fourcade's Secret War
The Daring Young Woman Who Led France's Largest Spy Network Against Hitler
By Lynne Olson
About Madame Fourcade's Secret War
NEW YORK TIMES BESTSELLER • The little-known true story of Marie-Madeleine Fourcade, the woman who headed the largest spy network in occupied France during World War II, from the bestselling author of Citizens of London and Last Hope Island
"Brava to Lynne Olson for a biography that should challenge any outdated assumptions about who deserves to be called a hero."—The Washington Post
NAMED ONE OF THE BEST BOOKS OF THE YEAR BY NPR AND THE WASHINGTON POST 

In 1941 a thirty-one-year-old Frenchwoman, a young mother born to privilege and known for her beauty and glamour, became the leader of a vast intelligence organization—the only woman to serve as a chef de résistance during the war. Strong-willed, independent, and a lifelong rebel against her country's conservative, patriarchal society, Marie-Madeleine Fourcade was temperamentally made for the job. Her group's name was Alliance, but the Gestapo dubbed it Noah's Ark because its agents used the names of animals as their aliases. The name Marie-Madeleine chose for herself was Hedgehog: a tough little animal, unthreatening in appearance, that, as a colleague of hers put it, "even a lion would hesitate to bite."
No other French spy network lasted as long or supplied as much crucial intelligence—including providing American and British military commanders with a 55-foot-long map of the beaches and roads on which the Allies would land on D-Day—as Alliance. The Gestapo pursued them relentlessly, capturing, torturing, and executing hundreds of its three thousand agents, including Fourcade's own lover and many of her key spies. Although Fourcade, the mother of two young children, moved her headquarters every few weeks, constantly changing her hair color, clothing, and identity, she was captured twice by the Nazis. Both times she managed to escape—once by slipping naked through the bars of her jail cell—and continued to hold her network together even as it repeatedly threatened to crumble around her.
Now, in this dramatic account of the war that split France in two and forced its people to live side by side with their hated German occupiers, Lynne Olson tells the fascinating story of a woman who stood up for her nation, her fellow citizens, and herself.

"Fast-paced and impressively researched . . . Olson writes with verve and a historian's authority. . . . With this gripping tale, Lynne Olson pays [Marie-Madeleine Fourcade] what history has so far denied her. France, slow to confront the stain of Vichy, would do well to finally honor a fighter most of us would want in our foxhole."—The New York Times Book Review
Young Heroes of the Soviet Union
A Memoir and a Reckoning
By Alex Halberstadt
About Young Heroes of the Soviet Union
In this "urgent and enthralling reckoning with family and history" (Andrew Solomon), an American writer returns to Russia to face a family history that still haunts him. 
NAMED ONE OF THE BEST BOOKS OF THE YEAR BY JENNIFER SZALAI, THE NEW YORK TIMES
Alex Halberstadt's quest takes him across the troubled, enigmatic land of his birth, where decades of Soviet totalitarianism shaped and fractured three generations of his family. In Ukraine, he tracks down his paternal grandfather—most likely the last living bodyguard of Joseph Stalin. He revisits Lithuania, his Jewish mother's home, to examine the legacy of the Holocaust and the pernicious anti-Semitism that remains largely unaccounted for. And he returns to his birthplace, Moscow, where his grandmother designed homespun couture for Soviet ministers' wives, his mother consoled dissidents at a psychiatric hospital, and his father made a dangerous living by selling black-market American records. Halberstadt also explores his own story: that of an immigrant growing up in New York, another in a line of sons separated from their fathers by the tides of politics and history.
Young Heroes of the Soviet Union is a moving investigation into the fragile boundary between history and biography. As Halberstadt revisits the sites of his family's formative traumas, he uncovers a multigenerational transmission of fear, suffering, and rage. And he comes to realize something more: Nations, like people, possess formative traumas that penetrate into the most private recesses of their citizens' lives.