However history may record him, there is no doubt about Josep Borrell's European credentials. As a member of the European Parliament, elected in 2004, he was immediately chosen to be its President, something that had not happened before and wouldn't again. From 2018 to 2019, as Spain's Minister of Foreign Affairs, he was a member of the European Union's Council of Ministers, the body made up of ministers from all the member states. Now, he is High Representative for Foreign Affairs and Security Policy, therefore head of the European External Action Service, as well as being Vice-President of the European Commission. That means he has served in a senior rôle in all of the European Union's policy-making institutions. "I have devoted a significant part of my life, my work and my political activities to European issues," he told Members of the European Parliament, when questioned ahead of his appointment being confirmed by members of the Parliament's Committee on Foreign Affairs.
Spanish Secretary of State, Josep Borrell in 1985 © Lamoncloa
Spanish Minister of Public Works and Transport, Josep Borrell in 1991 © Ministry of the Presidency. Government of Spain
You can say that again. I suppose that, as MEPs, they were hardly likely to say 'no' to a man who had been elected straight to the President's chair as soon as he was elected to the Parliament itself. Even so, his curriculum vitae reads as if it should be printed on a blue sheet with a circle of gold stars surrounding it. I have heard him nicknamed 'Mr. Europe' by journalists; he's not the only man to have been labelled that way but in his case the title seems oddly appropriate.
Josep Borrell holding an EU flag during a mass rally defending the unity of Spain held in Barcelona on 8 October 2017
"During my 40 years of public service," he told MEPs, "I have been involved in EU politics as Member of the European Parliament and of the Council of Ministers. As a Secretary of State for the Treasury, I participated in the negotiations surrounding Spain's accession to the European Communities. I represented my country for ten years (1986-1996) in three configurations of the Council of the European Union (Economic and Financial Affairs, Environment and Transport and Telecommunications." Amazingly, that's not all. It is said of England's Queen Mary I, in whose reign the city and port of Calais was lost to France after 200 years as an English possession, that she said: "When I am dead and opened, you shall find 'Calais' lying in my heart". In Borrell's case, I'd expect a European flag, next to a Spanish one, of course.
Stella Kyriakides © European Union
He has been deeply involved in most of the issues concerning EU citizens in these strange present times. The SARS-CoV-2 virus may be officially the concern of the health Commissioner, Stella Kyriakides, but Borrell has been to the forefront in condemning the way in which some countries and non-state players have been attempting the make things worse by disseminating lies. Speaking in June, he said: "Disinformation knows no borders. Democracies and the West as such have been the target of disinformation, which underlines the importance of international cooperation. Let me turn first to the external dimension. The 'infodemic' has clearly been exploited by foreign state and non-state actors.
Disinformation from Russian actors have spread conspiracy theories and orchestrated disinformation campaigns, targeting the European Union, its Member States and neighbours by alleging lack of solidarity and internal crisis within the European Union and sowing confusion. China has also participated in that. Russian sources are old news, but China has been much more active. China sources have been promoting its image, presenting their [system] as the better system, the best equipped to tackle the pandemic and blaming democracies for their handling of the virus."
Josep Borrell and Chinese Minister of Foreign Affairs Wang Yi © consilium.europa.eu
To be honest, that is probably more as a provocation to US President Donald trump who, in his electioneering and his campaign for another presidential term, repeatedly (and erroneously) refers to the SARS-CoV-2 virus as "the Chinese virus". In a way, it flags up the enormous gap between Borrell and Trump. Trump is an arch-nationalist, Borrell is a true internationalist. But he has very strong feeling about countries and non-state actors who try to make the pandemic worse by spreading lies as if they're a weapon of war. "We have witnessed a wave of false and misleading information, hoaxes and conspiracy theories, as well as targeted influence operations by foreign actors." It's hard to believe that, at a time of global ill health, any country could set about trying to make it worse, trying to ensure it kills a few more people. What do they gain from such things? You'd have to ask them, especially since no European country is currently engaged in a declared war. Address your letters to Moscow and Beijing, however.
Borrell's qualifications display his internationalist attitude: a Master's Degree in Applied Mathematics (Operations Research) from Stanford University in California; a Master's Degree in Oil Industry Economics and Technology from the French Institute of Petroleum in Paris; a Bachelor's Degree and a Doctorate in Economic Science from Complutense University in Madrid; and a Bachelor's Degree in Aeronautical Engineering from the Polytechnic University of Madrid.
Complutense University in Madrid, Spain © Wikicommons
Still in the world of academia, he then became a Professor of Mathematics at the High Technical School of Aeronautical Engineering and Complutense University of Madrid. No-one can call him under-qualified. It's his belief in a unified Europe that has made him some enemies among nationalists generally and on the right. He even went to Barcelona to give an impassioned speech against Catalonian separatism, which takes courage. The desire for independence by some Catalonian campaigners runs very deep.
The Minister of Foreign Affairs, European Union and Cooperation, Josep Borrell, upon his arrival at the first meeting of the Council of Ministers and Ministers, chaired by Pedro Sánchez in La Moncloa in 2018 © Lamoncloa
He was also on slightly controversial ground when he spoke out in June this year at an event to mark International Day in Support of the Victims of Torture. His remarks would find little support from, for instance, Aleksandr Lukashenko, as he desperately tries to cling to his almost certainly dishonestly-won election victory. Many protestors say they have been tortured in Belarus. "The eradication of torture is a global challenge," Borrell said, "it should be a global ambition. It is not impossible to achieve but can only be done if we act together. Joint efforts with international partners, in particular the United Nations, the Council of Europe and the International Criminal Court, regional organisations, national partners and civil society can make a real difference. The Global Alliance for Torture-Free Trade is a good example of how we can work together, and we call on all States to join it." By supporting the move towards a total ban on torture (or what the CIA euphemistically refers to as "enhanced interrogation techniques") Borrell is carrying on the work started by Cecilia Malmström, former European Union Commissioner for Trade. She served in that capacity from 2014 to 2019 and was instrumental in launching the Global Alliance for Torture-Free Trade in September 2017, under the leadership of Argentina, the European Union and Mongolia.
Belarus President Aleksandr Lukashenko © ctv.by
HERE, THERE and EVERYWHERE
Borrell has also spoken in support of retaining the nuclear deal with Iran that the United States has repudiated and attempted (so far without success) to destroy. He, like the other partners to the JCPoA (Joint Comprehensive Plan of Action), wants to continue it, despite some questions over its effectiveness. Just to explain, this is how the Arms Control Association defines the JCPoA on its website: "The Joint Comprehensive Plan of Action (JCPoA) is a detailed, 159-page agreement with five annexes reached by Iran and the P5+1 (China, France, Germany, Russia, the United Kingdom, and the United States) on July 14, 2015. The nuclear deal was endorsed by UN Security Council Resolution 2231, adopted on July 20, 2015." Under it, Iran is restricted for ten years to having no more than 5,060 centrifuges of a specified type, uranium enrichment capped at no more than 300 kilos with no more than a 3.67% uranium-235 content, and for the work only to be carried out at Natanz. There are several other provisions, too, and Iran's compliance is monitored by the International Atomic Energy Agency (IAEA). In return, the US and the EU would lift their sanctions against Iran, although the US has now reimposed its own and wants everyone else to do the same.
Josep Borrell © European Parliament
They're refusing. Borrell is a believer in the deal, and in a softly-softly approach to keeping it going. "As I have said previously, the Dispute Resolution Mechanism requires intensive efforts in good faith by all," he said in July. "As Coordinator of the Joint Commission, I expect all JCPoA participants to approach this process in this spirit within the framework of the JCPoA. The Joint Commission, which is responsible for overseeing the implementation of the agreement under the terms of the JCPoA has met since 2016 to discuss the implementation of the JCPoA and address pertinent issues brought to the attention of the Coordinator by any participant. As we approach the fifth anniversary of the JCPoA, I should like to take this opportunity to recall the importance of the agreement. The JCPoA is an historic achievement for global nuclear non-proliferation contributing to regional and global security. I remain determined to continue working with the participants of the JCPoA and the international community to preserve it." The Tehran Times quoted an article Borrell had written about the agreement for Project Syndicate, a website. "The JCPoA is enshrined in international law through UNSC Resolution 2231 (which needs to be fully implemented). It stands as a prime example of what European diplomacy and effective multilateralism can achieve within the rules-based international order. But the process leading up to it was lengthy and difficult, all but ruling out another chance at a deal. Second, JCPoA is not merely a symbolic success. It delivered on its promises and proved effective."
Fayez al-Sarraj, head of the Tripoli-based Government of National Accord © Wikipedia
Lybian General Khalifa Haftar © Wikipedia
Iran is just one of the countries posing problems for those seeking peaceful co-existence. Libya remains divided between the UN-recognised government in Tripoli (and fiercely supported by Turkey) and a rebel government led by Khalifa Haftar that is recognised by Russia, France, Egypt and the United Arab Emirates. The EU (except for France) sides with Tripoli, and Borrell, still engaged in trying to find peaceful solutions to problems, has been to see the speaker of Libya's House of Representatives, Aguila Saleh in Al-Qubag, reporting back on what he clearly sees as a successful meeting. "We discussed how to peacefully resolve conflict and resume political dialogue within Berlin process," he Tweeted. "I welcome Speaker's commitment to implement ceasefire understanding & end oil blockade." His visit, on 1 September, was supposedly aimed at getting the parties at least to talk to each other. Borrell also met with Fayez al-Sarraj, head of the Tripoli-based Government of National Accord, whose administration recently declared a truce with the forces of General Haftar after months of fighting. "Libya remains top priority for EU," he Tweeted afterwards. "We welcome recent ceasefire understanding and continue to support dialogue and Libyan-led political resolution to conflict."
Josep Borrell (second from the left) with Angela Merkel, and Antonio Guterres at the Lybia Summit in Berlin © United Nations
It's not surprising that Borrell takes a diplomatic approach; he is, after all, Europe's most senior diplomat and head of the European External Action Service, making him effectively the EU's Foreign Minister as well. Libya and Iran may be in Europe's back yard, so to speak, but Borrell sees the EU as a global player and speaks out on all the issues that affect it. He is keen, for instance, to normalise relations with China, which he described in articles he wrote for Spanish and French publications as "a new empire", on a par with Russia. He urged EU member states to "correct" economic imbalances with China "before it's too late." His comments were made as the Chinese Foreign Minister, Wang Yi, began his European tour in France. Two weeks later, China's President, Xi Jinping, was due to meet EU leaders at a summit hosted by the German Chancellor, Angela Merkel.
Following two visits by US Secretary of State Mike Pompeo, Borrell was keen to point out faults where he saw them, including in China. "Russia, China and Turkey share three common characteristics; they are sovereignists on the outside and authoritarian on the inside," he wrote in an article for the newspaper Le Journal de Dimanche and quoted in the South China Morning Post.
Secretary of State Michael R. Pompeo with High Representative of the EU for Foreign Affairs and Security Policy/Vice-President of EU Commission Josep Borrell in Berlin, Germany, on January 19, 2020 © State Department Photo by Ron Przysucha
"After 30 years where the European vision seemed to gain ground, the sovereignist vision has regained the upper hand with these new empires." Describing China as 'assertive', 'expansionist', and 'authoritarian', he also criticised the country for not treating Europe fairly as a trading partner, despite claims to the contrary by Beijing. "Our relationship is excessively asymmetric for the current level of Chinese development," he said, "And that must be corrected. If we don't do it now, in a few years it will be too late. Chinese products will continue to move up the value chain and our economic and technological dependence will increase." Of course, that may be exactly what President XI wants.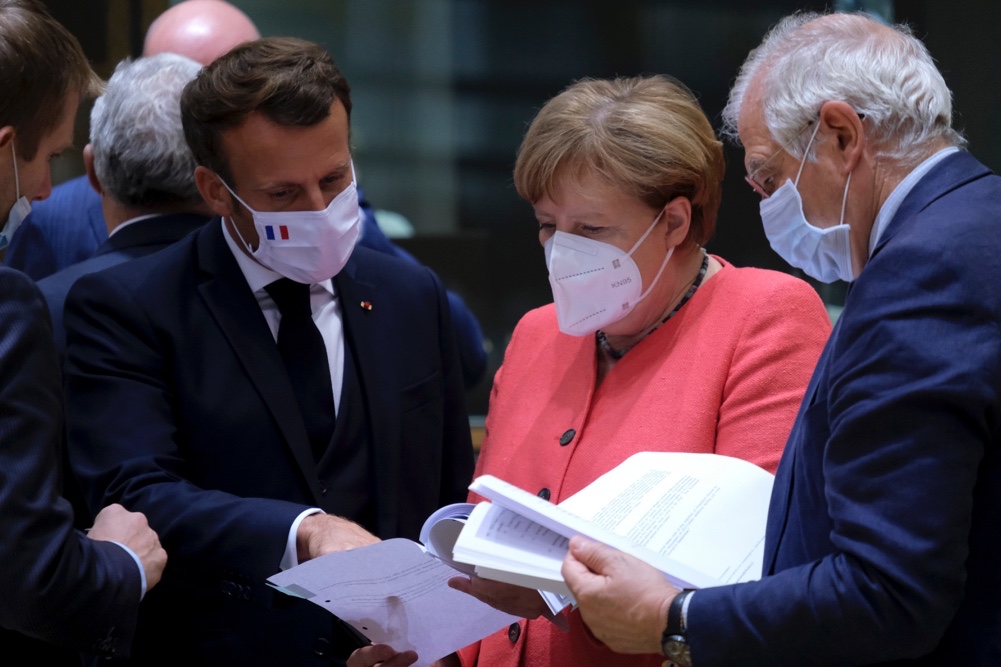 French President Emmanuel Macron, German Chancellor Angela Merkel and High Representative of the EU Jospep Borrell © European Union
BUILDING RELATIONSHIPS
Assertive nationalism seems to be all the rage. China, Borrell said, had drifted far from the sort of future Deng Xiaoping proposed in his speech to the United Nations in 1974, in which Deng said that China was not nor ever would be a superpower. Hmm… He accused China of "undermining international norms, including in the South China Sea", by promoting Chinese ideals as a "community of shared destiny" and by holding high positions in the UN system. He also drew attention to Chinese military development, a topic that is not discussed often in the EU, which is not much concerned with defence issues, as a rule. "The arms sales embargo decreed against China since the Tiananmen events in 1989 is still in force, but China no longer depends on imports of military equipment," he said. "It has developed an arms industry, especially naval and ballistics, of the first order and every year it increases its exports."
Meanwhile, Borrell continues his work with the Eastern Partnership countries: Armenia, Azerbaijan, Belarus, Georgia, the Republic of Moldova and Ukraine, trying to ensure a close relationship with the EU. He was present at a summit of the leaders in June 2020, and afterwards told journalists: "This is one of the most important aspects of external relations of the European Union, and it was an important meeting. Just imagine that thirty-three foreign ministers had the opportunity to demonstrate our unity and our commitment to the European Union we have with our eastern neighbours and also to push for the future of this partnership in 2020." Borrell believes that as Europeans we are better, stronger and likely to be more successful if we collaborate and work together in friendship, while some countries – including two member states – seem to believe in ploughing a lonely furrow. I recall a difficult conversation I once had with a barber who was cutting my hair and who was an ardent Brexit supporter. Although young (and clearly not well versed in history) she said that everyone would be better off if we just had separate countries that were not in any sort of alliance and existed, as it were, in a sort of separatist bubble. What I should have pointed out is that such a situation existed, more or less, in central Europe in the 1930s, and it worked very happily apart from a few little problems like the Anschluss, the German seizure of the Sudetenland, the invasion of Poland, Auschwitz, Buchenwald and so on. Oh, and World War II, of course. Being partners with people, as Borrell clearly believes, is far safer and ensures our futures more clearly.
Brian Hare,Professor of evolutionary anthropology, psychology and neuroscience at Duke University © PopTech
Vanessa Woods Australian science writer, author and journalist © Wikipedia
In an article in Scientific American, Brian Hare, Professor of evolutionary anthropology, psychology and neuroscience at Duke University, and Vanessa Woods, a research scientist and co-author with Hare of a new book, 'Survival of the Friendliest', published this July, argue that the reason homo sapiens out-survived and out-performed our hominid rivals at a time when four separate species co-existed is because we were better at forming friendships and alliances with each other.
Neanderthals, they point out, were as clever as us, stronger and had been around for longer, while there were also other humans, such as the mysterious Denisovans, too. So, if we were not the strongest, nor the cleverest, nor even the best able to cope with extreme conditions (don't forget: Earth was going through an Ice Age back then), how come we survived and thrived while our rivals disappeared? How was it that less than 60,000 or 70,000 years after our ancestors headed north and east out of Africa, none of our rivals still exists? Hare and Woods don't subscribe to the idea that our ancestors went out and killed them all. They suggest we simply worked together better than they did. "Compared with other human species," they write in the article, "it turns out we were the friendliest. What allowed us to thrive was a kind of cognitive superpower: a particular type of affability called cooperative communication." In a sense, they seem to be saying that it was a Borrell-like belief (they do not mention him, of course) in working together that did the trick. "We are experts at working together with other people, even strangers. We can communicate with someone we've never met about a shared goal and work together to accomplish it." That, more or less, is the sort of policy in which Josep Borrell believes.
GETTING ON TOGETHER
It's also, strangely, the main thrust of the mission letter he received from Commission President Ursula von der Leyen, which also listed some of the challenges ahead.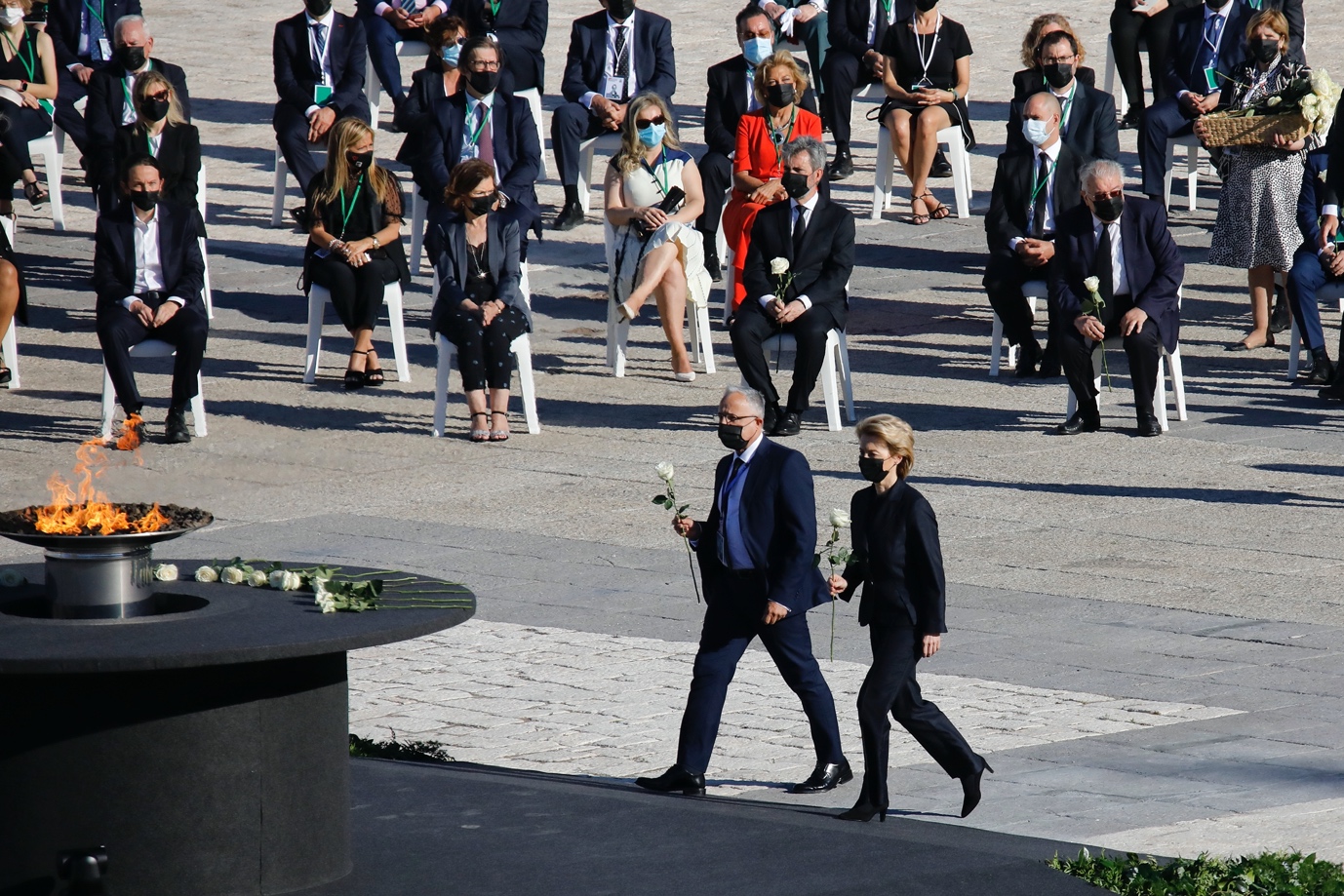 From left to right: Mr Josep BORRELL FONTELLES, High Representative of the EU for Foreign Affairs and Security Policy; Ms Ursula VON DER LEYEN, President of the European Commission during the Ceremony for the COVID-19 victims (16/07/20, Madrid)© Consilium.europa
"Changes in climate, digital technologies and geopolitics are already having a profound effect on the lives of Europeans," she wrote. "We are witnessing major shifts all the way from global power structures to local politics. While these transformations may be different in nature, we must show the same ambition and determination in our response. What we do now will determine what kind of world our children live in and will define Europe's place in the world." Certainly, Borrell has always been committed to furthering the European project and one gets the feeling that he finds it hard to understand those who favour nativism and division. "The first times I ever crossed my country's border – something that was not as easy back then as it is now – was for my student summer jobs," he told MEPs, "working on a farm in Denmark, in the construction sector in Germany, in the hospitality business in London, or harvesting grapes in France. I can still remember the emotions I felt as a young Spaniard upon discovering Europe, a continent which for my generation was an existential reference that we wanted to be part of."
Josep Borrell, high representative of the EU for Foreign Affairs and Security Policy (left) and Turkish Foreign Minister Mevlut Cavusoglu © Turkish Foreign Ministry
Not only a part of, either; he wanted – and increasingly so as his European experience grew – to see a Europe that was not only united, but which could carry some weight in the wider world. "When assuming myself the concrete rôle as High Representative/Vice President, I truly would like to contribute to making the EU a stronger foreign actor. We all know that in virtually all policy areas, we have to act jointly as Europeans in order to make a difference on the world stage – across institutions and member states. This will not be an easy task, but I commit myself to do my utmost to achieve EU unity in external relations."
How can Europe project its soft power in these days of aggressive national and non-state players? Commission President von der Leyen promised that hers would be a "geopolitical commission". What does that even mean? Borrell thinks he knows. "Today's geopolitical conflicts," he said, "do not take place mostly in trenches in the battlefield, but mainly in the cyberspace and other fields, ranging from trade, economic and monetary policy to access for raw materials. The weapons used are no longer bayonets but rather cyber and hybrid attacks, sanctions, commercial tariffs, currency devaluations and forced technology transfers."
Josep Borrell and his wife Cristina Narbona © Pool Moncloa / Fernando Calvo
Even so, back in May, Borrell was accused of caving in under political pressure from Beijing. An article in the New York Times claimed that the EU had wanted to place two quite innocent-seeming articles in two leading Chinese newspapers, the China Daily and the People's Daily, which together have a potential readership of more than one billion. The articles, written by Nicolas Chapuis, the EU's ambassador to China, along with the ambassadors of the twenty-seven EU member states, were intended to mark the 45th anniversary of EU-China diplomatic relations by issuing what's called an "op-ed", that is an article designed to be published in a newspaper on the opposite page to its editorial column, hence "op-ed" – opposite the editorial. The article contained a sentence that regretted "the newly-arisen obstacles" to what it called the "deepening EU-China cooperation", which was fine. However, the next sentence ran: "But the outbreak of the corona virus in China, and its subsequent spread to the rest of the world over the past three months, has meant that our pre-existing plans have been temporarily side-tracked as both the EU and China are fully mobilised to tackle what has now become a challenge of truly global proportions." In that way, the reference to the virus briefly mentioned China as its place of origin at a time when Beijing was alleging it had been "weaponised" in the United States or developed elsewhere. China objected at the highest level.
The incident came just two weeks after another scandal, also first revealed in the New York Times, which alleged that a detailed report on cyberattacks and disinformation had been watered down at Beijing's request. In an article on 24 April, journalist Matt Apuzzo claimed that EU officials first delayed and then softened and diluted a report on the spread of deliberate disinformation, even though, as he wrote, "The initial European Union report…was not particularly strident: a routine roundup of publicly available information and news reports." The New York Times alleged then that the dilution was Borrell's work. The European Parliament's Foreign Affairs committee held a virtual meeting which Borrell attended via video link. He faced some difficult questions, despite denying that the report on disinformation had been softened in any way.
German Christian Democrat MEP David McAllister © europa.eu
The Committee chair, German Christian Democrat MEP David McAllister, reminded members of a motion passed only two weeks earlier, condemning disinformation with regard to Covid-19 (something against which Borrell himself has spoken out on numerous occasions). "The EU must become more resilient against crises in general," he said, "to stay free of undue political and economic influence, such as from China and Russia, and that we must be ready to strategically communicate, to fight external disinformation, fake news and cyberattacks and to adapt continuously to the changing geopolitical landscape without ever compromising our core values." Bold words and clearly deeply felt, but some attending the meeting felt Borrell had let the side down.
He denied the report had been weakened, and that he had been in any way involved. "I was not even aware of what was happening," he assured MEPs, rather nervously, it seemed to me, "I remember very well because the 24th was the day of my anniversary (birthday) and I was supposed to have a free afternoon, and on the afternoon of the 24th, one of my friends from Spain told me 'have you heard the news that there is a problem or something with the publication of a survey of some external action communication related with disinformation? This was the first time I knew about it. Then I asked for information from my services and I was informed that in this time they were publishing the article and later, for sure, later that evening I had to be completely aware of what was happening." Borrell sounded unsure at that point and his usually near-perfect English faltered. He was clearly shaken by the allegations and, I felt, rather uncomfortable. He concluded by saying, however, that "I can assure you that I was not taking any pressure in order to create a publication that was biased due to any pressure from anyone." I have never heard the urbane and assured Borrell sound so flustered and somewhat unsure of himself. Borrell firmly denied that the EEAS had caved in, although I got the feeling that not all the MEPs believed him. However, just as he had said in his demand for greater equality between Europe and China, Beijing plays it tough, and diplomats have to be aware of possible ramifications if they upset a major trading partner. With China you don't just get someone getting into a huff and not speaking to you; as Borrell had hinted before, China has a thriving arms industry with ships and ballistics. When Beijing wants to blow an idea out of the water it may not be talking figuratively.
Borrell is more at home in diplomatic circles than in political rows and disagreements. He's better at smoothing ruffled feathers than at deliberately ruffling them.
Josep Borrell with Egyptian President Al Sisi @JosepBorrellF
In September he made a trip to Egypt – long planned but delayed by the pandemic – to meet Abdel Fattah Al-Sissi, the President of Egypt, as well as Aboul Gheit, Secretary General League of Arab States, before holding a joint press conference with Sameh Shoukry, Egypt's Minister for Foreign Affairs of Egypt. "Here we are, trying to enhance our partnership." Borrell told the journalists assembled in Cairo. "This is a good opportunity to bolster this partnership, because we want to strong (strengthen) our relationship, and we want to do so because we share many interests. We want to consult with you on many pressing regional issues in the areas of energy, the environment, migration, trade and security."
Diplomacy to Borrell is all important. As Hare and Woods wrote in the Scientific American article, "Making contact between people of different ideology, culture or race is a universally effective reminder that we all belong to a single group called H. sapiens." It would be a shame if many of our leaders, in various parts of the world, forget that, in the generally mistaken belief that a show of aggression will get them their own way, just as a playground bully might have done. Or, perhaps, as a Neanderthal or Denisovan may have done. But they are extinct. Perhaps Borrell's approach – gentle persuasion – is the best way forward after all.
Click below to read the 2020 September edition of Europe Diplomatic Magazine