Gulag
By Anne Applebaum
PULITZER PRIZE WINNER • This magisterial and acclaimed history offers the first fully documented portrait of the Gulag, from its origins in the Russian Revolution, through its expansion under Stalin, to its collapse in the era of glasnost.
"A tragic testimony to how evil ideologically inspired dictatorships can be." –The New York Times
The Gulag—a vast array of Soviet concentration camps that held millions of political and criminal prisoners—was a system of repression and punishment that terrorized the entire society, embodying the worst tendencies of Soviet communism. Applebaum intimately re-creates what life was like in the camps and links them to the larger history of the Soviet Union. Immediately recognized as a landmark and long-overdue work of scholarship, Gulag is an essential book for anyone who wishes to understand the history of the twentieth century.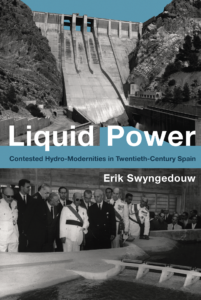 Liquid Power
By Erik Swyngedouw
An examination of the central role of water politics and engineering in Spain's modernization, illustrating water's part in forging, maintaining, and transforming social power.
In this book, Erik Swyngedouw explores how water becomes part of the tumultuous processes of modernization and development. Using the experience of Spain as a lens to view the interplay of modernity and environmental transformation, Swyngedouw shows that every political project is also an environmental project.
In 1898, Spain lost its last overseas colony, triggering a period of post-imperialist turmoil still referred to as El Disastre. Turning inward, the nation embarked on "regeneration" and modernization. Water played a central role in this; during a turbulent period from the twentieth century into the twenty-first—through the Franco years and into the new era of liberal democracy—Spain's waterscapes were completely transformed, with large-scale projects that ranged from dam construction to irrigation to desalinization. Swyngedouw describes the contested political-ecological process that marked this transformation, showing that the Spain's diverse and contested paths to modernization were predicated on particular trajectories of environmental transformation.
After laying out his theoretical perspectives, Swyngedouw analyzes three periods of Spain's political-ecological modernization: the aspirations and stalled modernization of the early twentieth century; the accelerated efforts under the authoritarian Franco regime—which included six hundred dams, expanded hydroelectricity, and massive irrigation; and the changing hydro-social landscape under social democracy. Offering an innovative perspective on the relationship of nature and society, Liquid Power illuminates the political nature of nature.

Say Nothing
By Patrick Racklen Keefe
"Masked intruders dragged Jean McConville, a 38-year-old widow and mother of 10, from her Belfast home in 1972. In this meticulously reported book—as finely paced as a novel—Keefe uses McConville's murder as a prism to tell the history of the Troubles in Northern Ireland. Interviewing people on both sides of the conflict, he transforms the tragic damage and waste of the era into a searing, utterly gripping saga." —New York Times Book Review
Jean McConville's abduction was one of the most notorious episodes of the vicious conflict known as The Troubles. Everyone in the neighborhood knew the I.R.A. was responsible. But in a climate of fear and paranoia, no one would speak of it. In 2003, five years after an accord brought an uneasy peace to Northern Ireland, a set of human bones was discovered on a beach. McConville's children knew it was their mother when they were told a blue safety pin was attached to the dress–with so many kids, she had always kept it handy for diapers or ripped clothes.
Patrick Radden Keefe's mesmerizing book on the bitter conflict in Northern Ireland and its aftermath uses the McConville case as a starting point for the tale of a society wracked by a violent guerrilla war, a war whose consequences have never been reckoned with. The brutal violence seared not only people like the McConville children, but also I.R.A. members embittered by a peace that fell far short of the goal of a united Ireland, and left them wondering whether the killings they committed were not justified acts of war, but simple murders.
From radical and impetuous I.R.A. terrorists such as Dolours Price, who, when she was barely out of her teens, was already planting bombs in London and targeting informers for execution, to the ferocious I.R.A. mastermind known as The Dark, to the spy games and dirty schemes of the British Army, to Gerry Adams, who negotiated the peace but betrayed his hardcore comrades by denying his I.R.A. past–Say Nothing conjures a world of passion, betrayal, vengeance, and anguish.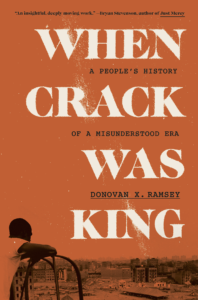 When Crack Was King
By Donovan X. Ramsey
A "vivid and frank" (NPR) account of the crack cocaine era and a community's ultimate resilience, told through a cast of characters whose lives illuminate the dramatic rise and fall of the epidemic
"A poignant and compelling re-examination of a tragic era in America history . . . insightful . . . and deeply moving."—Bryan Stevenson, author of the #1 New York Times bestseller Just Mercy
The crack epidemic of the 1980s and 1990s is arguably the least examined crisis in American history. Beginning with the myths inspired by Reagan's war on drugs, journalist Donovan X. Ramsey's exacting analysis traces the path from the last triumphs of the Civil Rights Movement to the devastating realities we live with today: a racist criminal justice system, continued mass incarceration and gentrification, and increased police brutality.
When Crack Was King follows four individuals to give us a startling portrait of crack's destruction and devastating legacy: Elgin Swift, an archetype of American industry and ambition and the son of a crack-addicted father who turned their home into a "crack house"; Lennie Woodley, a former crack addict and sex worker; Kurt Schmoke, the longtime mayor of Baltimore and an early advocate of decriminalization; and Shawn McCray, community activist, basketball prodigy, and a founding member of the Zoo Crew, Newark's most legendary group of drug traffickers.
Weaving together riveting research with the voices of survivors, When Crack Was King is a crucial reevaluation of the era and a powerful argument for providing historically violated communities with the resources they deserve.