THERE WILL BE FIRE
By Rory Carroll
Margaret Thatcher, the IRA, and Two Minutes That Changed History
A race-against-the-clock narrative that finally illuminates a history-changing event: the IRA's attempt to assassinate Margaret Thatcher and the epic manhunt that followed.
A bomb planted by the Irish Republican Army exploded at 2:54 a.m. on October 12, 1984. It was the last day of the Conservative Party Conference at the Grand Hotel in the coastal town of Brighton, England. Rooms were obliterated, dozens of people wounded, five killed. Prime Minister Margaret Thatcher was in her suite when the explosion occurred; had she been just a few feet in another direction, flying tiles and masonry would have sliced her to ribbons. As it was, she survived—and history changed.
   There Will Be Fire is the gripping story of how the IRA came astonishingly close to killing Thatcher, in the most spectacular attack ever linked to the Northern Ireland Troubles. Journalist Rory Carroll reveals the long road to Brighton, the hide-and-seek between the IRA and British security services, the planting of the bomb itself, and the painstaking search for clues and suspects afterward.
In There Will Be Fire, Carroll draws on his own interviews and original reporting, reveals new information, and weaves together previously unconnected threads. There Will Be Fire is journalistic nonfiction that reads like a thriller, propelled by a countdown to detonation.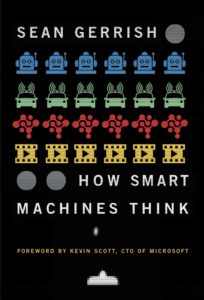 HOW SMART MACHINES THINK
By Sean Gerrish Foreword by Kevin Scott
Everything you've always wanted to know about self-driving cars, Netflix recommendations, IBM's Watson, and video game-playing computer programs.
The future is here: Self-driving cars are on the streets, an algorithm gives you movie and TV recommendations, IBM's Watson triumphed on Jeopardy over puny human brains, computer programs can be trained to play Atari games. But how do all these things work? In this book, Sean Gerrish offers an engaging and accessible overview of the breakthroughs in artificial intelligence and machine learning that have made today's machines so smart.
Gerrish outlines some of the key ideas that enable intelligent machines to perceive and interact with the world. He describes the software architecture that allows self-driving cars to stay on the road and to navigate crowded urban environments; the million-dollar Netflix competition for a better recommendation engine (which had an unexpected ending); and how programmers trained computers to perform certain behaviors by offering them treats, as if they were training a dog. He explains how artificial neural networks enable computers to perceive the world—and to play Atari video games better than humans. He explains Watson's famous victory on Jeopardy, and he looks at how computers play games, describing AlphaGo and Deep Blue, which beat reigning world champions at the strategy games of Go and chess. Computers have not yet mastered everything, however; Gerrish outlines the difficulties in creating intelligent agents that can successfully play video games like StarCraft that have evaded solution—at least for now.
Gerrish weaves the stories behind these breakthroughs into the narrative, introducing readers to many of the researchers involved, and keeping technical details to a minimum. Science and technology buffs will find this book an essential guide to a future in which machines can outsmart people.

GEORGE VI AND ELIZABETH
By Sally Bedell Smith
The Marriage That Saved the Monarchy
A revelatory account of how the loving marriage of King George VI and Queen Elizabeth saved the monarchy during World War II, and how they raised their daughter to become Queen Elizabeth II, based on exclusive access to the Royal Archives—from the bestselling author of Elizabeth the Queen and Prince Charles
Granted special access by Queen Elizabeth II to her parents' letters and diaries and to the papers of their close friends and family, Sally Bedell Smith brings the love story of this iconic royal couple to vibrant life. This deeply researched and revealing book shows how a loving and devoted marriage helped the King and Queen meet the challenges of World War II, lead a nation, solidify the public's faith in the monarchy, and raise their daughters, Princess Elizabeth and Princess Margaret.
When King Edward VIII abdicated the throne in 1936, shattering the Crown's reputation, his younger brother, known as Bertie, assumed his father's name and became King George VI. Shy, sensitive, and afflicted with a stutter, George VI had never imagined that he would become King. His wife, Elizabeth, a pretty, confident, and outgoing woman who became known later in life as "the Queen Mum," strengthened and advised her husband. With his wife's support, guidance, and love, George VI was able to overcome his insecurities and become an exceptional leader, navigating the country through World War II, establishing a relationship with Winston Churchill, visiting Franklin and Eleanor Roosevelt in Washington and in Hyde Park, and inspiring the British people with his courage and compassion during the Blitz. Simultaneously, George VI and Elizabeth trained their daughter Princess Elizabeth from an early age to be a highly successful monarch, and she would reign for an unprecedented seventy years.
Sally Bedell Smith gives us an inside view of the lives, struggles, hopes, and triumphs of King George VI and Elizabeth during a dramatic time in history.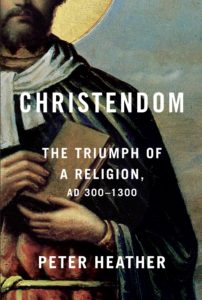 CHRISTENDOM
By Peter Heather
The Triump of a Religion, AD 300-1300
A major reinterpretation of the religious superstate that came to define both Europe and Christianity itself, by one of our foremost medieval historians.
In the fourth century AD, a new faith grew out of Palestine, overwhelming the paganism of Rome and resoundingly defeating a host of other rival belief systems. Almost a thousand years later, all of Europe was controlled by Christian rulers, and the religion, ingrained within culture and society, exercised a monolithic hold over its population. But how did a small sect of isolated and intensely committed congregations become a mass movement centrally directed from Rome? As Peter Heather shows in this illuminating new history, there was nothing inevitable about Christendom's rise and eventual dominance.
From Constantine the Great's pivotal conversion to Christianity to the crisis that followed the collapse of the Roman empire—which left the religion teetering on the edge of extinction—to the astonishing revolution of the eleventh century and beyond, out of which the Papacy emerged as the head of a vast international corporation, Heather traces Christendom's chameleonlike capacity for self-reinvention, as it not only defined a fledgling religion but transformed it into an institution that wielded effective authority across virtually all of the disparate peoples of medieval Europe.
Authoritative, vivid, and filled with new insights, this is an unparalleled history of early Christianity.