Pain Killer
An Empire of Deceit and the Origin of America's Opioid Epidemic.
By Barry Meier
Between 1999 and 2017, an estimated 250,000 Americans died from overdoses involving prescription painkillers, a plague ignited by Purdue Pharma's aggressive marketing of OxyContin. Families, working class and wealthy, have been torn apart, businesses destroyed, and public officials pushed to the brink. Meanwhile, the drugmaker's owners, Raymond and Mortimer Sackler, whose names adorn museums worldwide, made enormous fortunes from the commercial success of OxyContin.
In Pain Killer, Barry Meier tells the story of how Purdue turned OxyContin into a billion-dollar blockbuster. Powerful narcotic painkillers, or opioids, were once used as drugs of last resort for pain sufferers. But Purdue launched an unprecedented marketing campaign claiming that the drug's long-acting formulation made it safer to use than traditional painkillers for many types of pain. That illusion was quickly shattered as drug abusers learned that crushing an Oxy could release its narcotic payload all at once. Even in its prescribed form, Oxy proved fiercely addictive. As OxyContin's use and abuse grew, Purdue concealed what it knew from regulators, doctors, and patients.
Here are the people who profited from the crisis and those who paid the price, those who plotted in boardrooms and those who tried to sound alarm bells. A country doctor in rural Virginia, Art Van Zee, took on Purdue and warned officials about OxyContin abuse. An ebullient high school cheerleader, Lindsey Myers, was reduced to stealing from her parents to feed her escalating Oxy habit. A hard-charging DEA official, Laura Nagel, tried to hold Purdue executives to account.
In Pain Killer, Barry Meier breaks new ground in his decades-long investigation into the opioid epidemic. He takes readers inside Purdue to show how long the company withheld information about the abuse of OxyContin and gives a shocking account of the Justice Department's failure to alter the trajectory of the opioid epidemic and protect thousands of lives. Equal parts crime thriller, medical detective story, and business exposé, Pain Killer is a hard-hitting look at how a supposed wonder drug became the gateway drug to a national tragedy.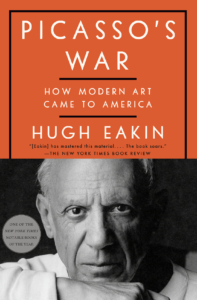 Picasso's War
How Modern Art Came to America
By Hugh Eakin
In January 1939, Pablo Picasso was renowned in Europe but disdained by many in the United States. One year later, Americans across the country were clamoring to see his art. How did the controversial leader of the Paris avant-garde break through to the heart of American culture?
The answer begins a generation earlier, when a renegade Irish American lawyer named John Quinn set out to build the greatest collection of Picassos in existence. His dream of a museum to house them died with him, until it was rediscovered by Alfred H. Barr, Jr., a cultural visionary who, at the age of twenty-seven, became the director of New York's new Museum of Modern Art.
Barr and Quinn's shared goal would be thwarted in the years to come—by popular hostility, by the Depression, by Parisian intrigues, and by Picasso himself. It would take Hitler's campaign against Jews and modern art, and Barr's fraught alliance with Paul Rosenberg, Picasso's persecuted dealer, to get Picasso's most important paintings out of Europe. Mounted in the shadow of war, the groundbreaking exhibition Picasso: Forty Years of His Art would launch Picasso in America, define MoMA as we know it, and shift the focus of the art world from Paris to New York.
Picasso's War is the never-before-told story about how a single exhibition, a decade in the making, irrevocably changed American taste, and in doing so saved dozens of the twentieth century's most enduring artworks from the Nazis. Through a deft combination of new scholarship and vivid storytelling, Hugh Eakin shows how two men and their obsession with Picasso changed the art world forever.

Robert Oppenheimer
A Life Inside the Center
By Ray Monk
An unforgettable story of discovery and unimaginable destruction and a major biography of one of America's most brilliant—and most divisive—scientists, Robert Oppenheimer: A Life Inside the Center vividly illuminates the man who would go down in history as "the father of the atomic bomb." Oppenheimer's talent and drive secured him a place in the pantheon of great physicists and carried him to the laboratories where the secrets of the universe revealed themselves. But they also led him to contribute to the development of the deadliest weapon on earth, a discovery he soon came to fear. His attempts to resist the escalation of the Cold War arms race—coupled with political leanings at odds with post-war America—led many to question his loyalties, and brought down upon him the full force of McCarthyite anti-communism. Digging deeply into Oppenheimer's past to solve the enigma of his motivations and his complex personality, Ray Monk uncovers the extraordinary, charming, tortured man—and the remarkable mind—who fundamentally reshaped the world.
George VI and Elizzbeth
The Marriage That Saved the Monarchy
By Sally Bedell Smith
Granted special access by Queen Elizabeth II to her parents' letters and diaries and to the papers of their close friends and family, Sally Bedell Smith brings the love story of this iconic royal couple to vibrant life. This deeply researched and revealing book shows how a loving and devoted marriage helped the King and Queen meet the challenges of World War II, lead a nation, solidify the public's faith in the monarchy, and raise their daughters, Princess Elizabeth and Princess Margaret.
When King Edward VIII abdicated the throne in 1936, shattering the Crown's reputation, his younger brother, known as Bertie, assumed his father's name and became King George VI. Shy, sensitive, and afflicted with a stutter, George VI had never imagined that he would become King. His wife, Elizabeth, a pretty, confident, and outgoing woman who became known later in life as "the Queen Mum," strengthened and advised her husband. With his wife's support, guidance, and love, George VI was able to overcome his insecurities and become an exceptional leader, navigating the country through World War II, establishing a relationship with Winston Churchill, visiting Franklin and Eleanor Roosevelt in Washington and in Hyde Park, and inspiring the British people with his courage and compassion during the Blitz. Simultaneously, George VI and Elizabeth trained their daughter Princess Elizabeth from an early age to be a highly successful monarch, and she would reign for an unprecedented seventy years.
Sally Bedell Smith gives us an inside view of the lives, struggles, hopes, and triumphs of King George VI and Elizabeth during a dramatic time in history.