GOOD FOR A GIRL
By Lauren Fleshman
A Woman Running in a Man's World
Lauren Fleshman has grown up in the world of running. One of the most decorated collegiate athletes of all time and a national champion as a pro, she was a major face of women's running for Nike before leaving to shake up the industry with feminist running brand Oiselle and now coaches elite young female runners. Every step of the way, she has seen the way that our sports systems—originally designed by men, for men and boys—fail young women and girls as much as empower them. Girls drop out of sports at alarming rates once they hit puberty, and female collegiate athletes routinely fall victim to injury, eating disorders, or mental health struggles as they try to force their way past a natural dip in performance for women of their age.
Part memoir, part manifesto, Good for a Girl is Fleshman's story of falling in love with running as a girl, being pushed to her limits and succumbing to devastating injuries, and daring to fight for a better way for female athletes. Long gone are the days when women and girls felt lucky just to participate; Fleshman and women everywhere are waking up to the reality that they're running, playing, and competing in a world that wasn't made for them. Drawing on not only her own story but also emerging research on the physiology and psychology of young athletes, of any gender, Fleshman gives voice to the often-silent experience of the female athlete and argues that the time has come to rebuild our systems of competitive sport with women at their center.
Written with heart and verve, Good for a Girl is a joyful love letter to the running life, a raw personal narrative of growth and change, and a vital call to reimagine sports for young women.
Mussolini's Nature
By Marco Marco Armiero, Roberta Biasillo and Wilko Graf von Hardenberg (Translated  by James Sievert)
This exploration of the environmental practices of Benito Mussolini's fascist regime invites readers to consider the ecological connections of all political projects.
"We might think we see a mountain while it was a war; a forest can actually be an engine; a monument to workers might reflect the violence of a colonial empire."—extracted from Mussolini's Nature
In this first environmental history of Italian fascism, Marco Armiero, Roberta Biasillo, and Wilko Graf von Hardenberg reveal that nature and fascist rhetoric are inextricable. Mussolini's Nature explores fascist political ecologies, or rather the practices and narratives through which the regime constructed imaginary and material ecologies functional to its political project. The book does not pursue the ghost of a green Mussolini by counting how many national parks were created during the regime or how many trees planted. Instead, the reader is trained to recognize fascist political ecology in Mussolini's speeches, reclaimed landscapes, policies of economic self-sufficiency, propaganda documentaries, reforested areas, and in the environmental transformation of its colonial holdings.
The authors conclude with an examination of the role of fascist landscapes in the country's postwar reconstruction: Mussolini's nature is still visible today through plaques, monuments, toponomy, and the shapes of landscapes. This original, and surprisingly intimate, environmental history is not merely a chronicle of conservation in fascist Italy but also an invitation to consider the socioecological connections of all political projects.

Untold power
By Rebecca Boggs Roberts
A nuanced portrait of the first acting woman president, written with fresh and cinematic verve by a leading historian on women's suffrage and power
While this nation has yet to elect its first woman president—and though history has downplayed her role—just over a century ago a woman became the nation's first acting president. In fact, she was born in 1872, and her name was Edith Bolling Galt Wilson. She climbed her way out of Appalachian poverty and into the highest echelons of American power and in 1919 effectively acted as the first woman president of the U.S. (before women could even vote nationwide) when her husband, Woodrow Wilson, was incapacitated. Beautiful, brilliant, charismatic, catty, and calculating, she was a complicated figure whose personal quest for influence reshaped the position of First Lady into one of political prominence forever. And still nobody truly understands who she was.
For the first time, we have a biography that takes an unflinching look at the woman whose ascent mirrors that of many powerful American women before and since, one full of the compromises and complicities women have undertaken throughout time in order to find security for themselves and make their mark on history. She was a shape-shifter who was obsessed with crafting her own reputation, at once deeply invested in exercising her own power while also opposing women's suffrage. With narrative verve and fresh eyes, Untold Power is a richly overdue examination of one of American history's most influential, complicated women as well as the surprising and often absurd realities of American politics.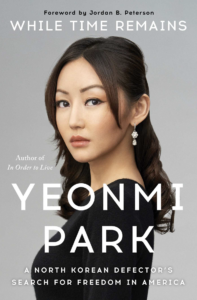 While Time Remains
By Yeonmi Park
The North Korean defector, human rights advocate, and bestselling author of In Order to Live sounds the alarm on the culture wars, identity politics, and authoritarian tendencies tearing America apart.
After defecting from North Korea, Yeonmi Park found liberty and freedom in America. But she also found a chilling crackdown on self-expression and thought that reminded her of the brutal regime she risked her life to escape. When she spoke out about the mass political indoctrination she saw around her in the United States, Park faced censorship and even death threats.
In While Time Remains, Park sounds the alarm for Americans by highlighting the dangerous hypocrisies, mob tactics, and authoritarian tendencies that speak in the name of wokeness and social justice. No one is spared in her eye-opening account, including the elites who claim to care for the poor and working classes but turn their backs on anyone who dares to think independently.
Park arrived in America eight years ago with no preconceptions, no political aims, and no partisan agenda. With urgency and unique insight, the bestselling author and human rights activist reminds us of the fragility of freedom, and what we must do to preserve it. (Good Reads:  https://www.goodreads.com/book/show/61273331-while-time-remains)