CHINA'S RIVAL TO AIRBUS AND BOEING SOON ON COMMERCIAL FLIGHTS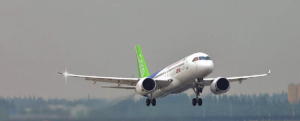 At 6:52 on May 14, 2022, the C919 large aircraft numbered B-001J took off from the fourth runway of Pudong Airport and landed safely at 9:54, marking the first aircraft that COMAC will deliver to its first customer. The first flight test of the C919 large aircraft was successfully completed.
The Comac C919 is a narrow-body airliner developed by Chinese aircraft manufacturer Comac. The development program was launched in 2008. Production of the prototype began in December 2011, with the first prototype being ready on 2 November 2015 and having its maiden flight on 5 May 2017
The aircraft, is powered by either CFM International LEAP or ACAE CJ-1000A turbofan engines, and be able to carry 156 to 168 passengers in a normal operating configuration up to 5,555 km.
The aircraft received between $49-$72 billion in state subsidies.
The C919 was built with US and European help. Only 14 of the aircraft's 82 suppliers are Chinese, according to aviation experts.
Since 2019, six C919s have carried out flight tests in Shanghai, Yanliang, Dongying and Nanchang, and carried out a series of ground tests and flight tests. In November, 2020, the aircraft obtained the Type Inspection Authorization (TIA), and officially entered into authority certification flight tests.
The C919 large passenger aircraft system represents the key task for China to independently develop trunk passenger aircraft.
Wu Yongliang, the vice general manager of COMAC, said at the beginning of the year that the C919 project is still in the airworthiness certification stage and is expected to be delivered in 2022.
After signing a contract to purchase the aircraft last year, China Eastern Airlines, which counts the Chinese government as its major shareholder, disclosed on May 10 this year that the total amount of funds it plans to raise will not exceed 15 billion yuan ($2.2 billion), of which 10.5 billion yuan will be used to introduce 38 aircraft including four C919s. According to the announcement of China Eastern Airlines, the unit prices of domestic C919 aircraft and ARJ21-700 aircraft are $99 million and $38 million respectively – far lower than imported aircraft made by Airbus and Boeing, which have a unit price of about $300 million.
Zhang Chao, deputy director of the AVIC Securities Research Institute, said that all six test C919 large passenger aircraft have made their first flight, and it is expected that the first delivery will be completed in 2022, batch delivery will be realized in 2023, and the annual output of 50 aircraft will be achieved in 2025.
Success of the C919 is vital to both China's technological development and its domestic aviation market.
CYBER-ATTACKS: COUNCIL EXTENDS SANCTIONS REGIME UNTIL 18 MAY 2025
The Council has decided to prolong the framework for restrictive measures against cyber-attacks threatening the EU and its member states for a further three years, until 18 May 2025.
This framework allows the EU to impose targeted restrictive measures on persons or entities involved in cyber-attacks which cause a significant impact, and constitute an external threat to the EU or its member states. Restrictive measures can also be imposed in response to cyber-attacks against third states or international organisations where such measures are considered necessary to achieve the objectives of the Common Foreign and Security Policy (CFSP).
Sanctions currently apply to eight individuals and four entities, and include an asset freeze and a travel ban. Additionally, EU persons and entities are forbidden from making funds available to those listed. These individual listings will continue to be reviewed every 12 months.
The decision to prolong the restrictive measures for three years shows the strong EU's commitment to enhance its resilience and ability to prevent, discourage, deter and respond to cyber threats and malicious cyber activities in order to safeguard European security and interests.
Background
In June 2017, the EU established a Framework for a Joint EU Diplomatic Response to Malicious Cyber Activities (the "cyber diplomacy toolbox"). The framework allows the EU and its member states to use all CFSP measures, including restrictive measures if necessary, to prevent, discourage, deter and respond to malicious cyber activities targeting the integrity and security of the EU and its member states.
The EU framework for restrictive measures against cyber-attacks threatening the EU and its member states was set up in May 2019.
ENHANCED CO-OPERATION AND DISCLOSURE OF ELECTRONIC EVIDENCE: 22 COUNTRIES SIGN NEW PROTOCOL TO CYBERCRIME CONVENTION
The Second Additional Protocol to the Convention on Cybercrime (Budapest Convention), aimed at enhancing co-operation and disclosure of electronic evidence has been opened for signature at a conference organised under the Italian Presidency of the Council of Europe's Committee of Ministers.
The Protocol was signed in the presence of several ministers by the following Council of Europe member states: Austria, Belgium, Bulgaria, Estonia, Finland, Iceland, Italy, Lithuania, Luxembourg, Montenegro, Netherlands, North Macedonia, Portugal, Romania, Serbia, Spain and Sweden, and by non-member states: Chile, Colombia, Japan, Morocco and United States.
"Cybercrime is growing and changing at an increasing rate. It disrupts everything from businesses to hospitals to the critical infrastructure we all depend on. Today, we are making a major contribution to the worldwide effort to fight online crime. The Second Protocol brings the Budapest Convention up to date with current, technological challenges, so that it remains the most relevant and effective international framework for combating cybercrime in the years ahead. It is the gateway to a safer, more secure future," said the Secretary General Marija Pejčinović Burić.
"The use of ICT (Information and Communication Technologies) by organised crime in all "sectors" (sexual exploitation, drug trafficking, smuggling, terrorism) represents a further challenge for our judicial authorities and for our institutions. Our governments must respond properly and effectively to all those crimes, in line with the technological evolution. The Second Additional Protocol, therefore, responds to the need for greater and more efficient co-operation between States and between the States and the private sector, clarifying the cases in which the "service providers" will be able to provide the data in their possession directly to the competent authorities of other countries. The relevance of this Protocol is a hope for the victims of cybercrime," said Justice Minister of Italy, Marta Cartabia.
The Protocol provides tools for enhanced co-operation and disclosure of electronic evidence – such as direct co-operation with service providers and registrars, effective means to obtain subscriber information and traffic data, immediate co-operation in emergencies or joint investigations – that are subject to a system of human rights and rule of law, including data protection safeguards.
It is open for signature by Parties to the Convention and will enter into force once ratified by five States.
EUROPEAN COMMISSION LAUNCHES A PHONE HELPLINE FOR THOSE FLEEING THE WAR IN UKRAINE
The European Commission has launched today a dedicated phone helpline in Ukrainian to provide information and assist those fleeing the Russian invasion of Ukraine. The Commission, through the Europe Direct Contact Centre, has been answering questions in writing in Ukrainian since the end of March and this service is now also available over the phone.
The helpline aims to assist people escaping the Russian invasion of Ukraine by answering their questions and providing a wide range of practical and useful information, from the conditions on entering and travelling in the EU, to access to rights and opportunities, such as education, jobs or healthcare.
The helpline can be contacted in Ukrainian within the EU at 00 800 6 7 8 9 10 11, where the service is free of charge, as well as from outside the EU at +32 22 99 96 96, where the international standard rate applies. The helpline also provides services in official EU languages and Russian.
The helpline in addition offers a free of charge call back service. More information is available on the EDCC https://european-union.europa.eu/contact-eu_en
IAEA DELIVERS SPECIALIZED SAFETY AND SECURITY EQUIPMENT TO CHORNOBYL
The IAEA has delivered specialised equipment to Ukraine in the first major step in its technical assistance to help the country ensure the safety and security of its nuclear facilities during the ongoing conflict.
Responding to an earlier request from Ukraine for equipment, an IAEA team, headed by Director General Rafael Mariano Grossi, arrived at the Chornobyl Nuclear Power Plant yesteday to conduct radiological assessments and restore safeguards monitoring systems as well as to deliver equipment such as radiation detectors, spectrometers and personal protective clothing.  
Included in the batch of equipment are personal radiation detectors to detect and monitor radiation levels throughout the site. These robust and versatile personal radiation detectors are widely used by nuclear safety and security experts worldwide.
"The equipment, under the guidance of our staff on the ground, can be operational within minutes and can immediately support the staff at Chornobyl to fulfil their nuclear safety and security tasks," said Carlos Torres Vidal, Director of the IAEA Incident and Emergency Centre.
The IAEA team also handed over spectrometers which assess the level of radiation in the environment and provide a spectrum that is like a fingerprint identifying the type of radiation. This will help Chornobyl staff to assess the radiological situation at the site and the Exclusion Zone, spanning 30 kilometres around the plant.
Spectrometers carried in personal backpacks were provided to support extended surveying with GPS mapping capabilities. The backpack lets the user focus on walking safely around an area instead of looking at a screen and numbers. This is especially necessary in an area like the Exclusion Zone.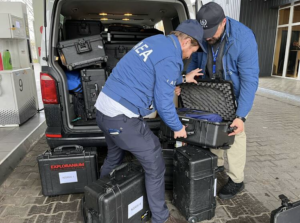 As a result of the conflict and the prevailing conditions following the 1986 accident, the situation in the Exclusion Zone is uniquely challenging. Ukraine recently informed the IAEA that Chornobyl's analytical laboratories for radiation monitoring were destroyed, and analytical instruments stolen, broken or otherwise disabled. 
The IAEA's presence in Chornobyl will be of paramount importance, the Chornobyl Nuclear Power Plant said in a statement. "We have been cooperating with the IAEA for many years in a row, and I am sure that now we will continue to have fruitful and successful cooperation," said Acting Director General Valeriy Seyda.
The IAEA assistance team also brought personal protective equipment from Vienna. Such protective garments provide protection against some types of radiation, as well as from radioactive contamination and inhalation, and therefore help to manage the risks posed to staff who due to the nature of their work are exposed to radiation.
In addition to nuclear safety and security assistance, IAEA safeguards staff travelled within the assistance team to Chornobyl this week to conduct on-site safeguards work. They will install equipment to reactivate remote data transmission from its monitoring systems installed at the Chornobyl plant.
"This is just a first step. The IAEA will be sending more equipment as we continue our assistance to Ukraine in the coming weeks and months," added Torres Vidal.
GLOBAL EXPERTS EXAMINE THE CHANGING FACE OF MATCH-FIXING
The 12th meeting of INTERPOL's Match-Fixing Task Force (IMFTF) has concluded with a call to harmonize global efforts to curb competition manipulation.
The three-day (10-12 May) meeting brought together integrity and intelligence specialists from some 50 countries, representing law enforcement, public authorities, sports federations, anti-doping organizations and betting monitoring services.
It was the first major event held under the banner of INTERPOL's newly-created Financial Crime and Anti-Corruption Centre (IFCACC), which provides a coordinated global response against the exponential growth in transnational financial crime and corruption.
Discussions focused on mechanisms to boost intelligence sharing and close legislative and institutional gaps, such as the establishment of National Platforms, as outlined in the Macolin Convention, which centralize and analyse information on irregular and suspicious trends.
With criminal organizations increasingly operating across betting and sports markets, participants discussed the emerging uses of technology, big data and social media. They also acknowledged that match-fixers are still very much relying on tried and true methods of manipulation, such as targeting the entourage of athletes and grooming young players, pointing to a continued need for education.
INTERPOL provided an overview on the specific tools available to law enforcement dedicated to data collection on sport corruption (project ETICA) and financial crimes analysis (FINCAF). A number of countries presented recently issued INTERPOL Purple Notices providing information on modus operandi linked to social media, identity theft, ghost and fake matches.
The meeting included a closed-door session for specialized investigators to share case studies, discuss emerging match-fixing tactics and hold multi and bilateral meetings to coordinate active international cases.
"Corruption is a key enabler to all forms of criminal activity. Any sport, amateur or professional, on any continent, can be exploited by criminals. Meetings such as this allow us to take clear look at the changing face of match-fixing." Rory Corcoran, Director of IFCACC
Exchanges revealed that while betting intelligence remained important to investigations, other sources of intelligence also needed to be exploited. For example, although doping has traditionally been viewed through a drug-enforcement lens, participants heard that positive doping tests and alerts could be a valuable source of intelligence for integrity investigations, notably on the criminal organizations behind competition manipulation.
INTERPOL and the International Olympic Committee (IOC) held a side event dedicated to stakeholders in the United Arab Emirates, in order to raise awareness, build capacity and enhance national mechanisms to prevent, detect and sanction competition manipulation.
The IMFTF was created in 2011 to support member countries with investigations and law enforcement operations in all sports, and maintain a global network of investigators for the sharing of information, intelligence and best practices. It now includes 100 member units, with more than 150 National Points of Contact worldwide.
LONG-PLANNED NATO EXERCISES ACROSS EUROPE GET UNDERWAY
Two of the biggest drills, with around 18,000 troops from twenty countries, are "Defender Europe" and "Swift Response". Currently taking place in Poland and eight other countries, they also include parachute drops and helicopter assaults in North Macedonia. In Estonia, 15,000 troops from 14 countries are involved in exercise "Hedgehog", one of the largest military drills in the country since 1991 and involving the US navy Wasp-class landing ship Kearsarge. Meanwhile, exercise "Iron Wolf" in Lithuania involves 3,000 Allied troops and around 1,000 vehicles, including German Leopard 2 tanks.
NATO Spokesperson Oana Lungescu said, "exercises like these show that NATO stands strong and ready to protect our nations and defend against any threat." She stressed that "these are regular exercises, planned well before Russia's brutal and unjustified invasion of Ukraine, but they help to remove any room for miscalculation or misunderstanding about our resolve to protect and defend every inch of Allied territory. NATO exercises are defensive, transparent, and in line with our international commitments."
In Germany, 7,500 troops are involved in "Wettiner Heide", a NATO Response Force exercise. In the Mediterranean, the USS Harry S. Truman Carrier Strike Group will be placed under NATO command for the second time this year during the "Neptune series" of naval drills. This marks only the second transfer of a U.S. carrier group to NATO since the end of the Cold War. Next month's "Ramstein Legacy" in Poland and the Baltic countries will be Europe's largest integrated air and missile defence exercise and involve 23 countries. "Baltops", also in June, has been held annually for over 50 years and will see amphibious training across the Baltic region.
NATO partners Finland and Sweden will be involved in several Allied exercises over the coming weeks. Currently, U.S., British, Estonian and Latvian forces are participating alongside their Finnish hosts in exercise "Arrow 22", and involving UK Challenger 2 tanks and US Stryker armoured fighting vehicles.
EIT DIGITAL SUPPORTED TOUCHLAB GIVES ROBOTS A HUMAN TOUCH
UK start-up Touchlab, a deep tech venture in EIT Digital's Innovation Factory roster, has raised GBP 3,5M.
The funding round was led by Octopus Ventures, one of Europe's largest early-stage investors and backed by Creator Fund and Techstart Ventures.
Touchlab is successfully pursuing an ambitious goal to give robots a human touch. While robots excel against humans in many ways, some tasks are difficult for them to replicate – grasping objects, for instance. In areas of tactile sensing and dexterity, robots have been inferior because they cannot detect tactile information and sometimes use too much force to achieve delicate tasks.
EIT Digital's UK and Ireland director, Morgan Gillis comments: "Touchlab has outstanding technology with potential for far reaching economic and societal impact. We are delighted to support them in this stage of intense commercialization alongside Octopus Ventures, a leading European VC firm, which shares our focus on deep tech".
Akriti Dokania, Investor at Octopus Ventures adds: "Touchlab has made truly pioneering advances with its technology in tactile sensing. Electronic skin opens a world of new opportunities and applications in robotics, making it an extremely exciting time for the industry. Touchlab has a huge vision for the business, and we couldn't be more thrilled to be supporting them on this journey".
Until now there has been little progress in giving robots a sense of touch like humans but Touchlab is solving this by developing a low-profile tactile sensing skin, which is wrapped around robots as "electronic-skin".
Zaki Hussein, CEO of Touchlab comments: "I greatly look forward to working with EIT Digital to commercialize our tactile avatar telerobot in hospitals across Europe. We aim to break the chain of hospital acquired infections (HAIs) without hindering the human interaction between clinicians and patients – a problem to which there is no existing solution. This will significantly reduce complications due to deadly pathogens, from COVID to MRSA."
Touchlab's e-skin is thinner than human skin, can be easily applied to existing robots and is able to withstand extreme environments such as acid, and high and low temperatures. When used in conjunction with tele-operated avatars, the technology also enables humans to operate remotely in hazardous settings such as nuclear plants or hospitals treating highly infectious diseases.
THE ALTERNATIVE PROPULSION MEETING FOR A CARBON-FREE FUTURE FOR YACHTING
More than 35 teams, including 27 universities will represent 20 nationalities in the Principality of Monaco
Tuesday 3rd May 2022. As the 5th Monaco E-Prix and Salon Ever ends in the Principality, both focused on sustainability and renewable energy, the Yacht Club de Monaco has extended its lead in the search for eco-friendly solutions as it gears up for the 9th Monaco Energy Boat Challenge 4-9 July 2022.
Held under the aegis of the collective 'Monaco, Capital of Advanced Yachting' umbrella brand and bringing together a new generation of engineers, Monaco Energy Boat Challenge intends to play its part in meeting the 21st century'senergy and environmental challenges. It is doing this by promoting innovative solutions for recreational boats, particularly in the propulsion and alternative energy field. Since its launch in 2014, the event has gone from strength to strength establishing itself as the international rendezvous for tomorrow's yachting.
For this edition, more than 35 teams, including 27 universities will represent 20 nationalities in the Principality. "We want to build the future through an eco-responsible societal prism that cares about future generations. The yachting industry cannot evolve if it does not incorporate the sustainable development concept into all its initiatives," says YCM General Secretary Bernard d'Alessandri.
Alongside countries like Indonesia, Monaco, France, Greece, Italy, Portugal, United Arab Emirates, Peru and China with the Hainan Institute of Electronics, Canada and India are making their first appearance since the event started. These two nations will be represented by students from the Montreal Polytechnic and Kumaraguru College of Technology.
Organised in partnership with the Prince Albert II of Monaco Foundation, with support from Credit Suisse, BMW and SBM Offshore, as well as Dutch shipyard Oceanco, the Monaco Energy Boat Challenge powers creativity and stimulates innovation.
With registrations confirmed for the Solar and Energy classes, it is the turn of non-CE regulated prototypes and hydrogen in the Open Sea Class to finalise their registrations, while CE ratified boats have until 1st July.
The meeting is backed by many supporters including Bertrand Piccard, founder of the Solar Impulse Foundation:
"I've been the godfather of this event for several years and have seen how it's evolved. In the beginning, it was a bit anecdotal, the boats not being that professional, as it was just the start of those pioneers trying to do something with alternative energy sources. Yet now, after nine years, it's become marketable! Boats are now on the market.
It's clearly a new phase and the message is simple: bravo to you all for what you have accomplished and keep itup for the future".