JOIN THE AD HOC WORKING GROUP ON EU CYBERSECURITY MARKET
Qualified EU cybersecurity market experts are hereby invited to respond to a call for expression of interest for an Ad Hoc Working Group on the EU Cybersecurity Market.
In an effort to gain broader representation in the forthcoming ad hoc working group on EU cybersecurity market, the EU Agency for Cybersecurity (ENISA) is relaunching the call for expression of interest for an ad hoc working group on the EU cybersecurity market.
All prospective applicants must observe the new deadline for applications of 10 September 2021, at 12.00,  EET (Athens time zone).
The ENISA Ad Hoc Working Group (AHWG) on the EU cybersecurity market seeks to support ENISA in analysing market trends and segments, with a focus on cybersecurity solutions to meet the dynamic market needs of stakeholders.
While underpinning the EU cybersecurity market, the global cybersecurity market may also be considered, for example when addressing the EU dependency on or requirements for market actors from outside the Digital Single Market.
The focus on the EU cybersecurity market aims to "improve conditions for the functioning of the internal market" and "foster a robust European cybersecurity industry and market", as foreseen in Activity 7 of the ENISA Single Programming Document 2021-2023, in line with article 8.7 of the Cybersecurity Act to proactively assess market trends within Europe.
Timeline and activities planned
The estimated lifespan of this ad hoc working group is for three years from launch.
The terms of reference are available at: Ad-Hoc Working Group on EU Cybersecurity Market
EU cybersecurity market experts interested in applying are invited to submit their application to ENISA by using the dedicated application form. It is important to note that: any past application does not qualify for this call and previous applicants must re-submit their applications.
SPANISH AUTHORITIES DEPLOY EMSA'S REMOTELY PILOTED AIRCRAFT TO ENHANCE GENERAL MARITIME SURVEILLANCE OFF THE COAST OF GALICIA
Over the coming months, the Spanish ministry of transport's maritime safety and rescue body SASEMAR will be using EMSA's remotely piloted aircraft services from its MRCC base at Finisterre in the northwest of Spain to enhance general maritime surveillance for a range of different operational tasks including maritime traffic control and pollution prevention.
The considerable advantages of using unmanned aircraft for maritime surveillance have been recognised for several years now by Sasemar for which air operations are a fundamental part of the essential day-to-day services. While the flights will provide additional, complementary means to Sasemar in performing its roles of preventing and curbing pollution, and controlling maritime traffic, they will also serve the national fisheries authorities (Spanish Secretary-General for Fisheries) working to protect sea-fisheries resources and to ensure their sustainable development.
EMSA's Executive Director, Maja Markovčić Kostelac underlined the significance of the operation: "Back in May 2017, EMSA started out testing RPAS capabilities with Sasemar as one of our key pioneering partners. It is only fitting that Sasemar is able to capitalise on these services now – particularly for the vital coast guard role they play. Four years down the line, we're pleased to see our RPAS services being used widely across Europe for maritime surveillance operations in everything from emissions monitoring and environmental protection to traffic control and search and rescue".
The aircraft being used is a CAMCOPTER® S100 model and it is under contract to EMSA from Schiebel Aircraft GmbH. It has several features making it suitable for this service, including the ability to take off and land from an area smaller than 5m x 5m, flight endurance of over six hours and a range of greater than 100km. Information is gathered on board from optical and infrared cameras as well as from an AIS receiver
ABOUT RPAS
Remotely Piloted Aircraft System (RPAS) services are offered free to all EU member states by EMSA. They have been developed to assist in maritime surveillance operations and ship emission monitoring, and can operate in all seas surrounding the European Union. RPAS services can provide support to traditional coast guard functions, including search and rescue and pollution prevention and response. The services are offered to member states individually and as part of EMSA's regional RPAS strategy, which allows multiple coast guard functions in several EU states to be supported by one or more RPAS services. Further expansion of RPAS regionally is planned in 2021 and 2022.
ABOUT EMSA
The European Maritime Safety Agency (EMSA) is a decentralised agency of the EU, based in Lisbon, Portugal. EMSA serves the EU's maritime interests for a safe, secure, green and competitive maritime sector, delivering value for member states through support for pollution prevention and response, maritime surveillance, safety and security, digitalisation and the provision of integrated maritime services, and technical assistance.
EUROPEAN ROBOTIC ARM READY FOR SPACE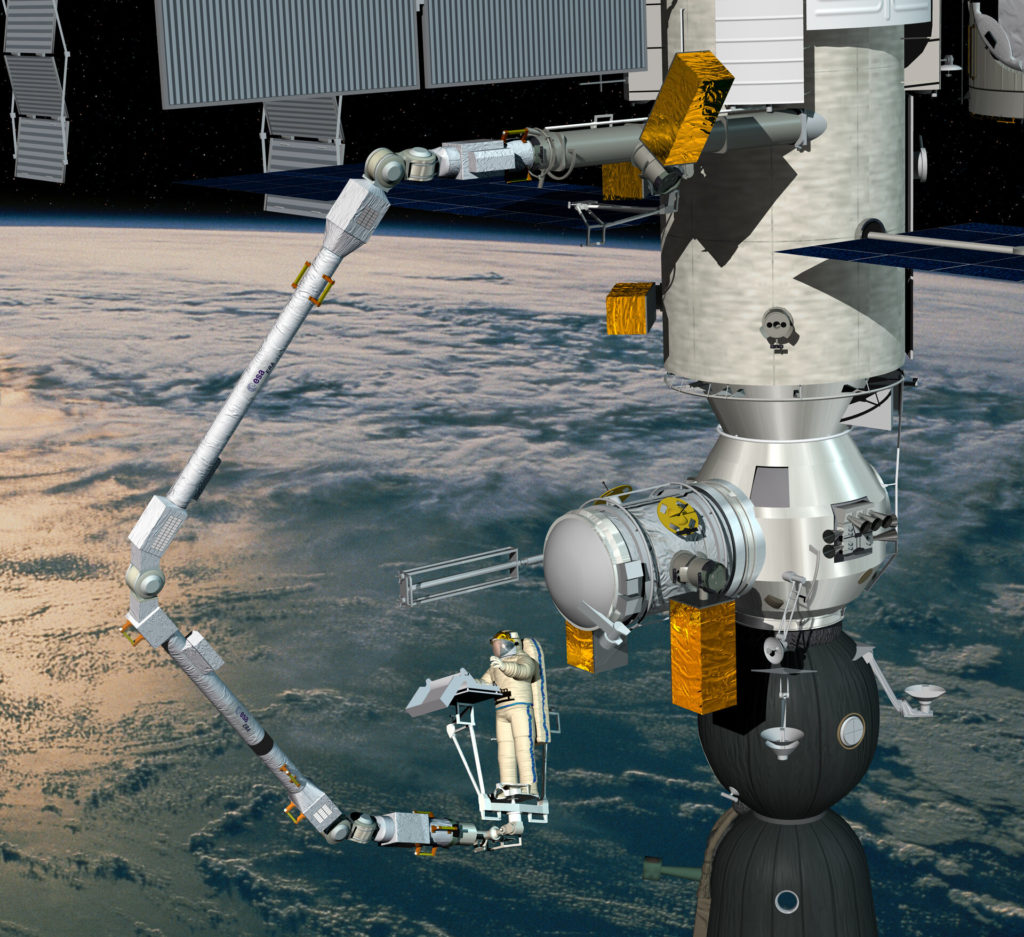 The European Robotic Arm (ERA) will be launched to the International Space Station together with the Russian Multipurpose Laboratory Module, called 'Nauka'. ERA is the first robot able to 'walk' around the Russian segment of the Space Station. It has the ability to anchor itself to the Station and move back and forward by itself, hand-over-hand between fixed base-points. This 11-metre intelligent space robot will serve as main manipulator on the Russian part of the Space Station, assisting the astronauts during spacewalks. The robot arm can help install, deploy and replace elements in outer space
ERA is 100% made-in-Europe. A consortium of European companies led by Airbus Defence and Space Netherlands designed and assembled it for ESA. The robotic arm is largely funded by the Dutch government.
18 ARRESTED FOR SMUGGLING MORE THAN 490 MIGRANTS ACROSS
THE BALKAN ROUTE
Up to 100 people accommodated in a 60 m2 (un)safe house
Officers from the Romanian Police (Poliția Română) and Border Police (Poliția de Frontieră Română), supported by Europol, dismantled an organised crime group involved in migrant smuggling across the so-called Balkan route.
The action day on 29 July 2021 led to:
22 house searches
18 suspects arrested
Seizure of munitions, five vehicles car, mobile phones and €22 000 in cash
The criminal network, active since October 2020, consisted of Egyptian, Iraqi, Syrian and Romanian citizens. The criminal group had cells in the countries across the Balkan route from where regional facilitators managed the recruitment, accommodation and transport of migrants from Jordan, Iran, Iraq and Syria. Several criminal cells based in Romania facilitated the border crossing from Bulgaria and Serbia of groups of migrants and arranged their temporary accommodation in the area of Bucharest and in western Romania. The migrants were then smuggled to Hungary on their way to Germany as a final destination. In total, 26 illegal transports of migrants were intercepted and 490 migrants were detected in an attempt to illegally cross the Romanian border. Very well organised, the criminal group was involved in other criminal activities as well, such as drug trafficking, document fraud and property crime.
Up to € 10 000 per migrant
Migrants were paying between € 4 000 and € 10 000 depending on the trafficking segment. For example, the price for facilitating the crossing from Romania to Germany was between € 4 000 and € 5 000. The migrants, some of which were families with young children, were accommodated in extremely poor conditions, often with no access to toilets or running water. For the safe houses, the suspects rented accommodations or used the residences of group members, mainly situated in the areas of Călărași County, Ialomița County and Timișoara. In one of the safe houses, measuring about 60 m2, the suspects hid 100 people at the same time. The migrants were then transferred in risky conditions in overcrowded lorries between merchandise and in vans hidden in concealments without proper ventilation.
Europol facilitated the exchange of information and provided analytical support. On the action day, Europol deployed one analyst to Romania to cross-check operational information against Europol's databases in real time to provide leads to investigators in the field.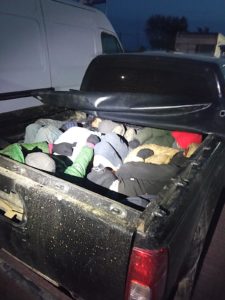 Red light for migrant smugglers speeding at up to 250 km/h
While speeding dangerously across Bulgaria, Greece and Hungary to avoid police detection, the smugglers caused injuries to multiple people as well as one death
An investigation by the Bulgarian General Directorate for Combating Organised Crime (Главна дирекция Борба с организираната престъпност), the Hellenic Police (Ελληνική Αστυνομία) and the Hungarian National Police (Magyar Rendőrség), supported by Europol and Eurojust, led to the dismantling of an organised crime group involved in migrant smuggling. The leaders of the gang were arrested during the action.
Results:
Simultaneous raids in Bulgaria, Greece and Hungary
15 location searches
12 suspects arrested (6 in Bulgaria, 5 in Greece and 1 in Hungary)
Seizures included 25 vehicles (including 15 high-end cars), electronic equipment (laptops, GPS devices, tablets), more than 40 mobile phones, more than 100 SIM cards, crypto-mining equipment and cash
The suspects were collecting between € 2 000 and € 2 500 per person for the journey, and were transporting up to 15 migrants at a time. Both migrants and smugglers were injured in several speeding incidents. While the smugglers were racing with police at dangerous speeds, migrants were also concealed in the trunks of the vehicles. In the course of the investigation, 43 smugglers were arrested before the action day, while 1 smuggler died in a car accident. In total, 442 migrants were smuggled, of which 13 were injured.
Northern Greece is an important hub for migrant smuggling due to the reinforced border protection along the Evros river. Following the crisis situation at Evros in February 2020, several mass migratory movement attempts were disrupted.
The operation was carried out under the umbrella of the Greek National Operational Plan signed by Europol and the Hellenic Police in June 2016. The aim of the plan is to disrupt organised criminal networks involved in migrant smuggling and to reinforce secondary security controls in migration hotspots.
Europol facilitated the exchange of information and provided analytical support. On the action day, Europol deployed two experts on the spot to enable the real-time exchange of information between investigators, Europol and Eurojust, and to cross-check operational information against Europol's databases, providing leads to investigators in the field.
NORTH MACEDONIA: CRAMPED PRISON CONDITIONS, DETAINEE ILL TREATMENT AND OPAQUE PRISON MANAGEMENT AMONG LONGSTANDING CONCERNS FOR ANTI-TORTURE COMMITTEE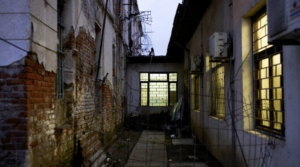 Despite minor improvements including the renovation of one wing of the remand section of Skopje Prison and the closure of three problematic wings of Idrizovo Prison, most longstanding concerns with respect to living conditions in prisons persist, concludes the latest report on North Macedonia published by the Council of Europe's Committee for the Prevention of Torture and Inhuman or Degrading Treatment or Punishment (CPT).
The CPT noted cramped, unhygienic and decrepit conditions of detention in the so called 'ambulanta' unit, the closed-regime wings of Idrizovo Prison and the unrenovated wings of Skopje Prison, based on an "ad hoc visit" to the country from 7-9 December 2020.
Published with the Government response (https://rm.coe.int/1680a359cc), the report criticises an "anachronistic" approach towards treatment of remand prisoners at Skopje Prison (being locked in their cells for 23 hours a day with nothing to do and being denied contacts with their children), no "purposeful" activities for sentenced prisoners at Idrizovo Prison and poor-quality healthcare offered to prisoners due to the reluctance of the Ministry of Health to take a more "strategic approach" in its delivery.
Furthermore, the CPT again heard allegations of physical ill-treatment of criminal suspects by police officers and inspectors consisting primarily of slaps, punches, kicks and blows with truncheons or other objects (including hand-held electroshock devices and walkie-talkies), allegedly inflicted for the purpose of apparently extracting a confession. The CPT calls on the authorities to vigorously explore all means to ensure that the message of zero tolerance of ill-treatment of detained persons reaches law enforcement officials at all levels.
In the CPT's view, the dialogue with the authorities of North Macedonia, which is based upon mutual trust and understanding, requires "concrete action" to implement many long-standing recommendations as set out in the report.
Source : European Committee for the Prevention of Torture and Inhuman or Degrading Treatment or Punishment (CPT)
NCI AGENCY AWARDS CONTRACT TO AIRBUS FOR MAJOR IT UPGRADE
The NATO Communications and Information (NCI) Agency awarded a contract valued at 9 million EUR to upgrade technology equipment at 14 NATO and European sites in the Balkans. 
Airbus Defence and Space, a Norwegian company, was awarded the contract following an international competitive bidding process. The NCI Agency will manage the replacement of mission-critical IT equipment at 14 national and NATO locations. Each site plays a key role in supporting the command and control of the Kosovo Force (KFOR), the NATO-led international peacekeeping force, as well as the European Union Force (EUFOR) mission in Bosnia and Herzegovina.
"Achieving the contract award milestone is an important step for the Alliance. This IT modernization means the Balkans area of operations will be more closely connected to the rest of NATO, creating a strengthened communications infrastructure," said Alexandru-Mihai Andrei, Senior Project Manager, NCI Agency.
The Balkans area of operations includes Bosnia and Herzegovina, Kosovo, Croatia, North Macedonia, and Albania.
Site improvements at all locations will include upgrades to IT equipment at subordinate ground stations to communicate with mission headquarters, as well as replacing IT infrastructure and client device equipment.
Experts from the Agency will also work with Airbus to install the latest IT infrastructure and services needed to host up-to-date applications capable of enterprise level information sharing and communications. And they will re-engineer the existing architecture to align with current NATO standards, while implementing server virtualization and Voice over Internet Protocol (VoIP) improvements.
Other locations being refreshed with state-of-the-art IT equipment include the European Union Command Element, which is located at NATO Joint Force Command (JFC) in Naples, Italy and also Supreme Headquarters Allied Powers Europe (SHAPE) EU Support Group based in Mons, Belgium.
The NCI Agency plans to complete the project by the end of 2022.
MAIN TRANSFORMATIONS IN RUSSIAN ARMED FORCES HAVE BEEN COMPLETED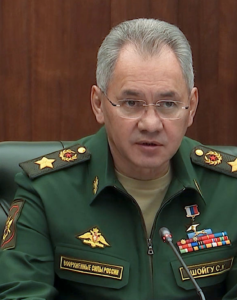 The Minister of Defence of the Russian Federation General of the Army Sergey Shoigu has inspected the Krasnoyarsk Machine-Building Plant, also known as 'Krasmash', where he examined the production workshops and heard the reports of the administration of the factory.
"It is important not to reproduce old soviet items, but to create a chain of production of modern models that would surpass the characteristics of their foreign analogues", said the General of the Army Sergey Shoigu at the meeting with the employees of the factory.
In addition, the Minister of Defence announced: 'Currently, all the main transformations in the Army and Navy have been mostly completed. There has been established a new branch: the Aerospace Forces, there have been formed self-sufficient grouping of troops on the strategic areas, the Joint Strategic Command of the Northern Fleet, Special Operations Forces, Military Police, unmanned aviation units'.
In his assessment, nowadays the Russian Army is modern, mobile, compact and capable. The proportion of new armament, military and special materiel in the troops has reached 70.1%, in strategic nuclear forces: 86%.
Source : mil.ru/en/news
SBU BLOCKS FSB AGENT NETWORK INCLUDING LAW ENFORCEMENT OFFICERS AND OFFICIALS
The SBU (Security Service of Ukraine) exposed and suppressed activity of an agent network of the Russian Federal Security Service (FSB) in Kherson region.
The network was organised by a former officer of the SBU regional office. He resigned in 2014 and was recruited by FSB officers during his trip to Russia.
By order of the Russian special service, the offender created an extensive intelligence network involving a wide range of officials :
an SBU officer in Kherson region;
an employee of the local prosecutor's office;
a police officer;
an official of the State Emergency Service of Ukraine;
a former official of the regional state administration.
The SBU established a Moscow handler of the network, career FSB officer Vitaliy Korol, dealing with Ukrainian issues. In 2015-2016, he stayed in the separatist-held area of Donetsk region as a member of the FSB task force, aka Manhust.
SBU investigators documented numerous facts of intelligence gathering and passing through FSB closed electronic communication channels.
The Russian special service was interested in confidential information on activities and personnel of the SBU regional office, local law enforcement agencies, military units and government authorities.
Every month the FSB paid the offender for his work.
During searches, the detainees were seized of computer equipment and means of communication, Russian symbols, foreign currency (US dollars, euros and Russian rubles).
The FSB resident and his agent, SBU officer, were detained in accordance with Art. 208 of the Criminal Procedure Code of Ukraine. They received suspicion notices for high treason. A type of detention is to be chosen.
Urgent investigative actions against other members of the network are underway. The operation was conducted under the supervision of the Prosecutor General's Office of Ukraine.
TEAMVIEWER AND SIEMENS HEALTHINEERS FORM PARTNERSHIP TO ENABLE NEW REMOTE SCANNING SERVICE WESCAN FOR DIAGNOSTIC IMAGING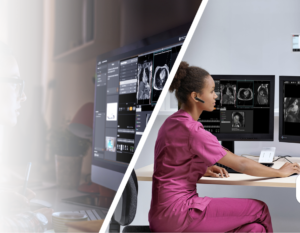 Partnership enables new digital business model for Siemens Healthineers
Important step in combating shortage of skilled radiology technologists
Siemens Healthineers has recently started offering its customers WeScan. WeScan is a new service that helps healthcare providers to perform magnetic resonance imaging (MRI) examinations if they lack qualified radiology staff. With the WeScan service, customers may seek access to a pool of skilled remote imaging technologists who help operate the MRI scanner using syngo Virtual Cockpit2, the remote scanning software of Siemens Healthineers.
As Siemens Healthineers assists its customers via WeScan from outside their own IT-network, real-time data transmission across the internet and high security standards are central requirements. Therefore, Siemens Healthineers has formed a new partnership with TeamViewer. TeamViewer's remote connectivity technology is now incorporated as part of the WeScan service offering because of its high security standards, powerful data transfer performance, and ease of operation.
A SMART YACHTING AND MARINA RENDEZ VOUS
To encourage development of virtuous marinas that will welcome tomorrow's yachts
The first Monaco Smart Yachting & Marina rendezvous will be held at the Yacht Club de Monaco on Monday 20th September 2021 before the Monaco Yacht Show and Monte-Carlo Gala for Planetary Health which takes place on 23rd September.
The day of talks and meetings is being organised by Monaco Marina Management, as part of development of sustainable marina projects that the Monegasque company assists, with the support of Blumorpho, a deep tech with positive impact digital innovation accelerator.
In line with actions already taken by the Principality to position itself as a yachting capital, the Prince Albert II of Monaco Foundation and the Monaco Government's digital transformation programme, Extended Monaco, were also keen to support this unprecedented meeting alongside Credit Suisse, which is establishing itself as the bank for yachting and Bombardier.
The aim is to present new innovative solutions that help protect the environment, the ultimate goal being to design more virtuous marinas. New technologies, including digital make it easier than ever before to achieve the energy transition through better more efficient use of resources, adoption of renewable energy sources, and protection of the seas and oceans employing customised sustainable business models.
"Smart  yachting  is  an  avenue  for  the  future  of  Monaco.  It  is  a  component  full  of  potential  for  the transformation of our economy and attractiveness", says Frédéric Genta, the interministerial delegate in charge of Monaco's digital transition.