The two first aircrafts of Lufthansa and Easyjet welcomes by the BER fire brigade with a water fountain © Thomas Trusche/Photothek
BERLIN BRANDENBURG AIRPORT WILLY BRANDT STARTS OPERATIONS
The new Terminal 1 at Berlin Brandenburg Airport Willy Brandt (BER) is now operational.The airport was originally planned to open in October 2011, five years after starting construction in 2006. However, the project encountered a series of successive delays due to poor construction planning, execution, management, and corruption. Berlin Brandenburg Airport finally received its operational licence in May 2020, and opened for commercial traffic on 31 October 2020.
The brand new Berlin Brandenburg Airport has excellent transport links. In addition to a dedicated highway link, a new six-lane station under Terminal 1 provides direct access to rail services. It is expected that approximately two-thirds of passengers will reach the airport by train. Numerous bus lines also connect the airport with Berlin and its surroundings at frequent intervals. The airport covers a total area of 1,470 hectares, the equivalent of about 2,000 soccer fields. Terminals 1 and 2 are located between the two parallel runways, while Terminal 5, the former Schönefeld Airport, is in the northern area. Both runways can be operated independently. In addition to the northern runway, which has been the main runway used so far, flights will also be operated from the southern runway.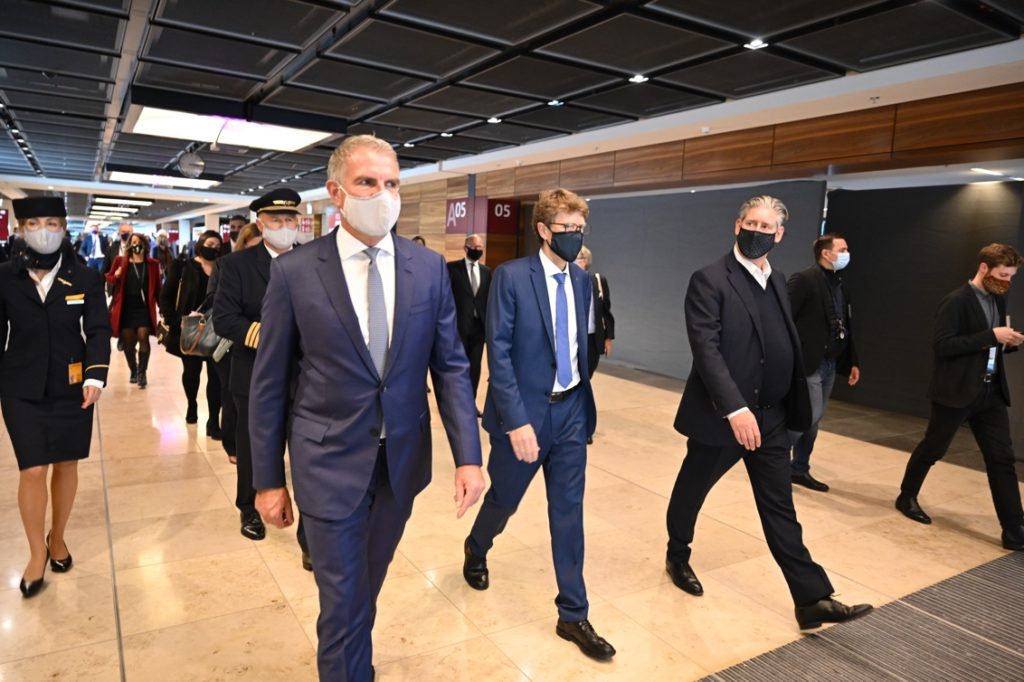 The new airport concentrates all air traffic in the German capital region in one location with a total capacity of more than 40 million passengers per year. Approximately 25 million passengers can be handled in Terminal 1. This means that sufficient capacity is available at Germany's third largest airport. More passengers are expected to embark and disembark at BER than at any other location in Germany. This modern infrastructure will enable a significant increase in long-haul services and connecting traffic in the future.
Engelbert Lütke Daldrup, CEO, Flughafen Berlin Brandenburg GmbH: "With Berlin Brandenburg Airport Willy Brandt, eastern Germany can now rely on airport infrastructure that will serve as a solid basis for the coming decades. The people here in the German capital region had to wait a long time for this day. Our customers, that is the passengers and airlines, will find professional standards at BER: good accessibility by train and car, reliability and safety in handling even under Coronavirus conditions, optimal service on the ground and in the air. I am very pleased that we were able to open the new airport with easyJet and Lufthansa. They are our most important partners even in these difficult times. Together, we shall overcome this crisis."
BYE BYE TO TEGEL AIRPORT
Berlin Tegel "Otto Lilienthal" Airport has been the main international airport of Berlin. Named after Otto Lilienthal the airport was the fourth busiest airport in Germany, with 20.5 million passengers in 2017 and about 22 million in 2018. It operated flights to worldwide destinations. The airport will close permanently for commercial traffic with the last flight scheduled last 8 November 2020. Traffic has been transferred to the new Berlin Brandenburg Airport. All government flights are also relocated to the new airport with the exception of helicopter operations which will stay at a separate area on the northern side of Tegel Airport until 2029. TXL will be officially decommissioned as an airfield after a legally required waiting period on 3 May 2021. The airport's grounds should then be transformed into a new scientific and industrial research site. The other German airport, the legendary Tempelhof airport was closed in 2008.