Russian tactical exercises, landing on the coast, training on the reconnaissance trail and the psychological trail of the units of the Baltic Fleet Marine Corps © eng.mil.ru
Sweden is spooked by Russia… military jets entering its airspace, a suspected submarine close to Stockholm, intense spying activity but above all, Russia's actions in Georgia, Crimea and Ukraine
As it figures out how to respond, the Swedish military is looking once more at a remote spot in the middle of the Baltic Sea ; the island of Gotland. It is picturesque, historic and a former Cold War stronghold. It's been a long time since the military paid any attention to this place, but in 2015 the government said it would be sending troops back to Gotland. An active service unit will be based on the island. Even if they're not very many, it's a way of saying to Russia : « Sweden won't leave this place undefended ».
Today, Gotland marks the first line of defence against a nation whose powerful Baltic fleet anchors just 350 kilometres across the sea in the enclave of Kaliningrad. A hypothetical first strike by an enemy on Sweden could target Gotland.
General Micael Bydén is the supreme commander of the Swedish Armed Forces. He spends a good deal of his time wondering just what the Russians are up to : « Did we know, before it happened, that they would annex Crimea ? Did we understand that they were very close to start something in Eastern Ukraine ? When we see it after it's happened, it's obvious ; it's there and it's logical. But it's too much to say that we know what the next step will be. This is one of the great challenges right now ; what are they up to and why do they do it ? ».
This island is strategically key. At the height of the Cold War there were as many as 15,000 to 20,000 military personnel on Gotland at any one time. The former barracks are now mostly government offices. But a new chapter in Gotland's military history has begun. General Bydén has no doubts as to the course of action : « We need to make sure that our armed forces are strong enough to show that we could be the threshold, to send a signal saying : if you come here, it twill hurt… And it will ! ».
The majority of Swedes don't not really believe that Russia would, in an unprovoked manner, attack a country outside the former Soviet Union. But the nation's military and political establishment see Russia as increasingly unpredictable.
After all, in 2015 via its ambassador to Stockholm, Russia did issue a formal warning to Sweden that it would "have to resort to a response of the military kind and re-orientate our troops and missiles" if the Scandinavian nation were to join NATO.
Cyber-Espionage war
Sweden's security services also confirmed that they feared possible Russian military operations against their country following an increase in espionage activity since the Ukraine crisis erupted in 2014. In its annual report, the Swedish intelligence service known as SAPO, identified Russian espionage as the biggest intelligence threat facing neutral Sweden, which along with the wider Baltic region has seen a sharp increase in Russian naval and air activity throughout 2014. The report added that Russian military espionage in Sweden included hacking, attempting to get hold of secret equipment and trying to recruit agents.
According to SAPO, one-third of Russian diplomats based in Sweden were believed to be intelligence officers.
Wilhelm Unger, the security service's top analyst said at a news conference : « We see Russian intelligence operations in Sweden – we can't interpret this in any other way – as preparation for military operations against Sweden ».
He added : « Sweden is leading in several areas of military and also civil technology and this attracts Russia's interest. And we have identified and stopped several cases of technology procurement during the year where we assessed that it was not a question, as the Russian partner claimed, of civilian usage but aimed at strengthening the Russian military ».
Relations between Russia and the West have become badly strained since Moscow annexed Ukraine's Crimea peninsula in March 2014 and later backed pro-Russian separatists battling Kiev's forces in eastern Ukraine. Sweden is not a member of NATO but has close ties to the organisation and its forces are more "interoperable" than many alliance members.
In 2011 for example, Swedish Gripen fighter jets participated in the NATO-led intervention in Libya.
As a member of the European Union, Sweden also participates in economic sanctions imposed by the then 28-nation bloc against Russia, over its role in Ukraine.
But a country which hasn't been involved in a war since 1814 and which prides itself on a tradition of neutrality and non-alliance, it may be hard to take the logical next step.
Unwelcome visitors
In November 2014, Sweden said it had proof that a foreign submarine had been operating illegally in the Stockholm archipelago after suspicions sparked the country's biggest military mobilization since the Cold War.
Alarmed by the increased Russian military activity in the Baltic Sea – such as Russian Tupolev 22M 'Backfire' bombers rehearsing a bomb run on Sweden – Stockholm has said it will increase defence spending and plans more military co-operation with neighbouring Finland, also a non-NATO member of the European Union.
Russia's assertive behaviour across Europe, from invasions to assassinations, has alarmed Swedes, as well as the other Nordic countries and the Baltic States. Consequently, in October 2020, Sweden's defence minister, Peter Hultqvist introduced a new defence bill that promises the country's largest military expansion for 70 years.
The government led by the center-left Social Democrats, received near-unanimous backing across the political spectrum for its push to bring Sweden's defences up to speed.
The country is ready to invest money in defence and is doing it right now. As well as Finland, Sweden has also operational planning with the UK, the US, Poland, Germany and with other countries in Europe.
As well as reactivating its compulsory military service so as to go up to 8,000 conscripts by 2025, Sweden will also establish new regiments and expand its military from 60.000 to 90.000 personnel. It is also investing heavily in new equipment such as aircraft, a new submarine, increasing the number to five, naval vessels, artillery and air defense systems, including US-made Patriot missiles.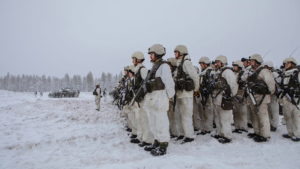 All in all, the defence budget is set to rise by 27.5 billion Swedish kronor ($ 3.1 billion) between 2021 and 2025, a 40 percent boost that will bring expenditure to around 1.5 percent of GDP – the highest level for 17 years.
As far as Russia is concerned, these developments have not only been a cause for concern, but have also angered the Kremlin. On 23 October 2020, the Russian Foreign Ministry spokeswoman, Maria Zakharova issued a comment, refuting Stockholm's claims.
While noting Sweden's proposed defence strategy which includes, in part, a 40 percent increase in the military budget, it denies Russia's role as the source of the perceived threat :
« These invented anti-Russia phobias are due in no small measure to deliberate external pressure on Stockholm, primarily from the North Atlantic alliance, which is responsible, according to our evaluations, for fomenting tensions and escalating military activities in northern Europe, which used to be one of the most stable areas in the world until recently.
We believe there are no disagreements or conflicts that could result in a military solution in the north of Europe. We are always ready for an open and respectful dialogue on the issues of enhancing security and stability with all of our northern European partners. We have repeatedly emphasised this in our contacts with Sweden as well ».
An armed conflict between Russia and Sweden can only break out if Moscow goes to war with NATO member states in the region. Russia would aim to occupy strategically located points in the Baltic Sea and to intimidate mainland Sweden, a scenario taken into account by the Swedish military that focuses on developing its air defense as well as air and naval capabilities.
Chatham House, London
More than six months before these developments however, in March 2020, Sweden's Defence Minister, Peter Hultqvist was invited to a security and defence conference at London's prestigious Chatham House.
This institution which is also known as the Royal Institute of International Affairs held its inaugural meeting 100 years ago, in June 1920. It is an independent policy institute whose mission is to provide authoritative analysis of world events and offer solutions to global challenges.
That occasion provided an opportunity for us to hear the minister explain in detail his views on the European security order, its architecture, and why it must be defended.
Peter Hultqvist began by describing the strong political tensions throughout the Western world.
He underlined the constant and conscious attempts to undermine our communities and the way our democratic structures and the openness of our societies are used intentionally, systematically and shamefully for this purpose :
« Disinformation has become an easy way to inflict instability and split societies. There are many examples I could raise which has caused uncertainty in democratic processes in Sweden. One being in the process of implementing the Host Nation Support agreement with NATO, where we noticed many illegitimate methods to influence opinion or decision-making . Another example being a letter that was supposedly sent in my name, where I congratulated a Swedish defence company concerning their successful sales of weapons to Ukraine.
Another example of a disinformation campaign was in the aftermath of the attack on Sergi and Yulia Skripal in Salisbury. Russia denied allegations by London and others of the attack. Instead Russia's foreign ministry spokeswoman Maria Zakharova stated that Sweden, the Czech Republic and Slovakia could be possible perpetrators behind the attack.
The accusations were of course absurd, but they show a clear example of how far Russia is willing to go in order to create confusion and uncertainty ».
Europe is facing provocative and destabilising Russian actions that has lowered the threshold for using military force. Thus, the intent to undermine the European security order, as defined by the Helsinki Final Act and the Paris Charter, has been made clear.
As a reminder, the Helsinki Final Act was the document signed at the closing meeting of the Conference on Security and Cooperation in Europe held in Helsinki, Finland, during 30 July-1 August 1975, following two years of negotiations known as the Helsinki Process. The aim was to enhance the détente between the Soviet bloc and the West.
As for the Paris Charter, it was established in November 1990 on the foundation of the Helsinki Accords and was further amended in the 1999 Charter for European Security.
The Charter was one of many attempts to seize the opportunity of the fall of Communism by actively inviting the former Eastern bloc countries into the ideological framework of the West.
The territorial integrity and sovereignty of states are not negotiable. Yet Russia's actions in Georgia in 2008, in Ukraine since 2014 and in Syria since 2015 demonstrate its willingness to use military means to achieve political objectives, both within Europe and beyond.
« From time to time, we hear officials and thinkers suggest that we must negotiate and accommodate Russia's demands on establishing a new European security order. They argue that this will increase cooperation and security in Europe or help to meet global challenges. I do not share this view.
The Russian actions are not only an aggression against Ukraine but constitute a threat to the right of all countries to make sovereign policy choices, including those in Russia's neighbourhood. This is a cornerstone in the European security order.
The Russian military aggression and Russian violation of international law is unacceptable. There can be no business as usual with Russia as long as this behaviour continues. The international sanctions imposed on Russia must remain ».
For Sweden, international law is its first line of defence and the European security order is a fundamental interest. The rules-based order gives small states a say in international affairs. International institutions and organisations such as the UN, EU, NATO and the OSCE ensure security and stability. But these institutions are only as strong as their members and their commitment to cooperation.
« The upcoming Swedish Chairmanship of the OSCE in 2021 will have a clear focus on our strong commitment to the European security order underpinned by a well-functioning European security architecture. Our efforts will be based on the concept of comprehensive security where respect for human rights, democracy and the rule of law are fundamental to security both within as well as between states.
The Swedish neighbourhood is a distinct border area between Russia and the West.
The Baltic Sea Region is of significance to European security and Russia is clearly seeking to increase influence over what it considers as its area of interest, including at least parts of Sweden's neighbourhood.
Russian military activity has intensified in the Baltic Sea. Since 2014 there has been a military build-up in the region, including permanent deployment of advanced weapon systems, as well as an increased military presence. The increasing military presence in the Arctic region is also a reality that must be dealt with.
A newly published study by the Swedish Defence Research Agency examines Russian military capability in a ten-year perspective and concludes that over the past ten years, Russia has bridged the gap between its policy ambitions and its military capability.
« Sweden believes that the challenges to European security must be met through cooperation and joint action. But at the national level, every country must take their share of the responsibility.
Sweden is pursuing a two-track defence policy: first, increasing defence spending to reinforce our national military capability and the total defence. Second, deepening our security and defence cooperation with other nations and organizations.
For the first time in more than two decades, Sweden has strengthened its defence budget. The Swedish parliament approved a 40 percent increase of defence spending. A massive national effort ».
At the same time as Sweden is strengthening its national defence, it is deepening its international defence cooperation, focusing on the security of the Baltic Sea and Northern Europe.
On a bilateral basis, Sweden works closely with their Nordic neighbours – especially with Finland – with the Baltic states, Poland and Germany. There is also very close cooperation with the UK, the Netherlands, France and the US.
« The defence cooperation between Finland and Sweden is the most far-reaching. The cooperation aims at strengthening the defence capabilities of our two countries and creating the preconditions for combined joint military action and operations in all situations. The cooperation covers operational planning for all situations, including beyond peace time.
The cooperation with the United Kingdom is also of great importance. We regret the fact that the UK has left the European Union but of course respect this democratic decision. However, the UK is, and will remain, one of Sweden's most important partner countries in the field of defence and there is a mutual desire to maintain and deepen this cooperation ».
Besides bilateral cooperation, the security network in the Baltic Sea Region is strengthened by different regional defence cooperation such as NORDEFCO, the Northern Group and the Joint Expeditionary Force.
« The Nordic defence cooperation celebrated its ten-year anniversary last year. It is my strong belief that the defence collaborations Sweden enters must lead to concrete and operational results. The Nordic defence cooperation fulfils this belief.
We have together established secure communications between our capitals, we have facilitated easy access to each other's territories, and we have taken measures to improve our common situational awareness by the exchange of air surveillance information. We have also established a Crisis Consultation Mechanism which enhances information sharing and consultation during crisis or conflict »
The importance of Sweden's NATO partnership has grown as a direct consequence of the deteriorated security situation in Sweden's neighbourhood. Political dialogue with NATO on common security challenges and how to counter them is of strategic value. The partnership with NATO is crucial to developing the interoperability and capabilities of the Swedish Armed Forces.
Through its status as Enhanced Opportunities Partner, Sweden is seeking to further strengthen this partnership, in particular regarding cooperation in a potential regional crisis. Training and exercises are another priority in its partnership with NATO.
« The EU and NATO are both instrumental for meeting today's complex security challenges in Europe and beyond. As a member of the EU and close partner to NATO, Sweden has a strong interest in an effective, result-oriented strategic partnership between these organisations. Let me stress that the organisations must be complementary to each other. The work on simplified military mobility is an area where EU and NATO are complementing each other.
The EU is an important foreign and security policy arena and a guarantor for security and peace. Europe must take a greater responsibility for its security and defence, while ensuring that we strengthen our ability to work with partners.
We are just at the beginning of a long-term process of strengthening our contribution to European security. This demands both time and political endurance. This autumn the Swedish government will present a new defence policy bill for the period 2021–2025. I can assure you that the main lines remain; Sweden will continue to build national military capability and deepen our international cooperation. By strengthening our defence, we are also raising the threshold for conflicts in our vicinity and making sure that Sweden is a provider of security in Europe ».
And with this, Peter Hultqvist concluded his detailed analysis of Sweden's position in its present security configuration vis a vis Russia , as well as its future plans.
Risk management
But Russian president Vladimir Putin has repeatedly vowed to eliminate the NATO threat if Sweden were to join the organisation. In 2015, Sweden summoned the Russian ambassador to explain comments from Moscow warning of 'consequences' should Sweden join NATO.
Also, the fact that Sweden hosted the country's largest military exercise in 24 years did, of course, nothing to allay Russian suspicions.
In September 2017, Exercise Aurora 17 got under way. It involved nearly 30 percent of the Swedish armed forces as well as troop contributions from NATO ally and partner countries which joined on a bi-lateral basis. The goal of the exercise was to build a stronger defence and increase capability to face an attack.
As well as taking place in Stockholm and Gothenburg regions, the exercise featured air, land and sea assets on the island of Gotland and the Stockholm archipelago.
Aurora 17 also featured collaboration between the military and civilian emergency services.
Sweden's leaders have acknowledged that military support from allies such as the United States, France, Denmark, Norway and the Baltic States who all took part in the exercise are crucial.
All are NATO members but Sweden's government is wary of its war games being called a NATO exercise. But even strengthening ties with NATO raised concerns among some that its legacy of independence was slipping.
Among these was Sweden's Left Party, whose Defence Policy spokesman Stig Henriksson declared :
« The government, especially the Social-Democrats say we shouldn't join NATO. But they are continually twinning us with NATO. I once accused the Defence Minister by telling him that he was doing a sort of political moonwalk : walking in one direction but appearing to move in the opposite direction…your mouth is saying one thing but your feet are saying something else ».
Aurora 20 was planned to start in May 2020 but The Swedish Armed Forces made the decision to postpone the exercise due to the current situation in Sweden and the world, caused by the covid-19 pandemic.
For now, a country known for its role in diplomacy, for its moderation and its neutrality will have to walk a delicate line between military readiness and non-alignement in a region in which avoiding taking sides seems to become increasingly difficult.