ALEXANDER THE GREAT
By Anthony Everitt
HIS LIFE AND HIS MYSTERIOUS DEATH
More than two millennia have passed since Alexander the Great built an empire that stretched to every corner of the ancient world, from the backwater kingdom of Macedonia to the Hellenic world, Persia, and ultimately to India—all before his untimely death at age thirty-three. Alexander believed that his empire would stop only when he reached the Pacific Ocean. But stories of both real and legendary events from his life have kept him evergreen in our imaginations with a legacy that has meant something different to every era: in the Middle Ages he became an exemplar of knightly chivalry, he was a star of Renaissance paintings, and by the early twentieth century he'd even come to resemble an English gentleman. But who was he in his own time?
In Alexander the Great, Anthony Everitt judges Alexander's life against the criteria of his own age and considers all his contradictions. We meet the Macedonian prince who was naturally inquisitive and fascinated by science and exploration, as well as the man who enjoyed the arts and used Homer's great epic the Iliad as a bible. As his empire grew, Alexander exhibited respect for the traditions of his new subjects and careful judgment in administering rule over his vast territory. But his career also had a dark side. An inveterate conqueror who in his short life built the largest empire up to that point in history, Alexander glorified war and was known to commit acts of remarkable cruelty.
As debate continues about the meaning of his life, Alexander's death remains a  mystery. Did he die of natural causes—felled by a fever—or did his marshals, angered by his tyrannical behavior, kill him? An explanation of his death can lie only in what we know of his life, and Everitt ventures to solve that puzzle, offering an ending to Alexander's story that has eluded so many for so long.
DIPLOMATIC INCIDENTS
By Cherry Denman
Cherry Denman has spent her life trailing husband Charlie round some of the world's most remote outposts and can ask for the lavatory in eleven languages. While some aspects of living abroad will always puzzle her – saunas, tofu and circumcision, to name just three – she wouldn't have missed it for anything. Lessons learnt range from the practical (possessions belong either in the suitcase or the skip: storage is for wimps), to the truly useful (how to avoid the drinks party bore) and the truly bizarre (the episode with the goat . . .).
Charming and witty, these hilarious tales of global misunderstanding are illustrated with over seventy original line drawings.

JUST A DIPLOMATIC SPOUSE: A TRUE STORY OF LIFE
By Alexandra Paucescu
Alexandra Paucescu is an educated Romanian woman who, by the age of 30, sees her whole life changing completely, as she marries a diplomat and embarks on a life long journey as a trailing diplomatic spouse.
She presents the diplomatic life which, looking from outside, it is definitely a privileged one. You get to see the world, you meet lots of interesting and powerful people and have lifetime experiences. You live in a protected world that gives you immunity… only diplomatic, not for your soul and feelings though. It is a roller coaster of emotions and mixed feelings, as she describes it.
You've got to be strong to adapt, to get to know the rules of this kind of life and to make the best out of it.
The book is a collection of events that occurred over a period of more than ten years, rules of diplomatic protocol and ranking, advices for other women at the beginning of a similar journey and also a collection of valuable travel and even shopping tips! It is a diary, a book on diplomatic etiquette, lifestyle and travel blog, ALL IN ONE. Source: Amazon.com
THE TUNNELS
By Greg Mitchell
ESCAPES UNDER THE BERLIN WALL AND THE HISTORIC FILMS THE FJK WHITE HOUSE TRIED TO KILL
In the summer of 1962, the year after the rise of the Berlin Wall, a group of young West Germans risked prison, Stasi torture, and even death to liberate friends, lovers, and strangers in East Berlin by digging tunnels under the Wall. Then two U.S. television networks heard about the secret projects and raced to be first to document them from the inside. NBC and CBS funded two separate tunnels in return for the right to film the escapes, planning spectacular prime-time specials. President John F. Kennedy, however, was wary of anything that might spark a confrontation with the Soviets, having said, "A wall is better than a war," and even confessing to Secretary of State Dean Rusk, "We don't care about East Berlin." JFK approved unprecedented maneuvers to quash both documentaries, testing the limits of a free press in an era of escalating nuclear tensions.
As Greg Mitchell's riveting narrative unfolds, we meet extraordinary characters: the legendary cyclist who became East Germany's top target for arrest; the Stasi informer who betrays the "CBS tunnel"; the American student who aided the escapes; an engineer who would later help build the tunnel under the English channel; and the young East Berliner who fled with her baby, then married one of the tunnelers. The Tunnels captures the chilling reach of the Stasi secret police as U.S. networks prepared to "pay for play" but were willing to cave to official pressure, the White House was eager to suppress historic coverage, and ordinary people in dire circumstances became subversive. The Tunnels is breaking history, a propulsive read whose themes still reverberate.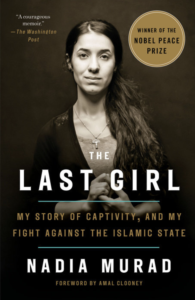 THE LAST GIRL
By Nadia Murad
MY STORY OF CAPTIVITY, AND MY FIGHT AGAINST THE ISLAMIC STATE
Nadia Murad was born and raised in Kocho, a small village of farmers and shepherds in northern Iraq. A member of the Yazidi community, she and her brothers and sisters lived a quiet life. Nadia had dreams of becoming a history teacher or opening her own beauty salon.
On August 15th, 2014, when Nadia was just twenty-one years old, this life ended. Islamic State militants massacred the people of her village, executing men who refused to convert to Islam and women too old to become sex slaves. Six of Nadia's brothers were killed, and her mother soon after, their bodies swept into mass graves. Nadia was taken to Mosul and forced, along with thousands of other Yazidi girls, into the ISIS slave trade.
Nadia would be held captive by several militants and repeatedly raped and beaten. Finally, she managed a narrow escape through the streets of Mosul, finding shelter in the home of a Sunni Muslim family whose eldest son risked his life to smuggle her to safety.
Today, Nadia's story—as a witness to the Islamic State's brutality, a survivor of rape, a refugee, a Yazidi—has forced the world to pay attention to an ongoing genocide. It is a call to action, a testament to the human will to survive, and a love letter to a lost country, a fragile community, and a family torn apart by war.